I'm mailing in my Annual Meeting registration. When should I expect my hotel instructional email?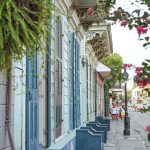 Your registration confirmation and hotel instructional emails will be sent in 2–3 weeks, after your registration has been fully processed.
Is there a guarantee required for the hotel? If so, is it refundable?
A valid credit card with an expiration date of January 2024 or later is required to secure your room reservation. Credit cards will not be processed prior to your arrival.
How do I reserve a room if I'm sharing it with a colleague or bringing family members?
Designate one person to make the online hotel reservation. List all occupants when making the reservation, including children and their ages. Children under the age of 18 may stay free of charge in a parent's room. There is an additional charge of $20 per person, per night for more than two adults (age 18+) sharing a room. You should notify the hotel at check in if any of the guests in your room are under age 18 and exempt from the extra person charge.
What should I do if I can't locate my hotel instructional email?
First, check your spam folder. If you still can't find it, email the Registration team to have a copy re-sent to you.
How can I request Access-Related Accommodations?
Indicate the accommodations needed in the section titled "Special Accommodations" when making your hotel reservation.
Beware of Housing Pirates and Poachers!
Maritz Global Events is the only company that handles AALS Annual Meeting hotel reservations for the 2024 Annual Meeting. In the past, registrants have sometimes been contacted with offers for cut-rate housing from companies impersonating AALS or presenting themselves as an alternative to Maritz. These offers are not valid.
When AALS secures guest rooms at hotels for our Annual Meeting (commonly referred to as room blocks), we research the properties to make certain that our attendees will be adequately accommodated. The room block is established to ensure that guest rooms meet our standards and are offered at the discounted price.
Don't be misled! If you are contacted by anyone trying to sell you a room for the Annual Meeting, please do not make a reservation or provide a method of payment. We ask that you get as much information as you can about the caller and pass it on Mary Cullen, Associate Director of Meetings.