For more details on the topics covered during the 2019 AALS Annual Meeting,
read the compilation of tweets .
AALS 2019 Attendees Convene and Connect in the Big Easy
New Orleans' vibrant atmosphere was host to more than 2,400 law faculty, deans, professional staff, and exhibitors who gathered January 2-6 at the 2019 AALS Annual Meeting. The unifying theme of the event, chosen last year by 2018 AALS President Wendy Perdue, was "Building Bridges." Many of the programs and conversations explored the important role lawyers and law schools play in helping to resolve the most pressing conflicts facing society today.
The Annual Meeting welcomed several notable speakers and presenters, including anti-apartheid judge the Honorable Edwin Cameron from the Constitutional Court of South Africa. Justice Cameron addressed attendees at Thursday's Opening Plenary Session, discussing his experience as a lawyer observing the power of the law during the dismantling of apartheid and the construction of the new South African constitution. "You carry in your classrooms and seminars the future of the country," Cameron said.
Margaret Burnham (Northeastern Law), Mark

Drumbl

(Washington and Lee Law), Jennifer Llewellyn (Dalhousie University Schulich School of Law), Linda Meyer (Quinnipiac Law), and Martha

Minow

(

Harvard Law) participated in a panel at the President's Program on law and reconciliation.

Former U.S. Senator Mary Landrieu; former Speaker of the Oklahoma House of Representatives T.W. Shannon; former Lt. Governor of Illinois Sheila Simon; and former speaker of the Louisiana House of Representatives Jim Tucker participated in a panel at the President's Program on political polarization.
Several other U.S. judges and leaders of the legal profession appeared in programs throughout the meeting.
While the meeting encompassed many different types of programs and formats, one topic cut across them all: #MeToo, and a corresponding focus on gender in the legal academy. Five sessions—including two of the six Hot Topic sessions—addressed aspects of sexual harassment including Title IX and the nomination hearings for Supreme Court Justice Brett Kavanaugh. Two programs highlighted oral history projects about women in the legal academy, and one of the discussion groups focused on gender inequality. The meeting also hosted panels on timely topics including criminal justice, environmental policy, financial policy, foreign policy, health care, immigration, political discourse, religious freedom, technology, the Supreme Court, and trade policy.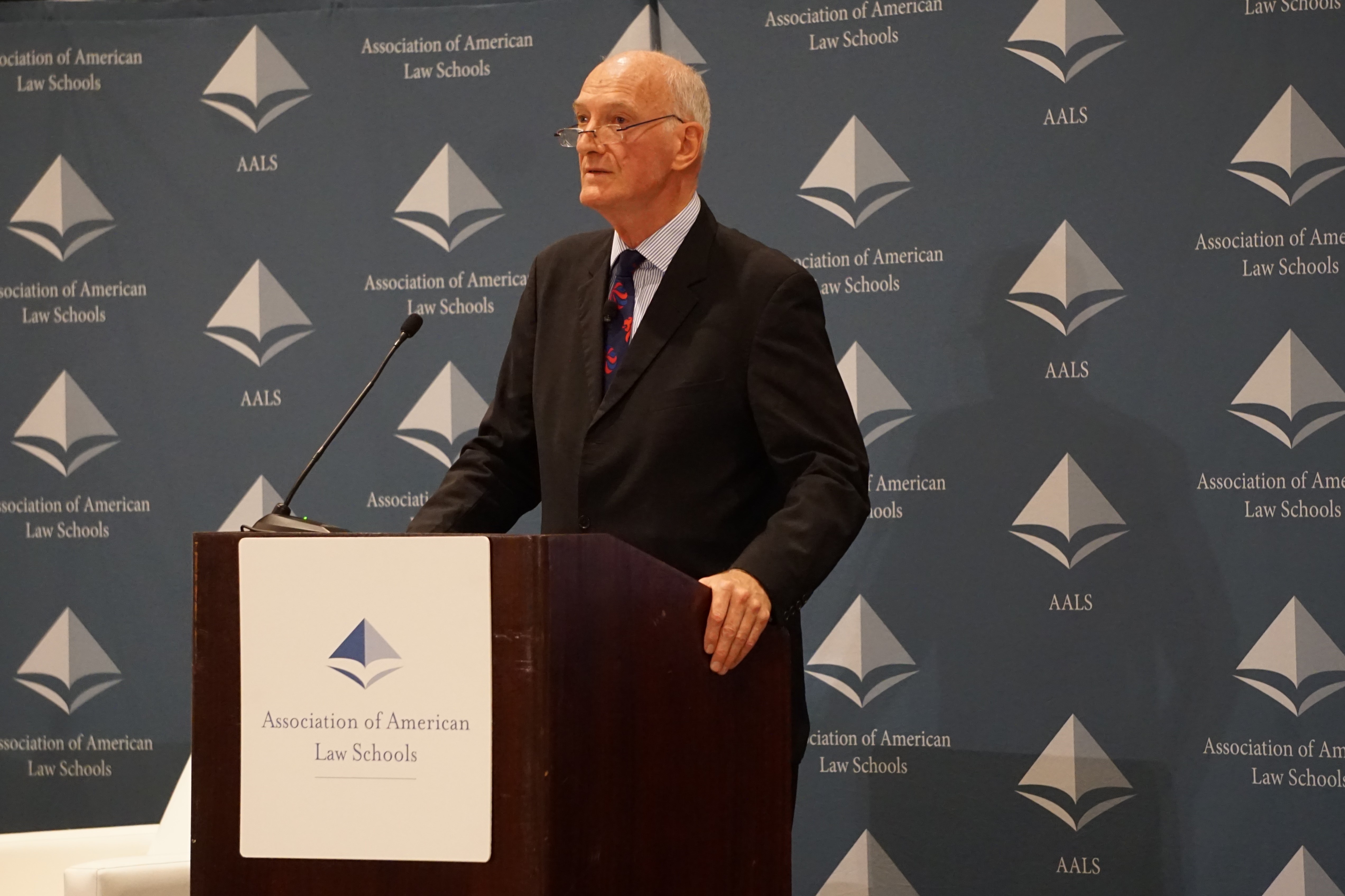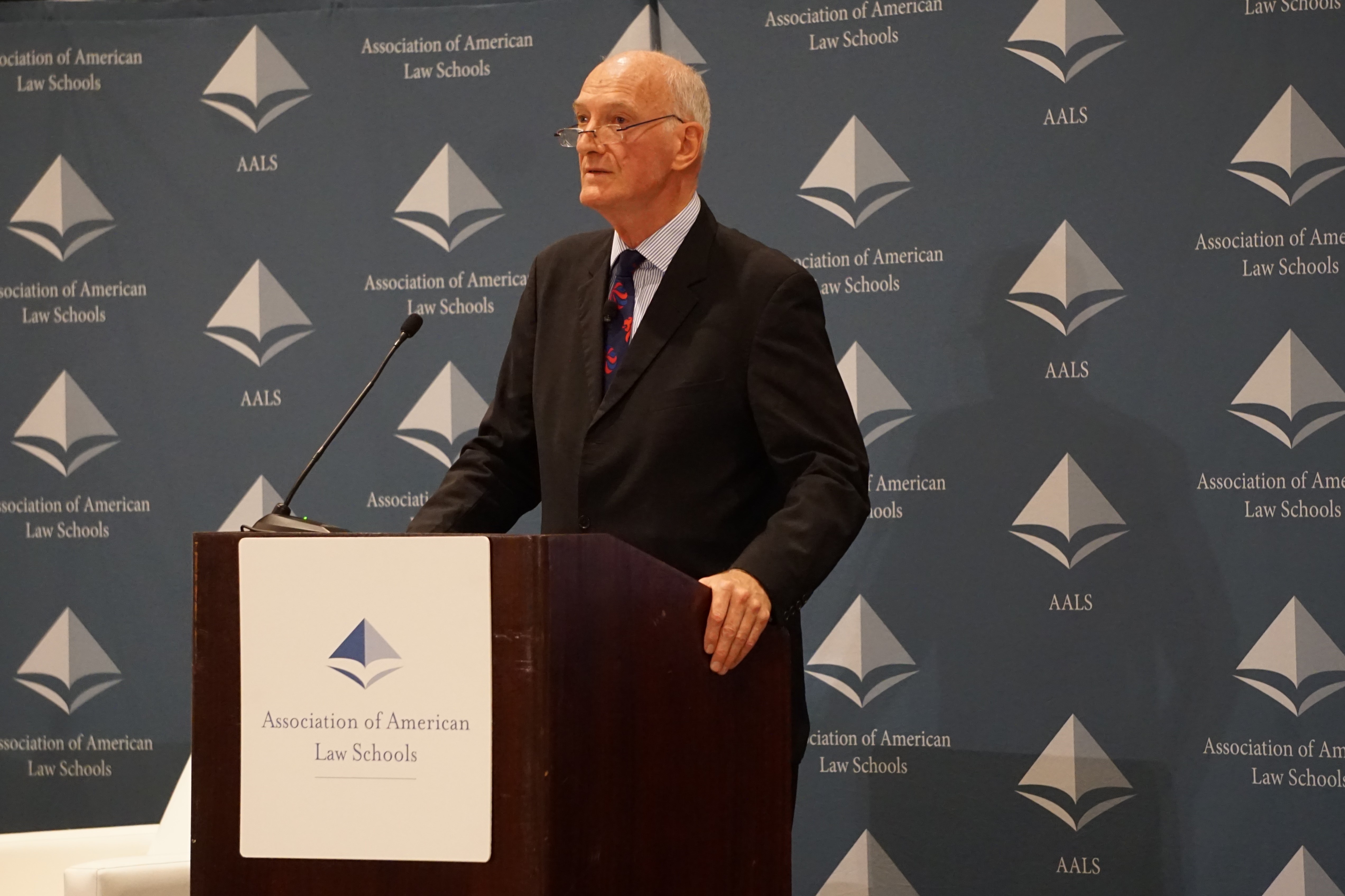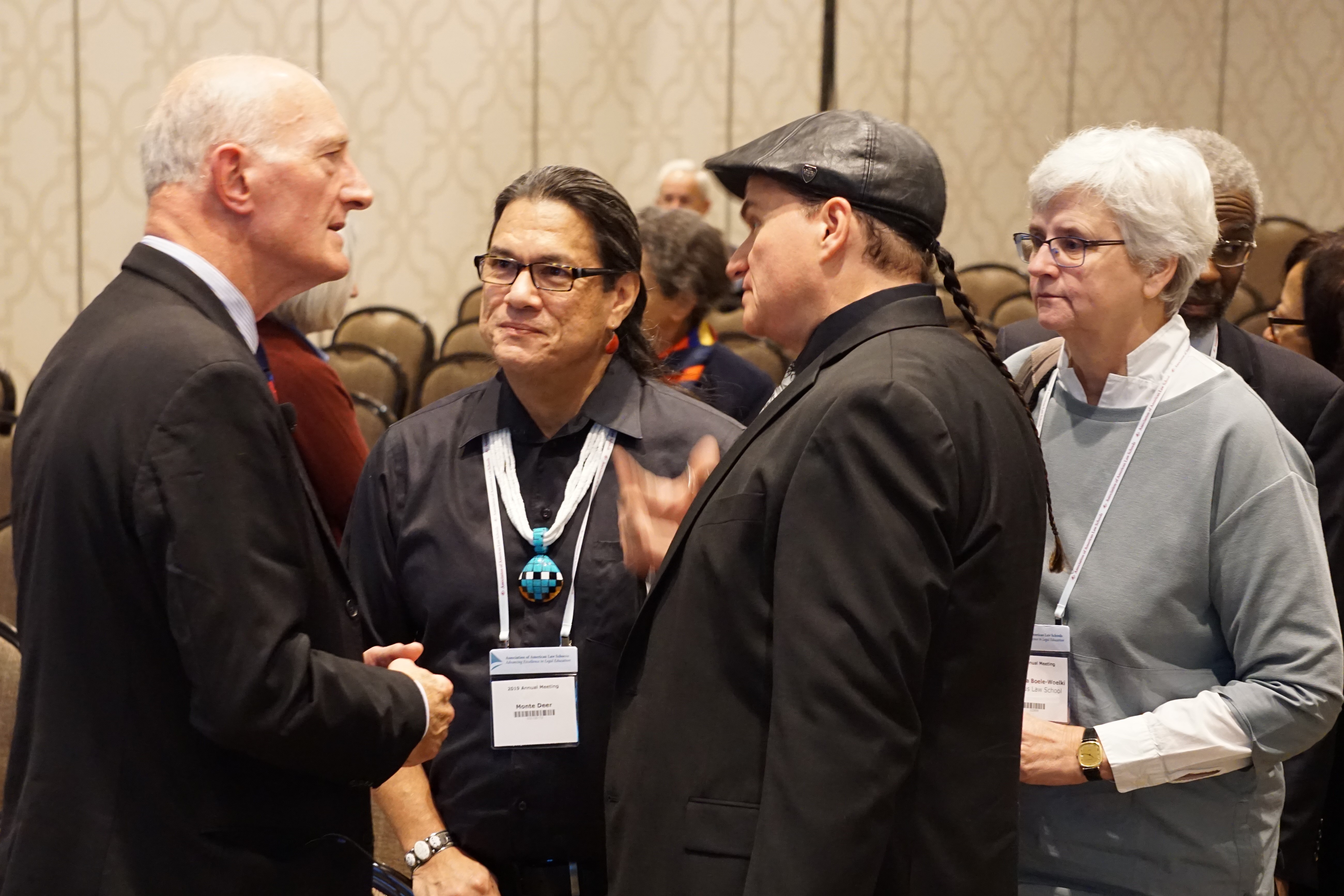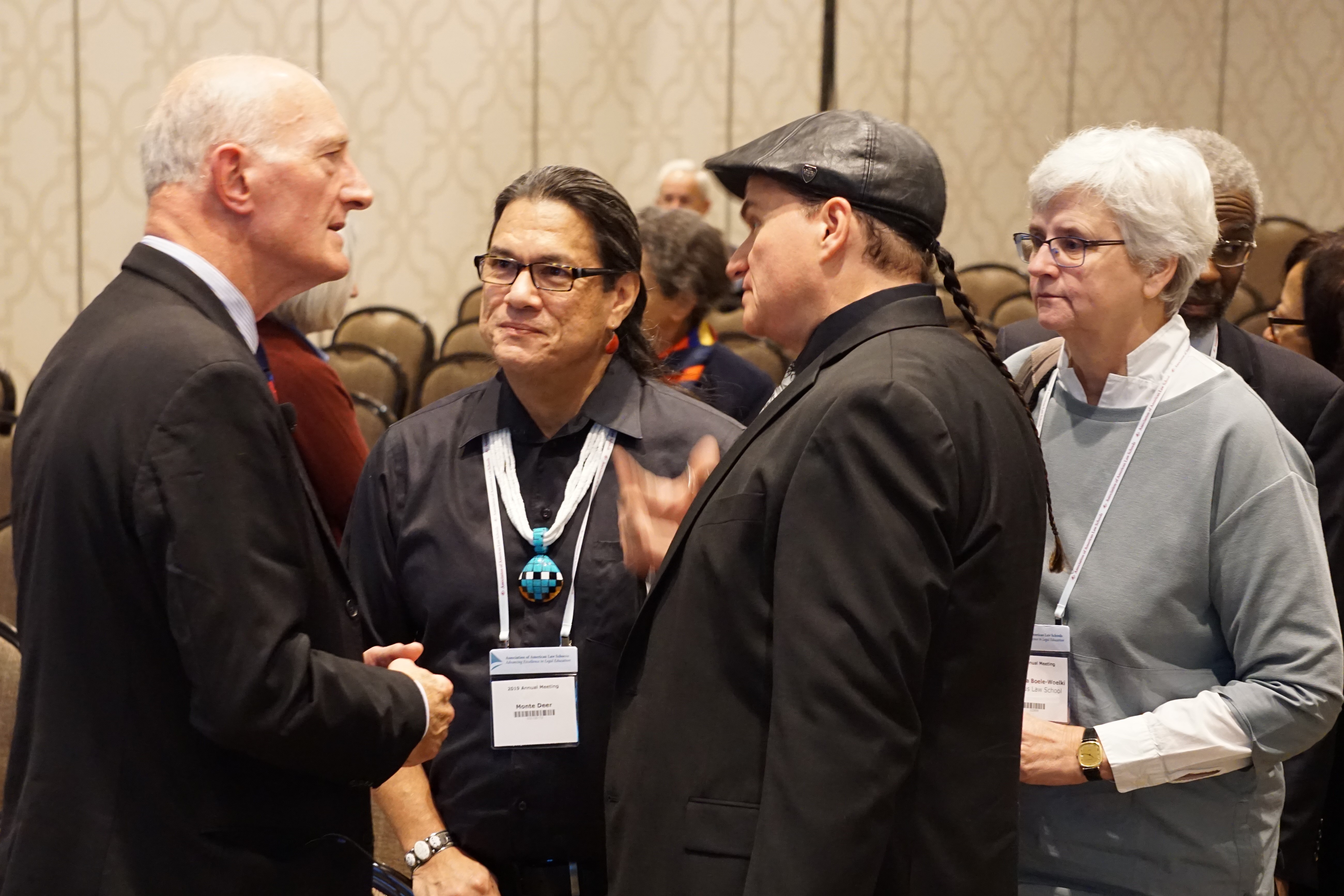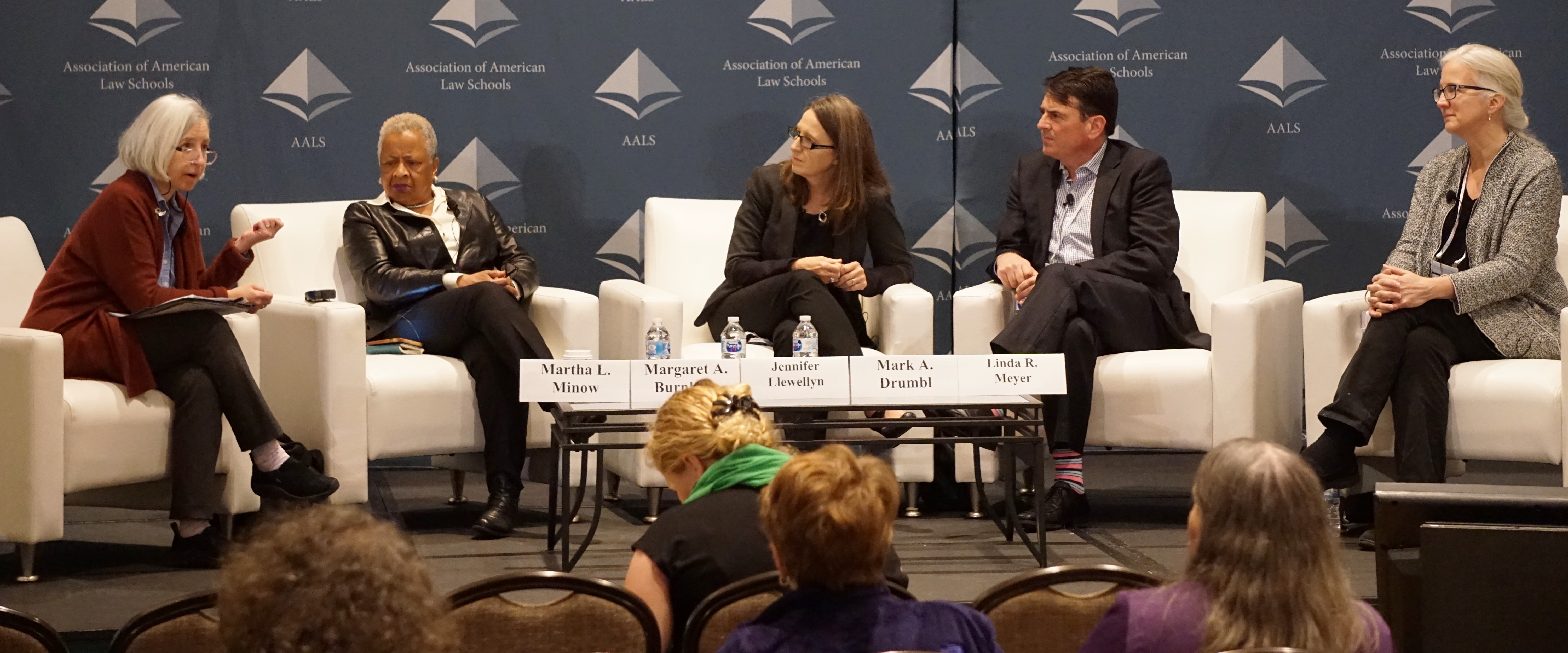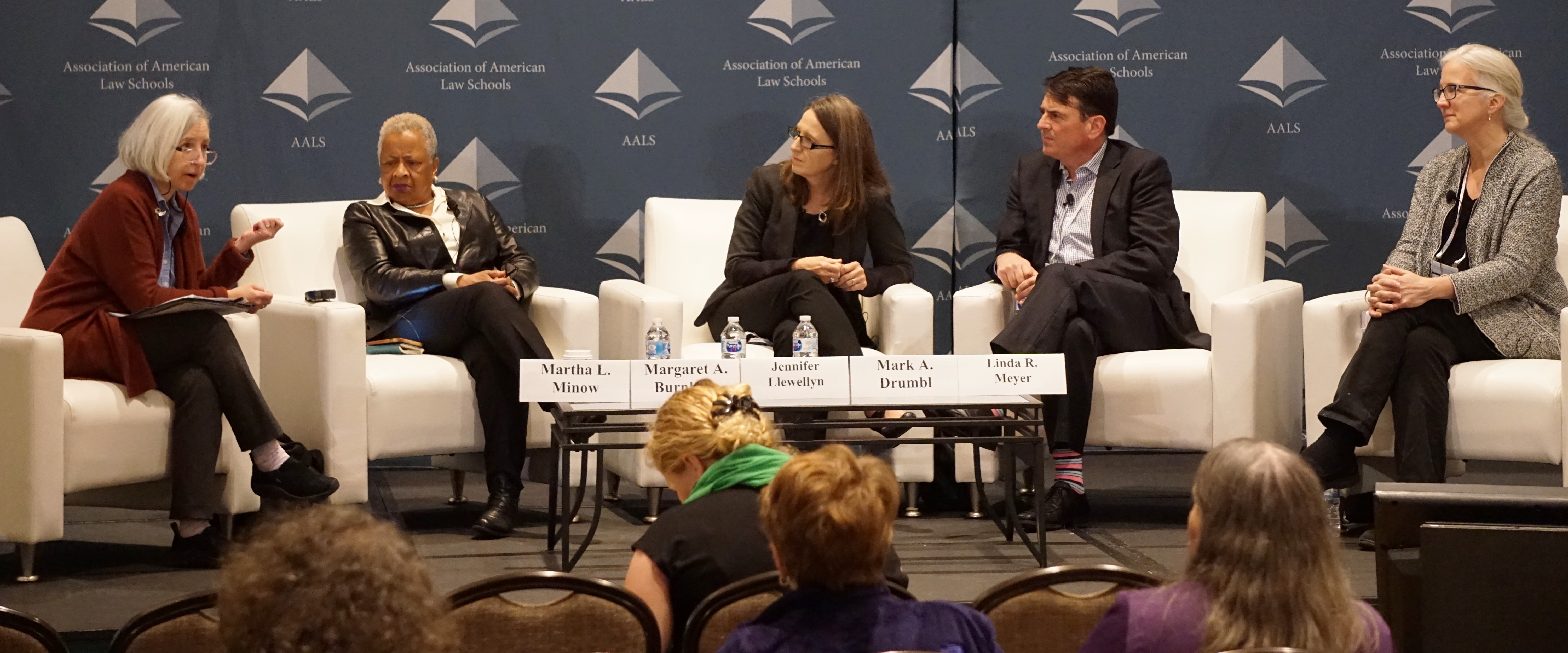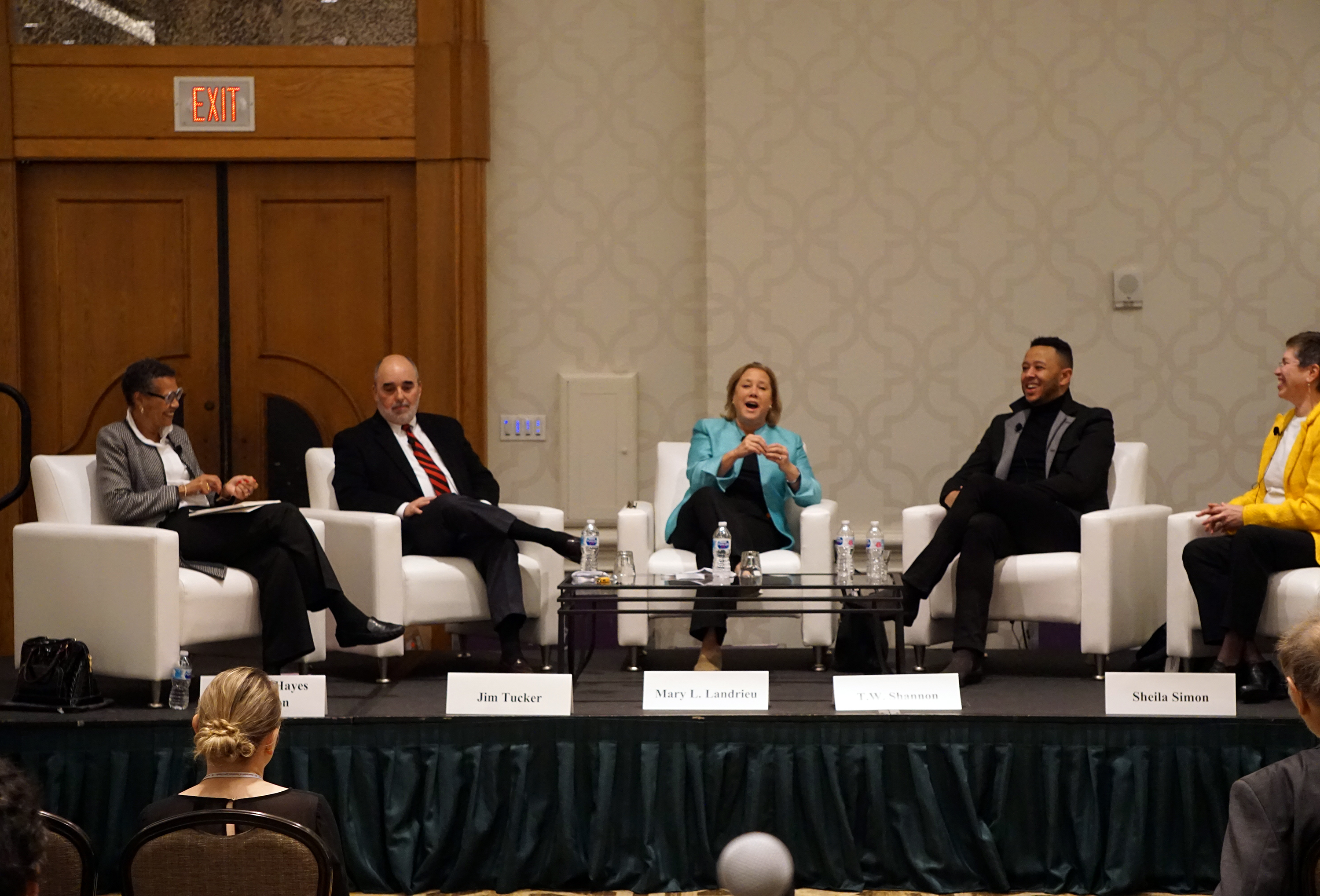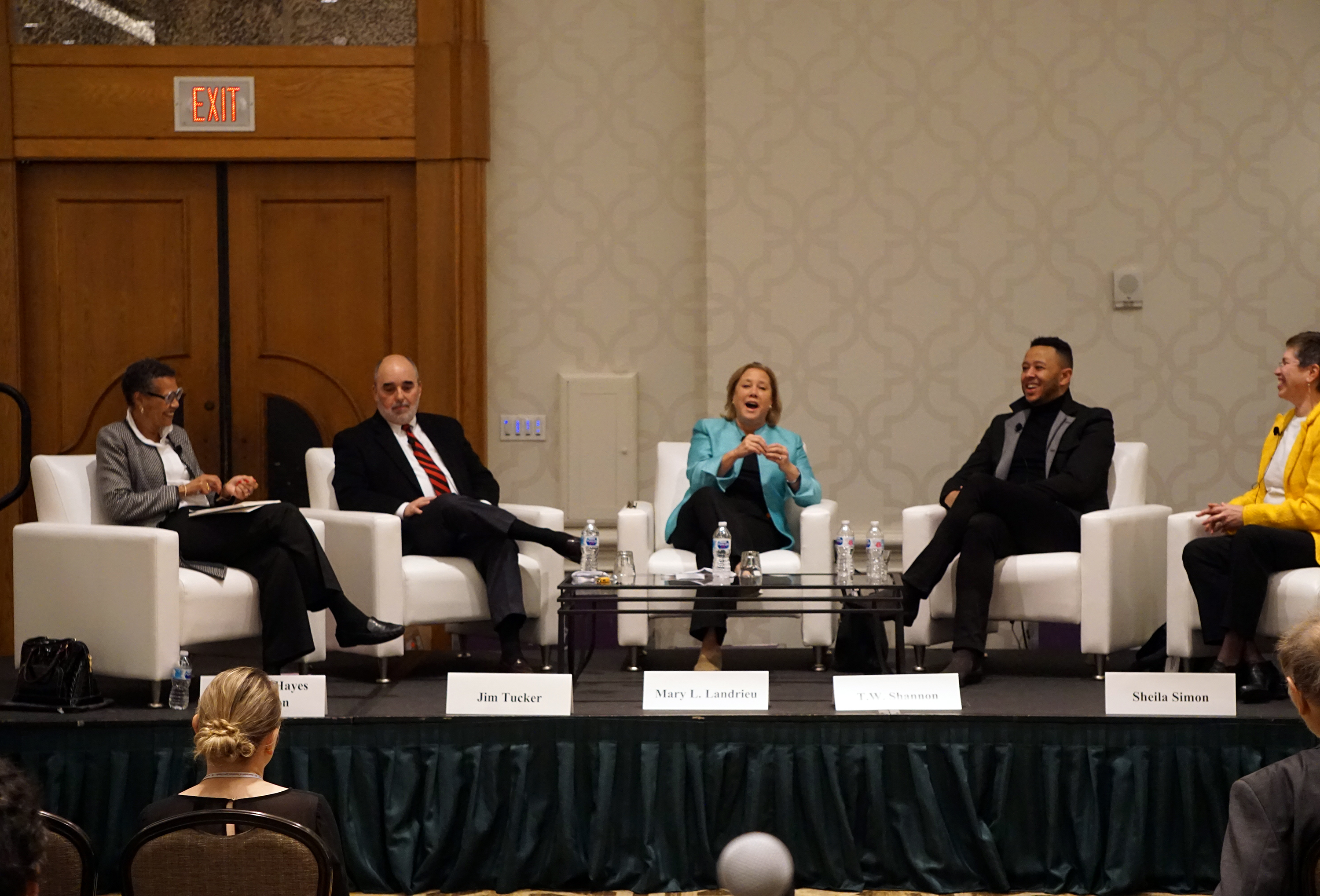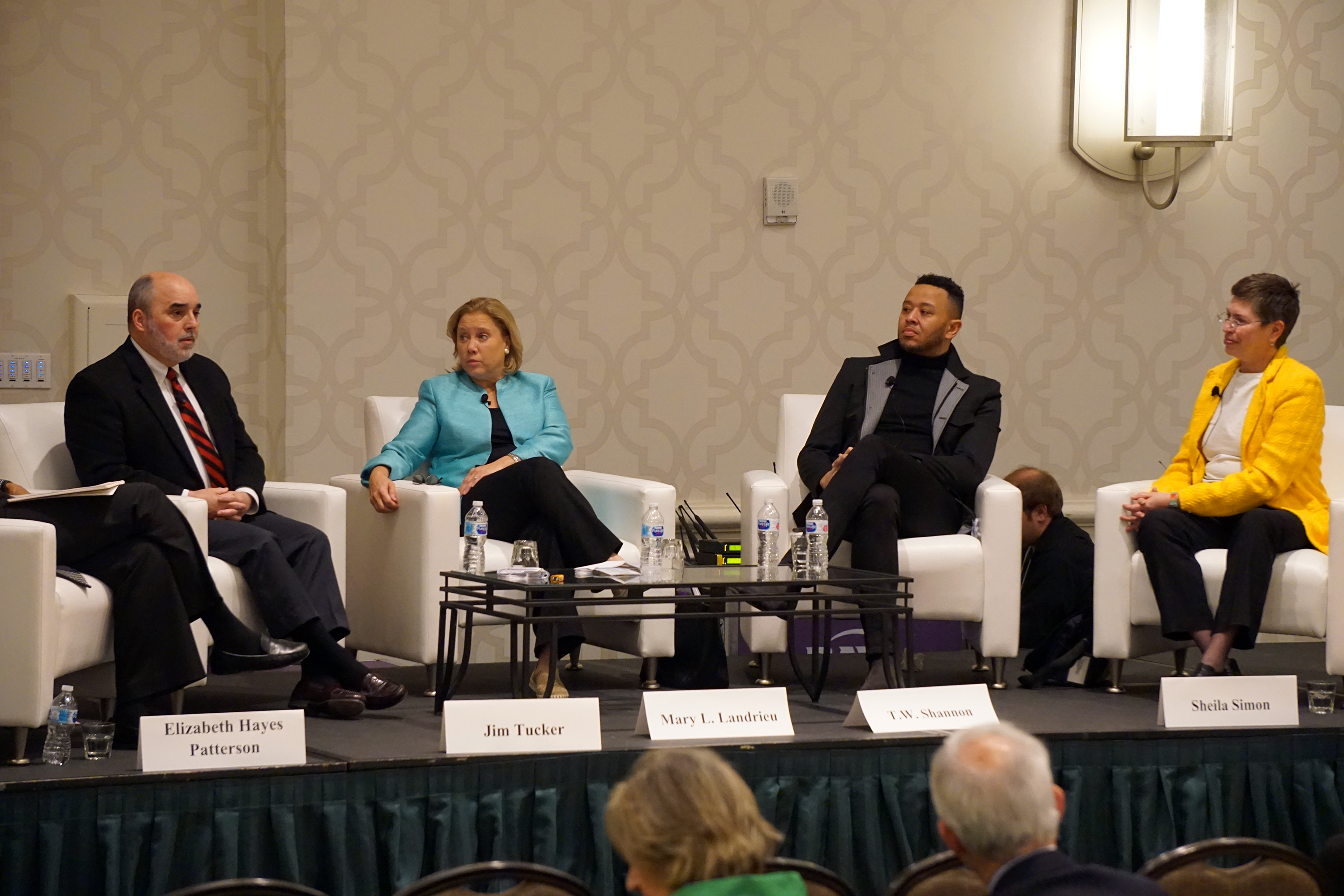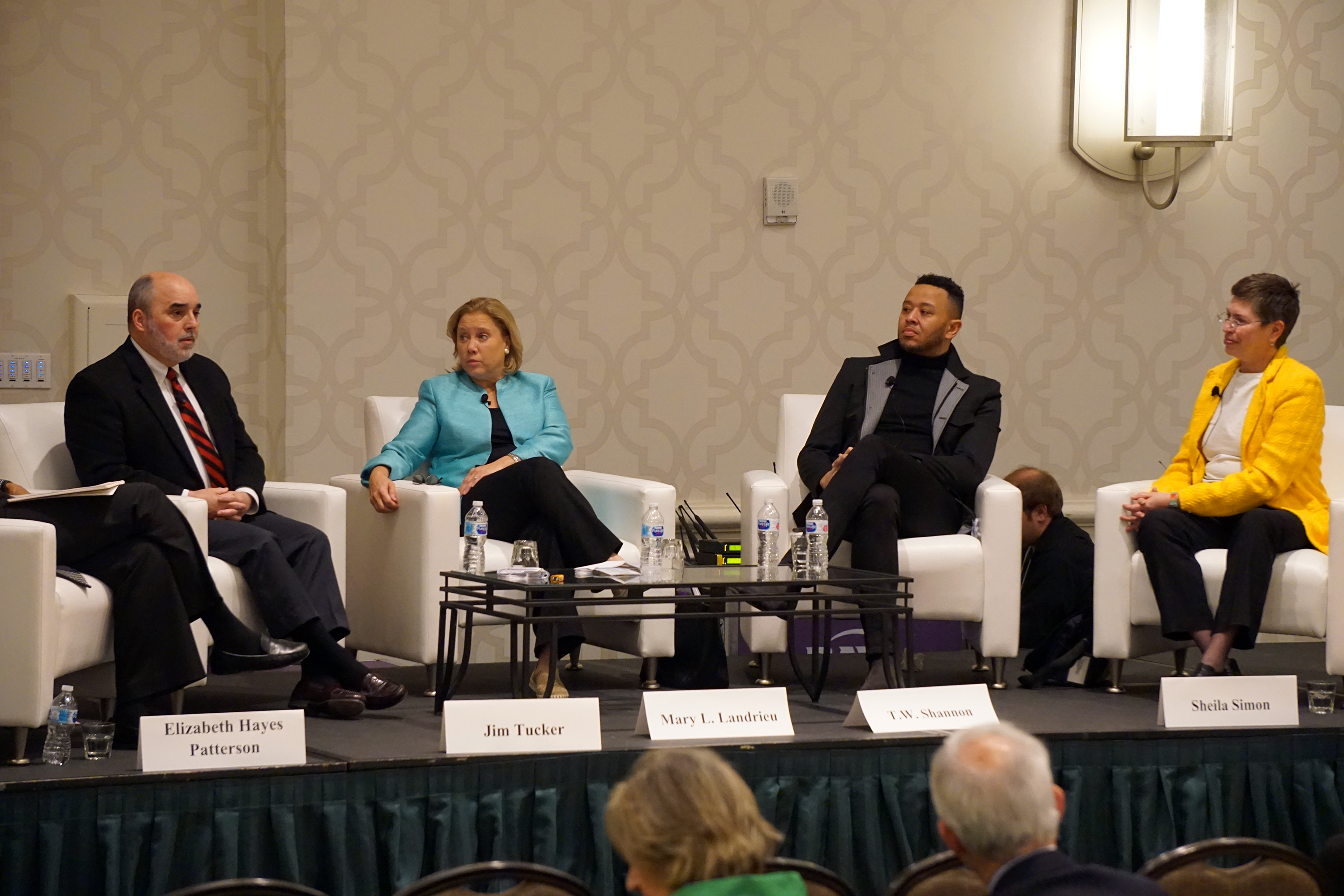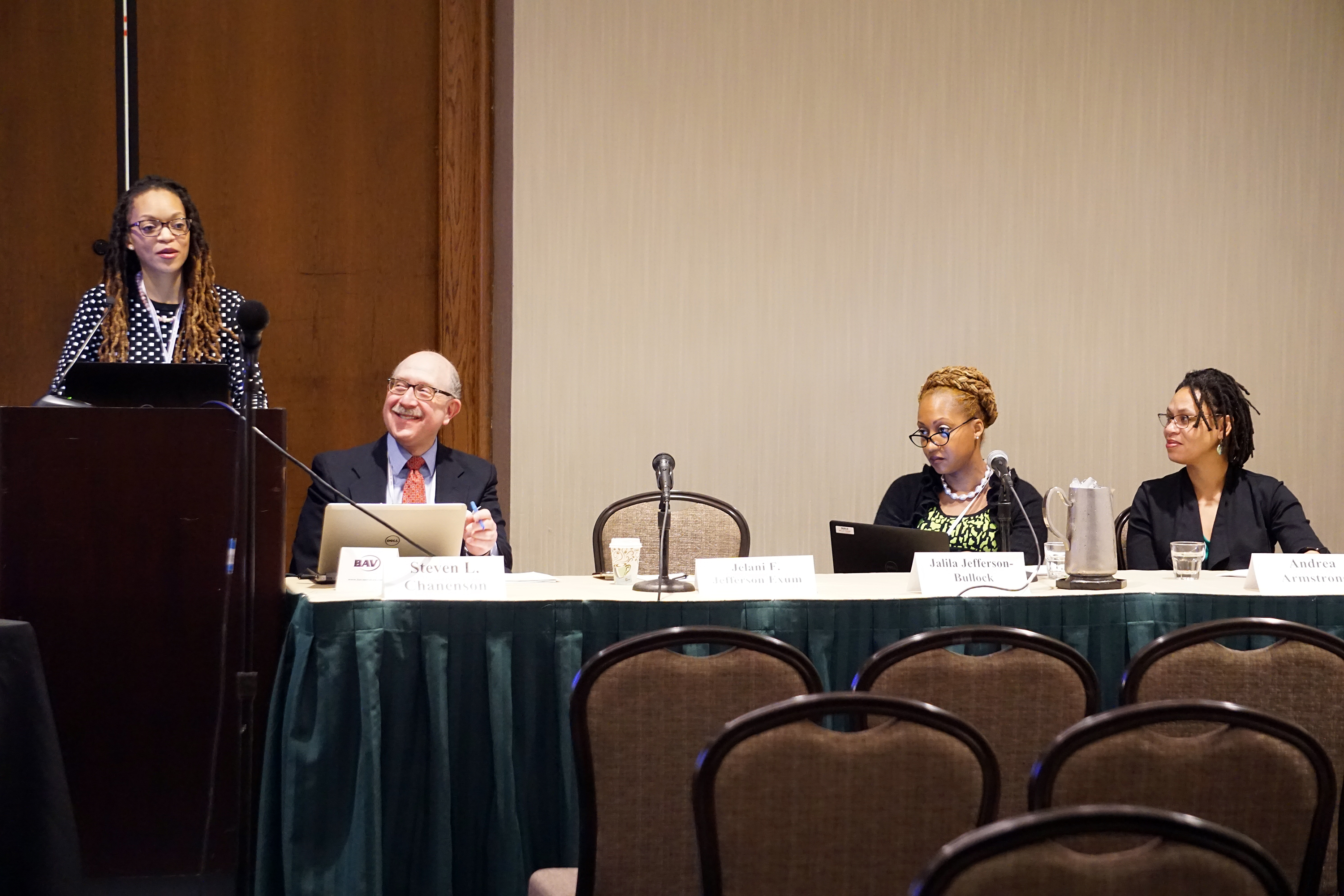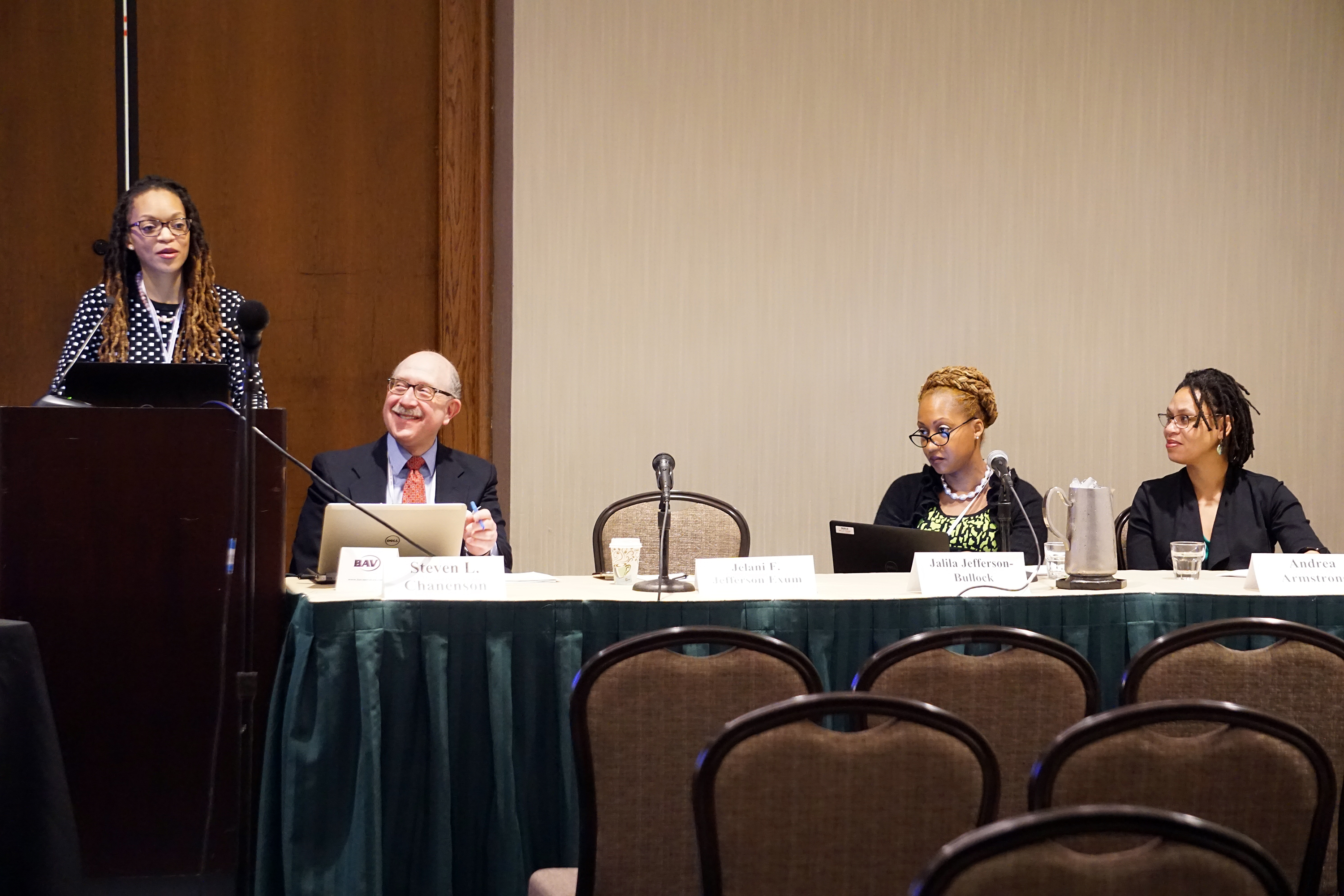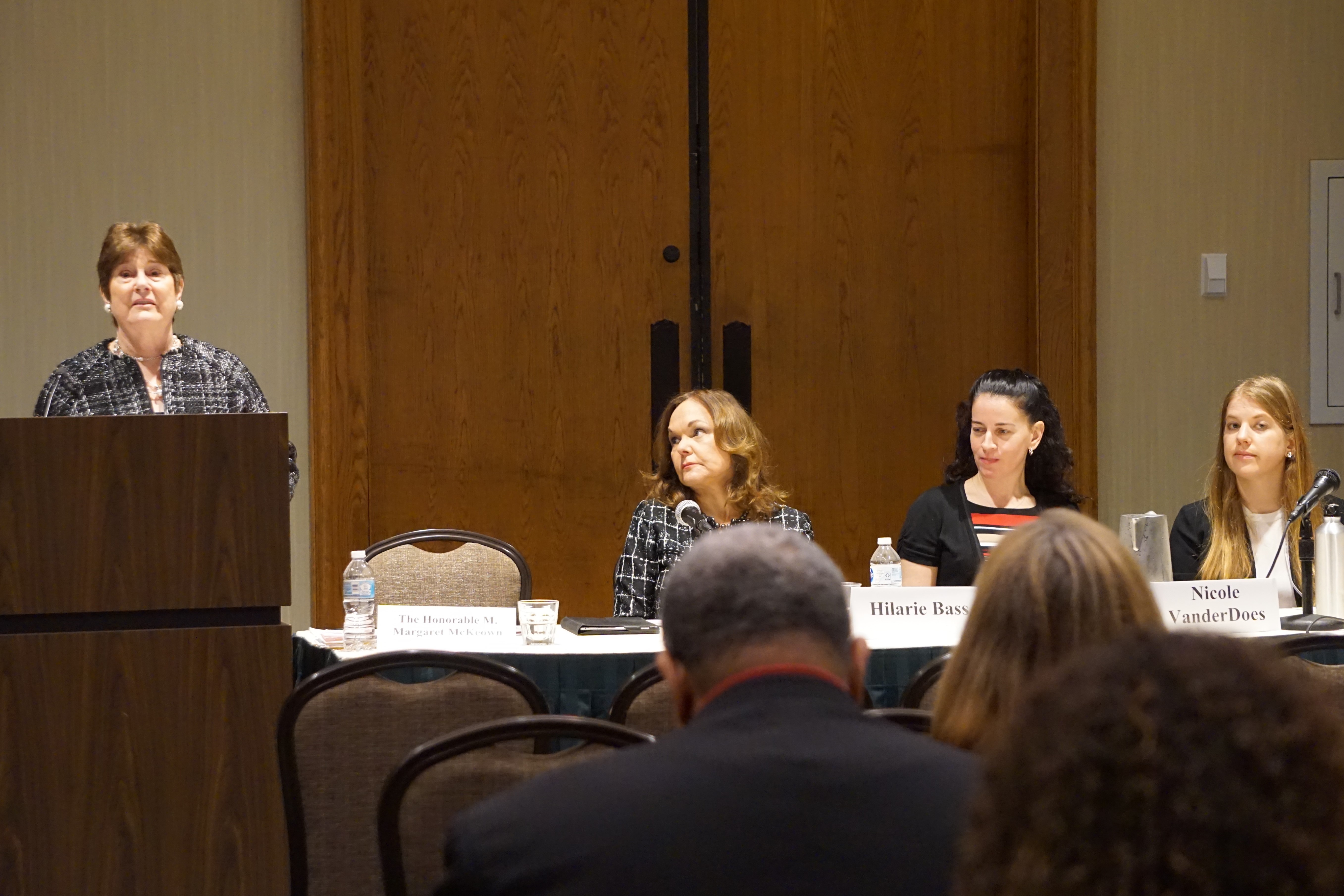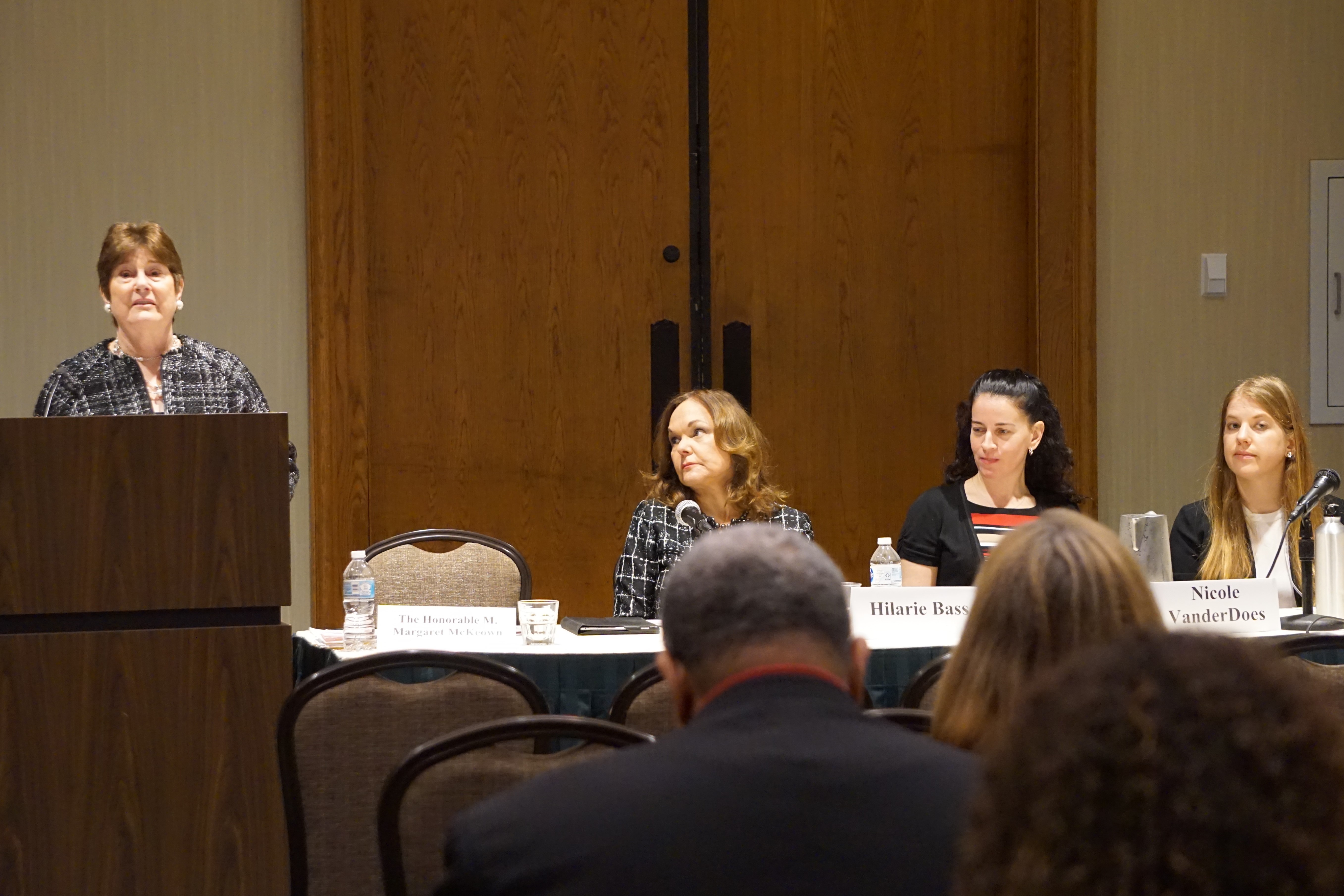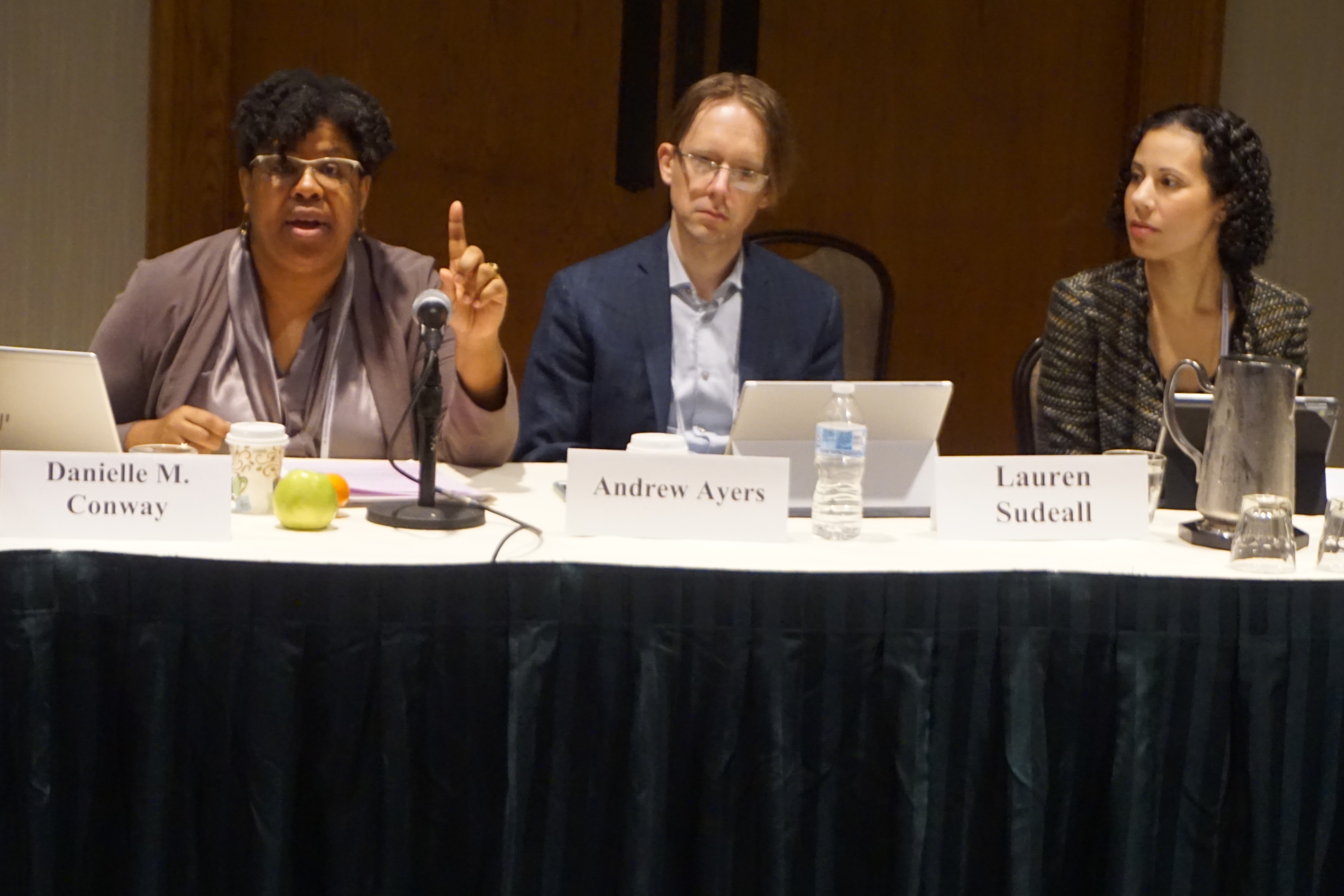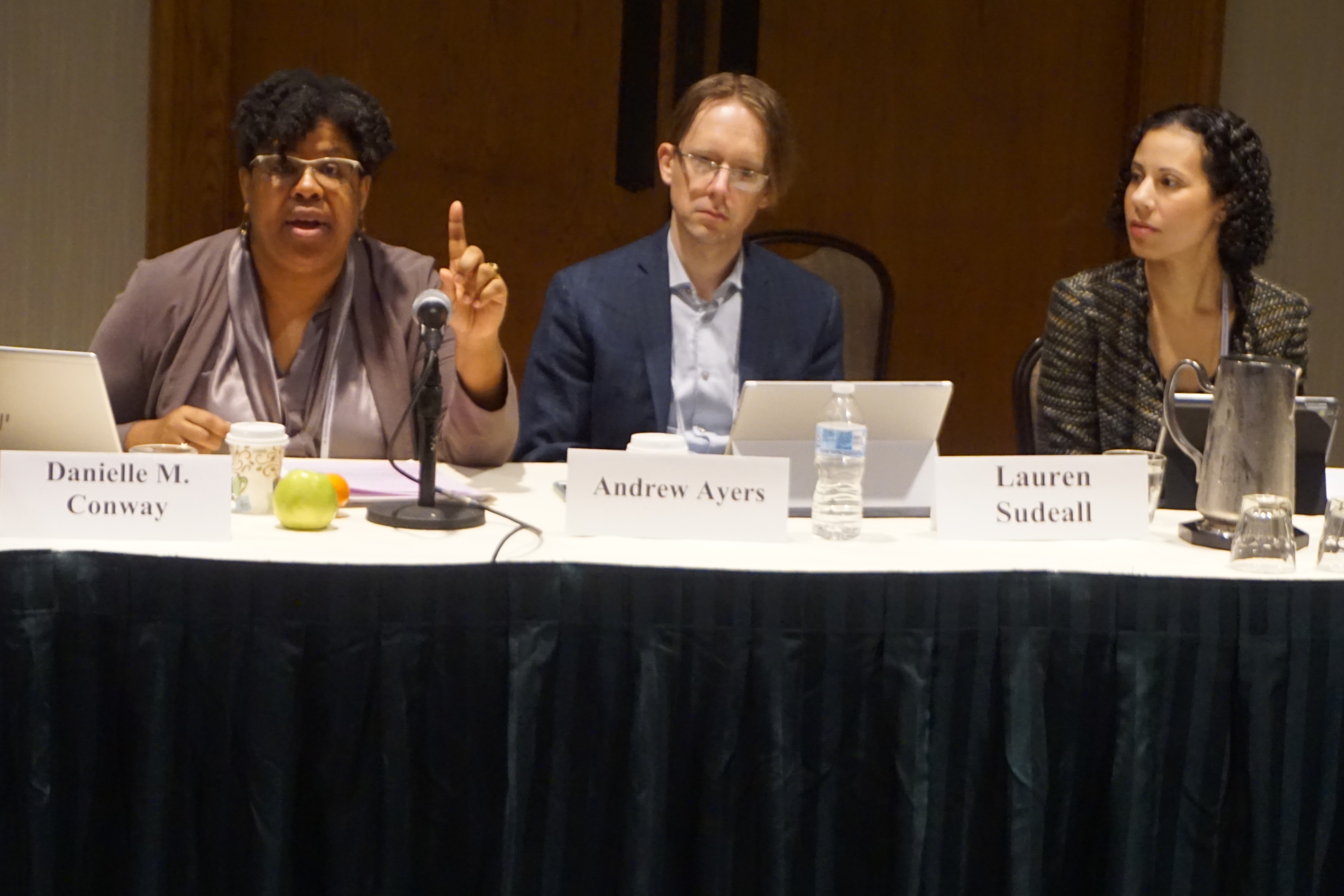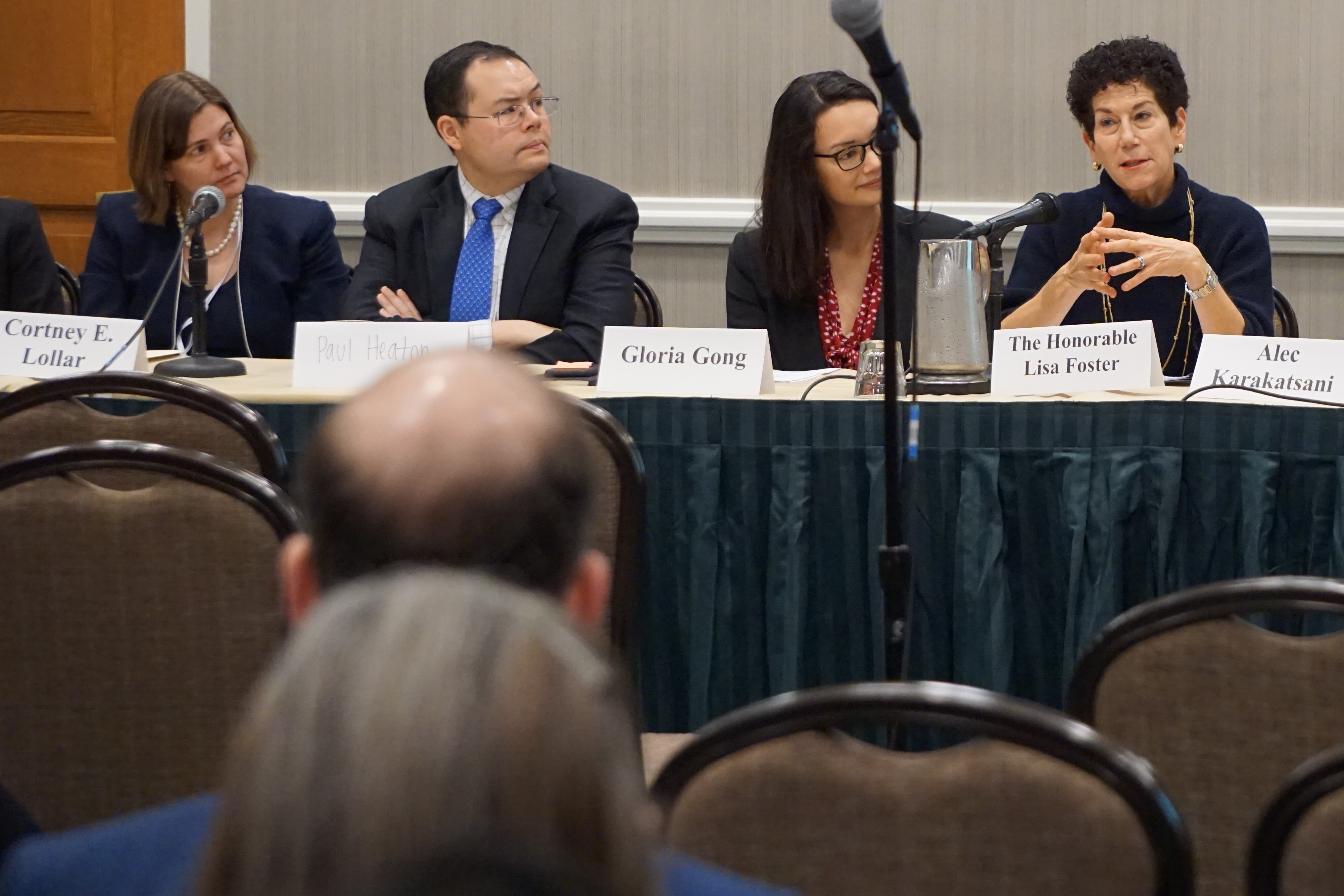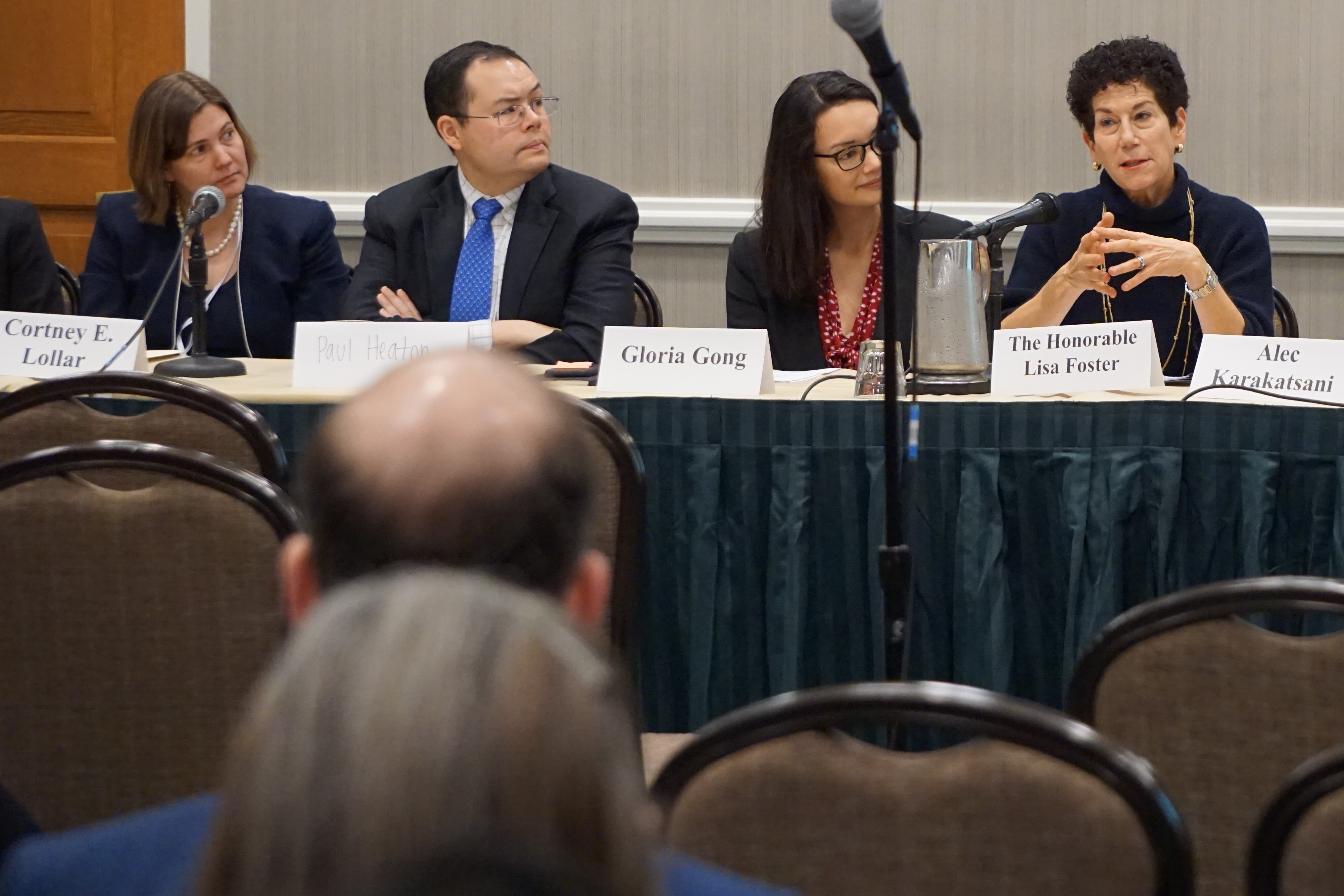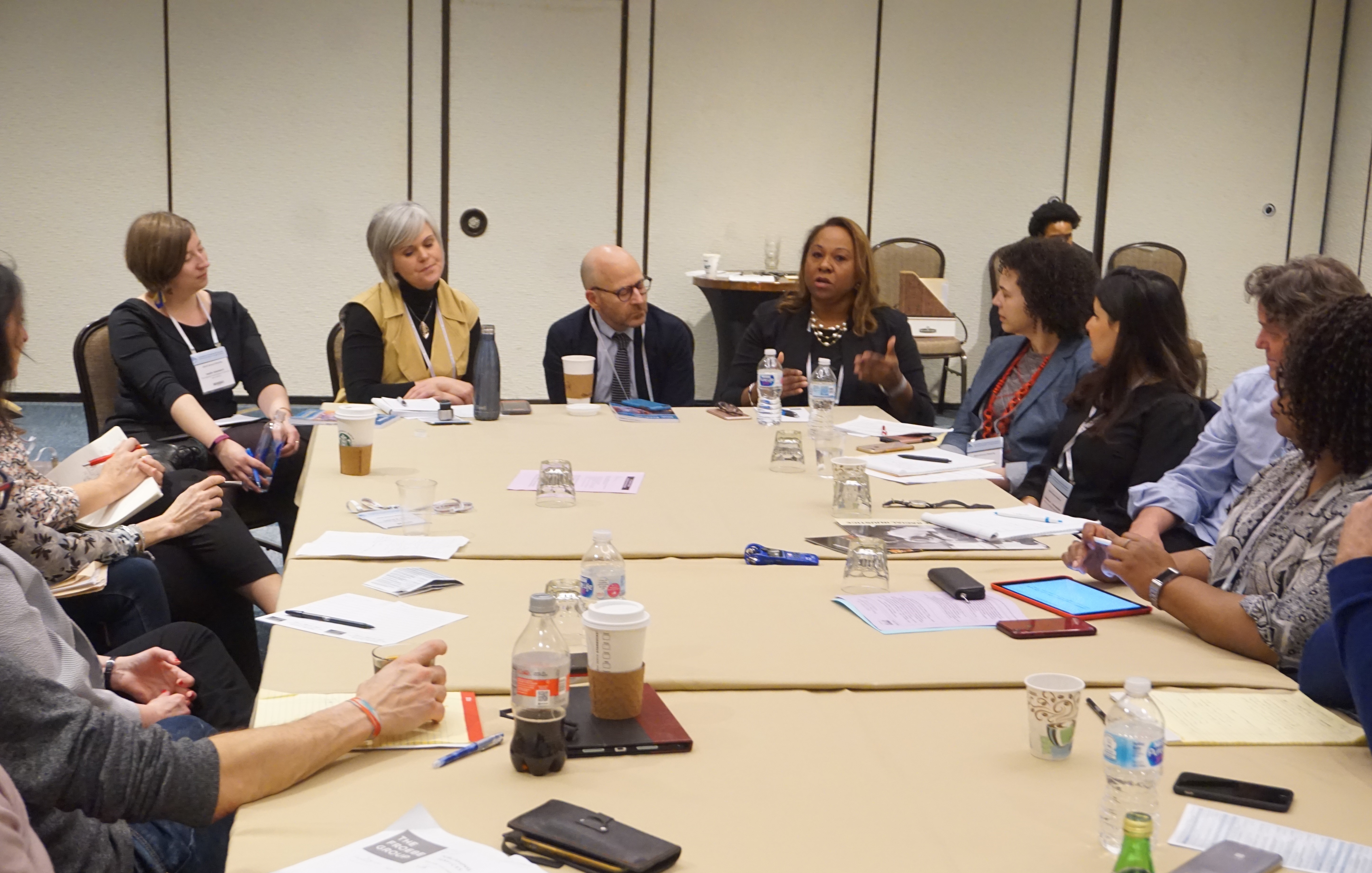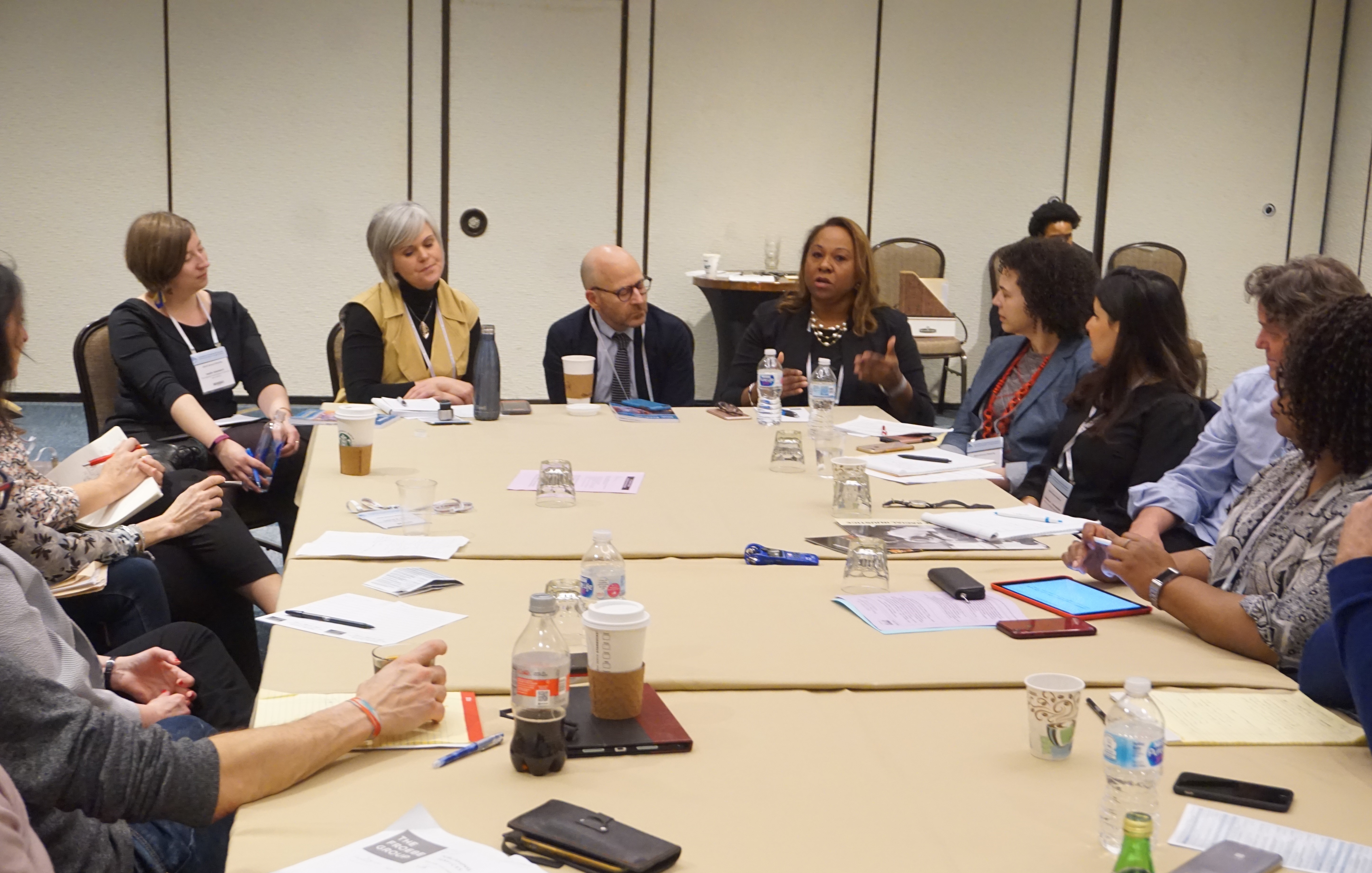 justice cameron and wendy perdue
Hot Topic Criminal Justice
Open Source - Rural Access to Justice
disc cross-generation teaching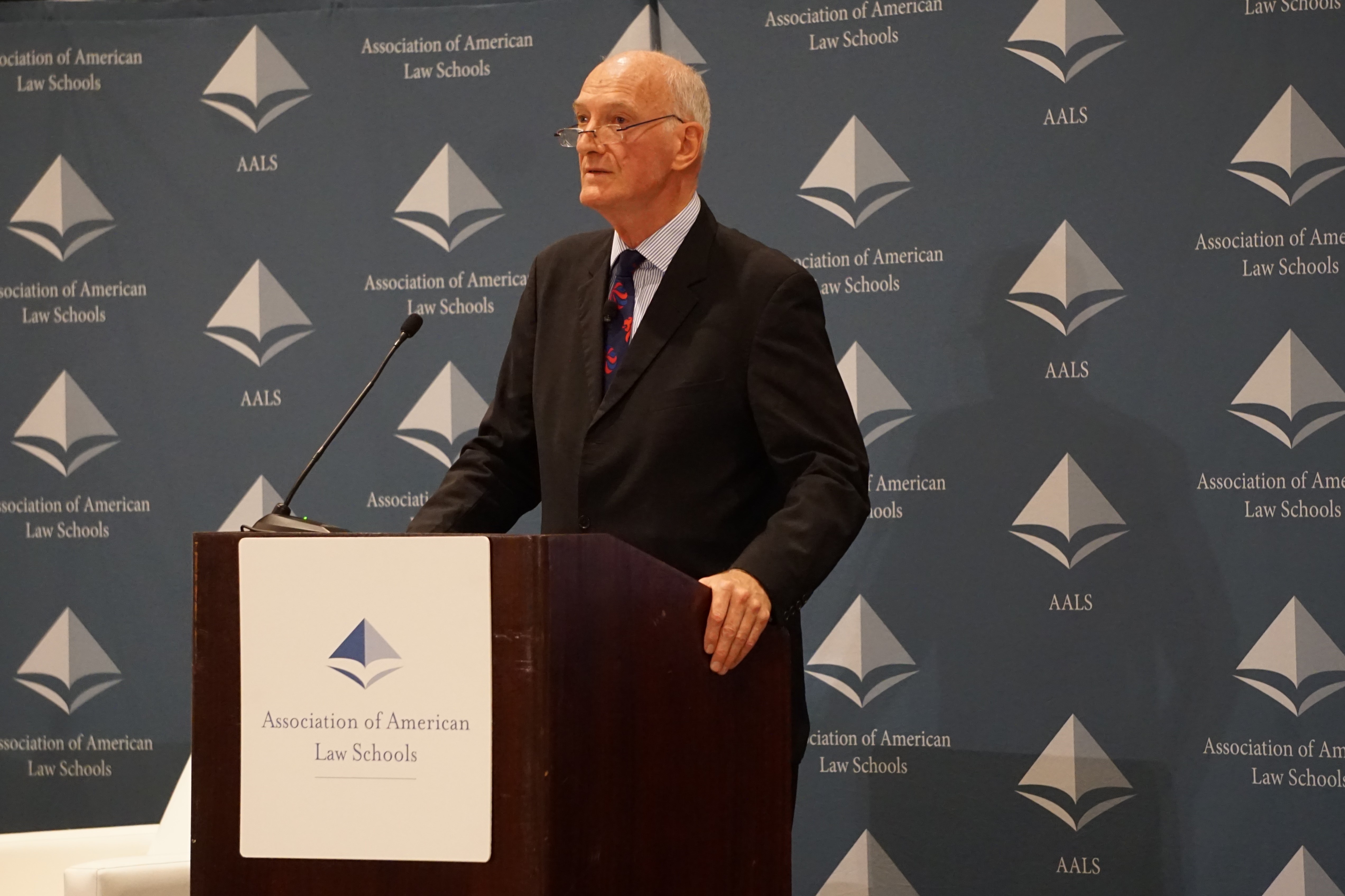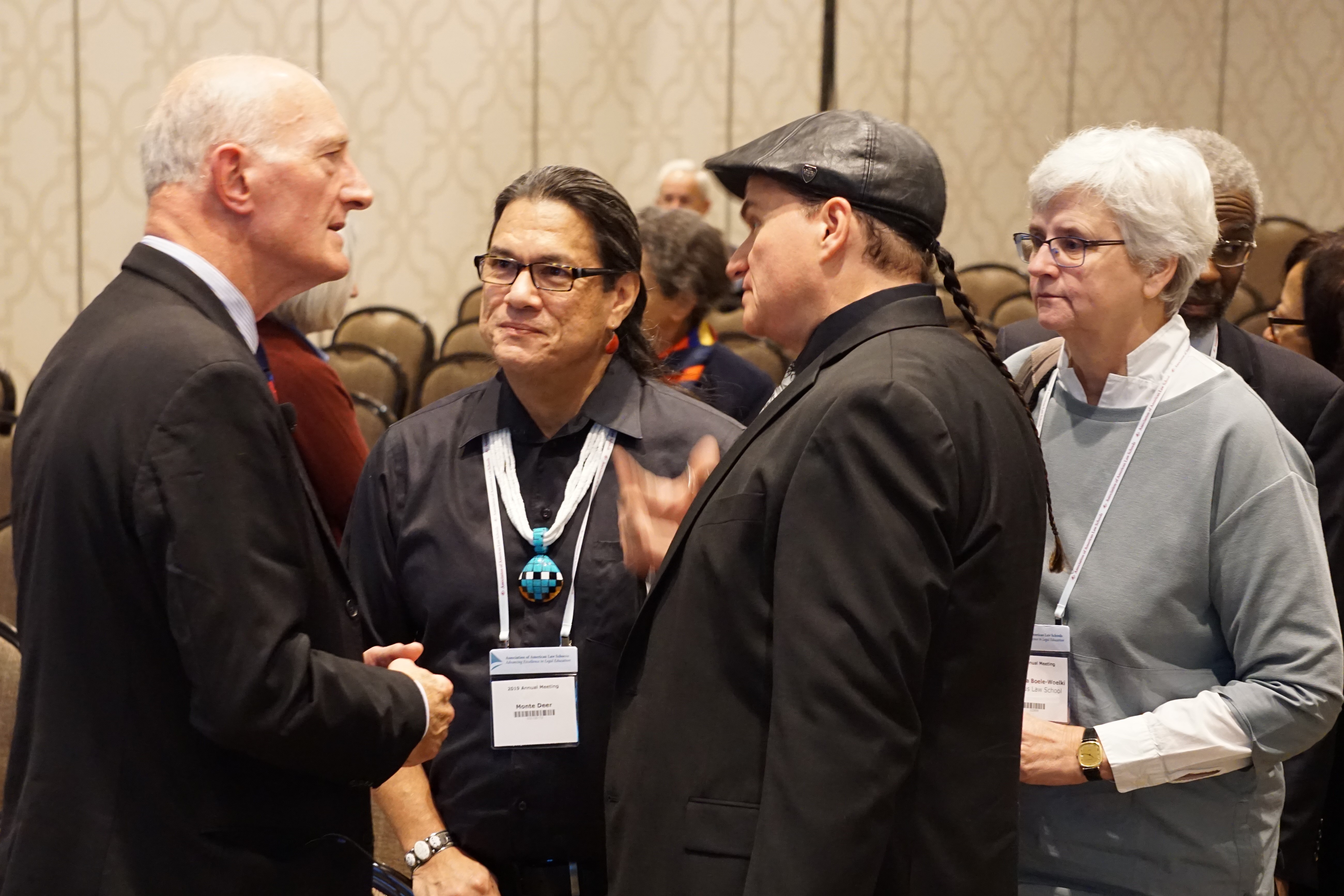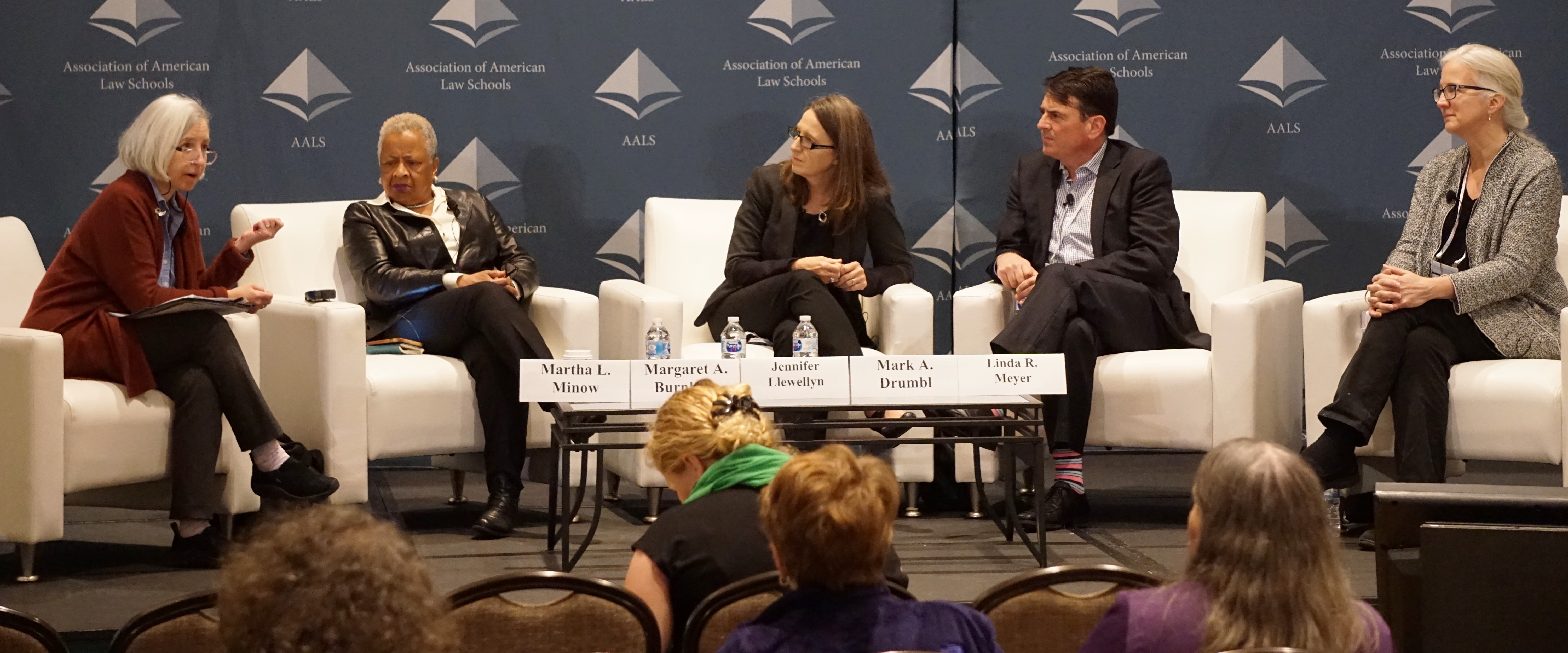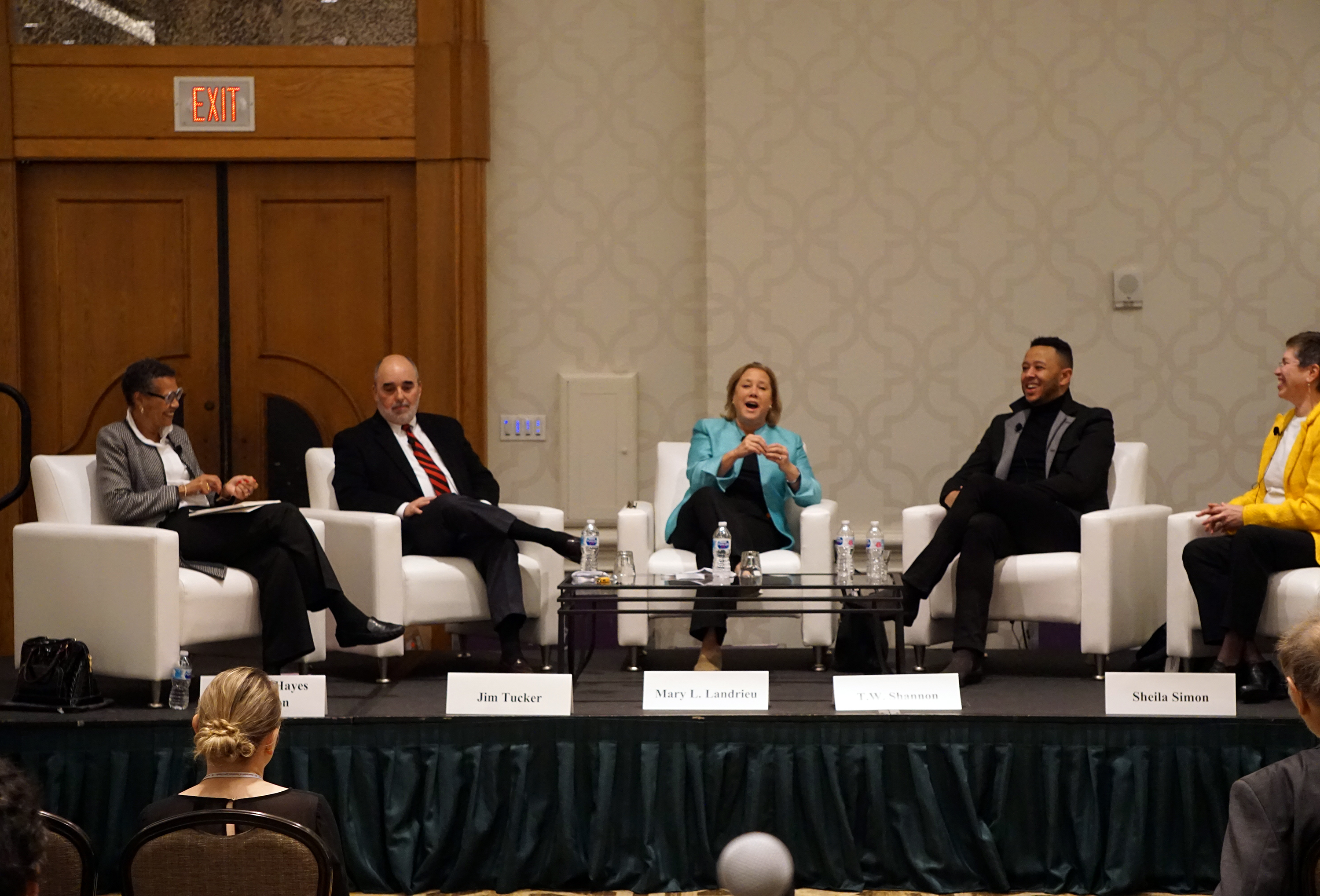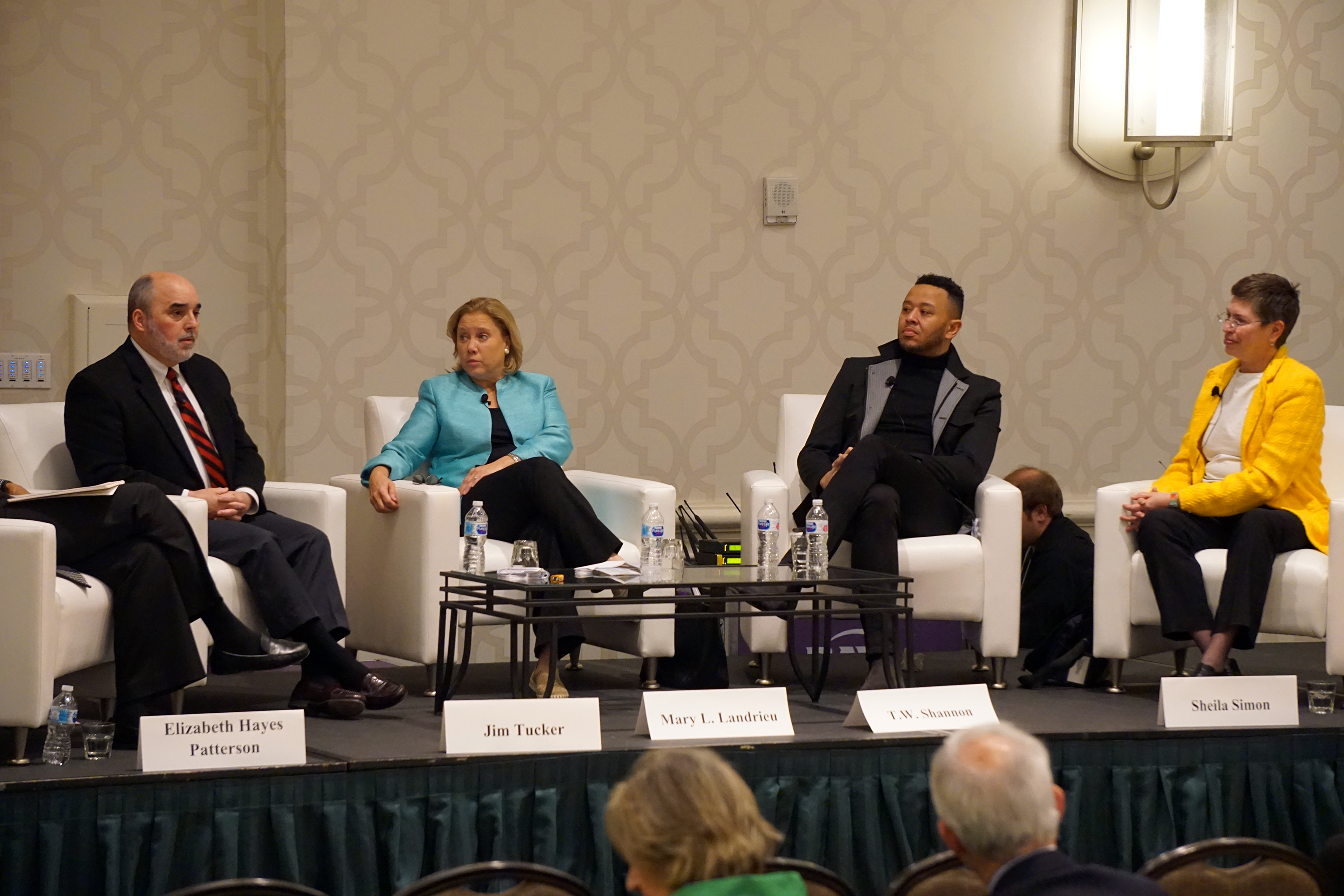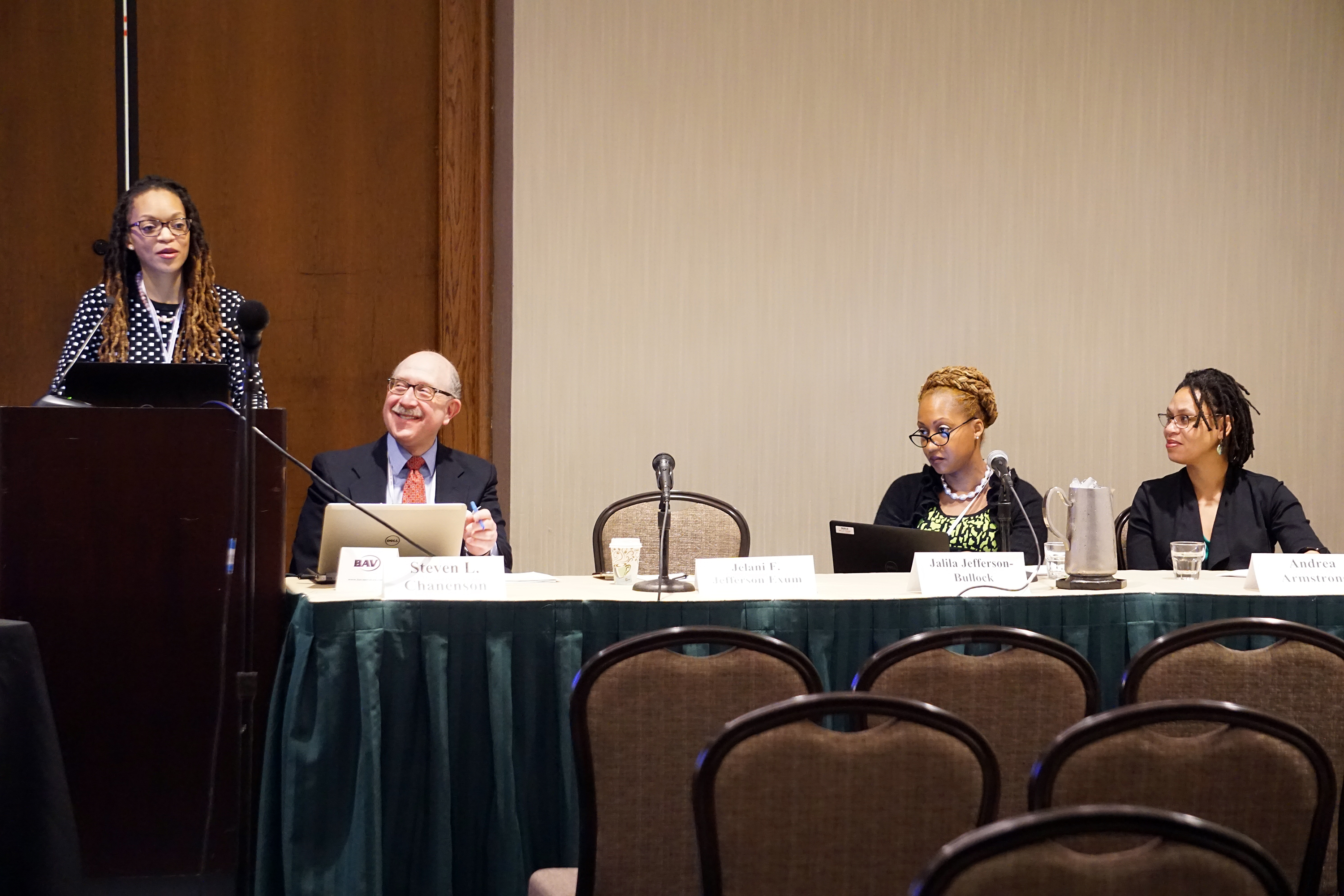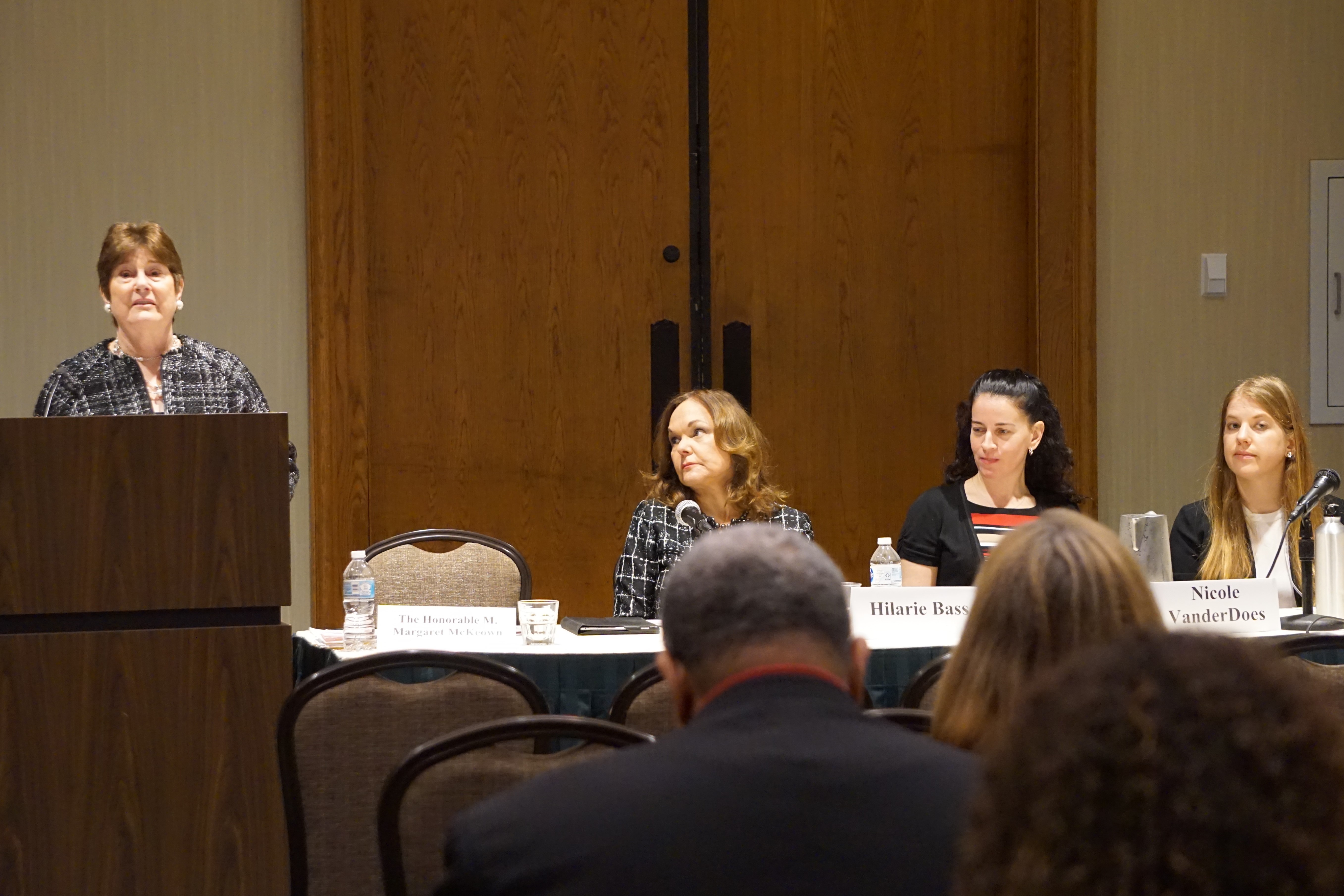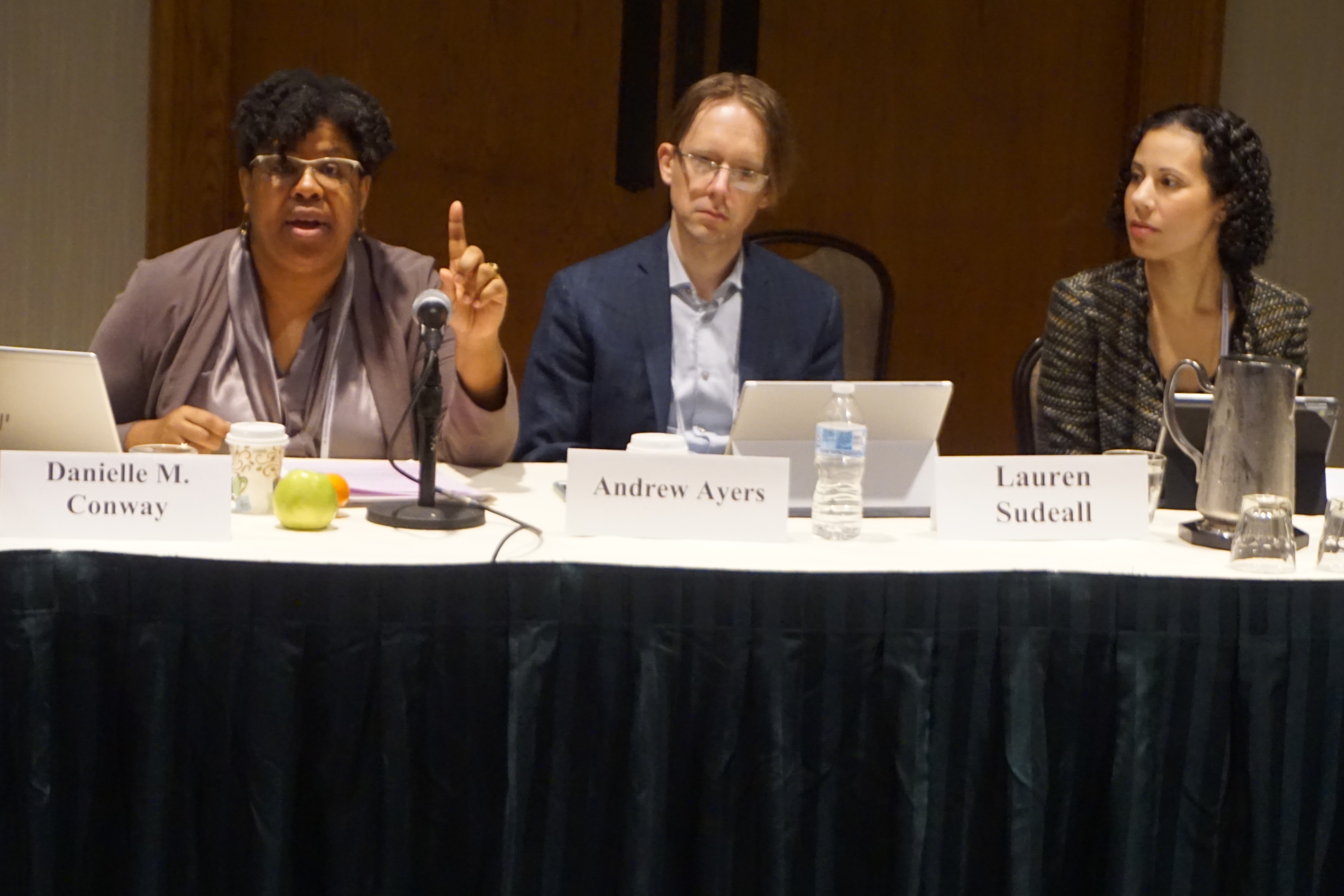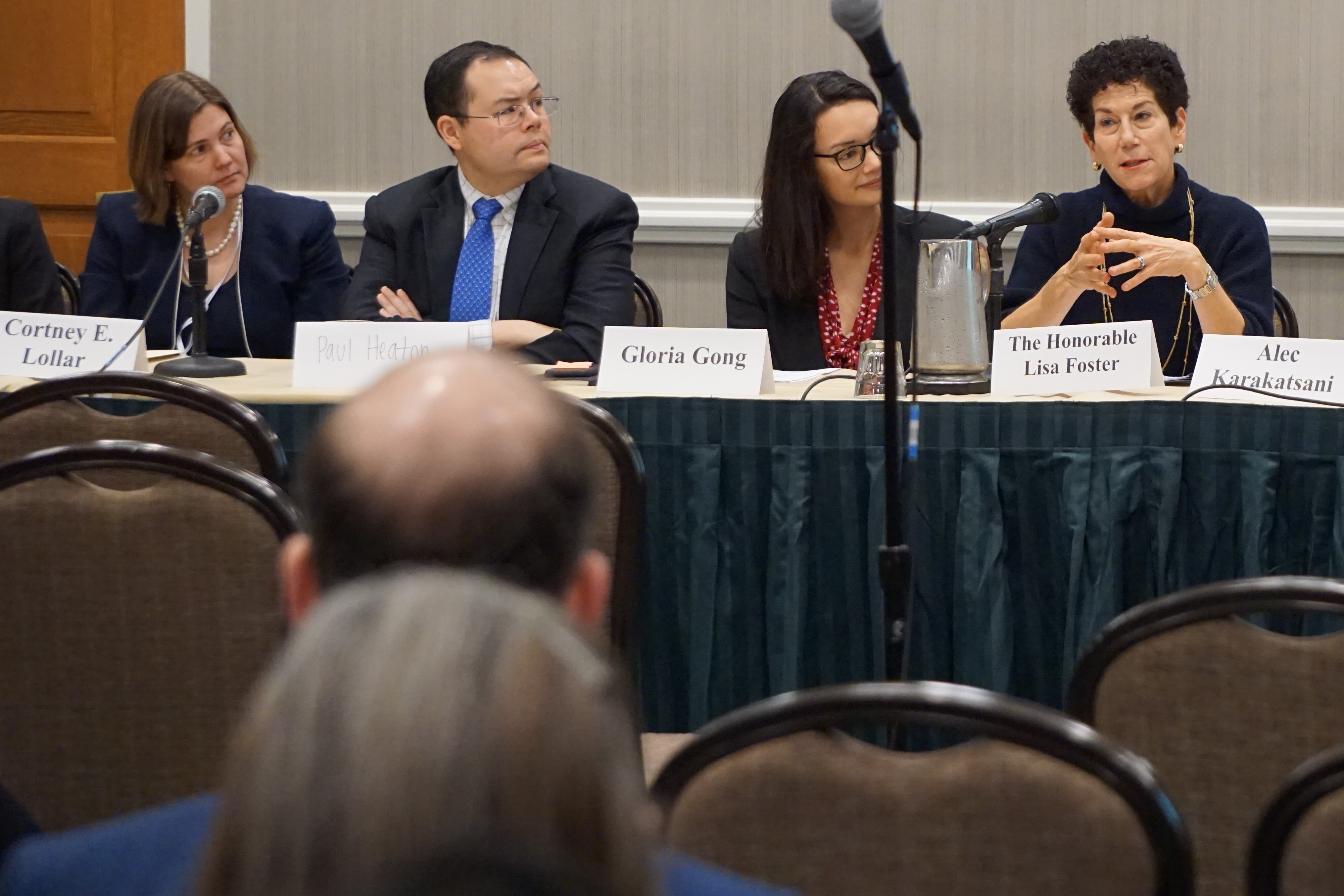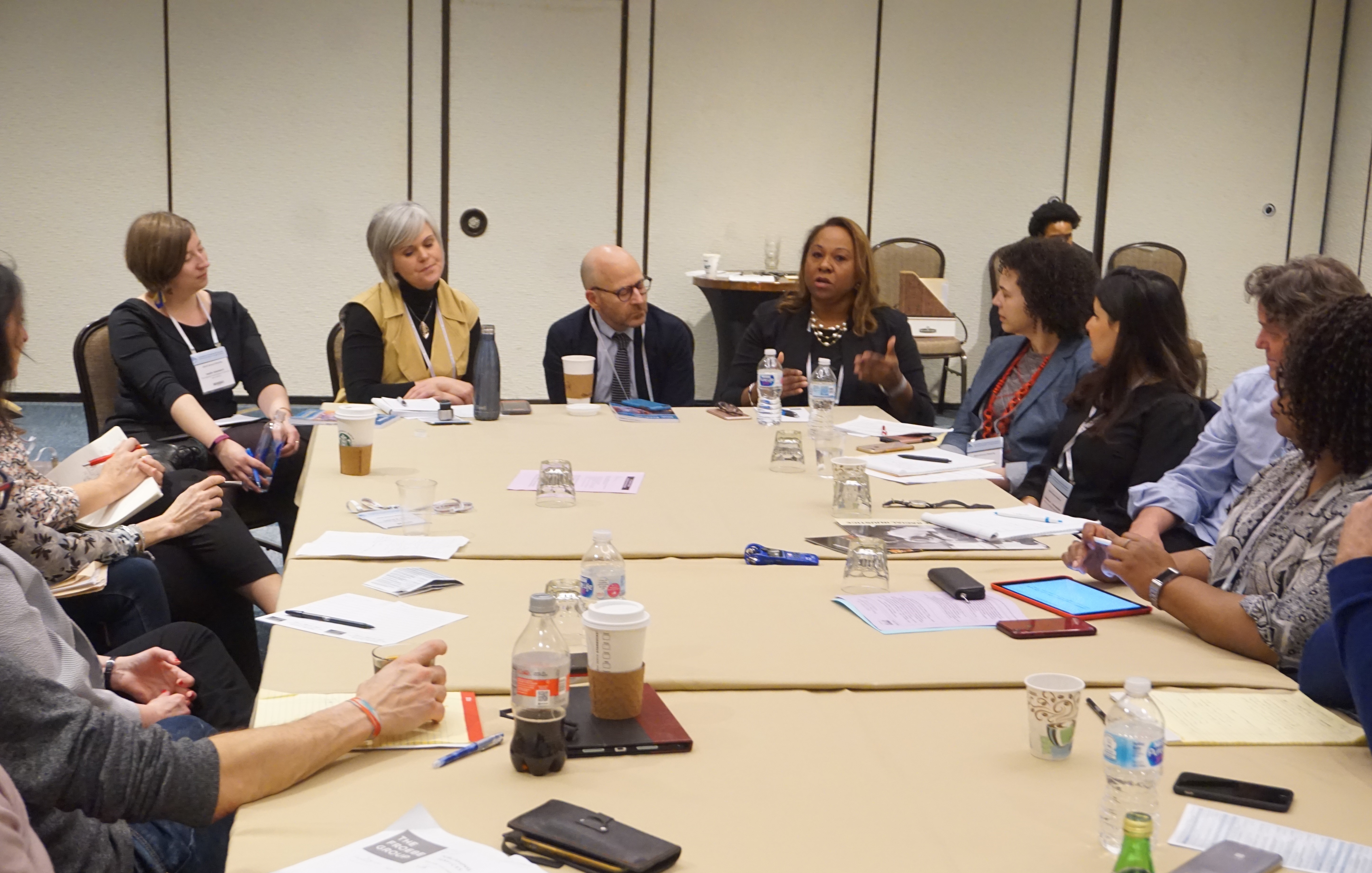 The meeting is our time to honor some of the leading figures in the legal academy. The Association's highest honor, the Triennial Award for Lifetime Service to Legal Education and to the Law, was awarded to Michael A. Olivas (University of Houston Law) on Thursday.
"I cannot imagine…a life better than being a law professor. Everyone in this room knows this ineffable truth: being a law professor is a great gig," Olivas said during his acceptance. "I've been very lucky…It's been a wonderful 37 years and I can't imagine leaving on a better note than this."
The following award winners were also highlighted:
The Section of the Year award was presented to the Section on Alternative Dispute Resolution at Sunday's breakfast for Section Chairs. The section was recognized for mentorship, professional development programming, and other activities that promote AALS Core Values.
The two winners of the Scholarly Papers Awards were Maureen (Molly) E. Brady (University of Virginia Law) for her paper "The Forgotten History of Metes and Bounds," and James D. Nelson, (University of Houston Law) for his paper "Corporate Disestablishment."
Section awards were presented throughout the program at meal events and section programming.
Teachers of the year were honored at the first meeting of the AALS House of Representatives.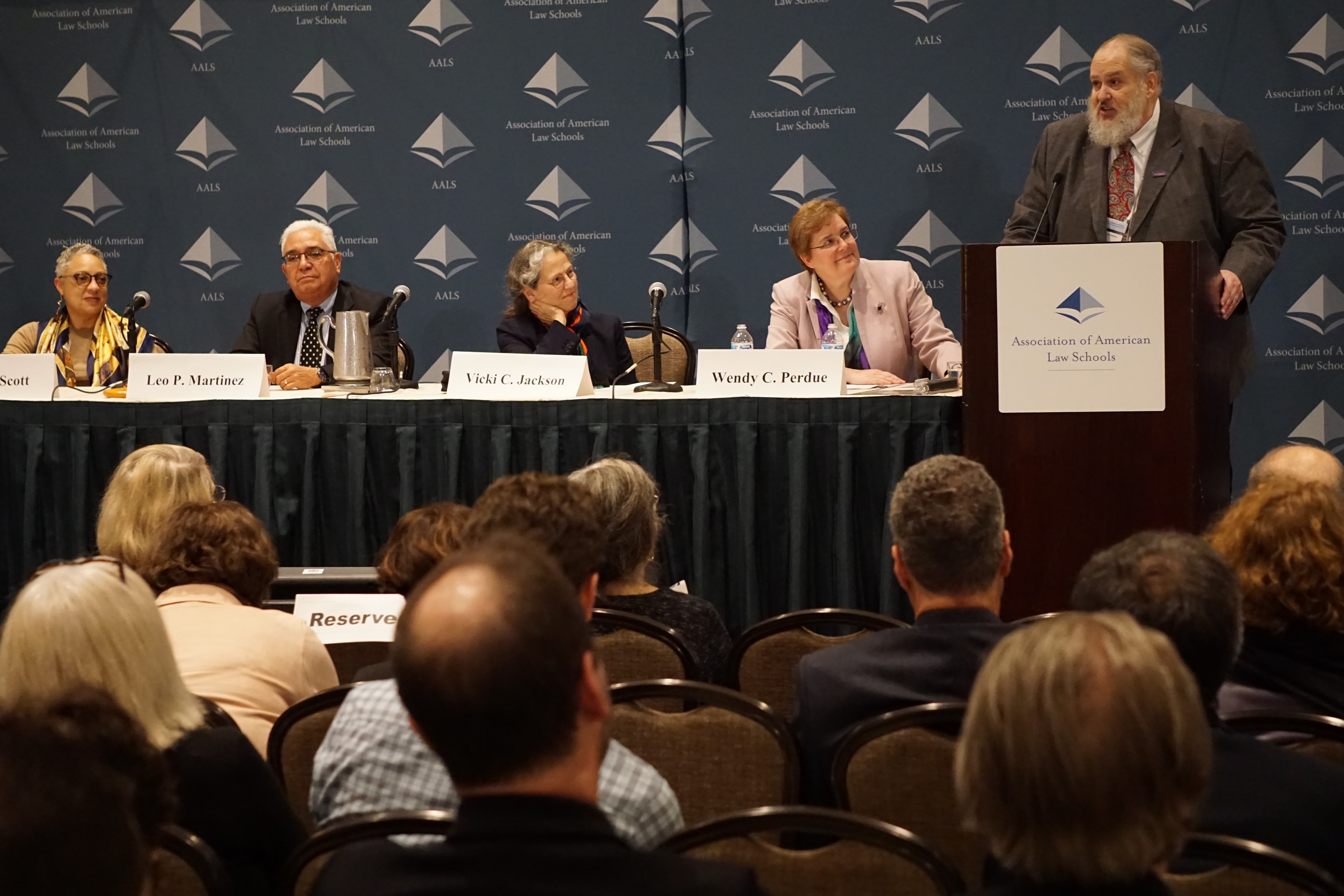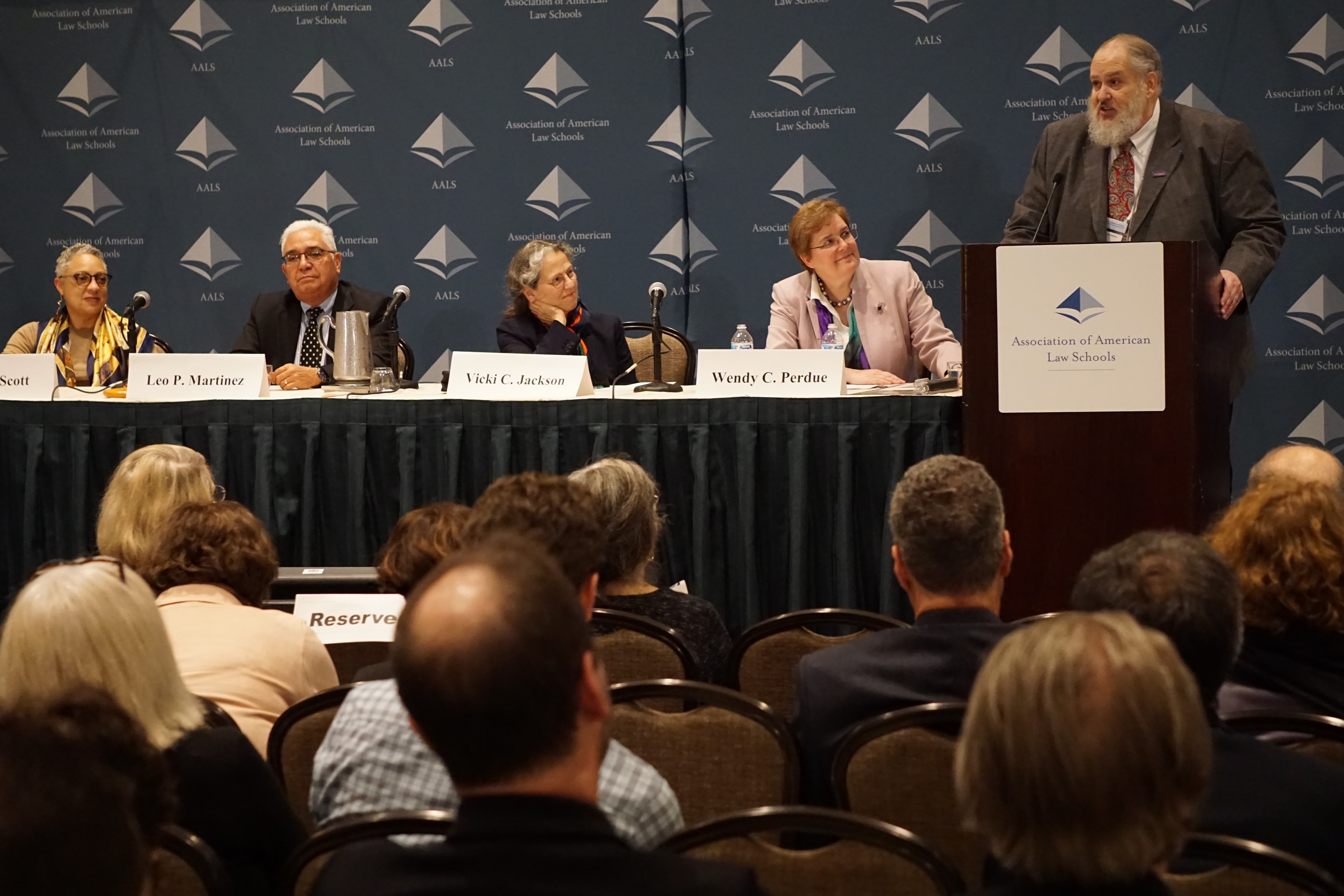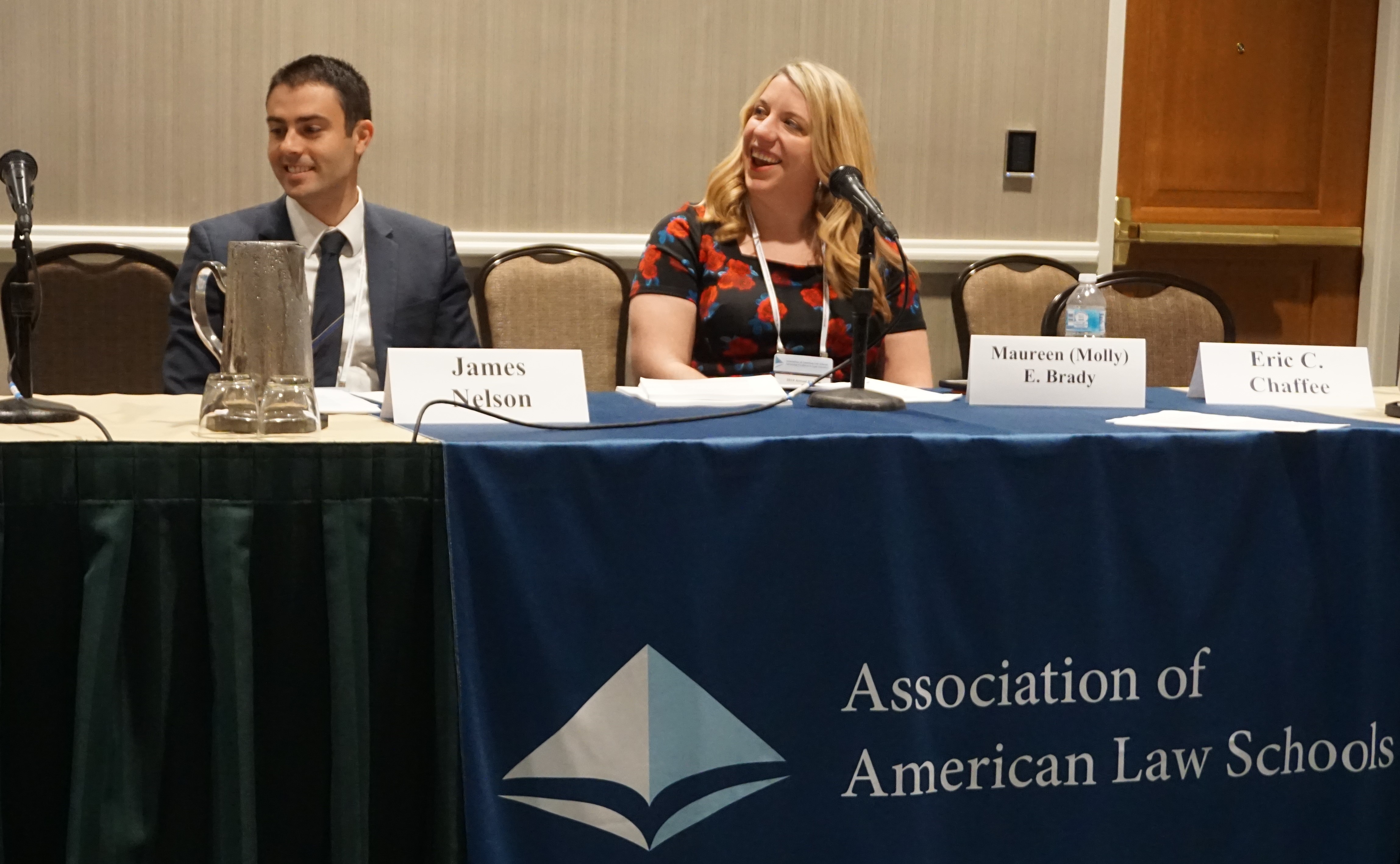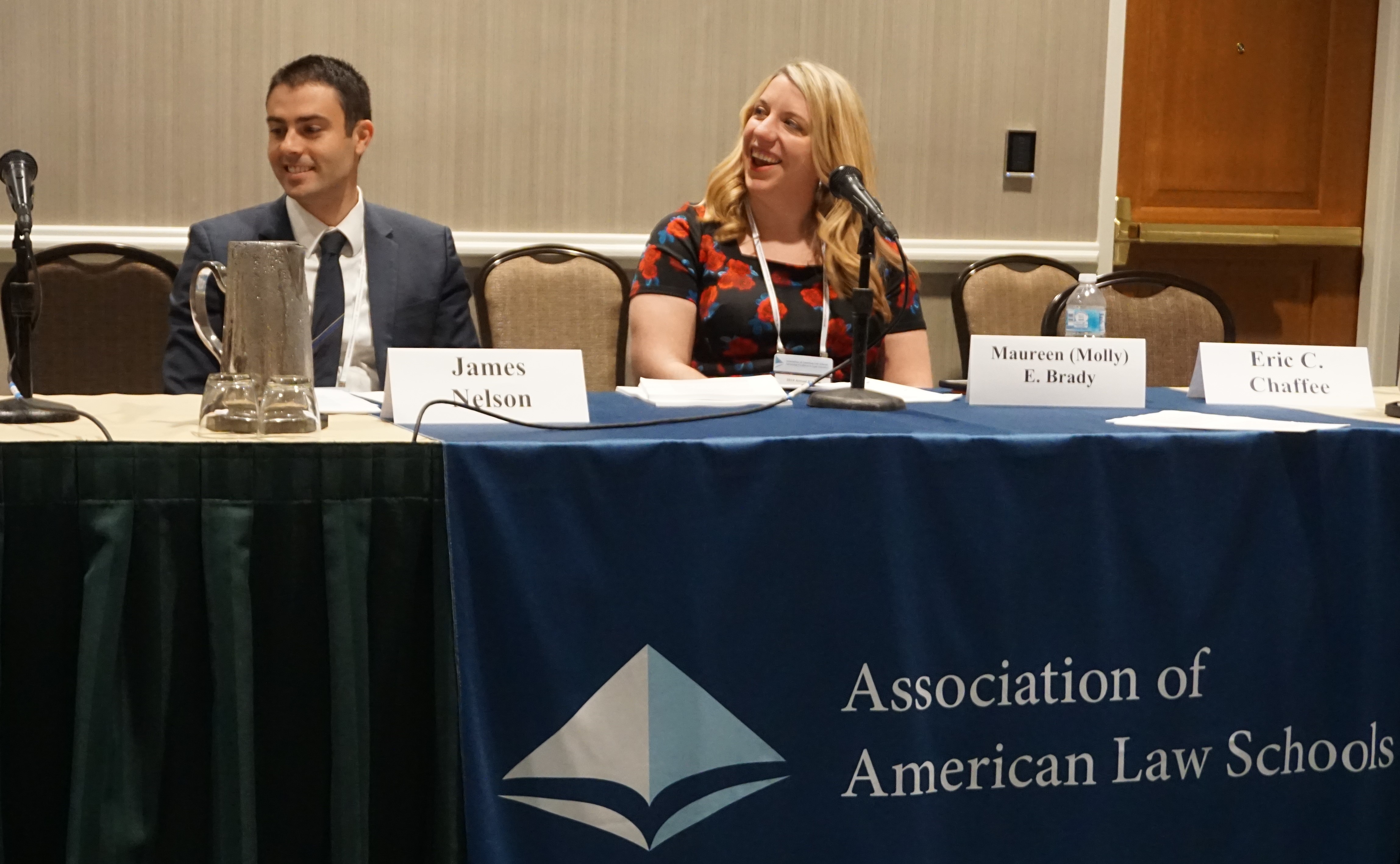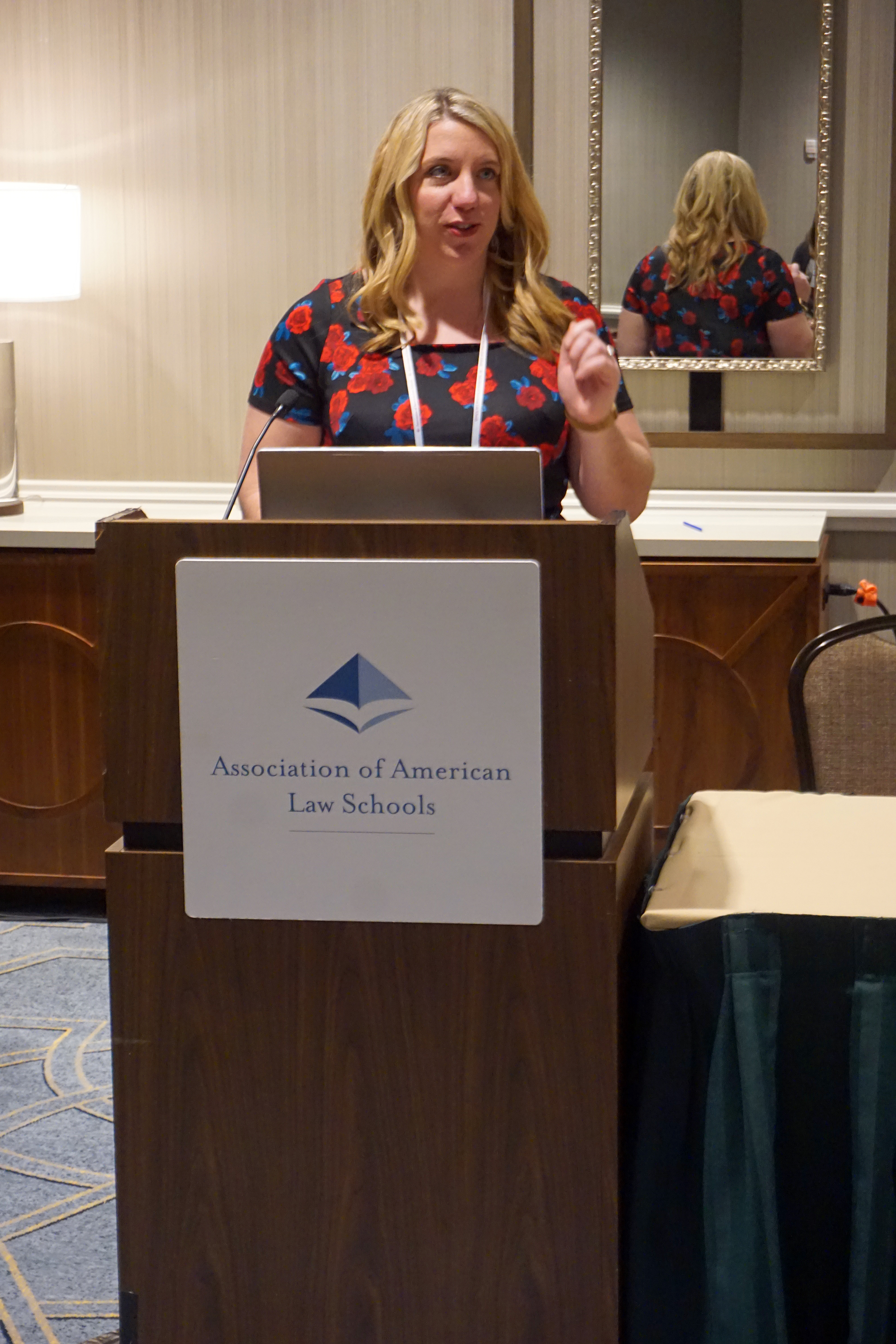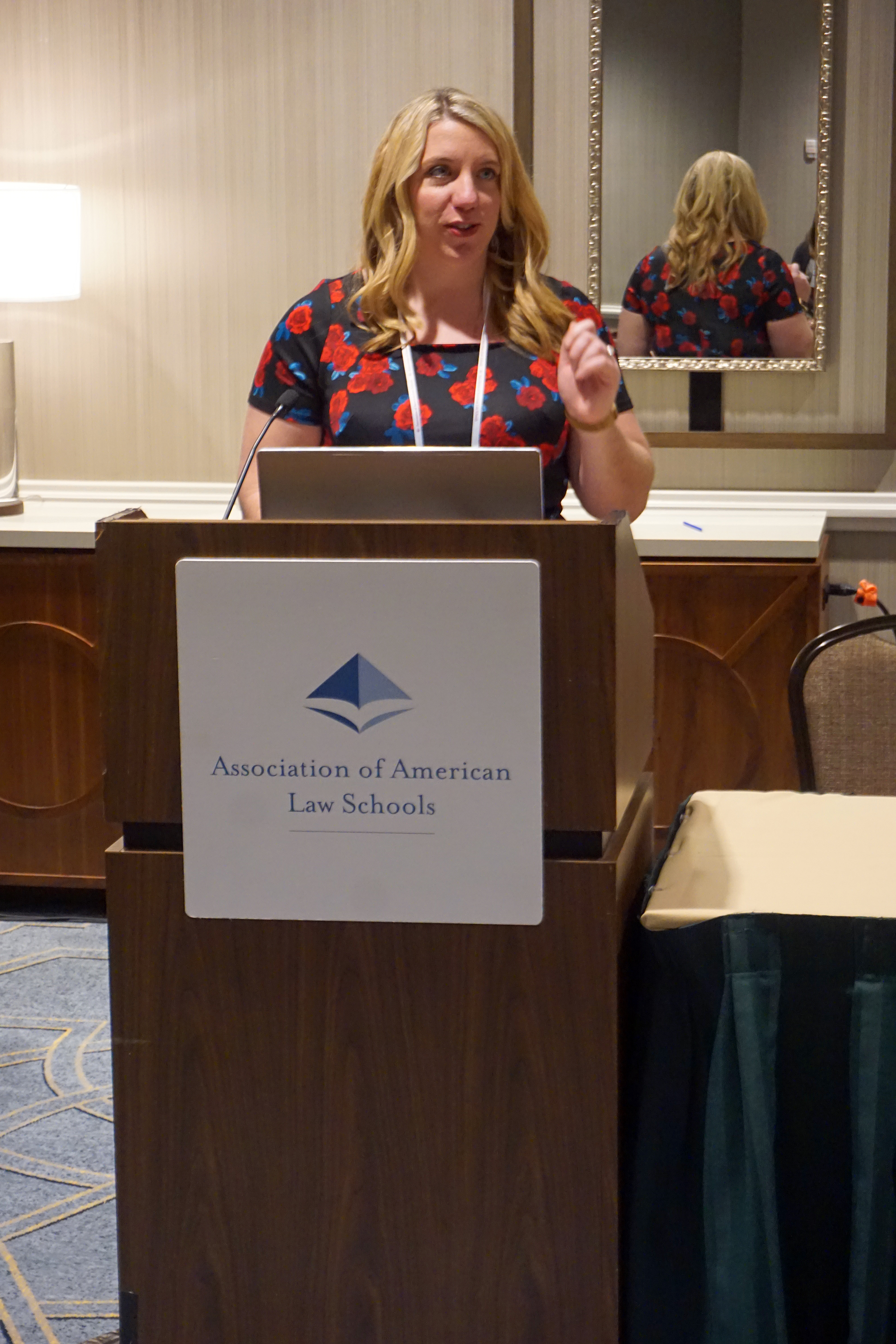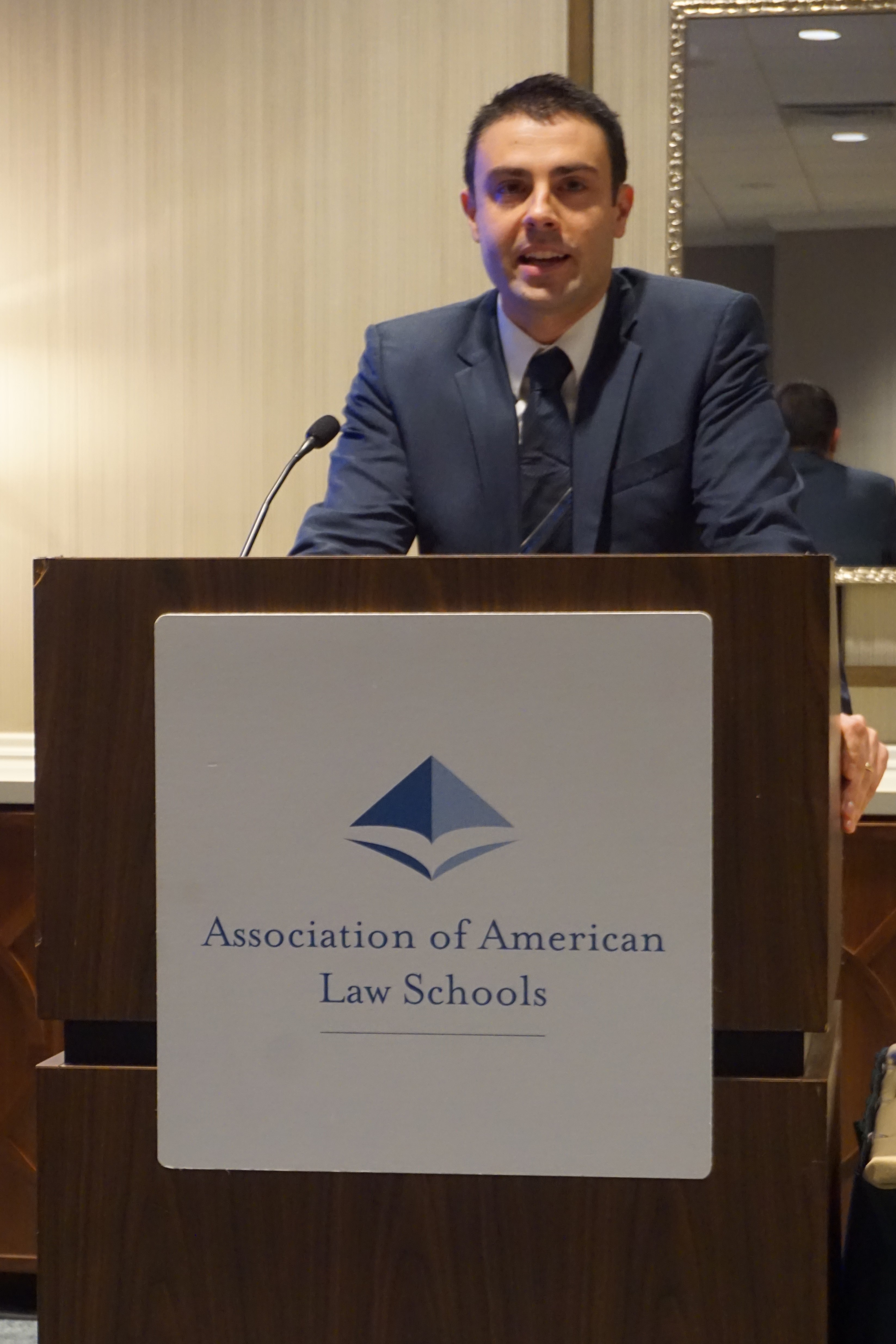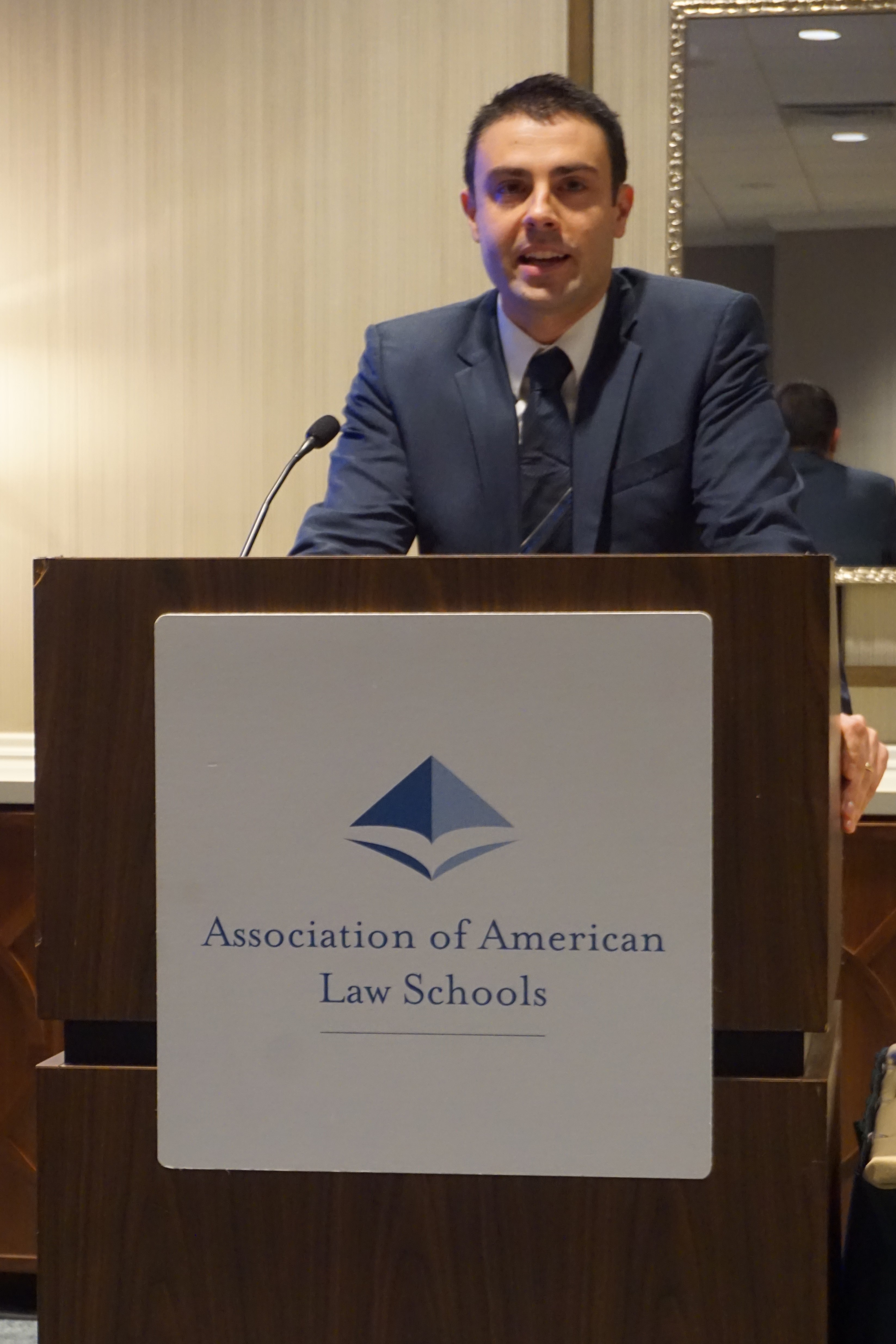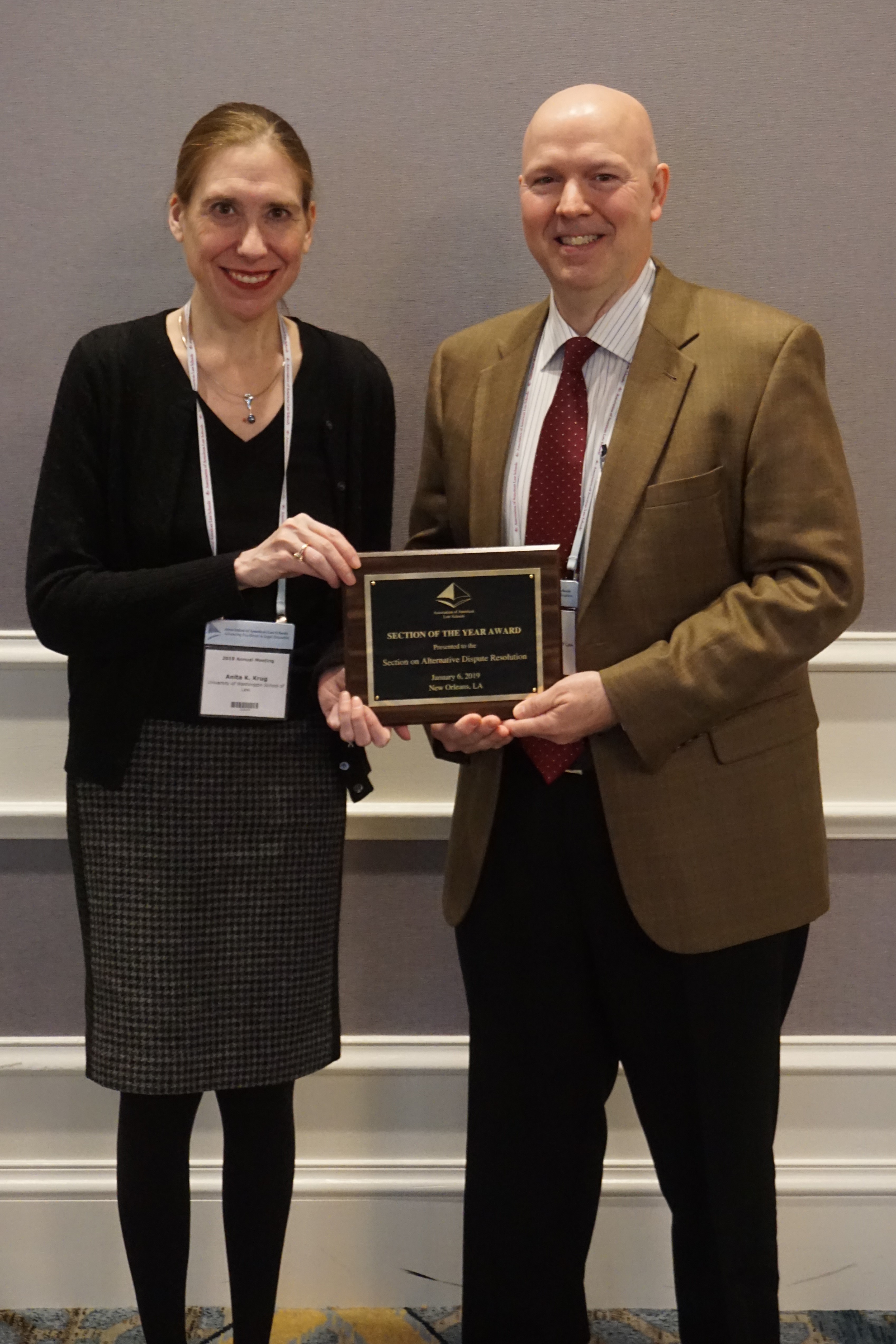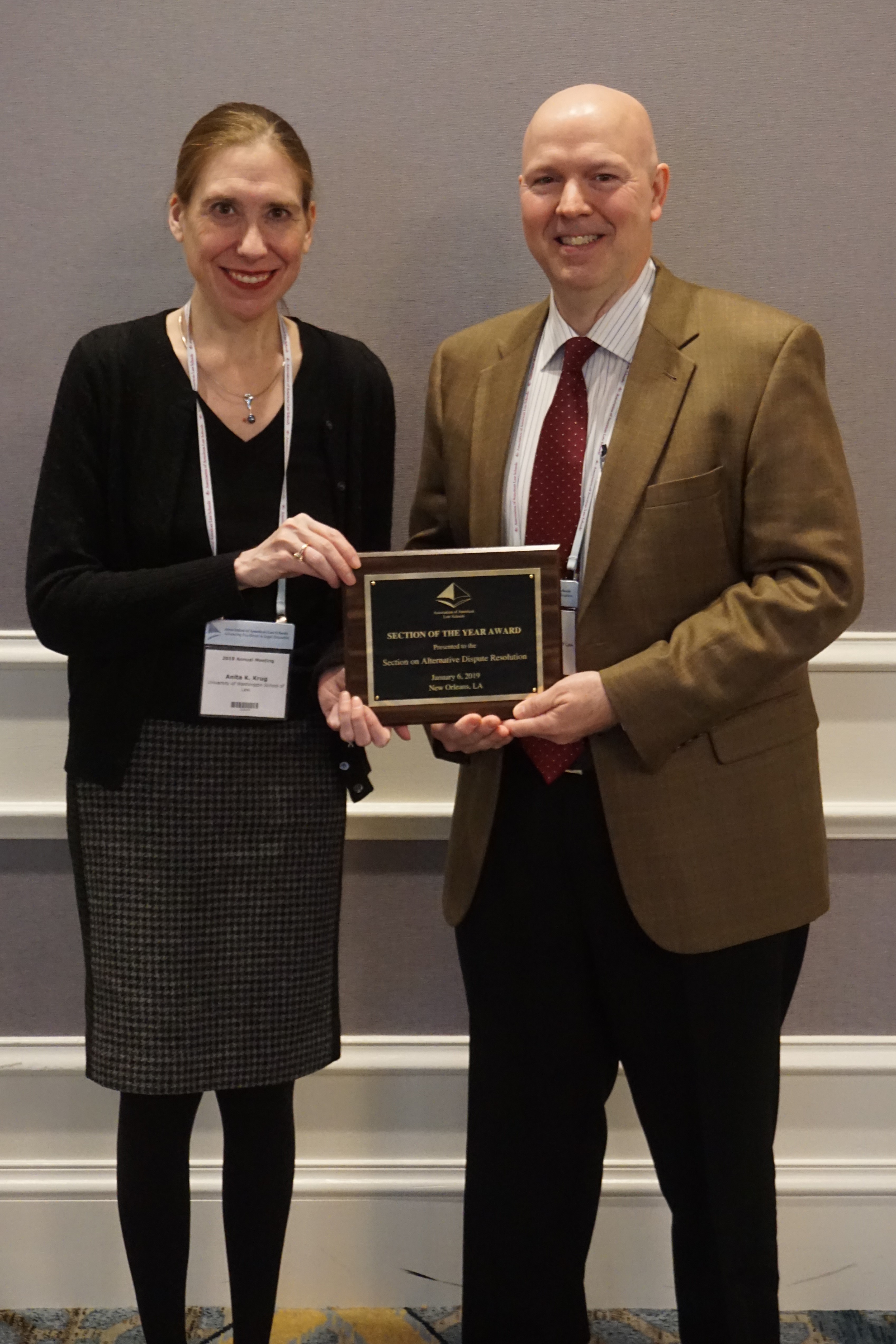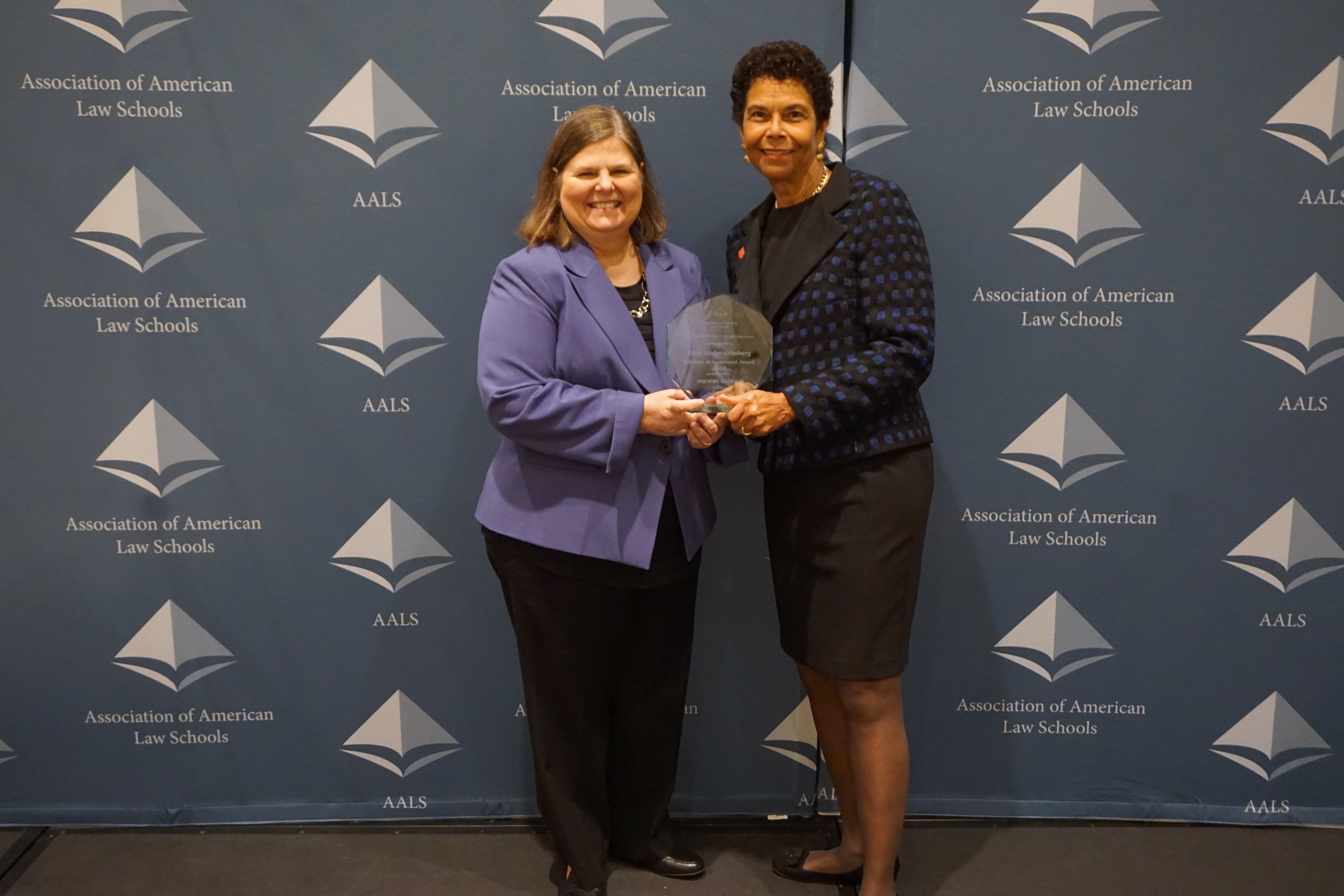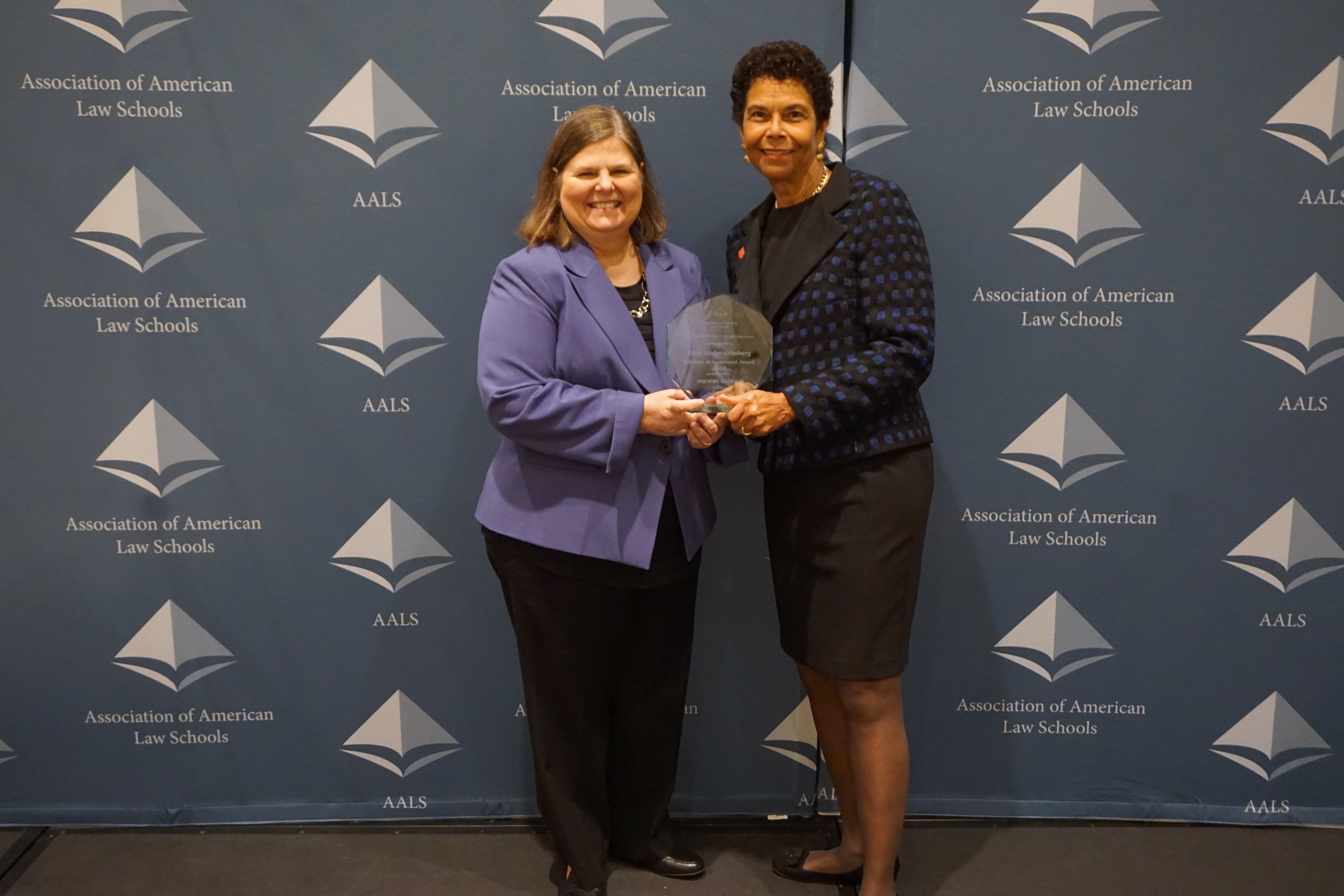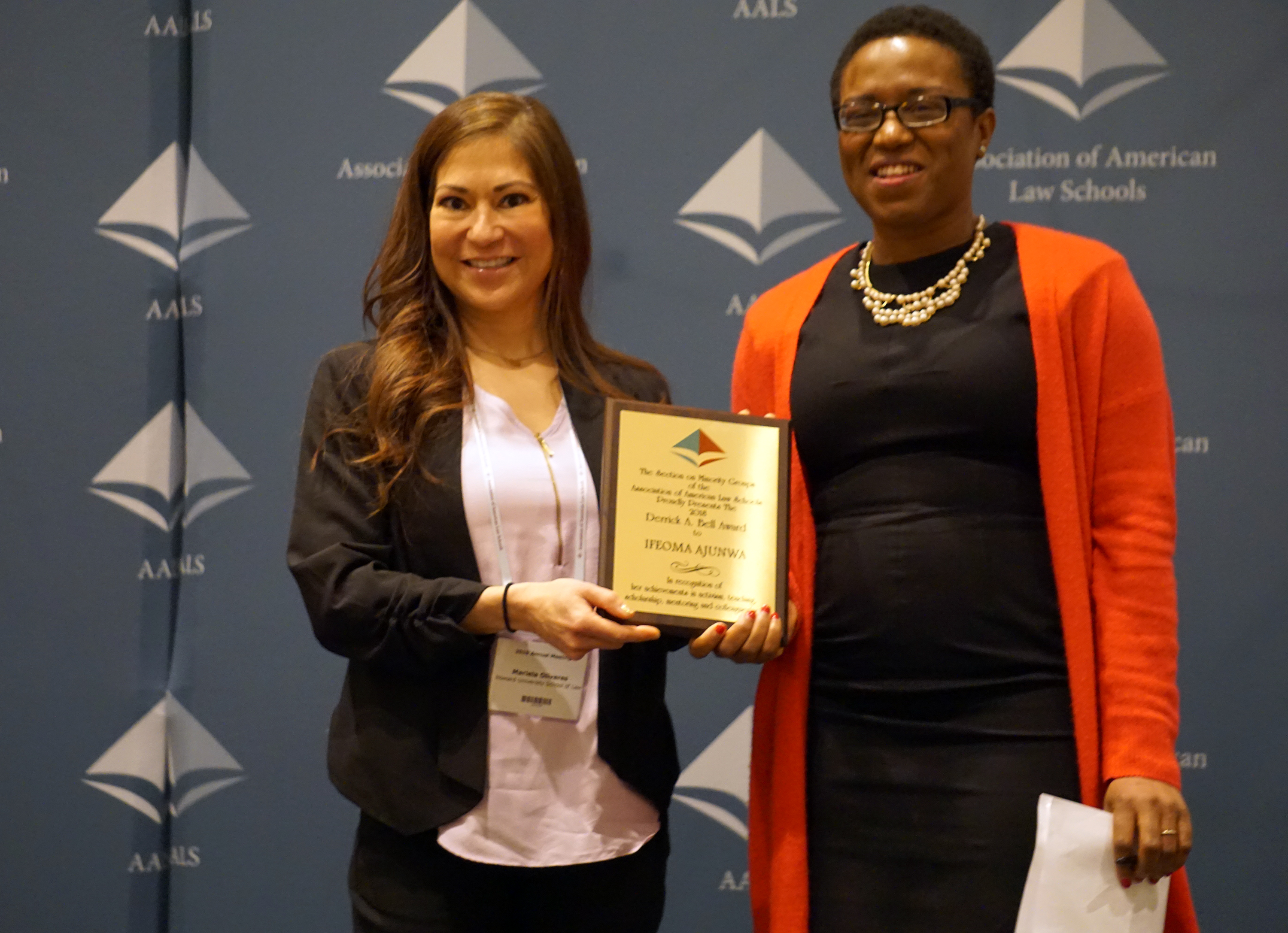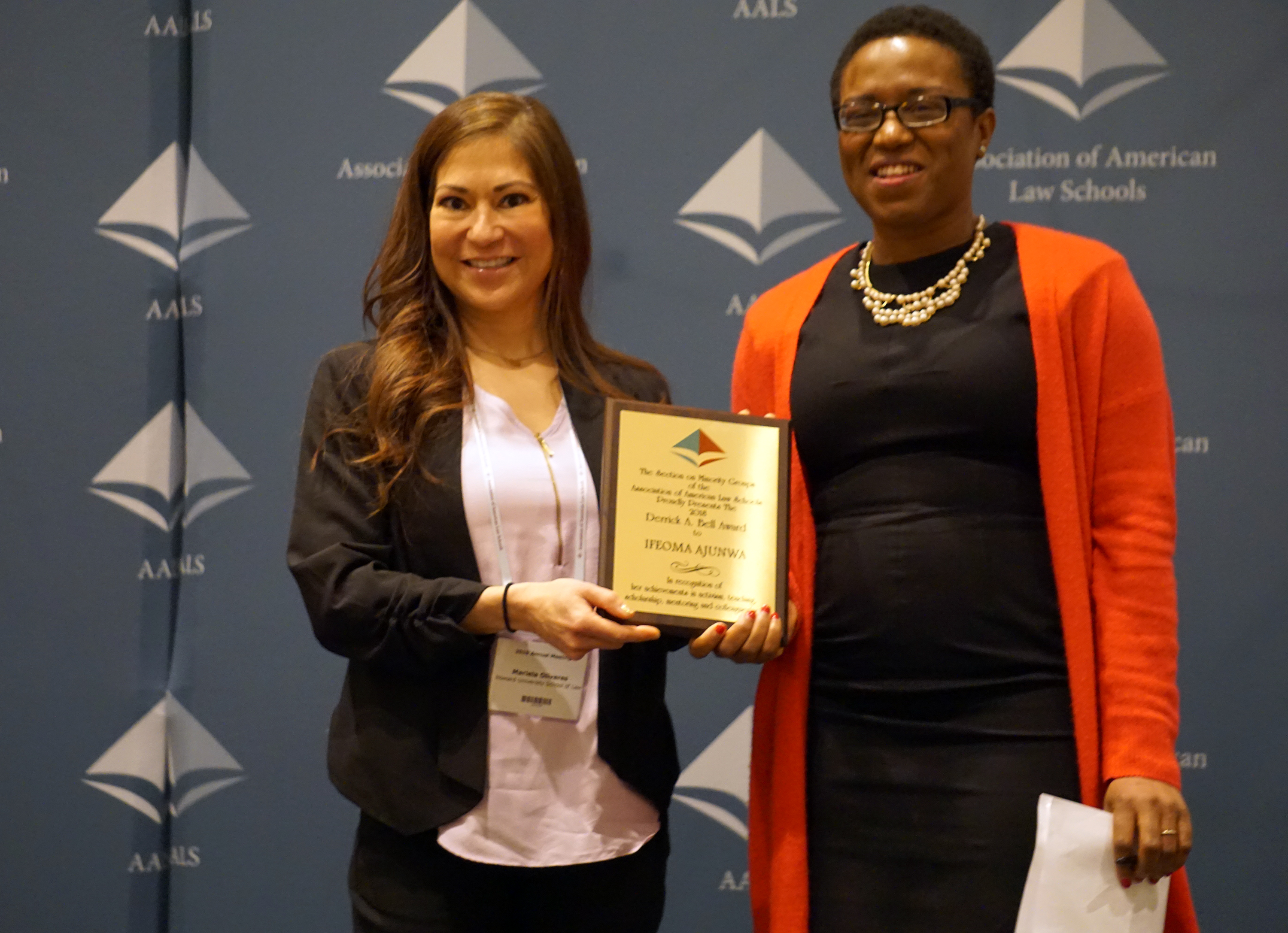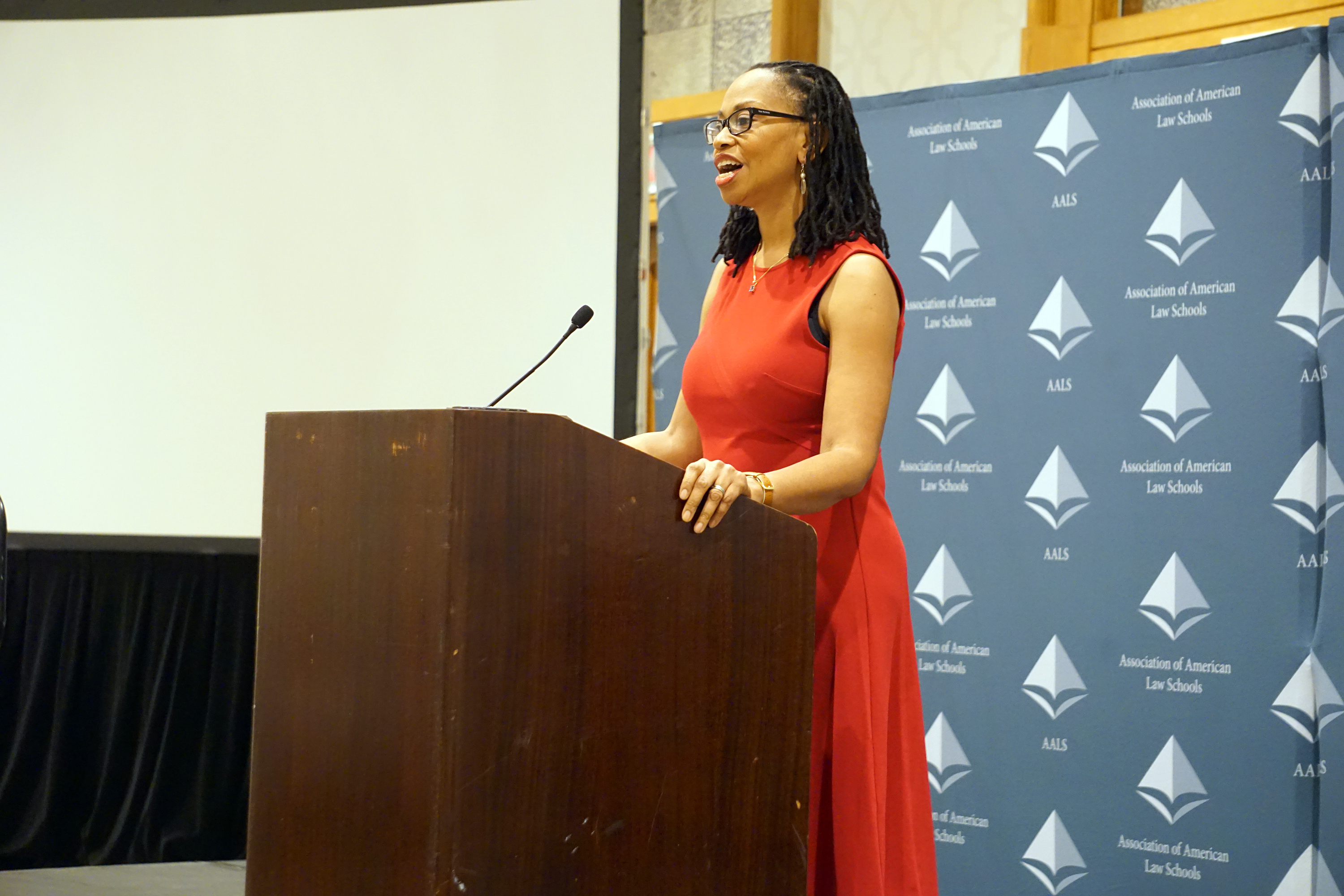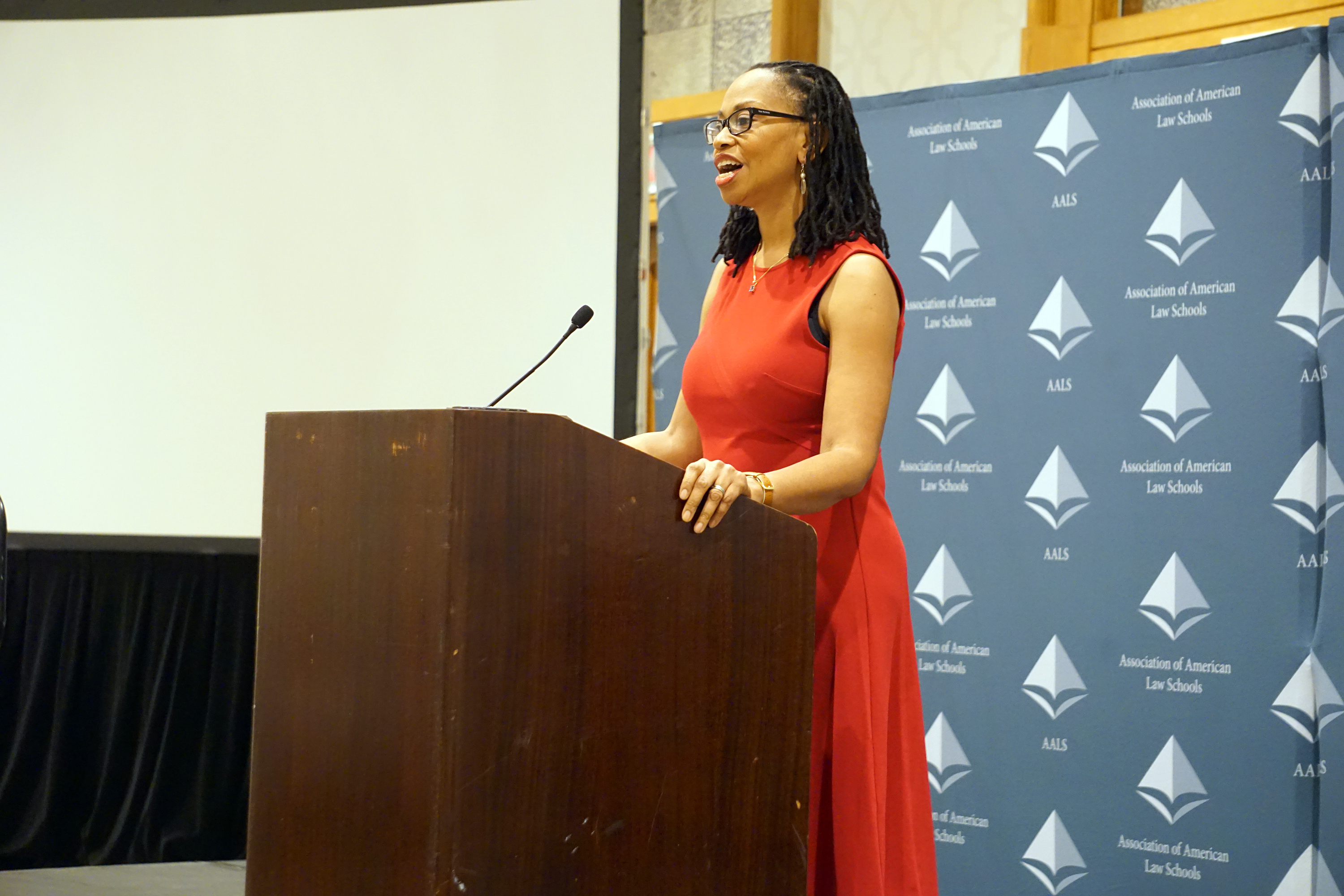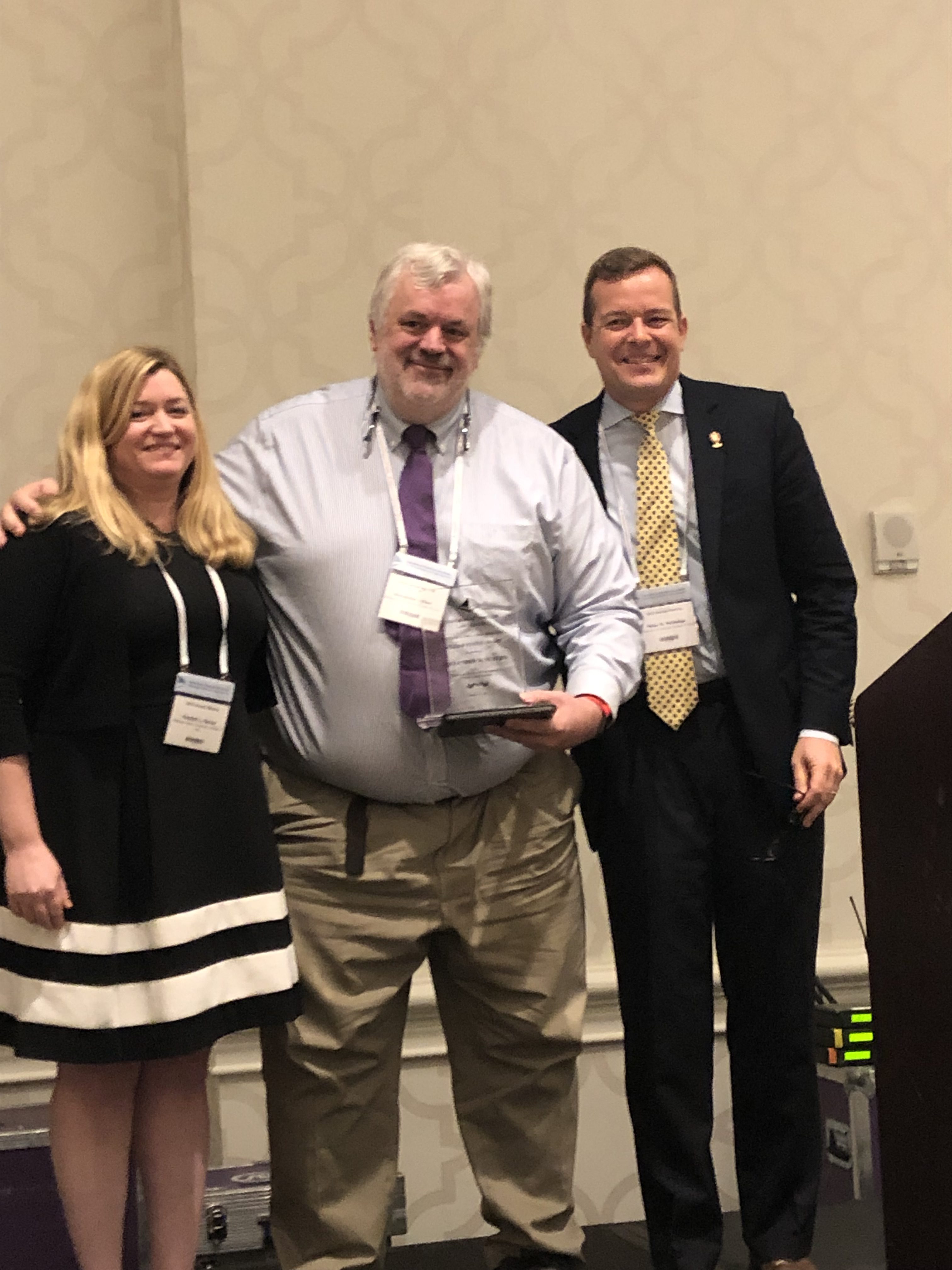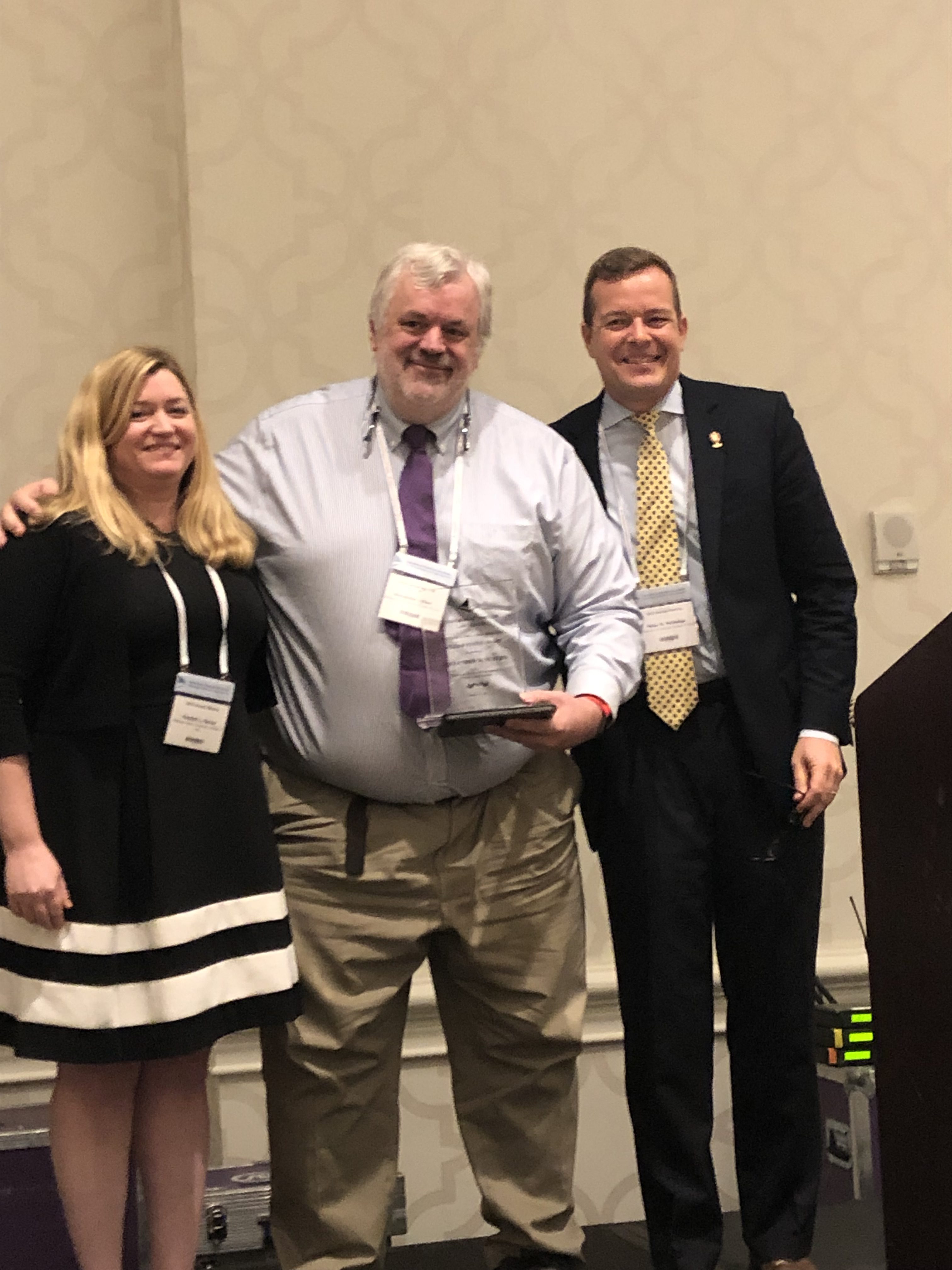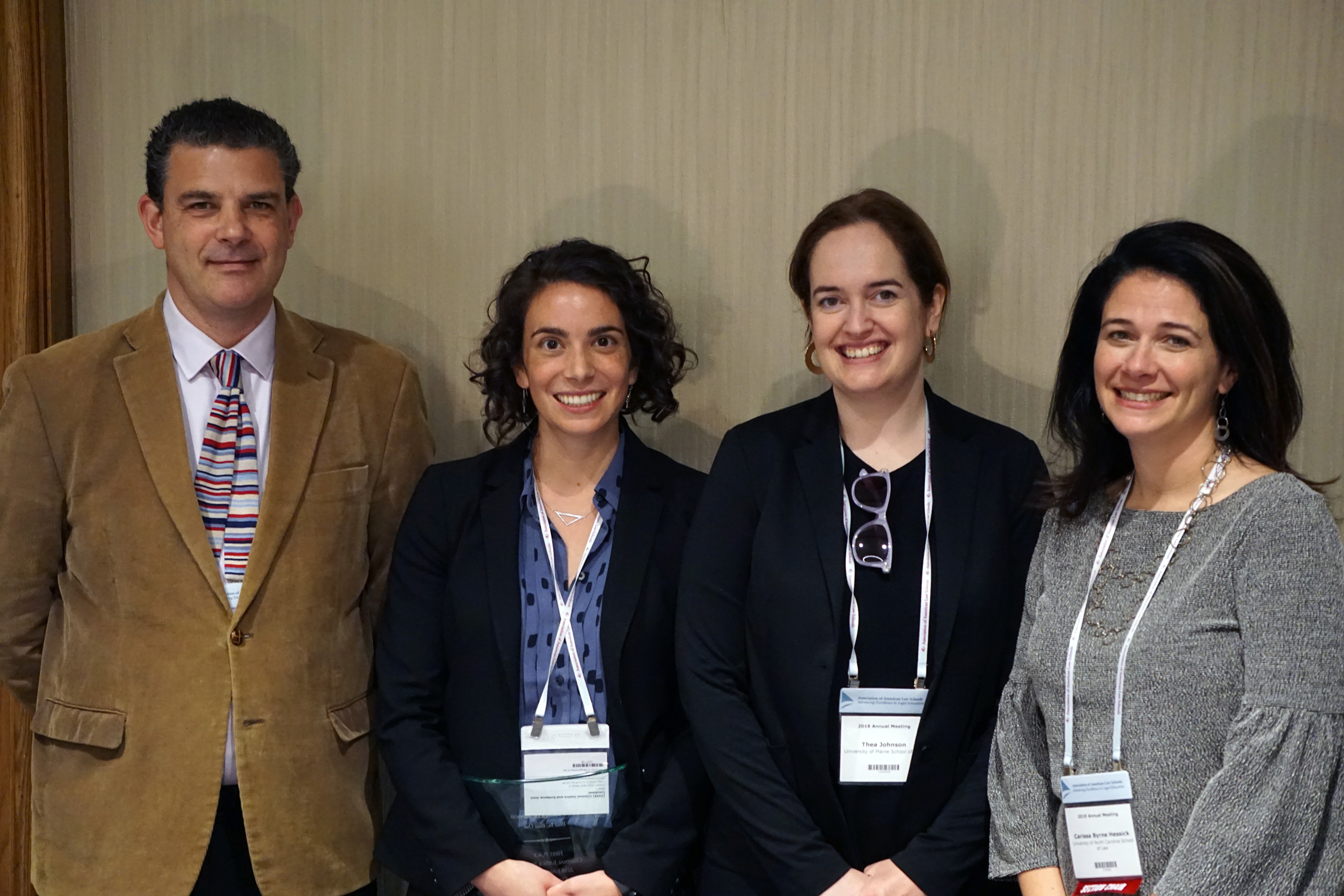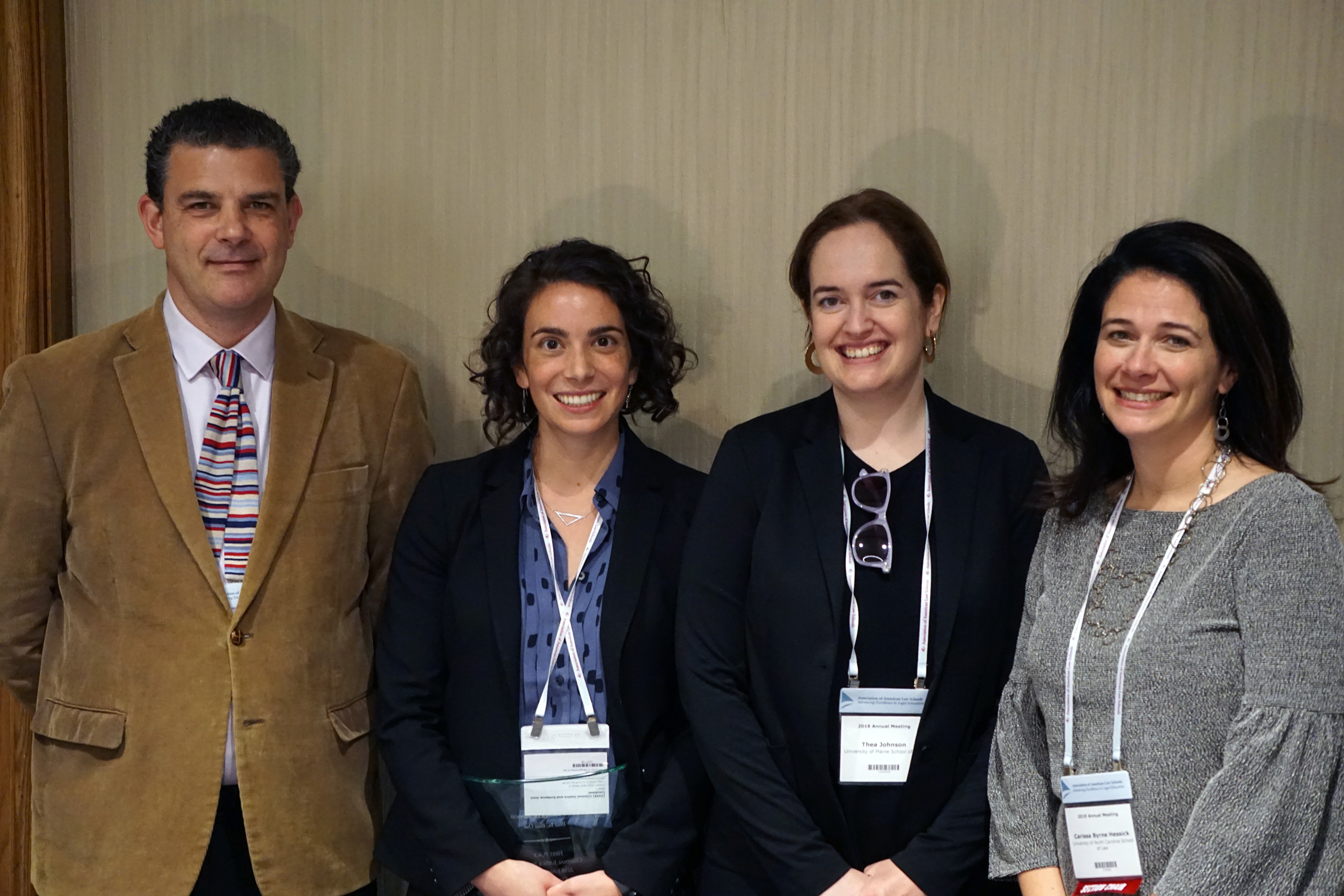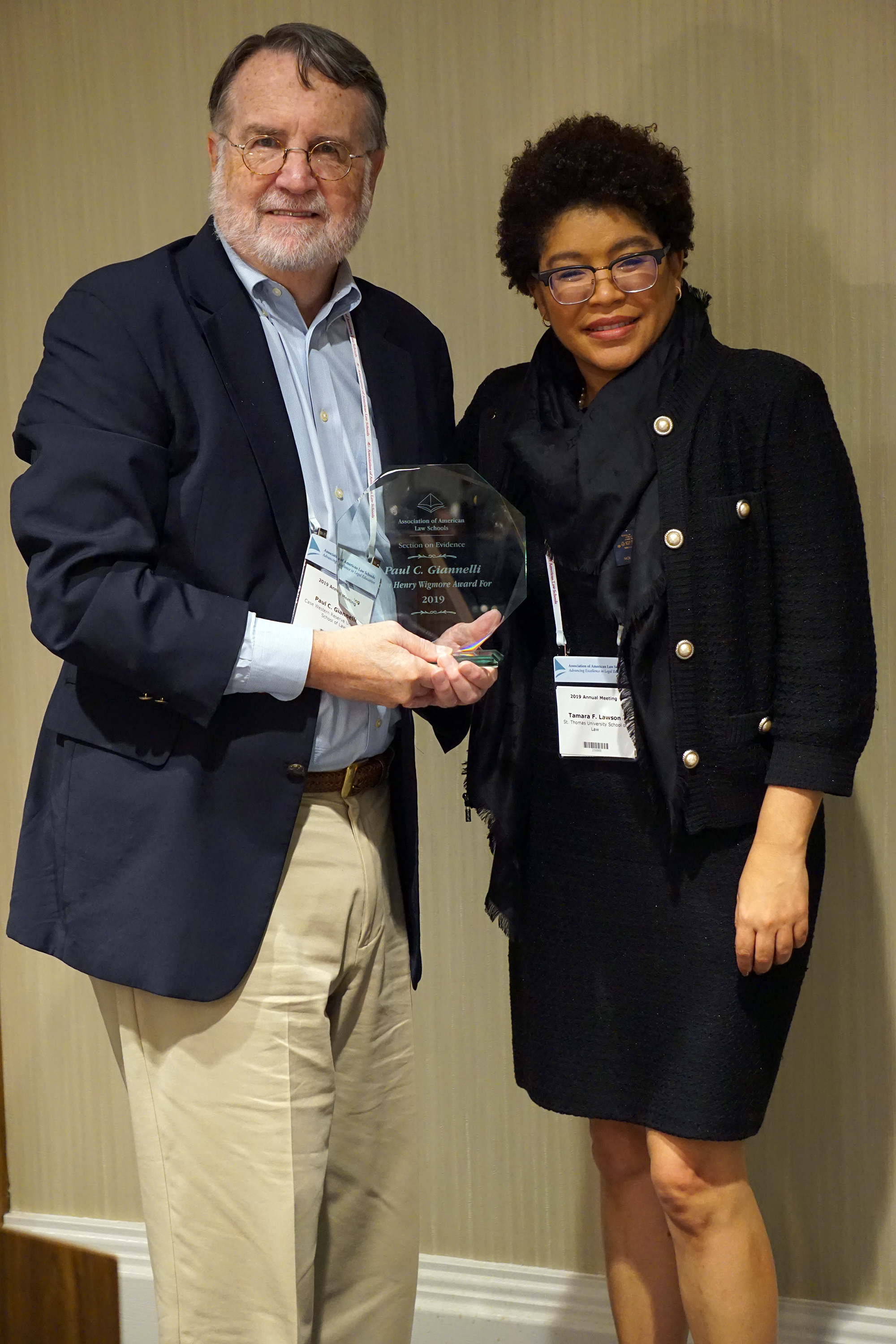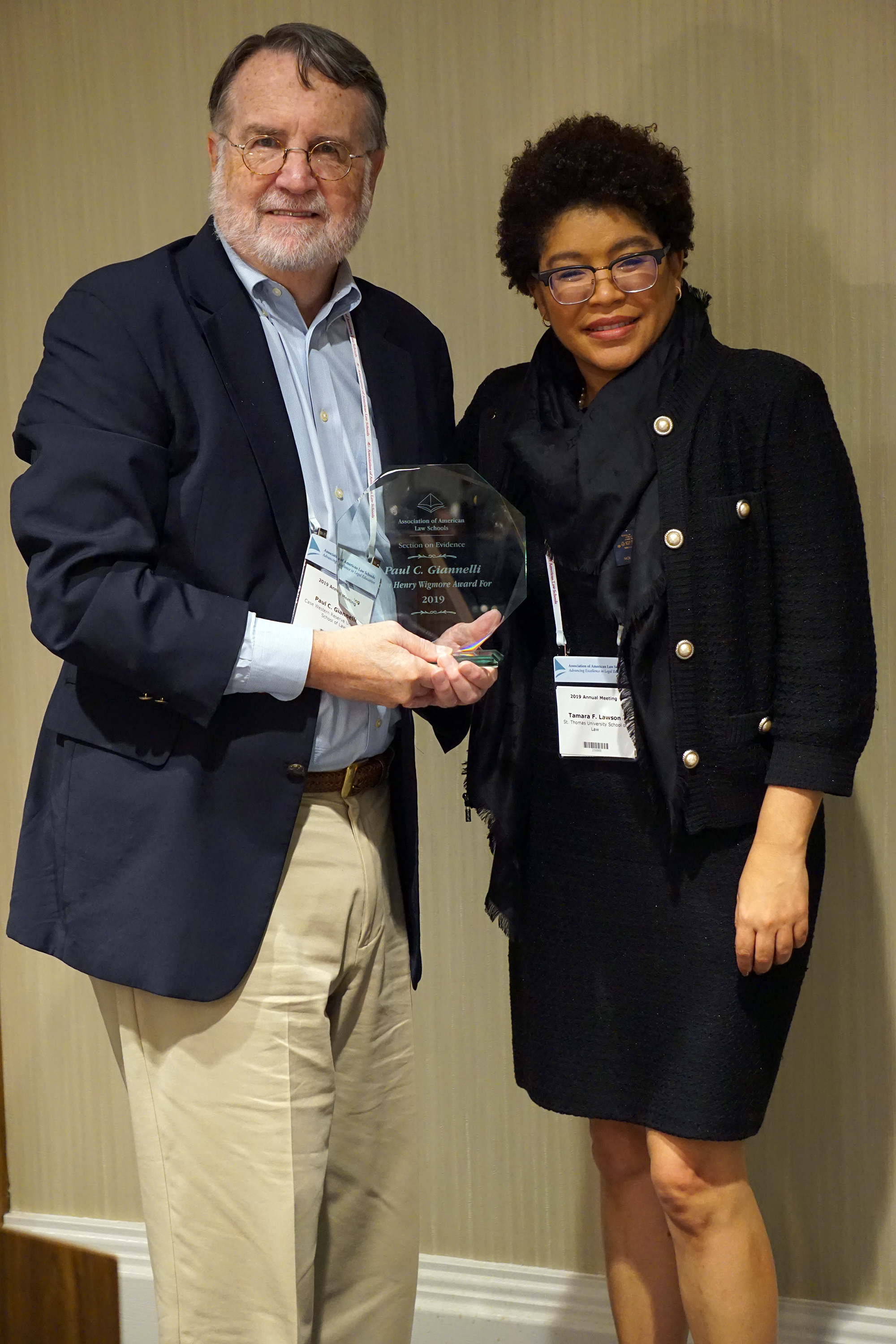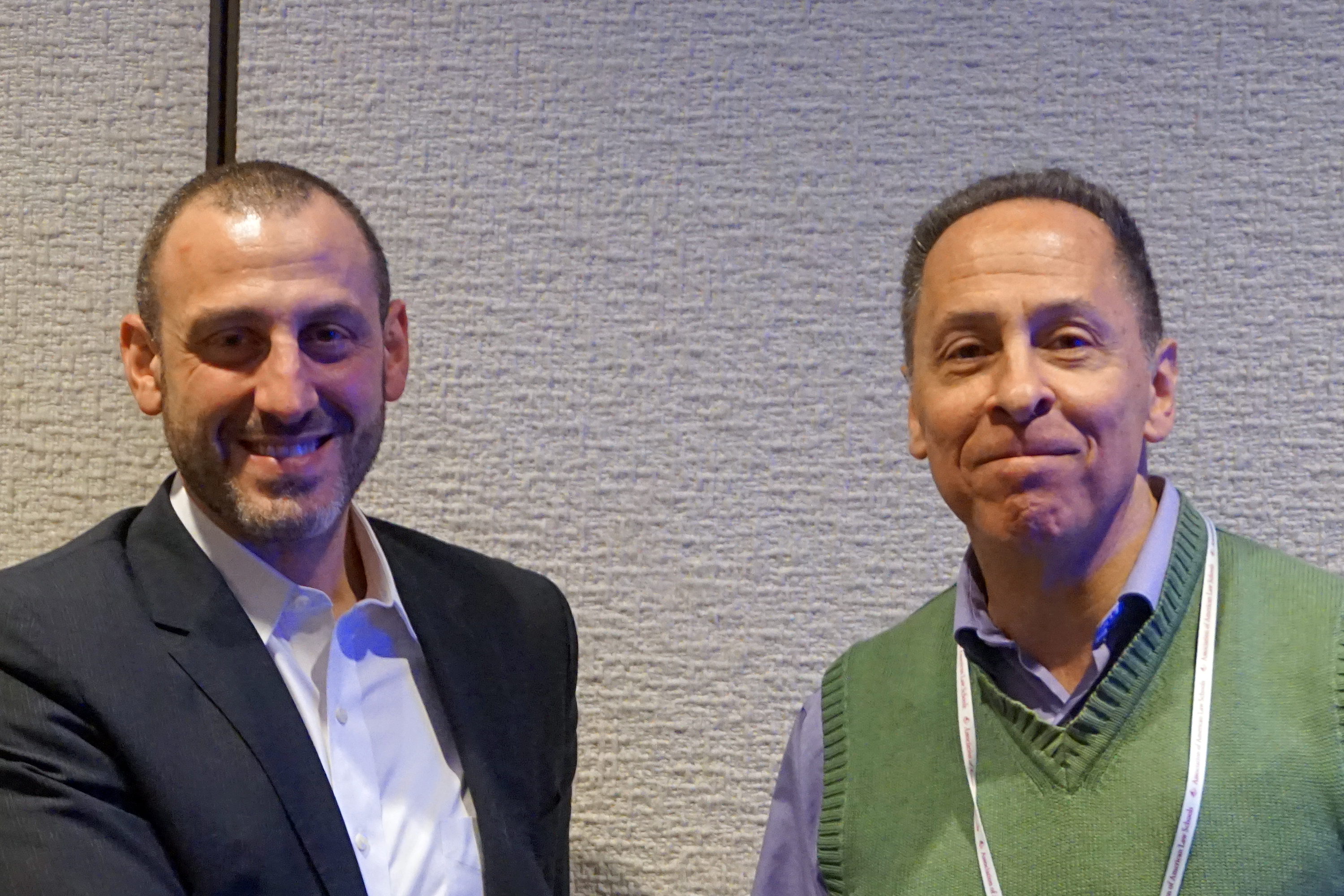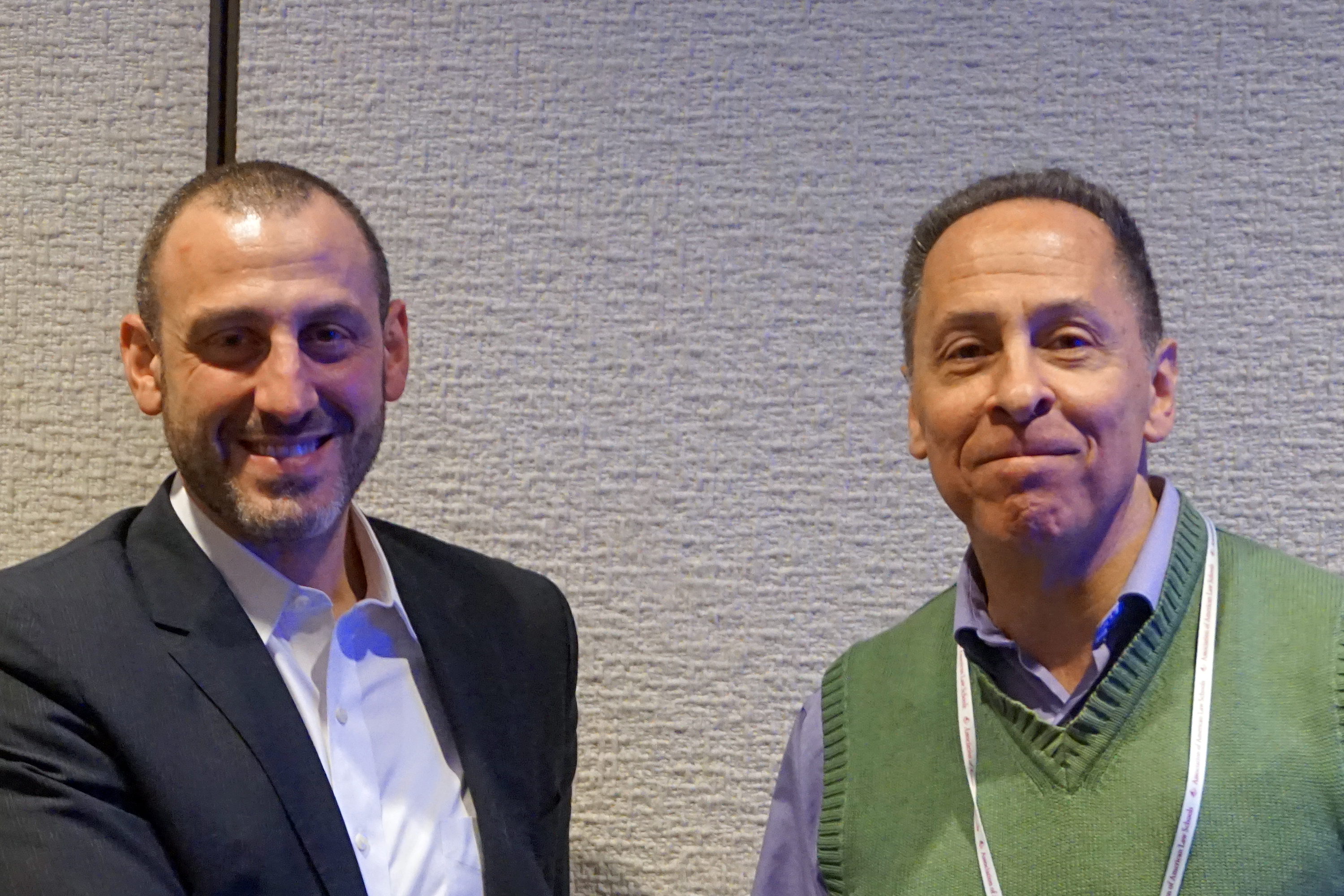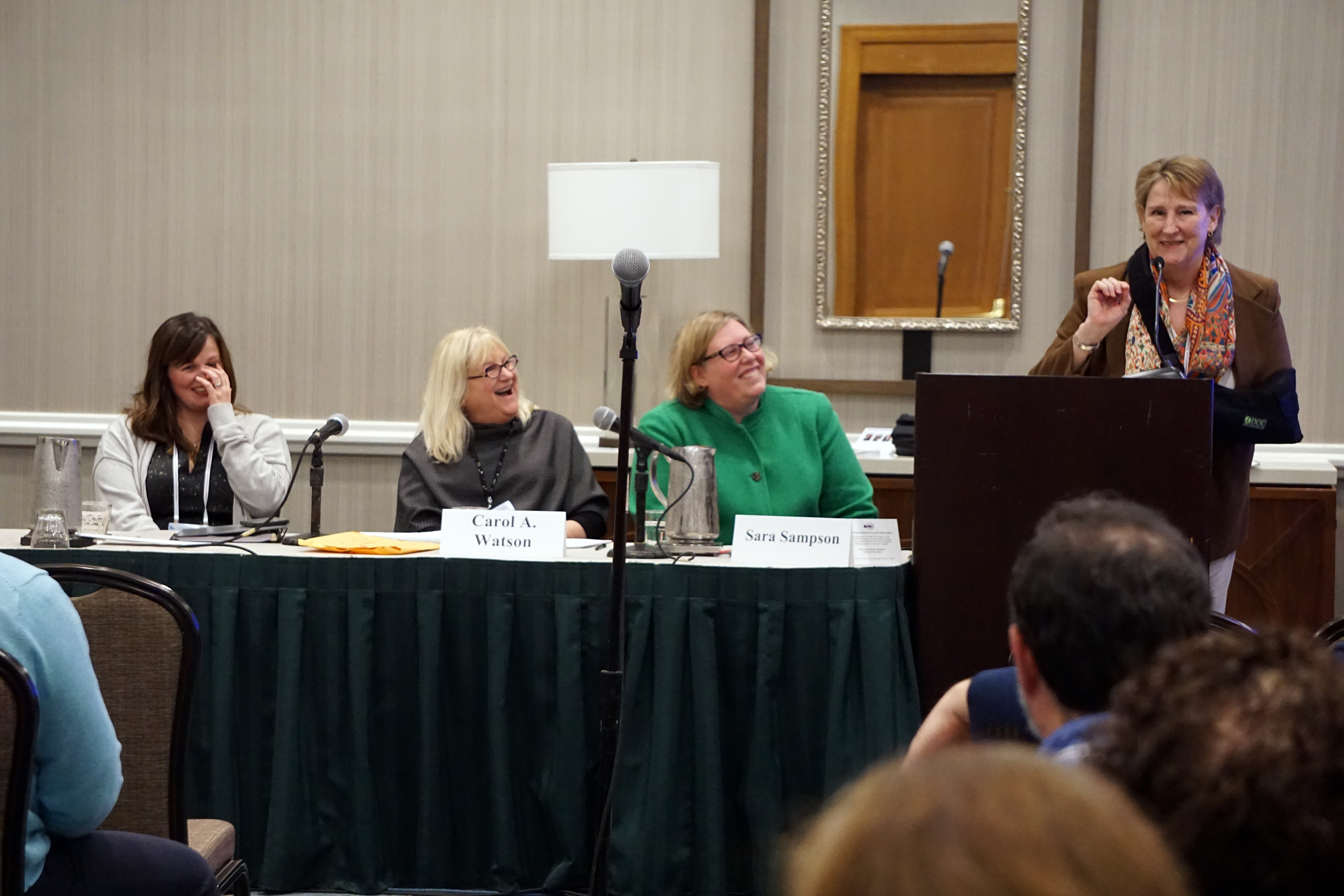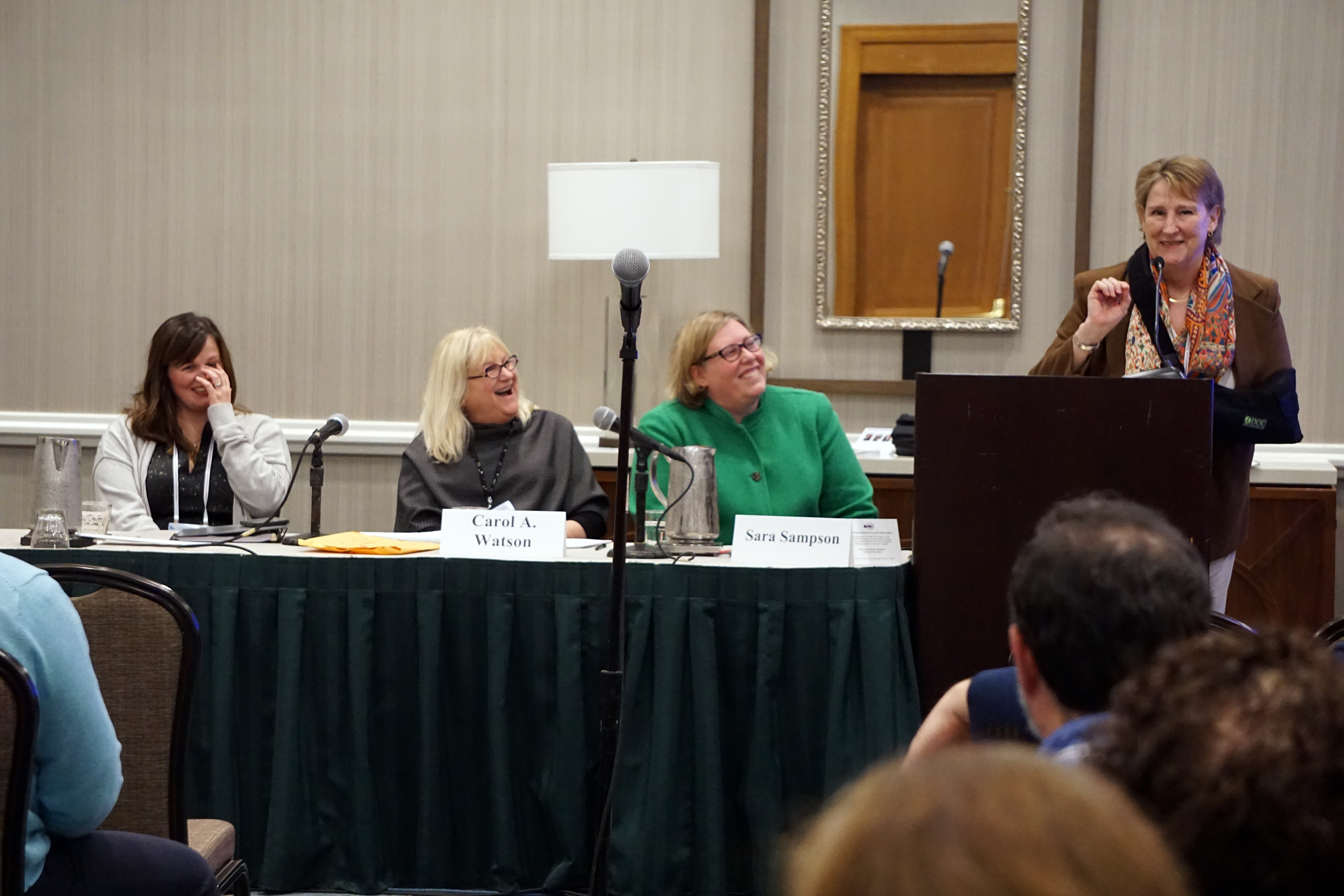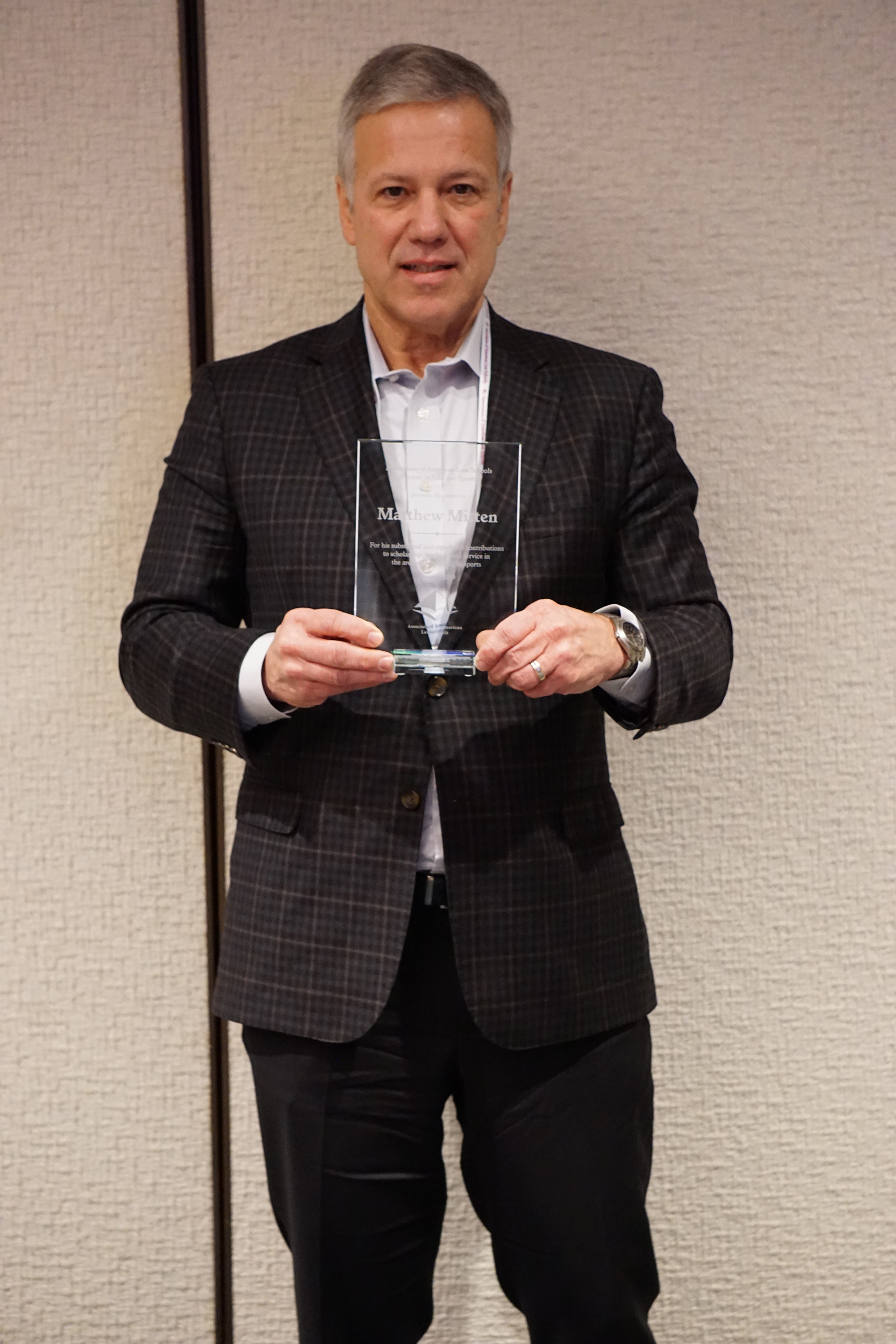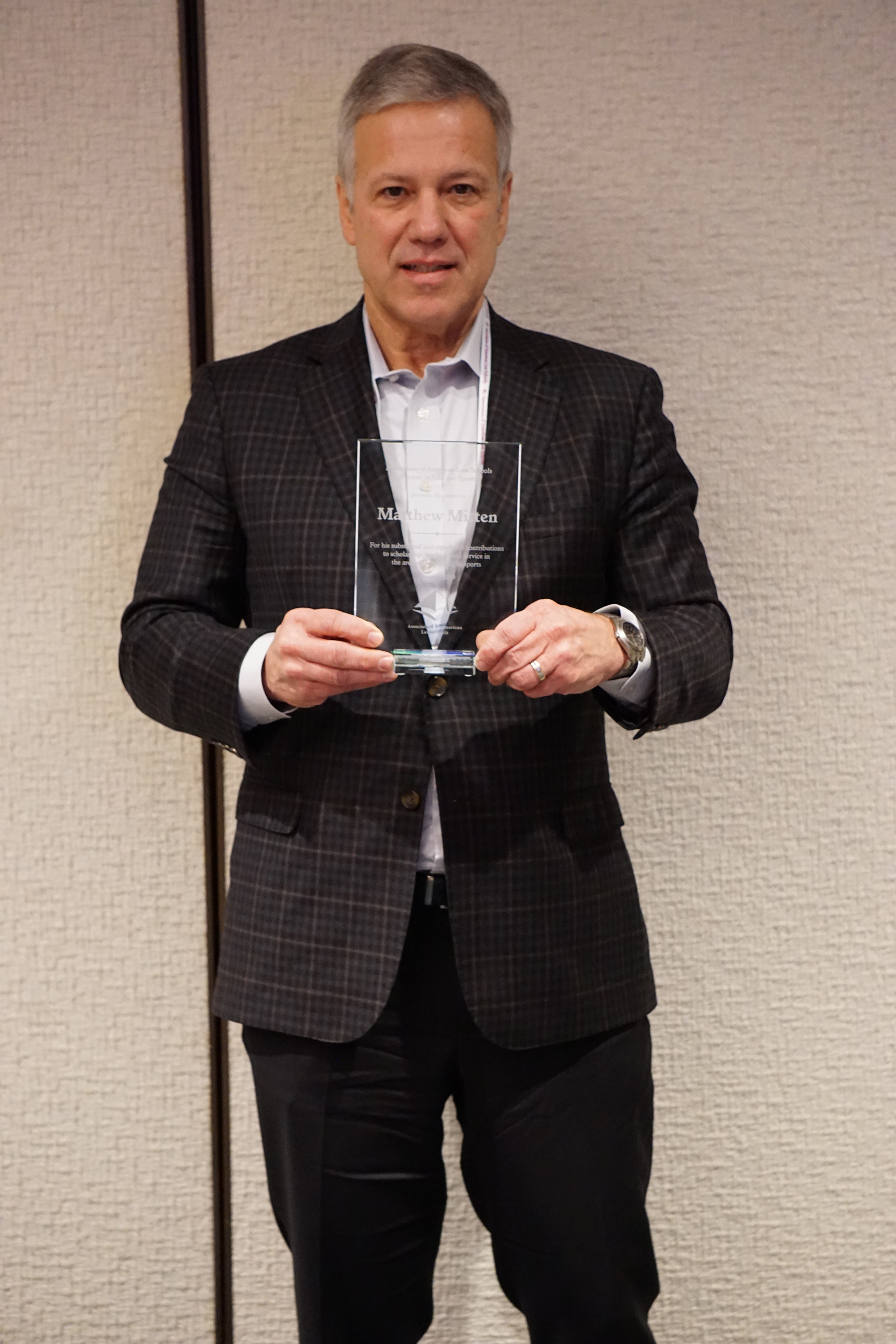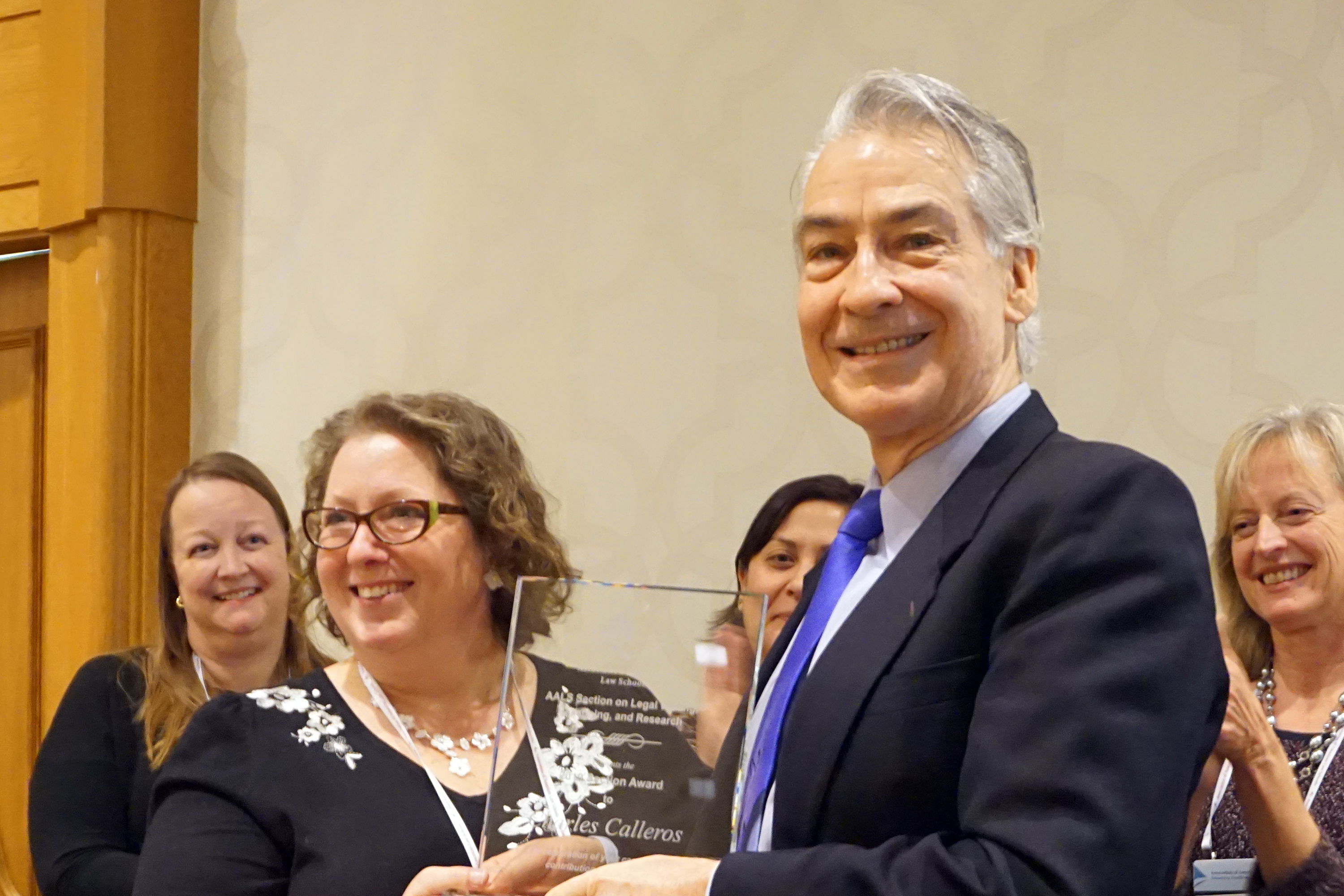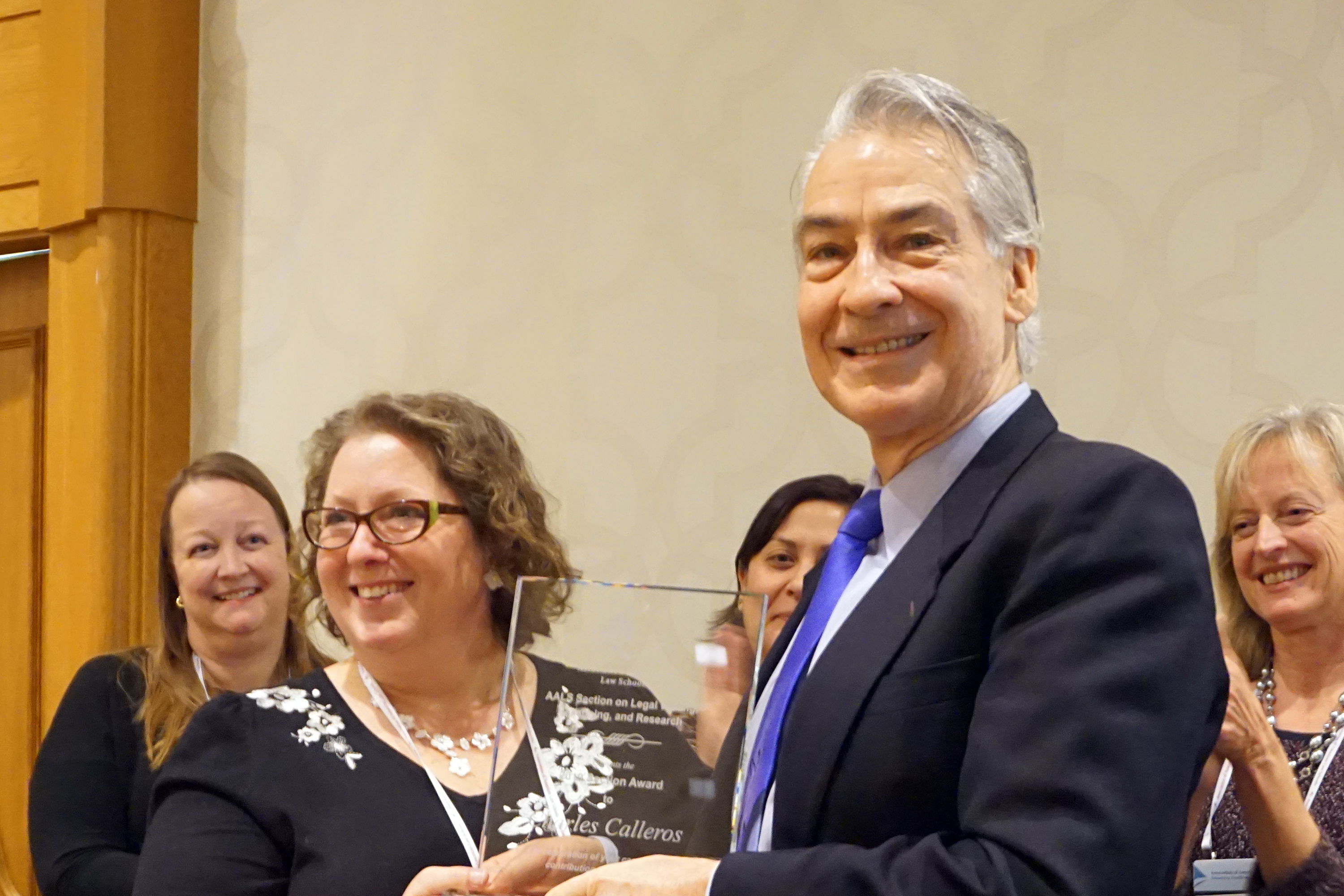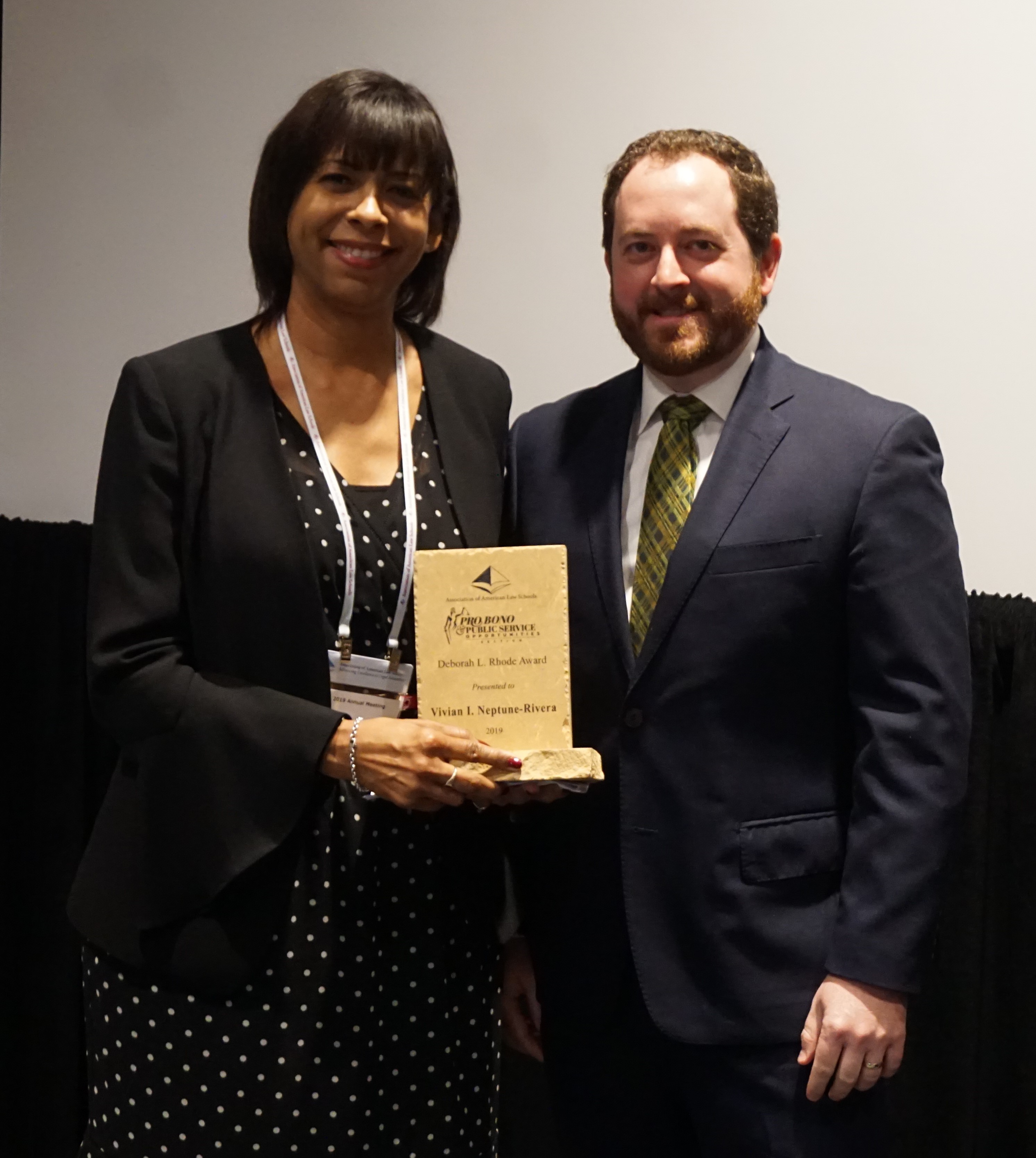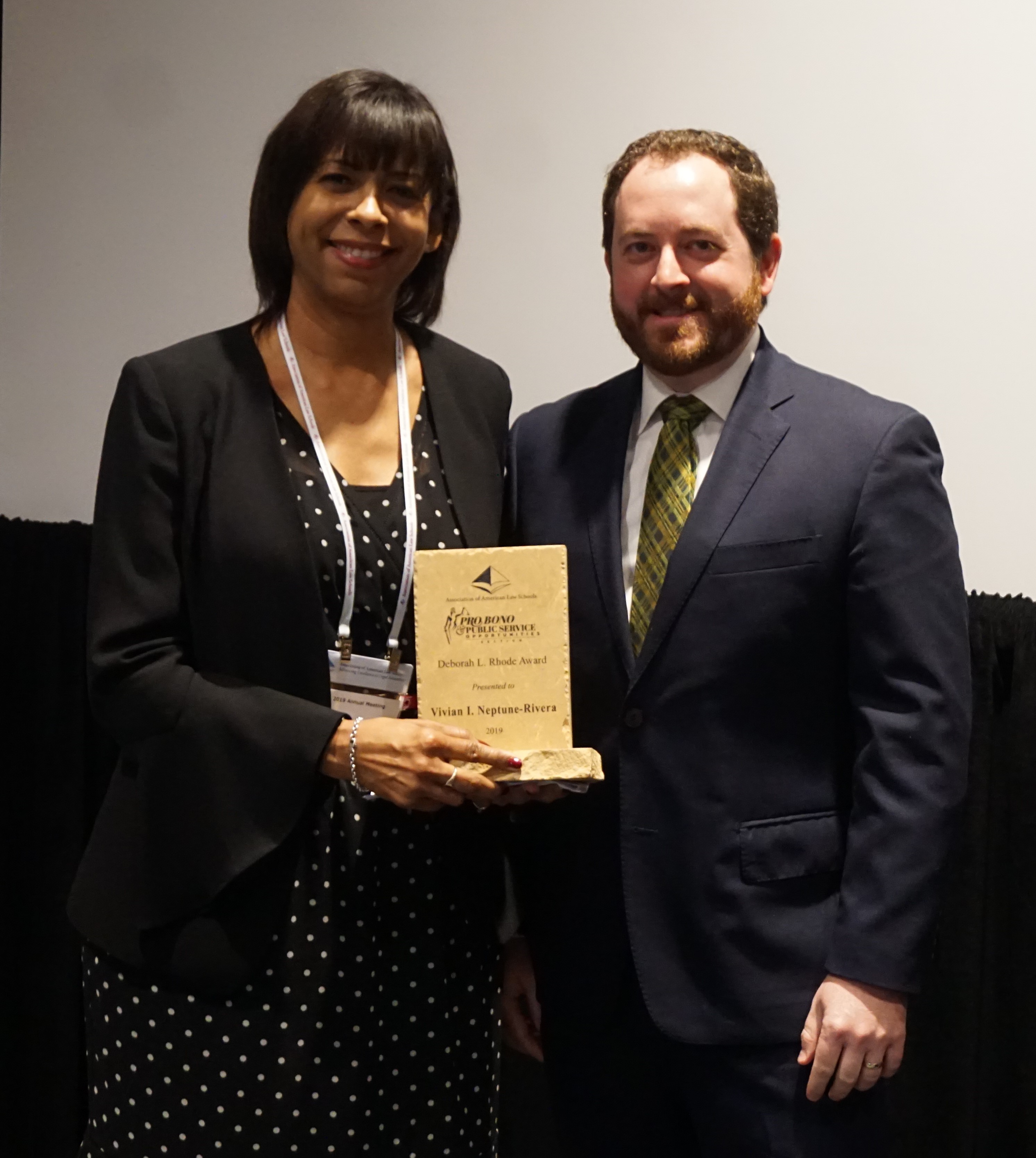 Scholarly Papers Competition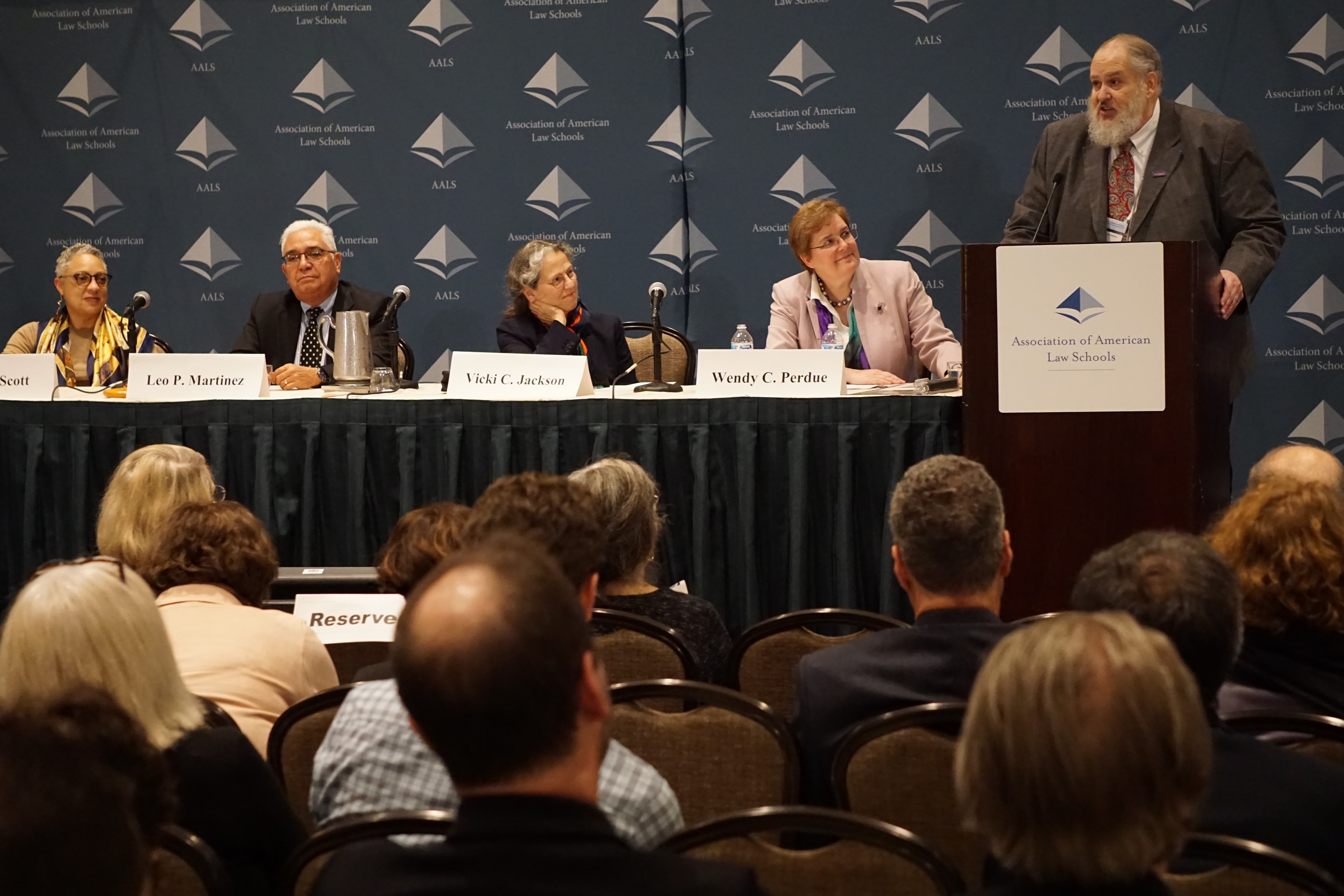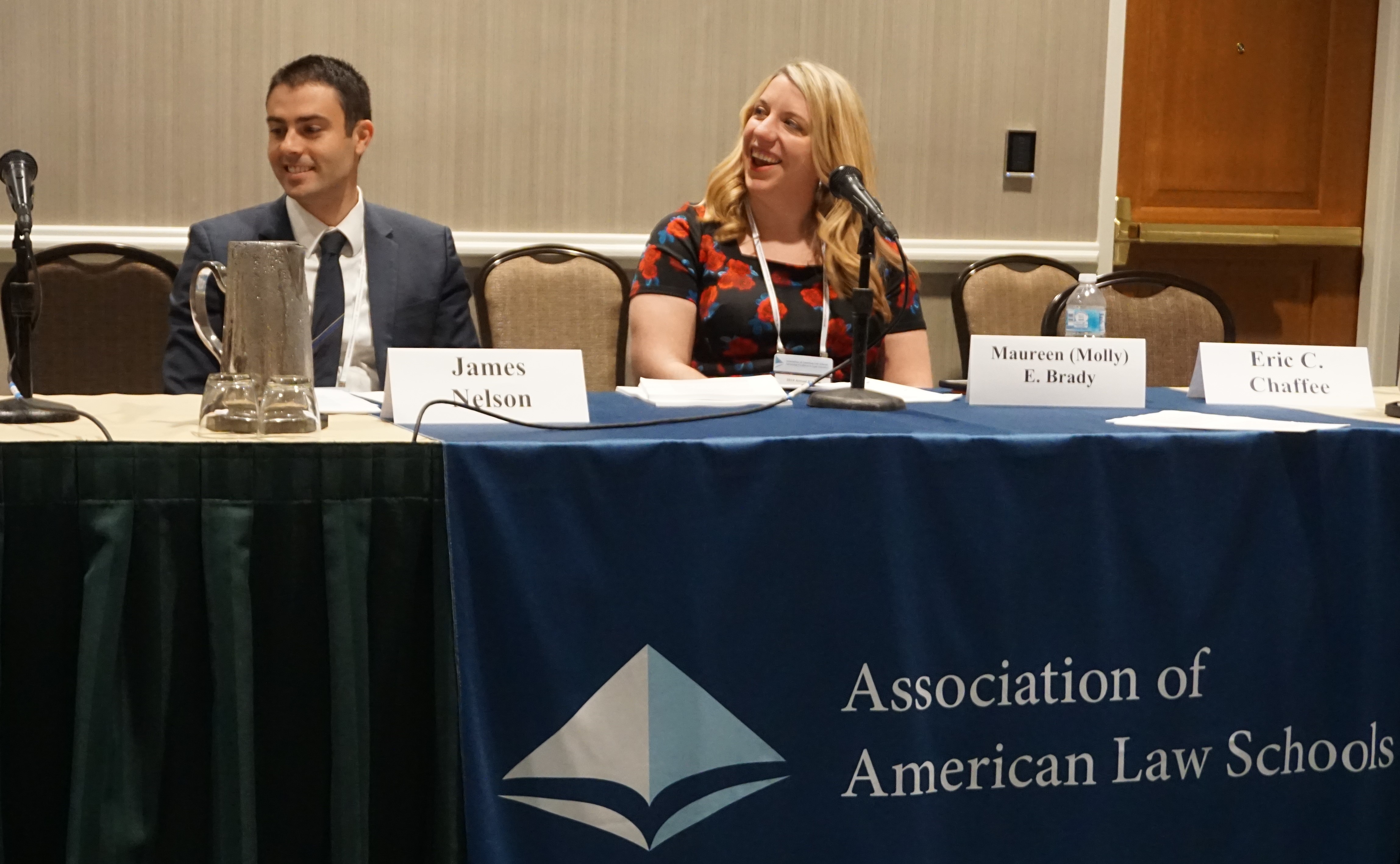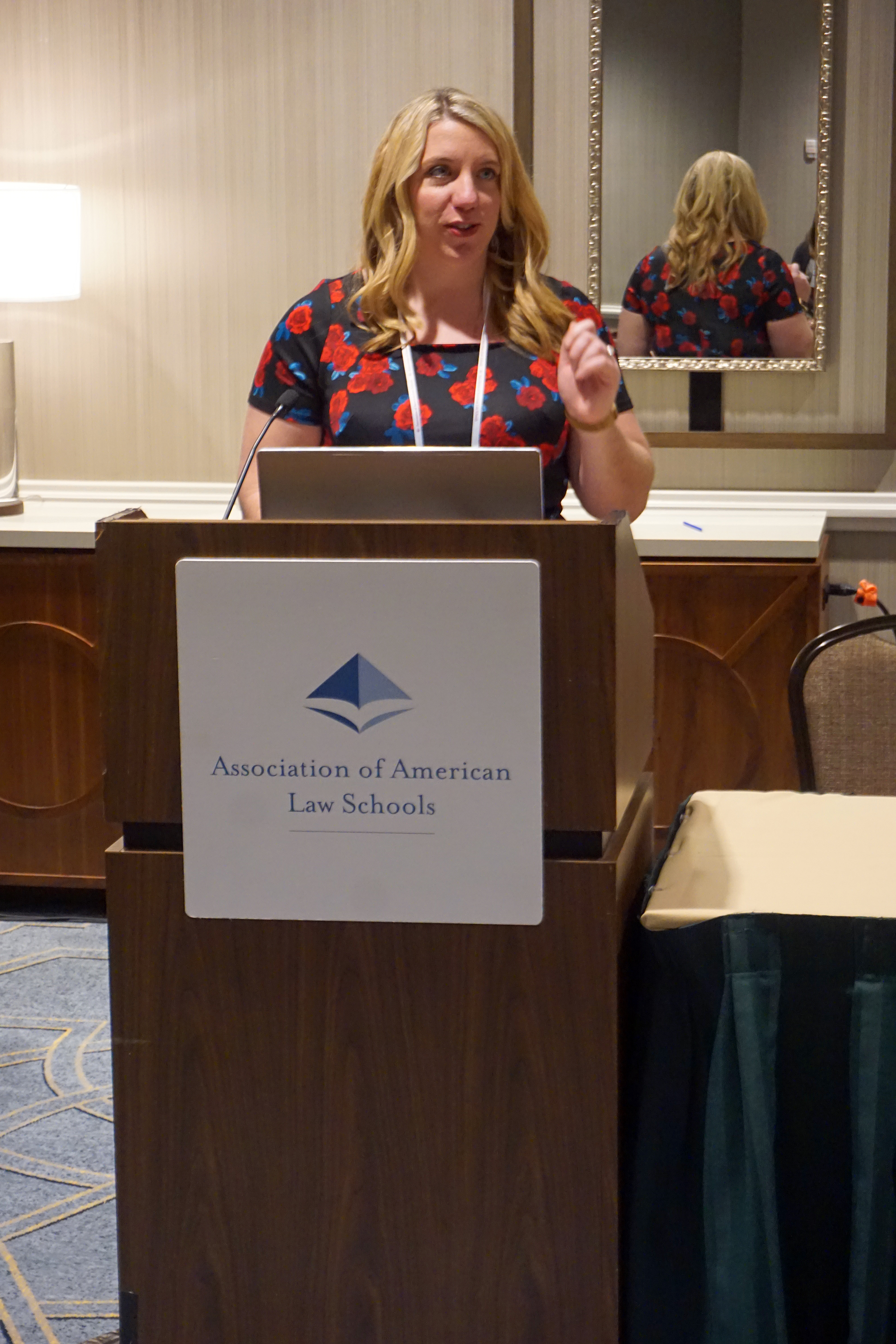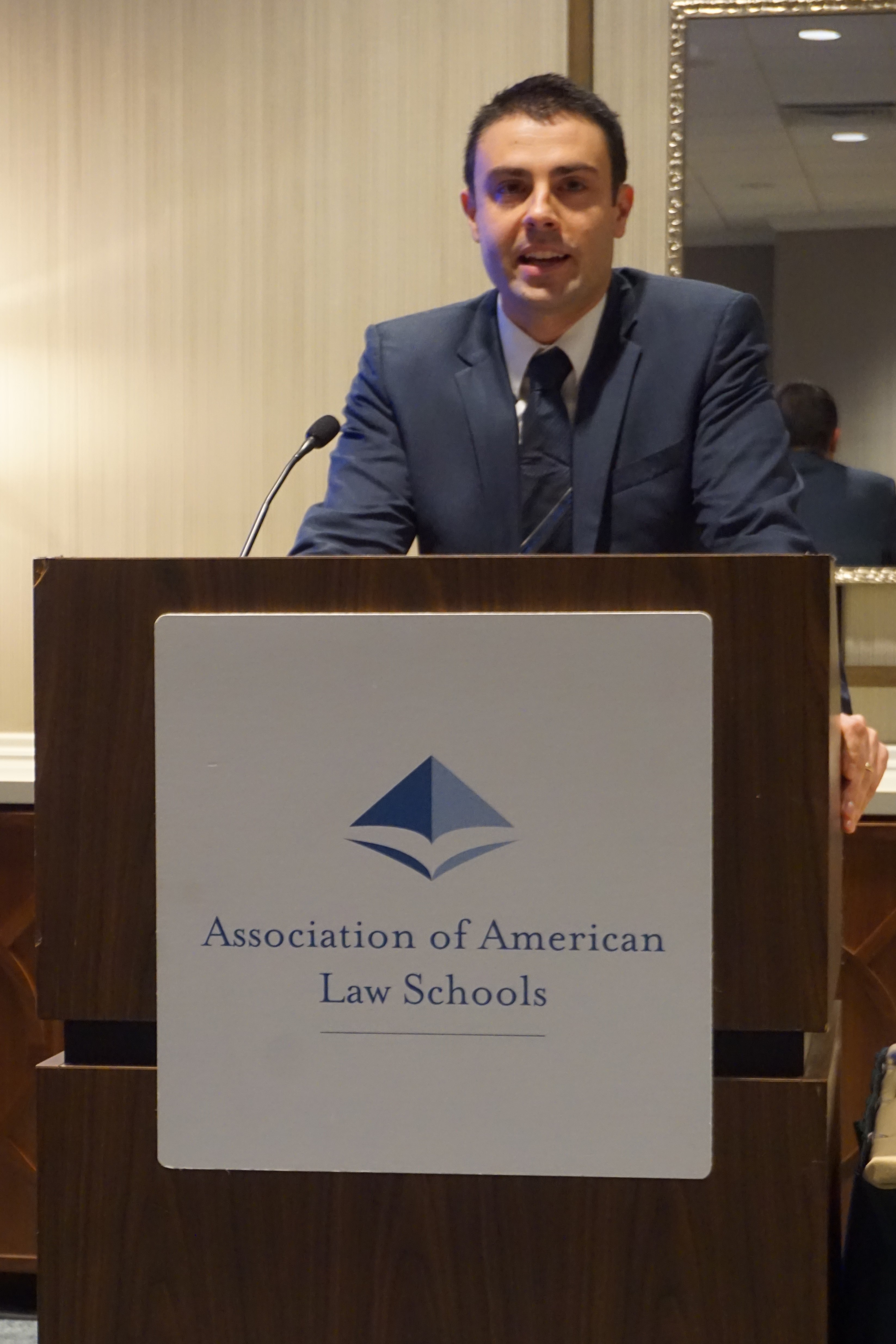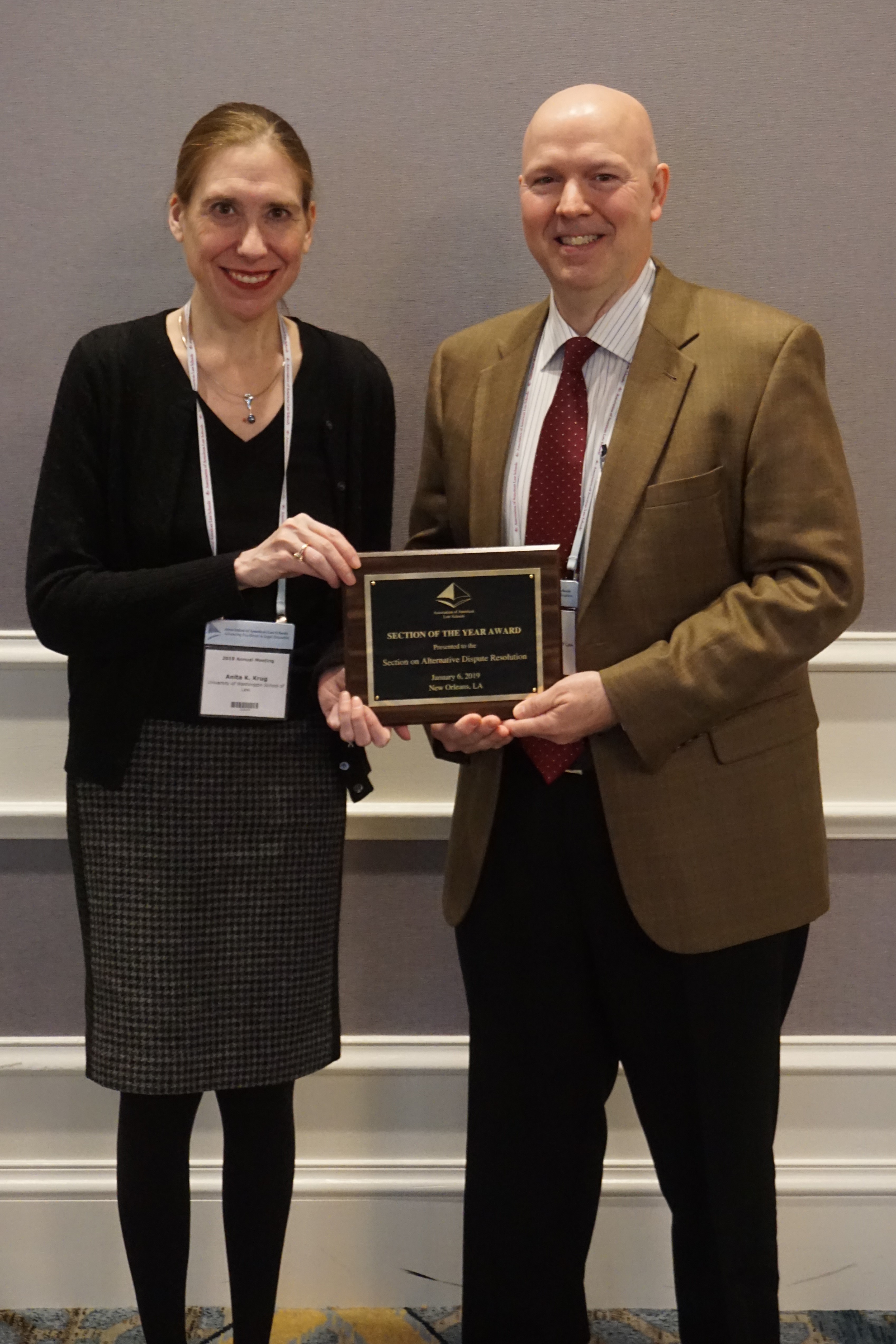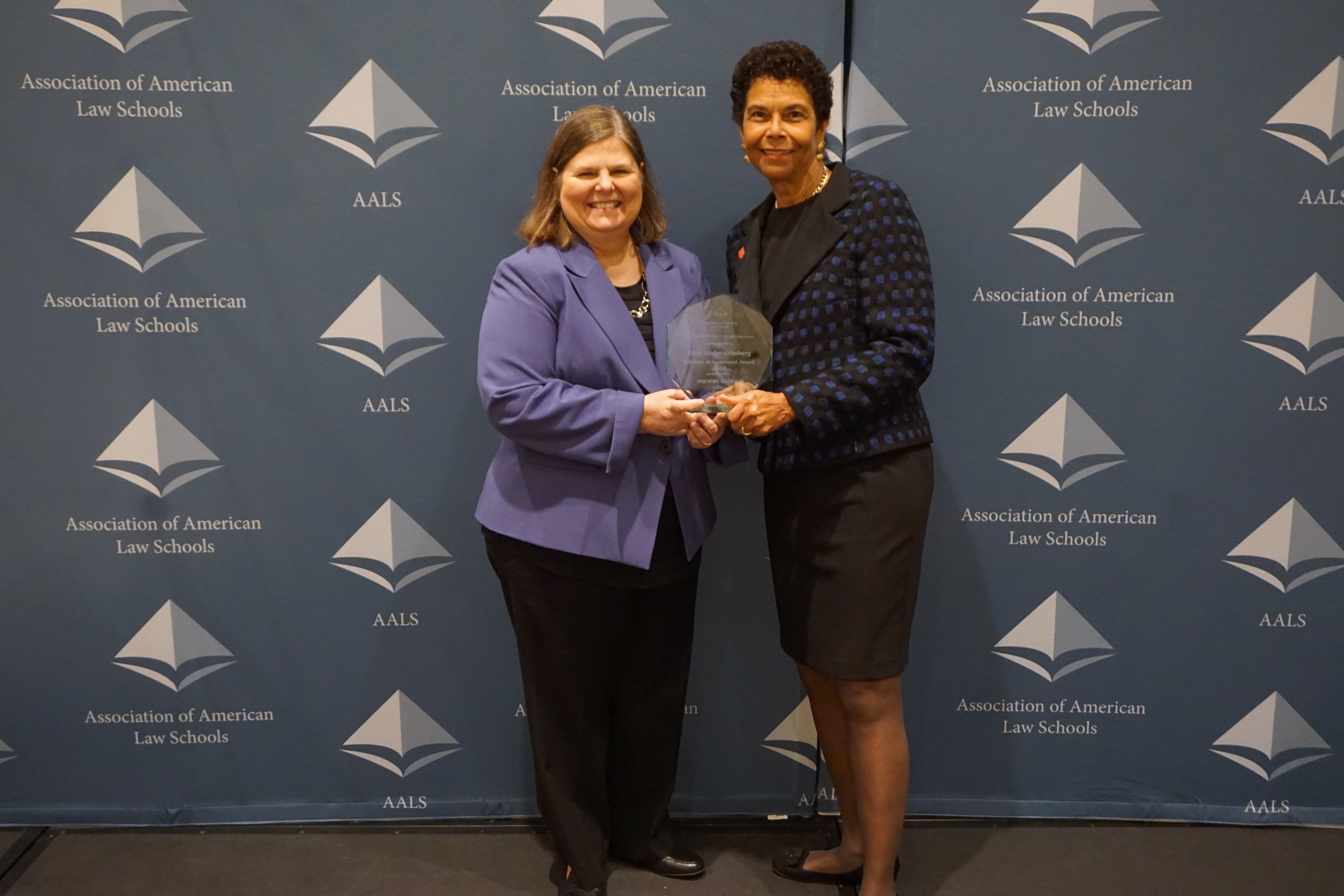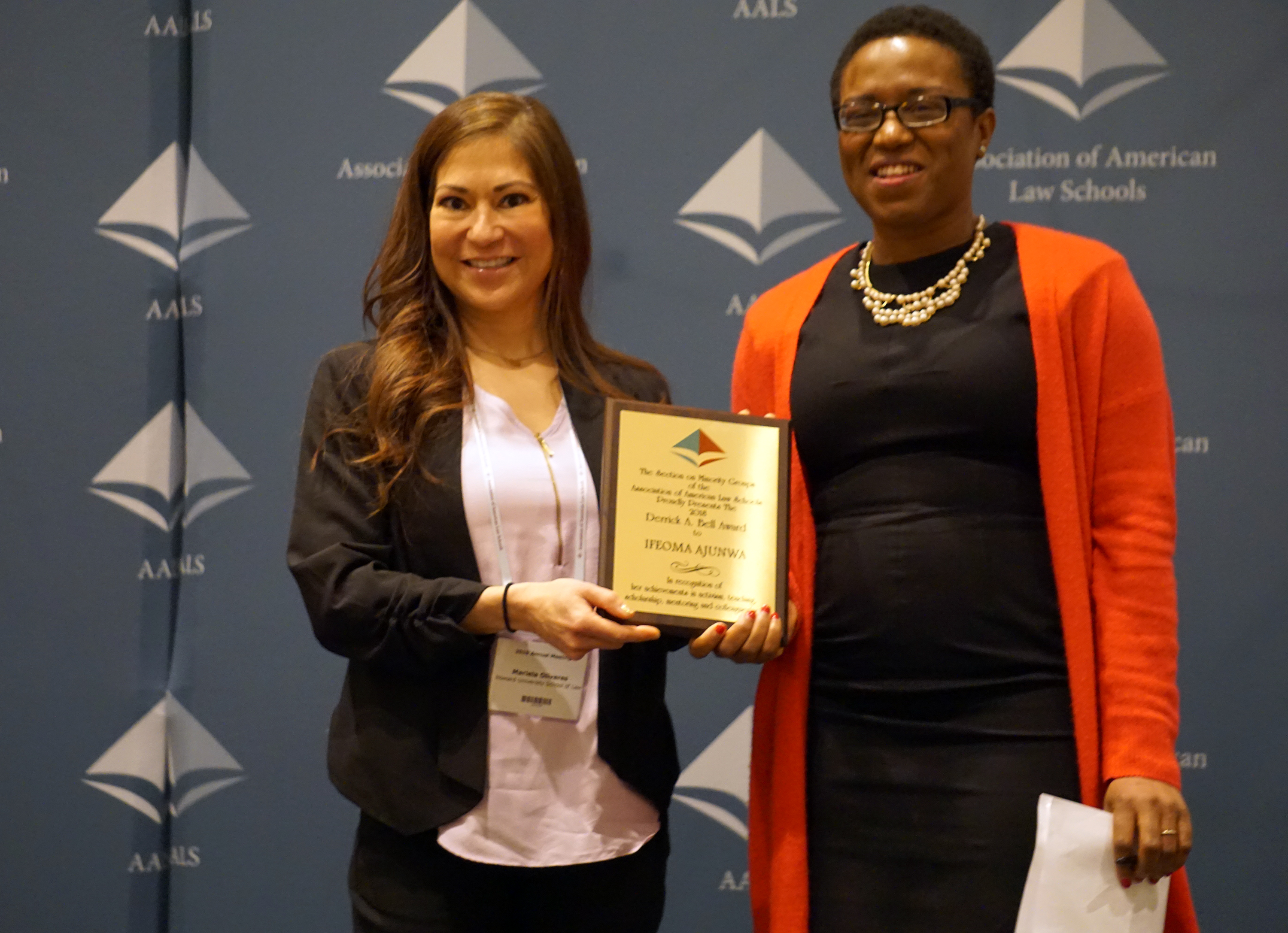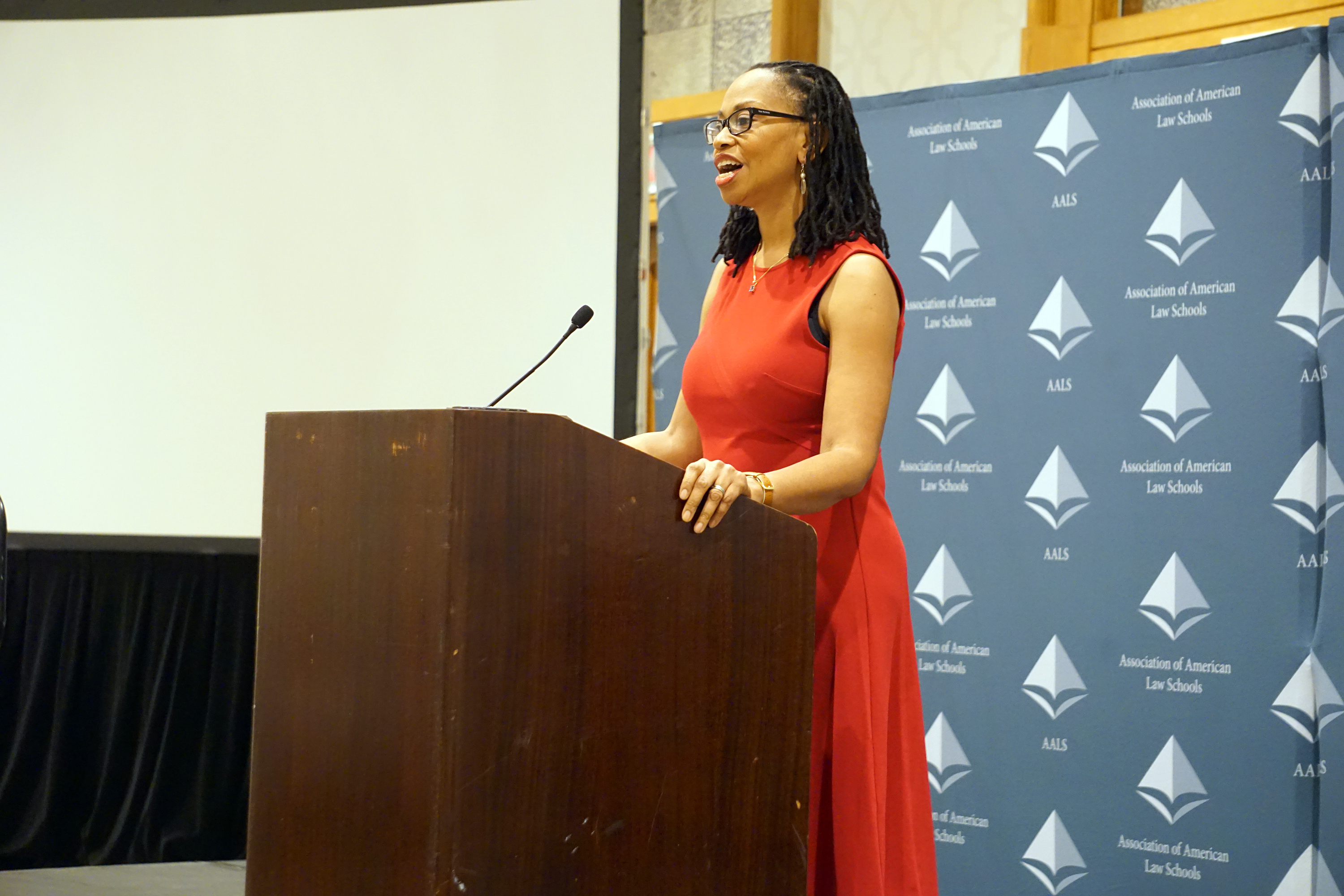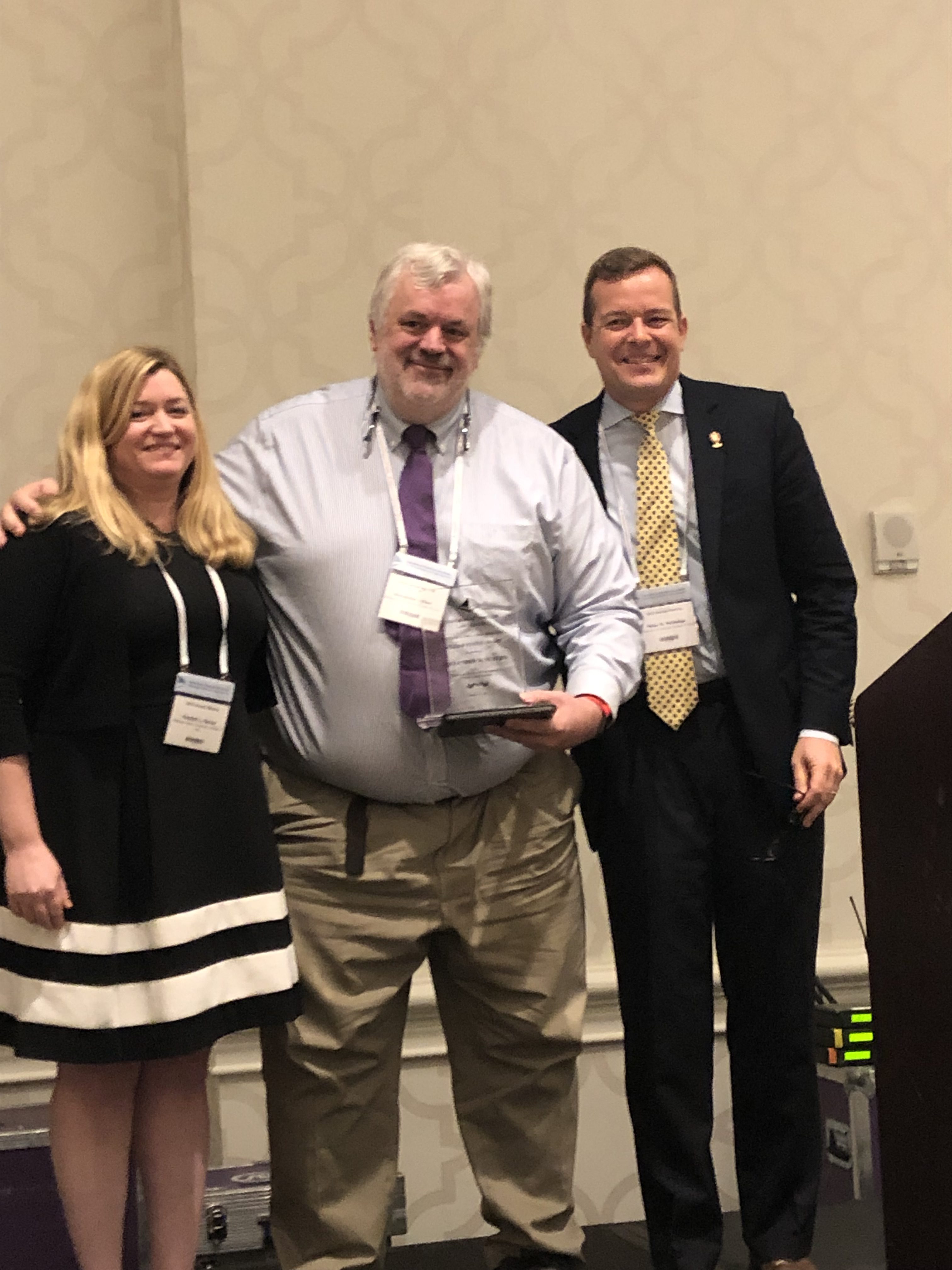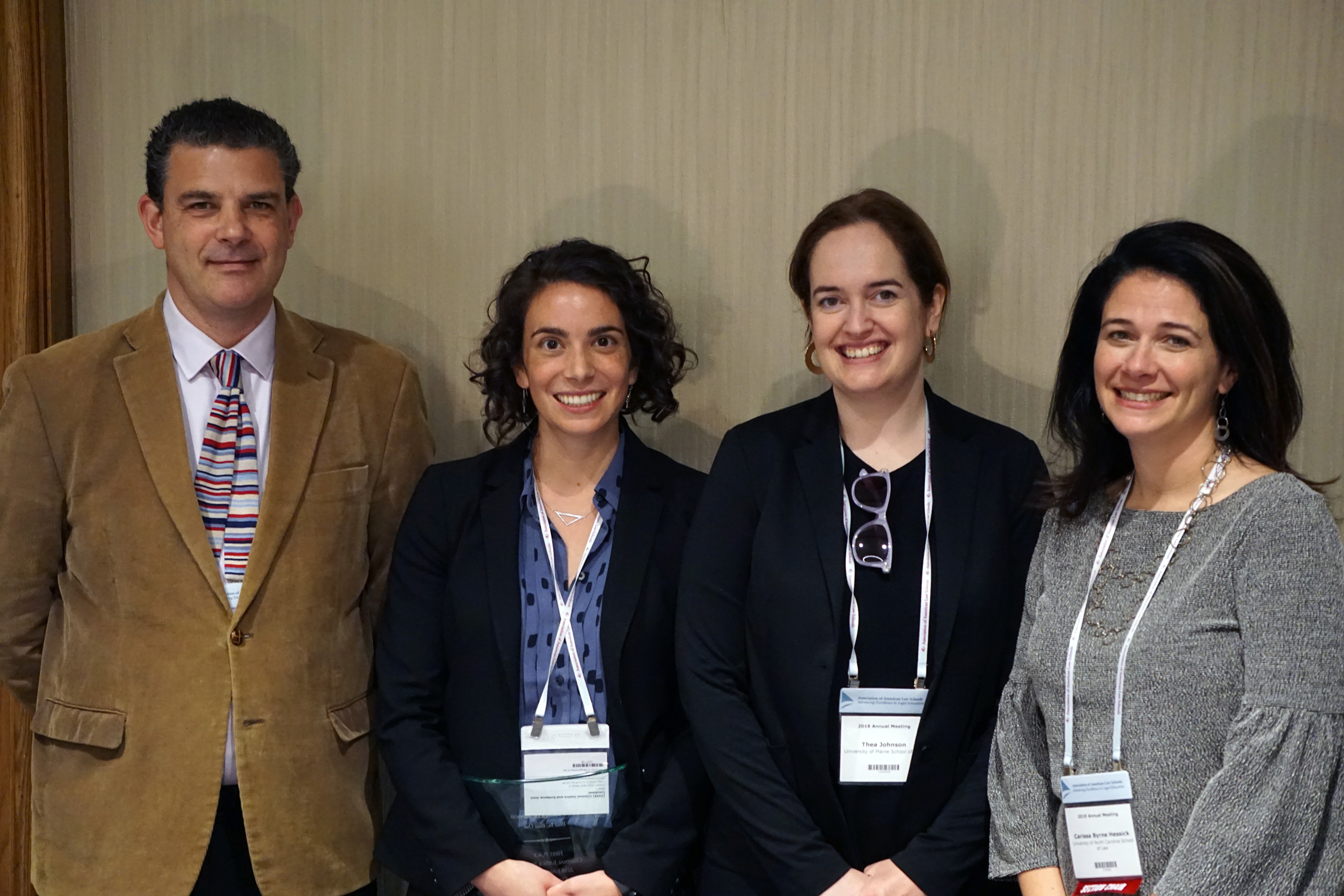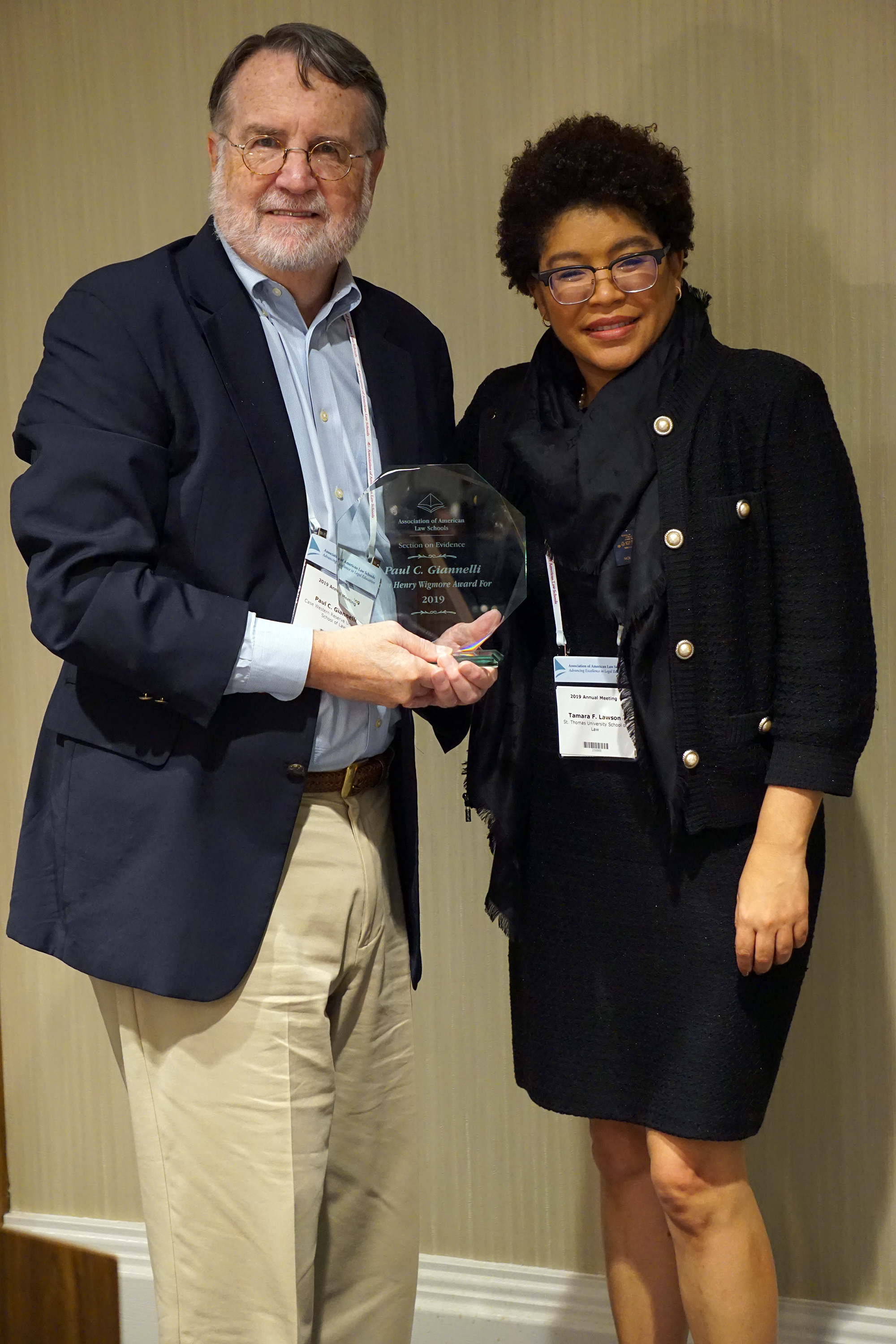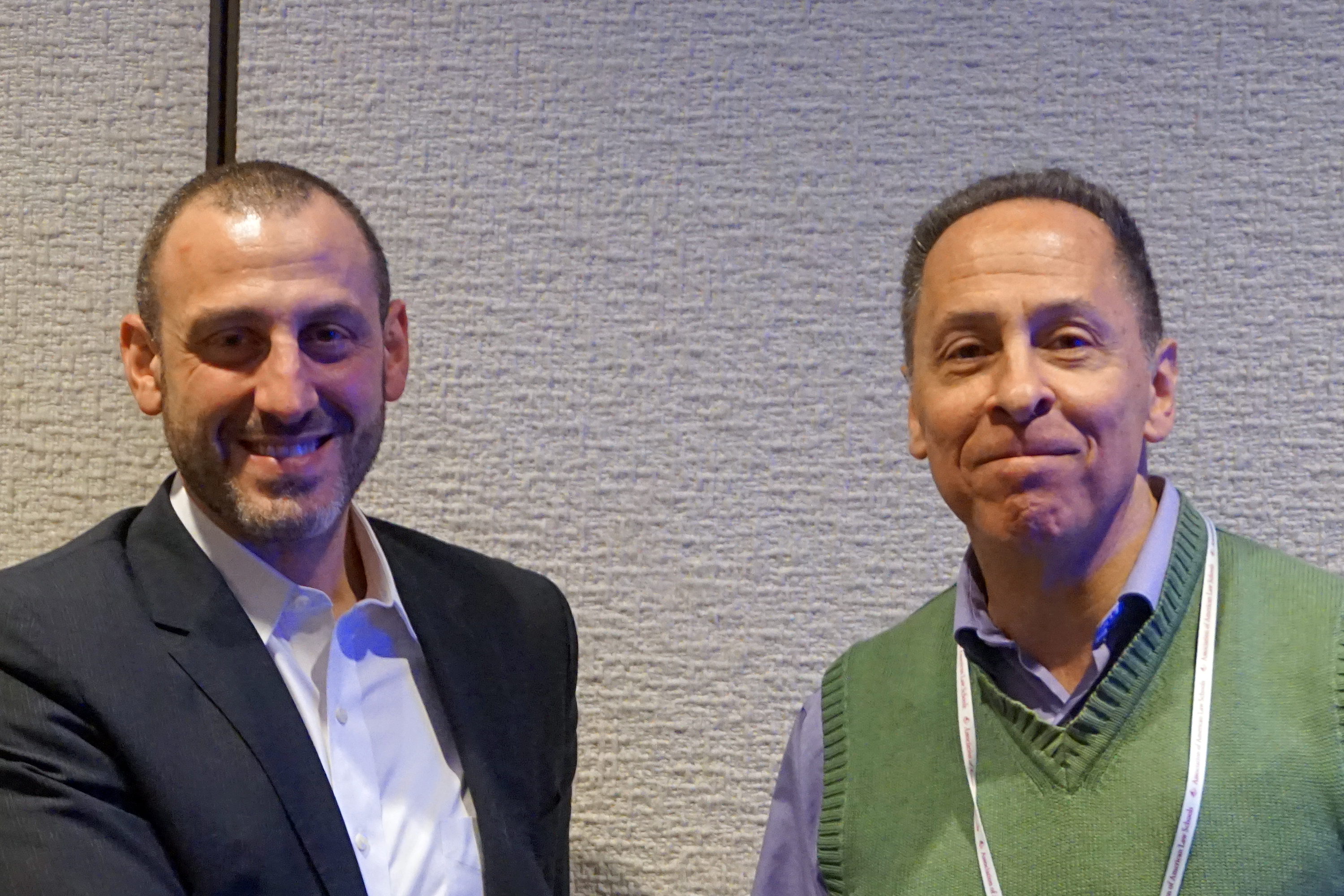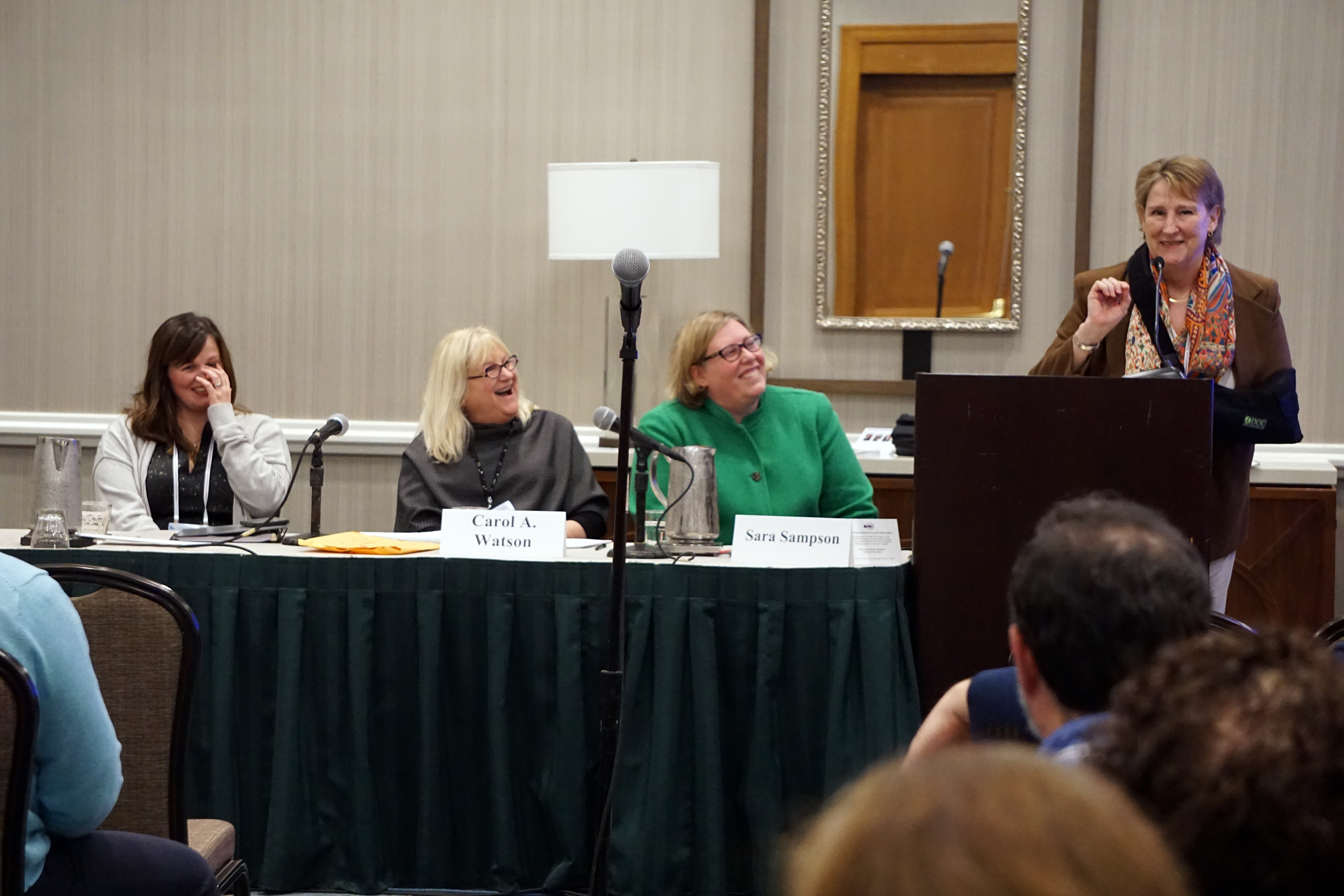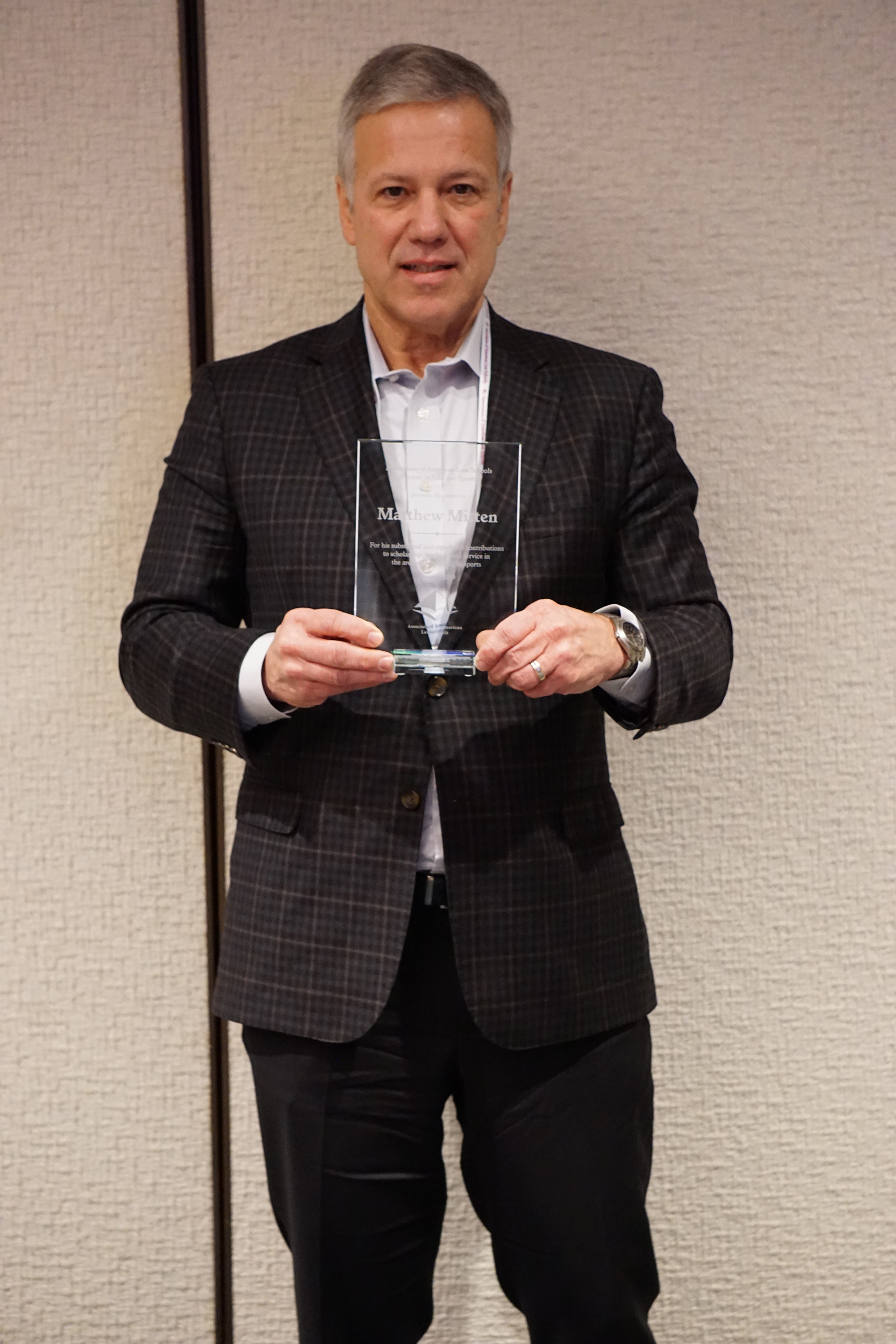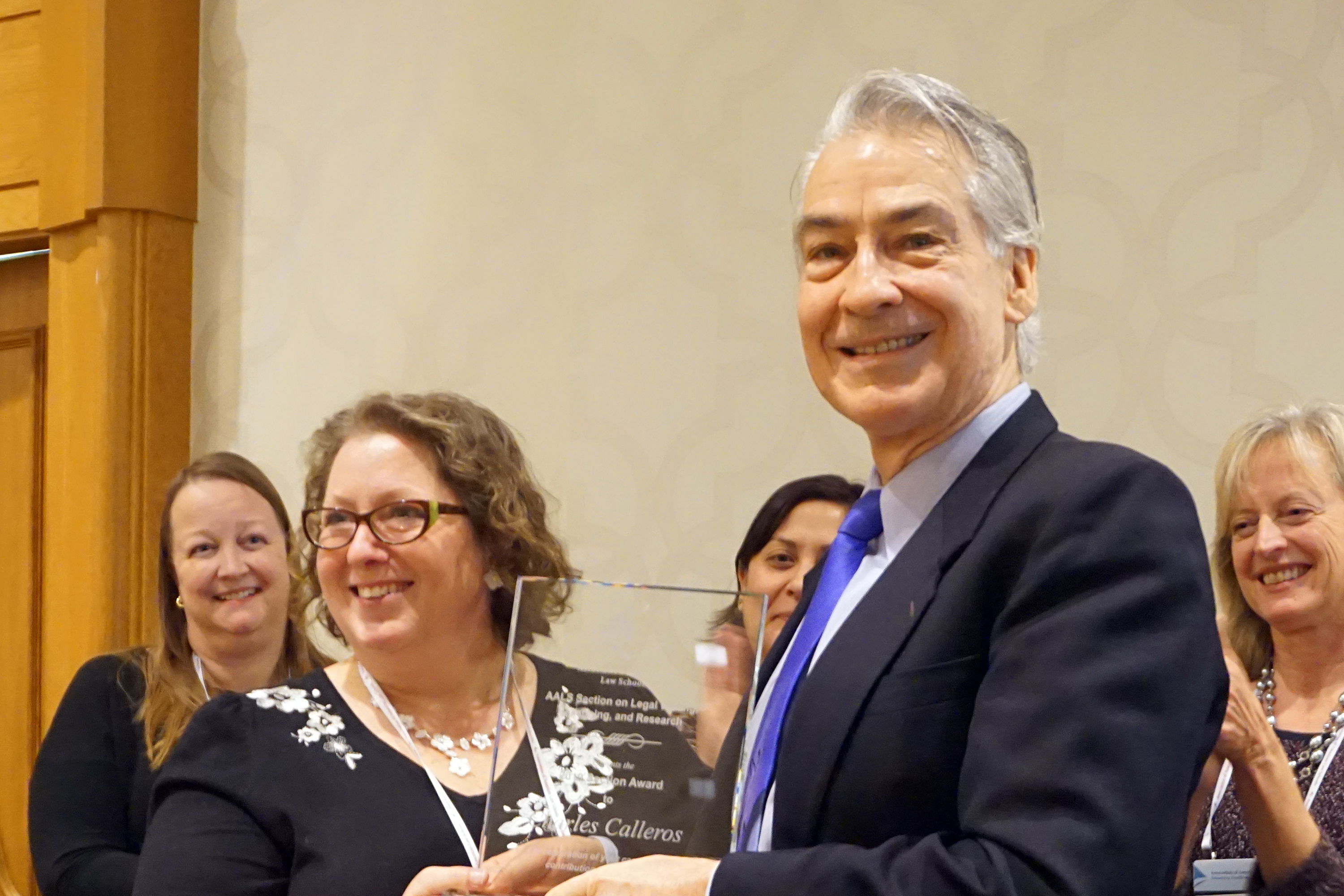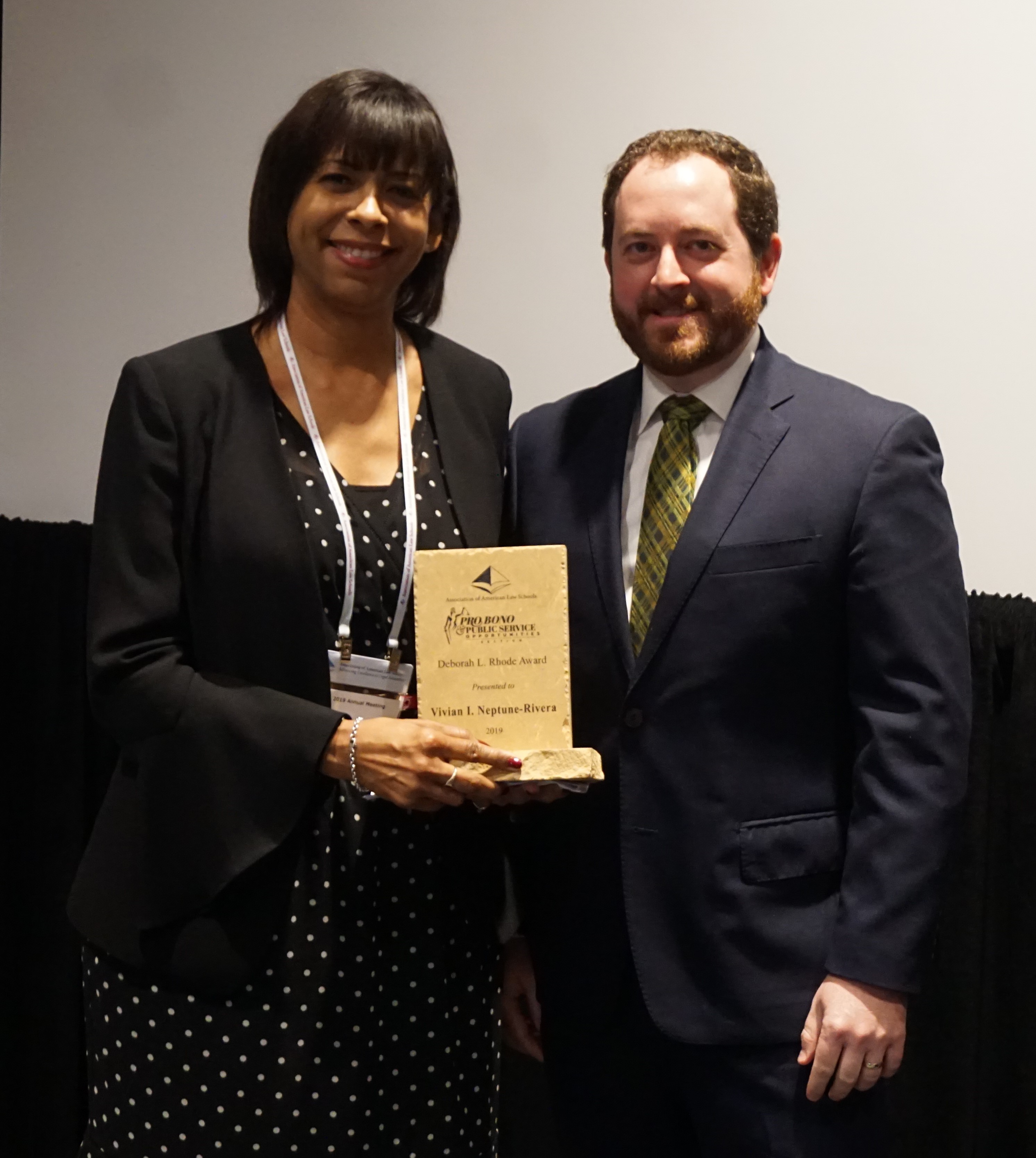 The House of Representatives met on Thursday and Friday. Vicki Jackson (Harvard Law) officially stepped into her role as 2019 AALS President at Friday's meeting, announcing that she intends to spend her tenure "extend[ing Wendy Perdue's] engineering metaphor to discuss the role of legal education in strengthening the pillars of U.S. constitutional democracy." Her presidential theme will explore three of these pillars: law and its institutions, elections and representation, and the knowledge institutions of which law faculty are a part. "What courage and integrity require of lawyers in different contexts is subject to good faith disagreement. Law schools are great places to have these debates. If not there, where?" she said.
The House meetings also covered the following AALS business:
Wendy Perdue reflected on her year as AALS President, saying "I will confess that in the face of a bruising election, federal government shutdown, and deepening political divide, [Building Bridges] has felt to me, at times, as little more than wishful thinking. Nonetheless, I continue to believe that we can make progress in reestablishing a culture of reasoned debate and respectful disagreement, and that lawyers and law schools will continue to play a critical role in that endeavor."
AALS Executive Director Judy Areen discussed her annual report, which will be made available in the Winter 2019 issue of AALS News.
Dean Darby Dickerson (John Marshall Law School) began her term as President-Elect.
Deans D. Benjamin Barros (University of Toledo Law) and L. Song Richardson (UC Irvine Law) began their three-year terms as members of the AALS Executive Committee.
Paul Marcus (William & Mary Law), Alicia Alvarez (University of Michigan Law) and Vincent D. Rougeau (Dean, Boston College Law) completed theirs.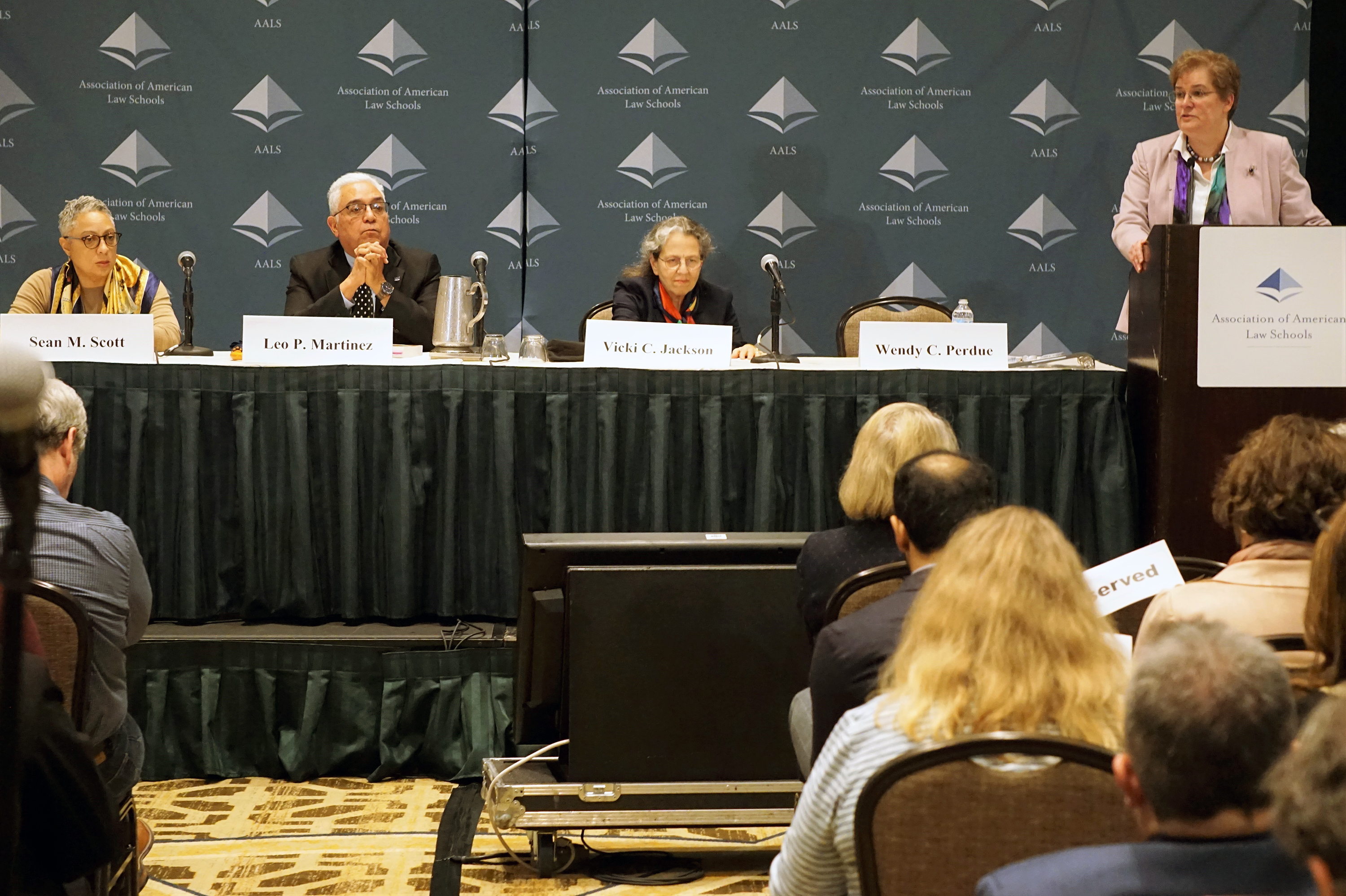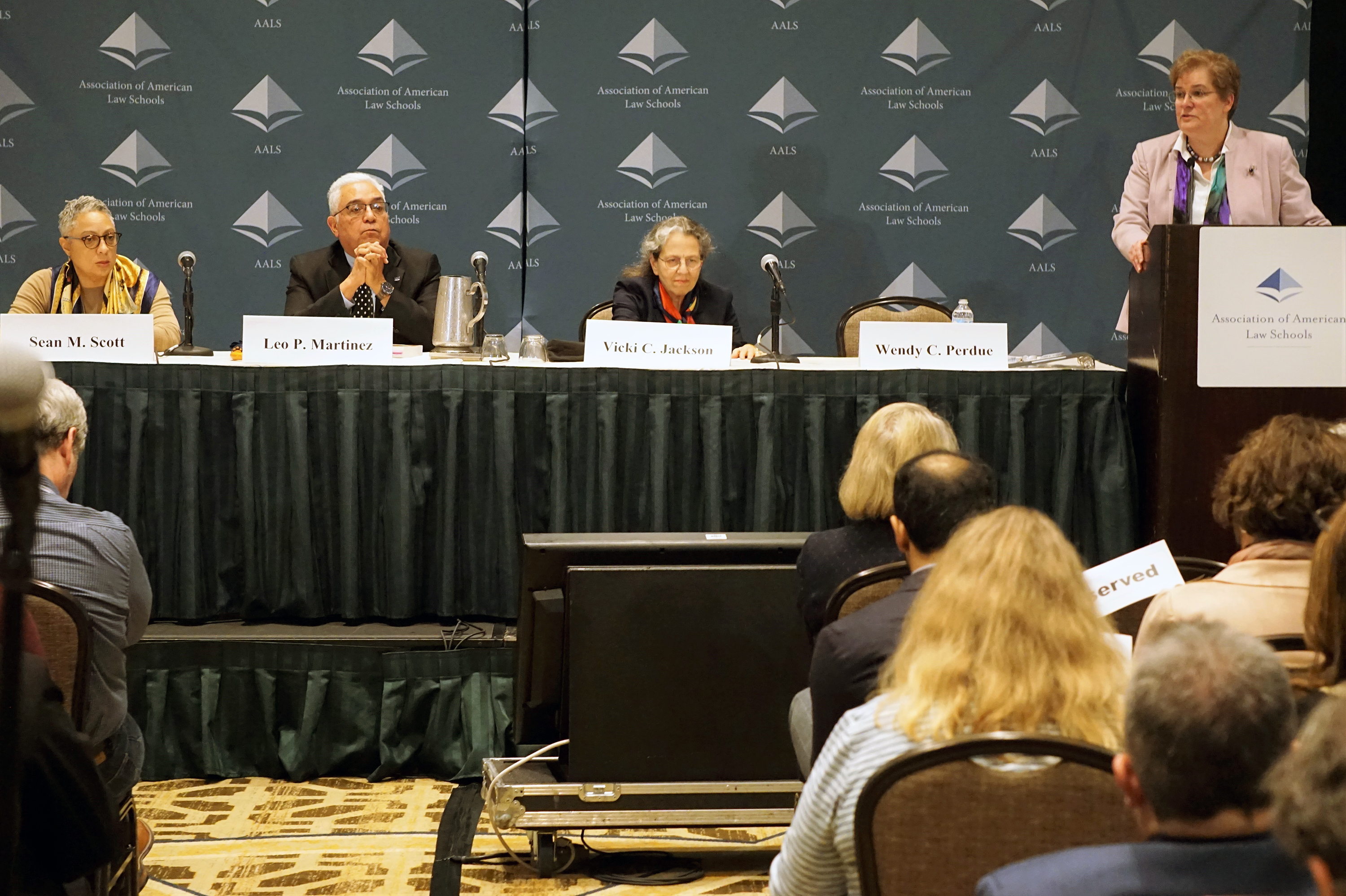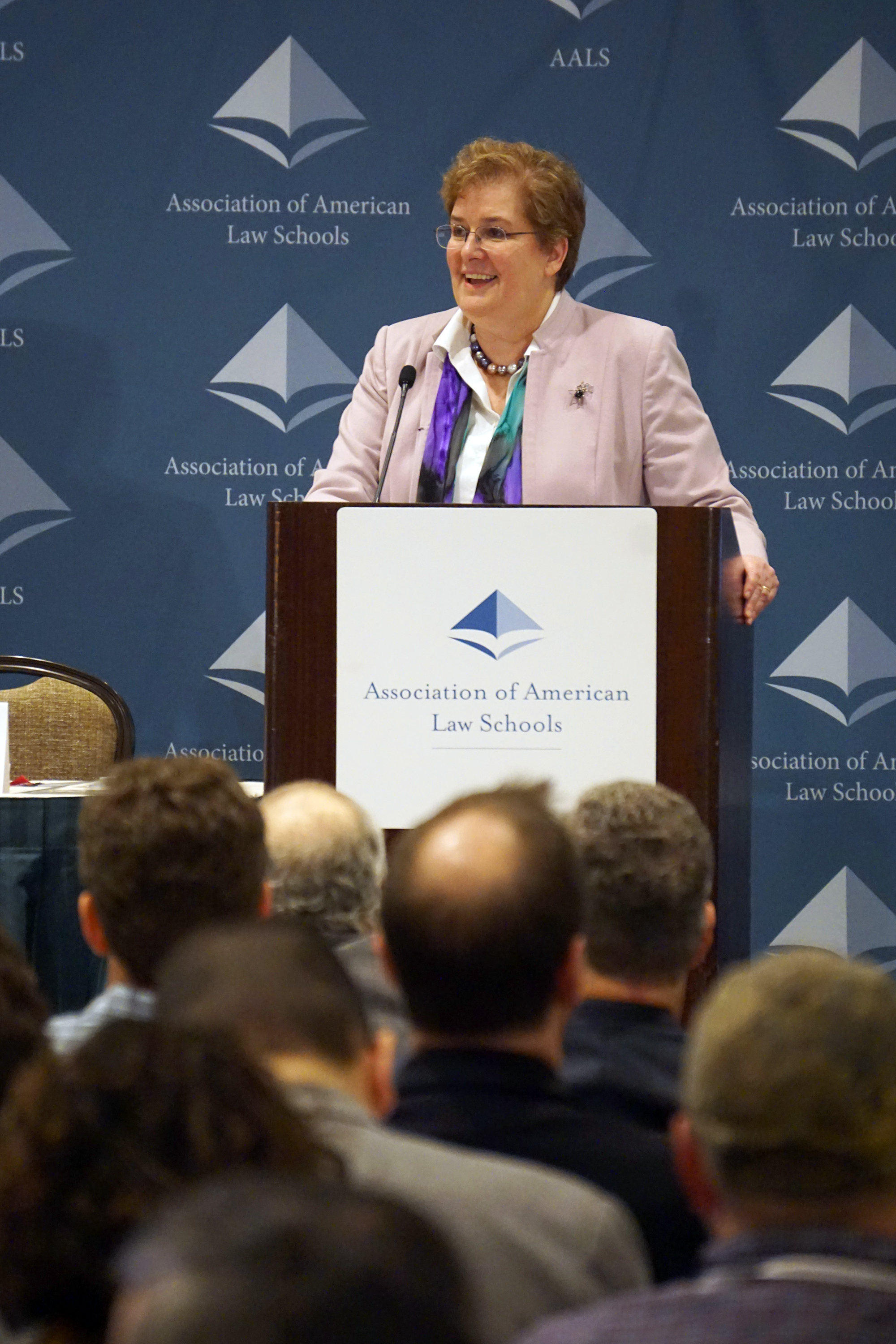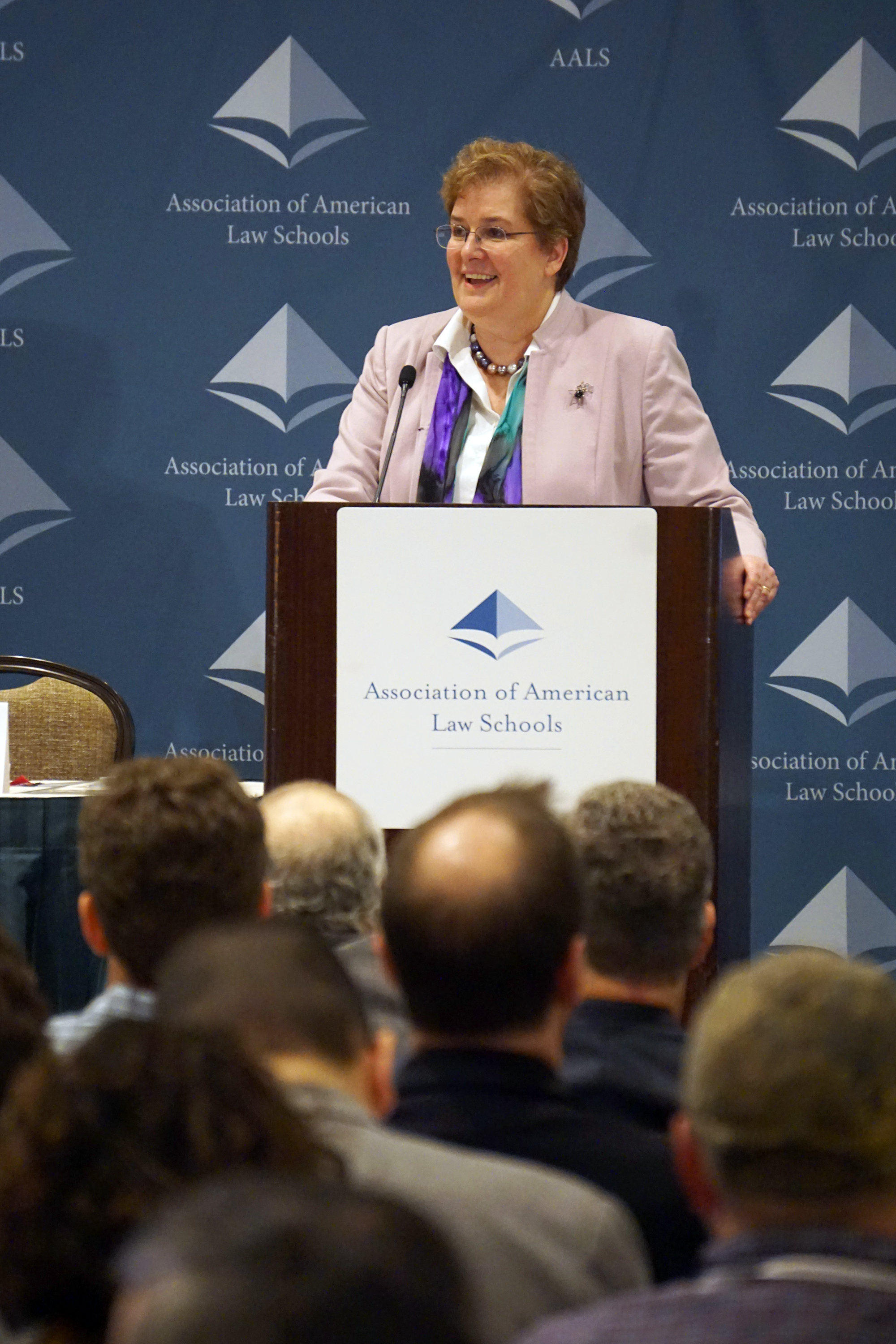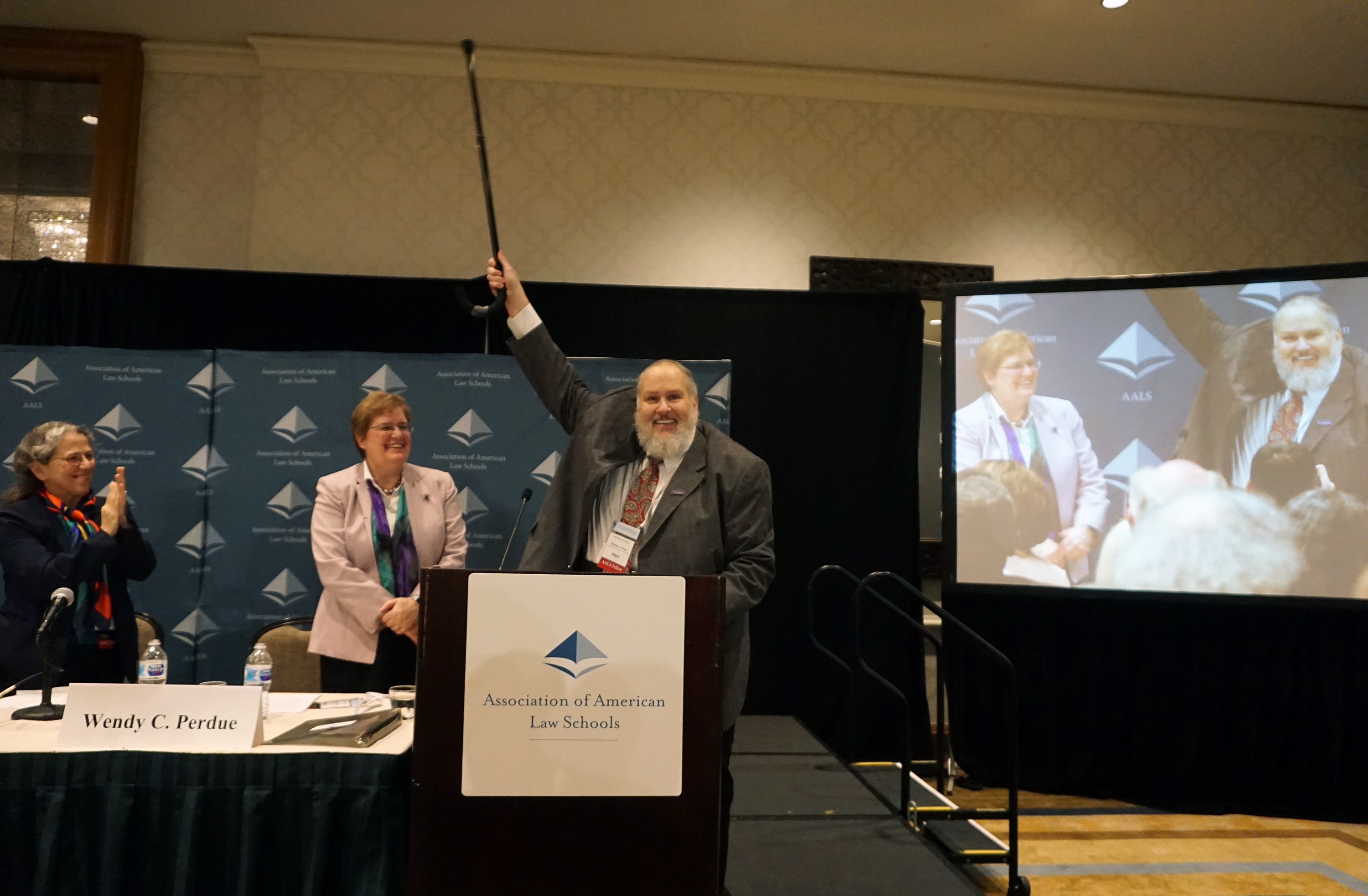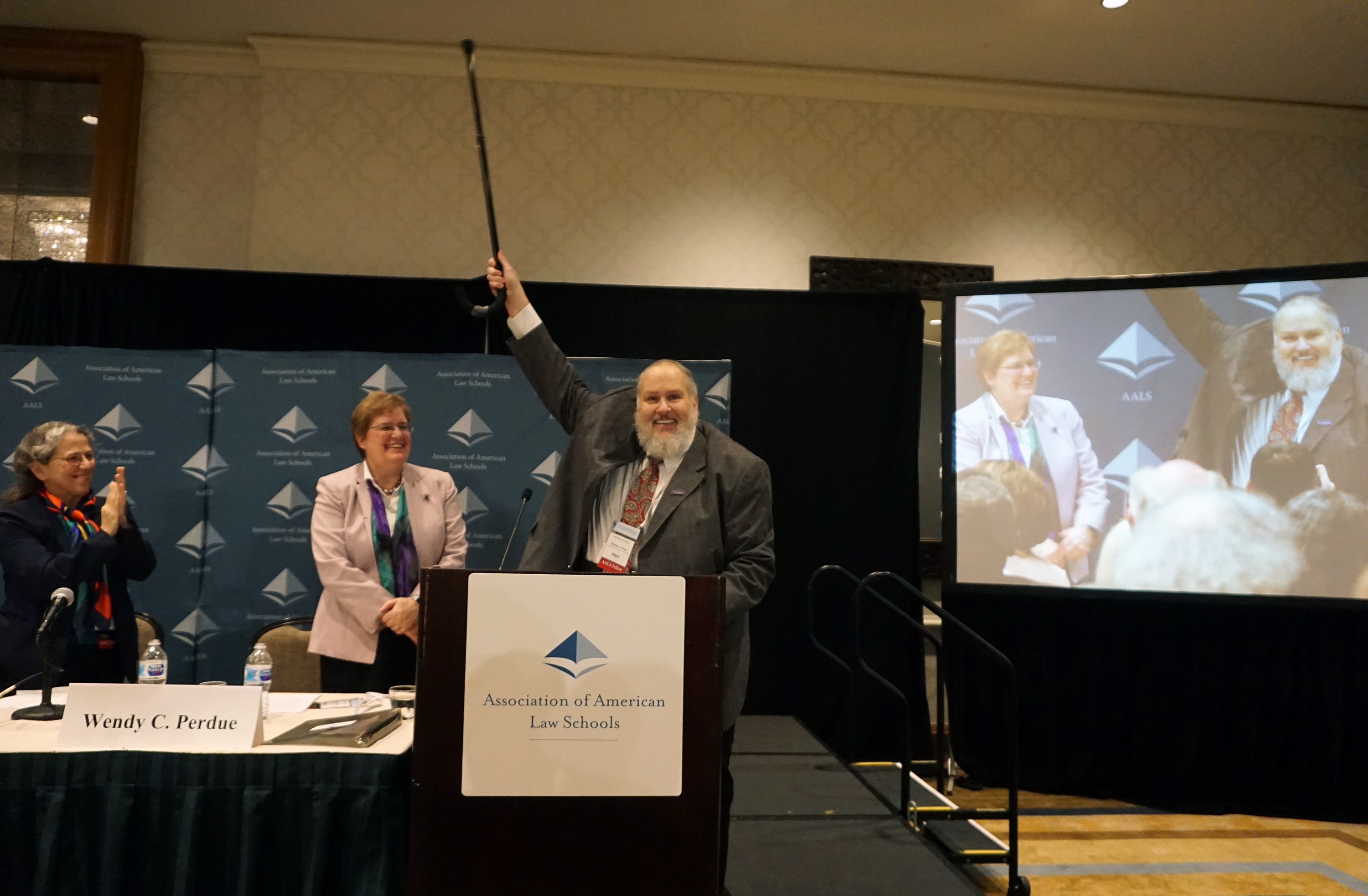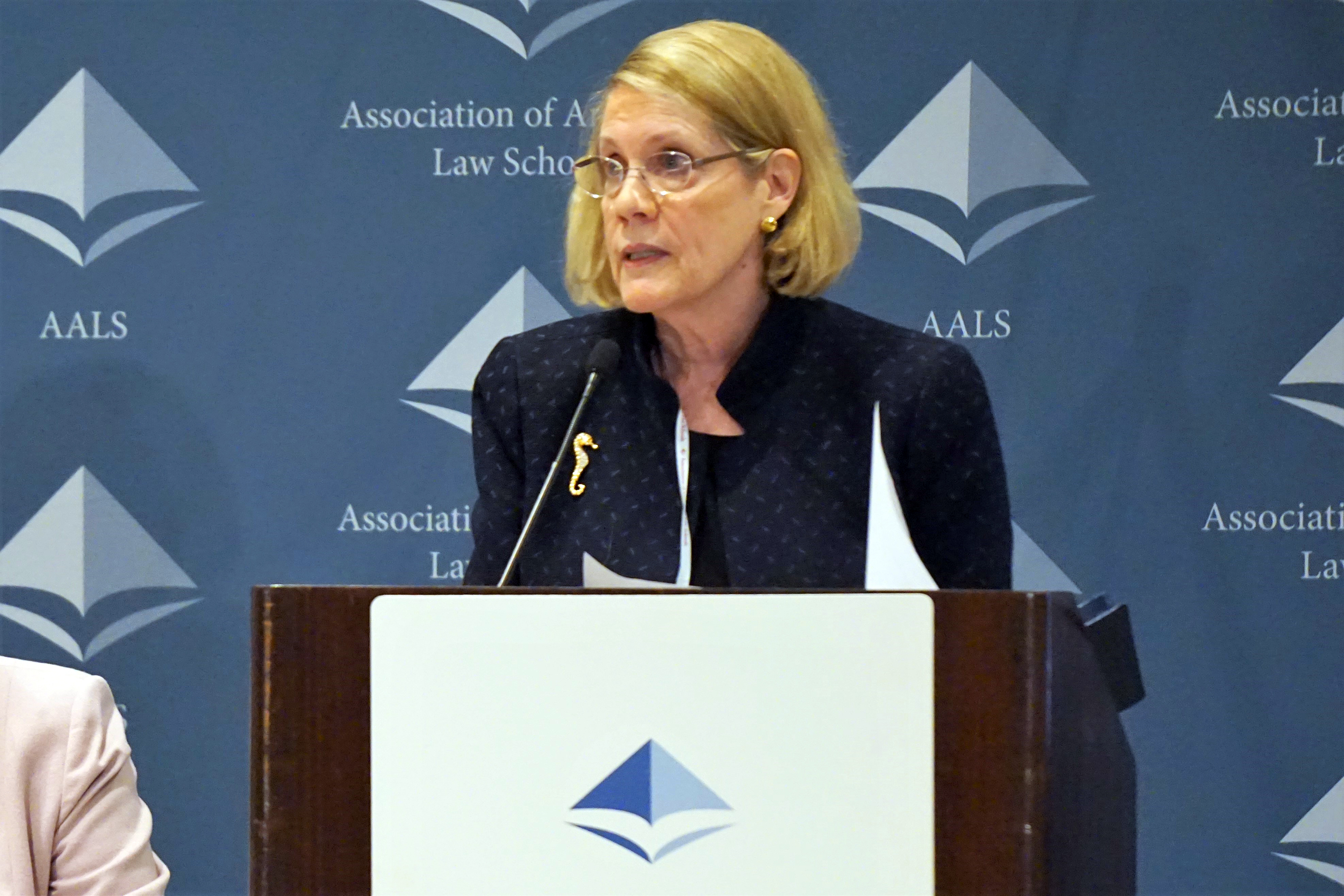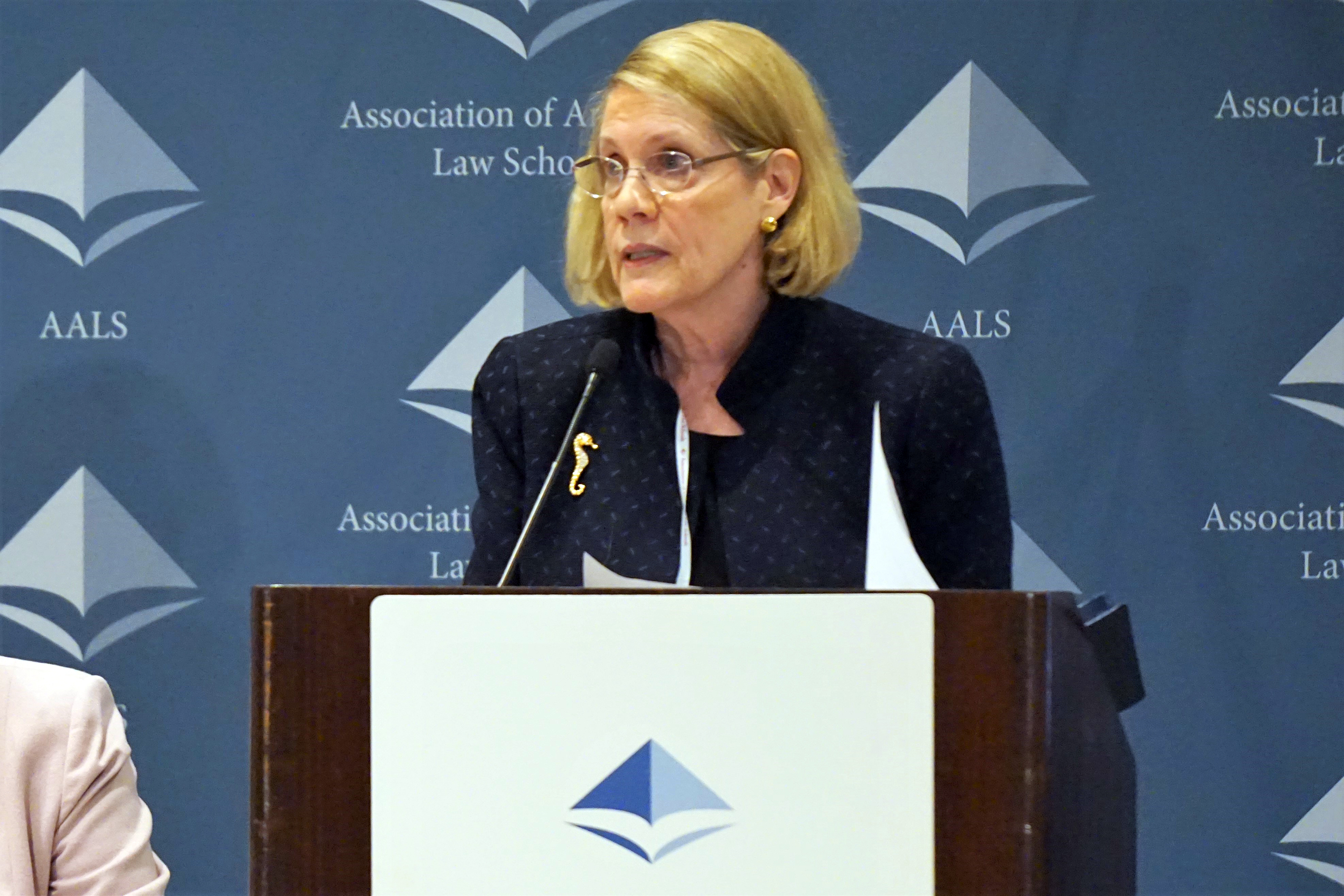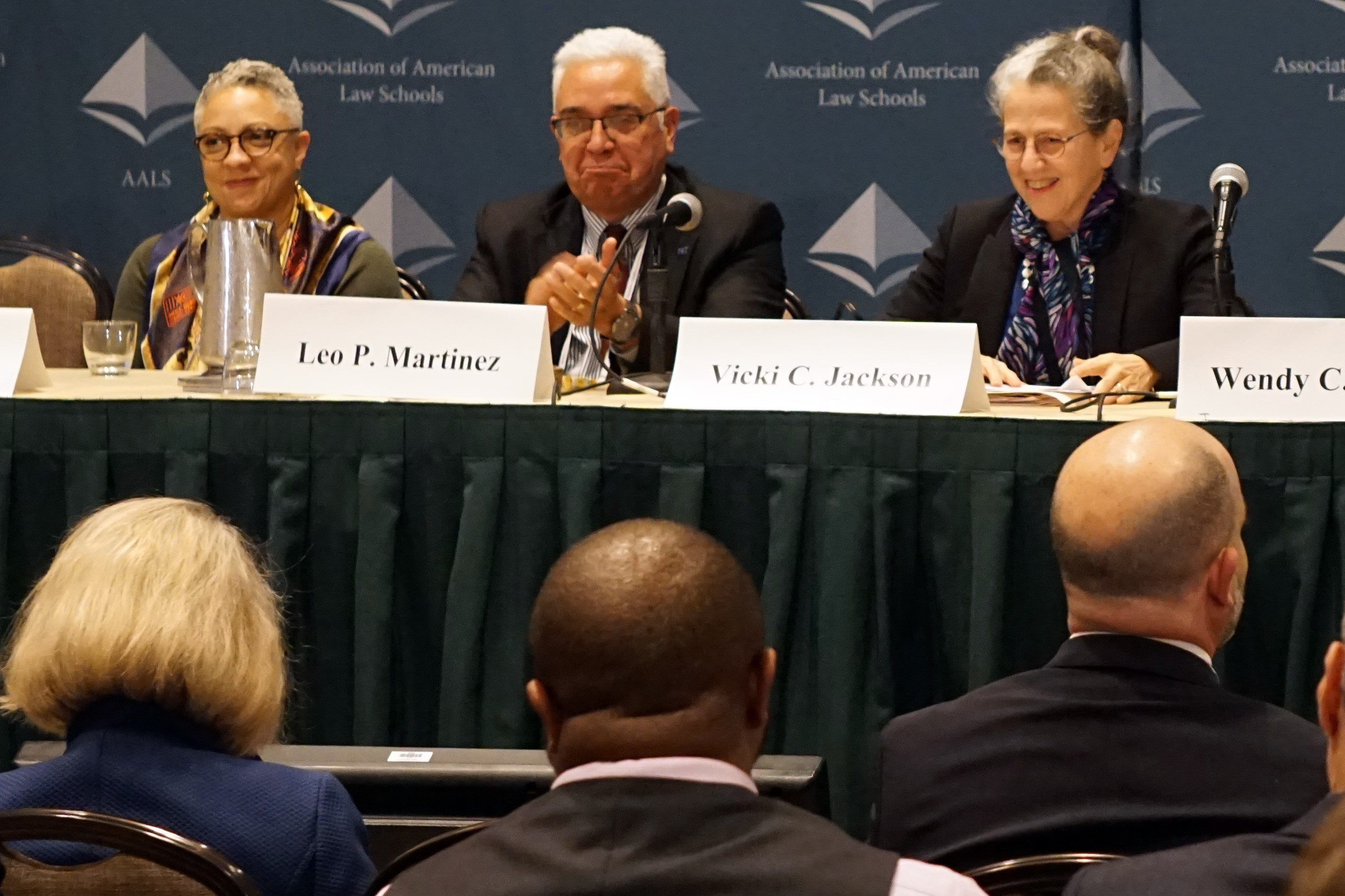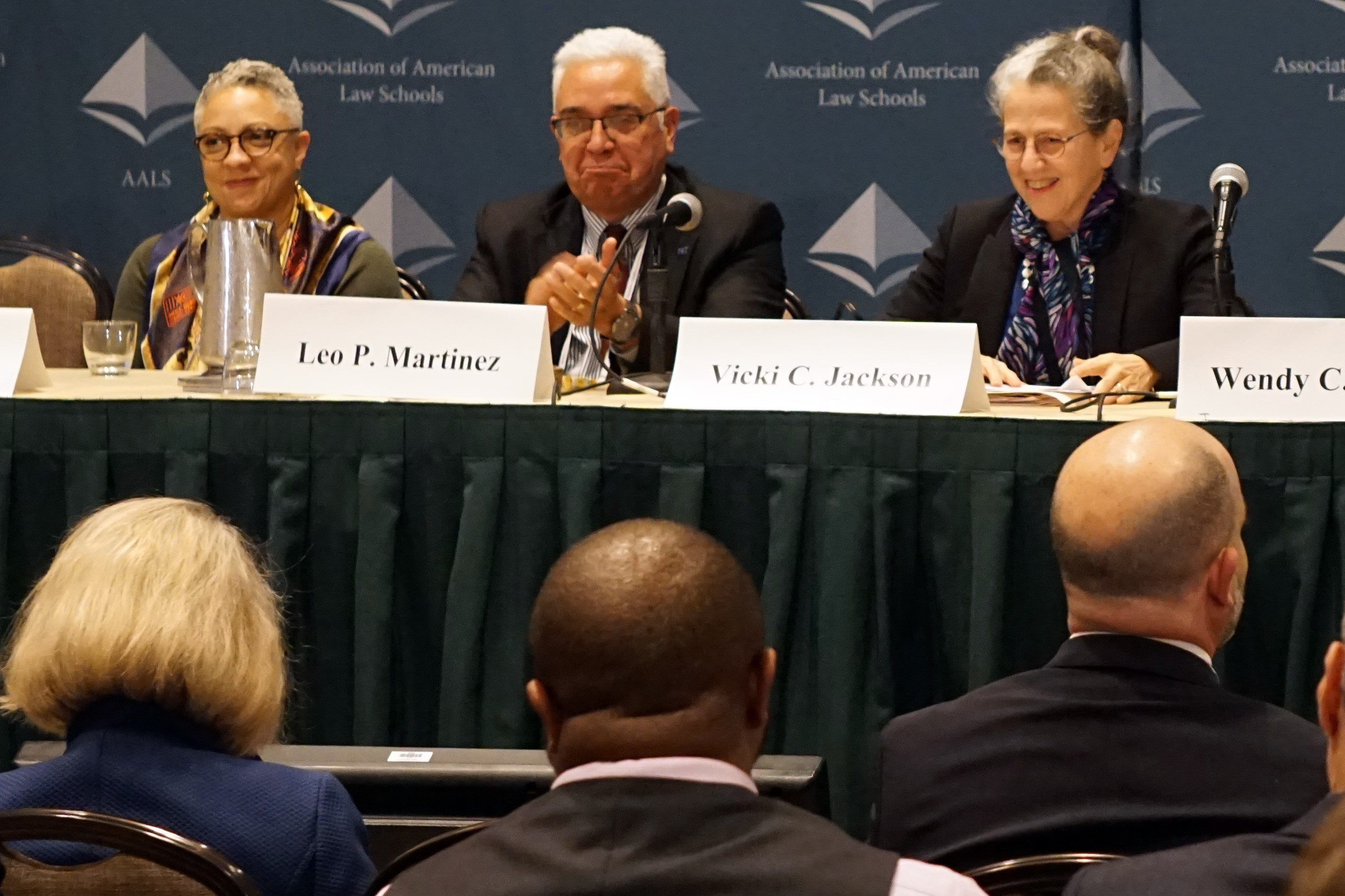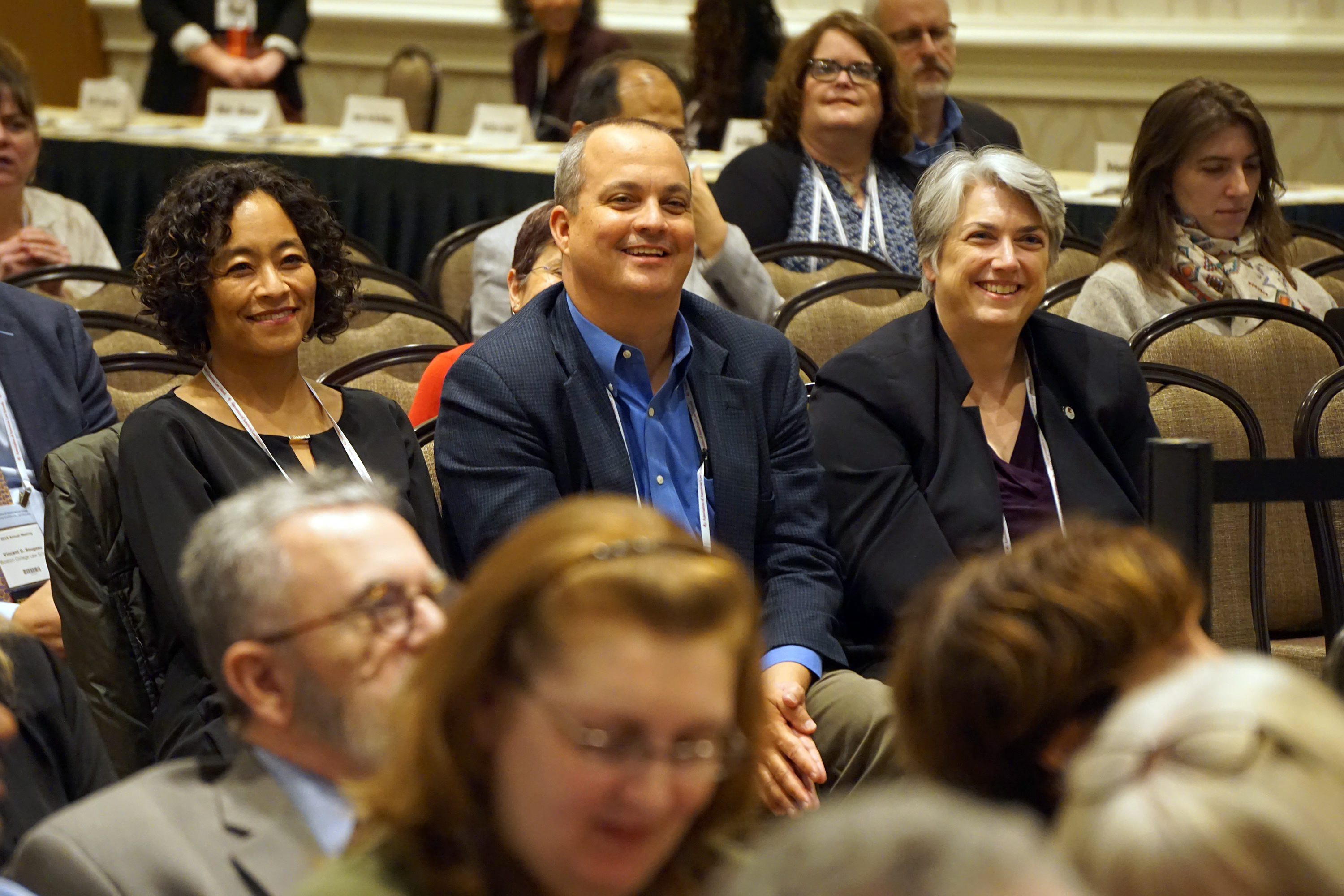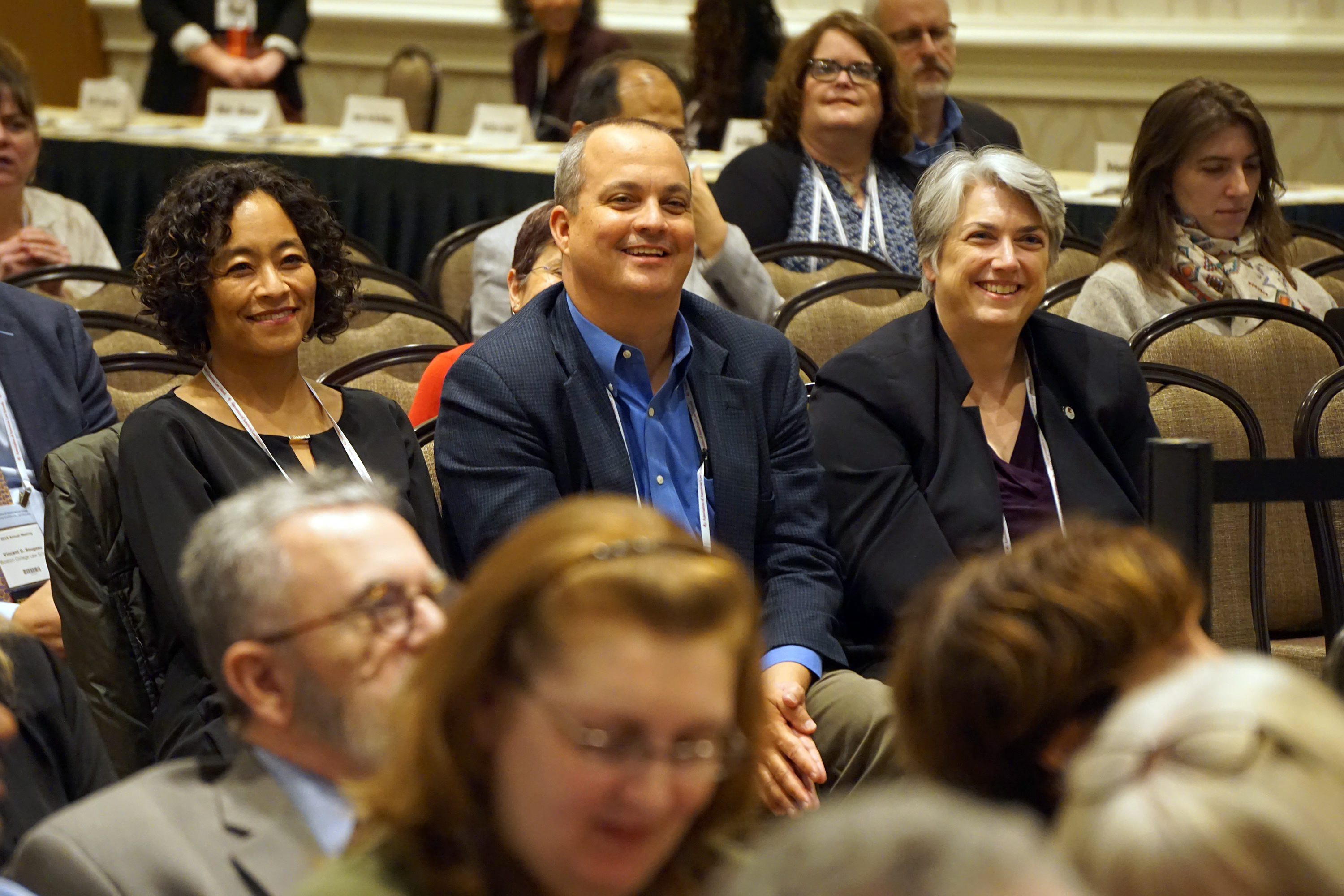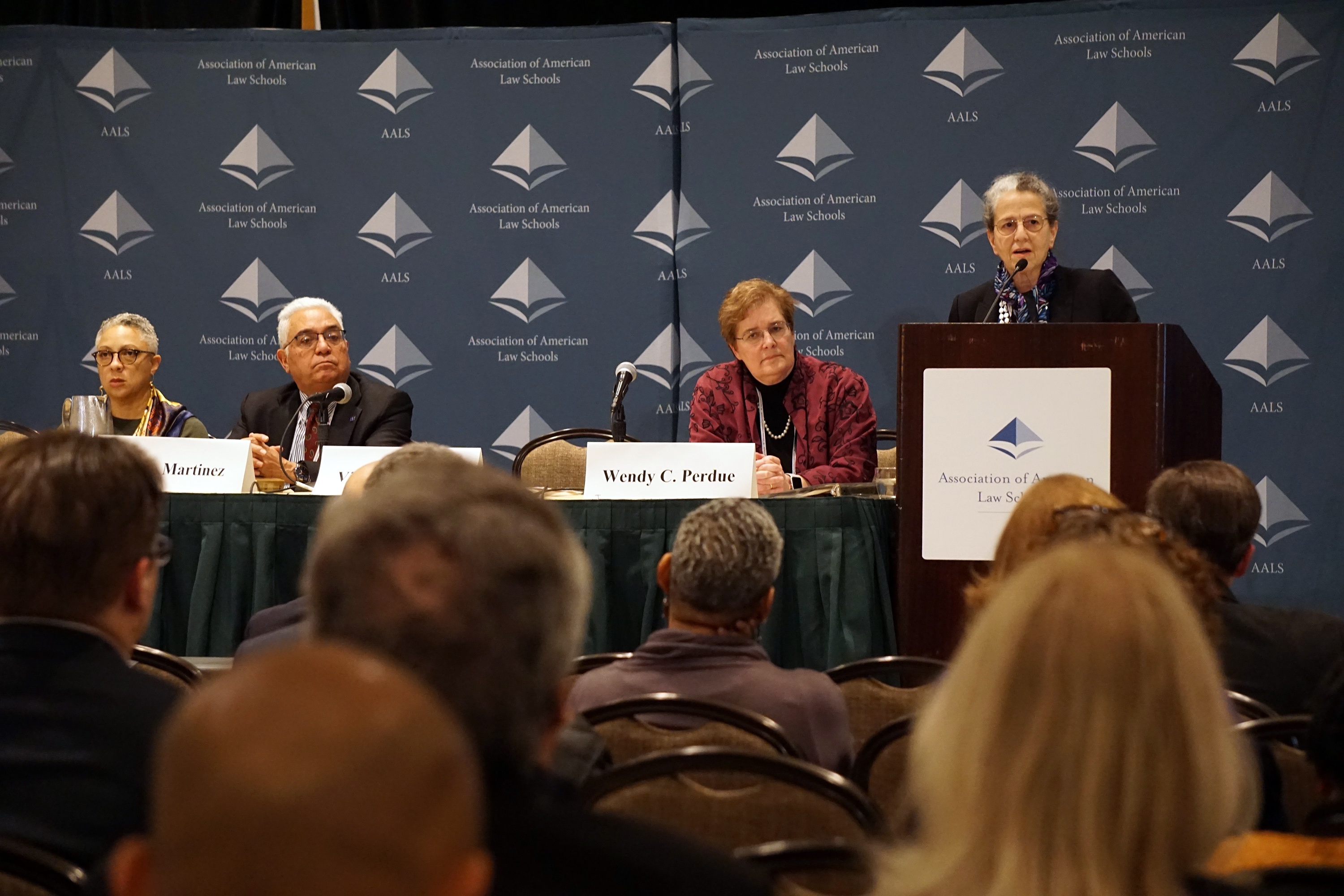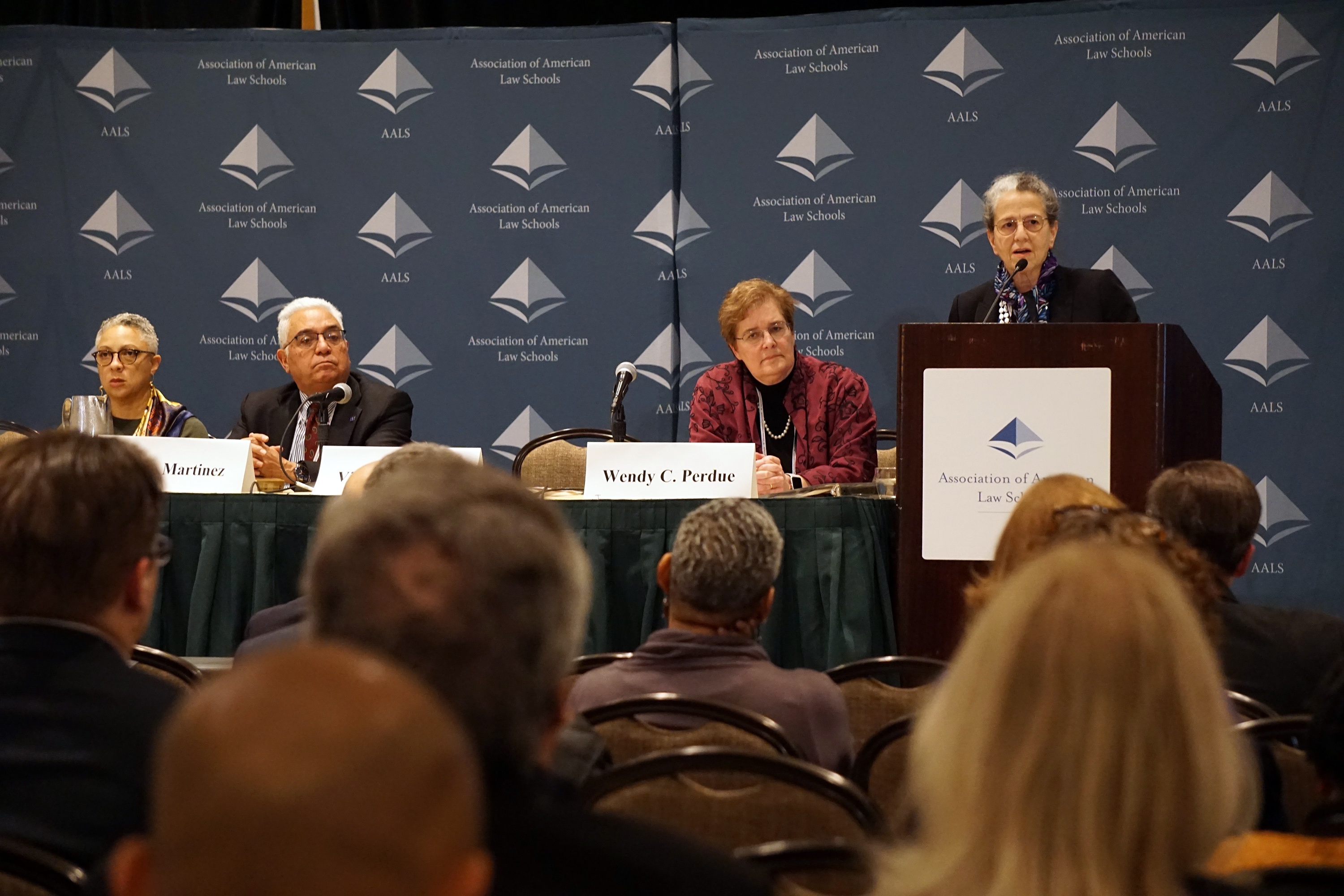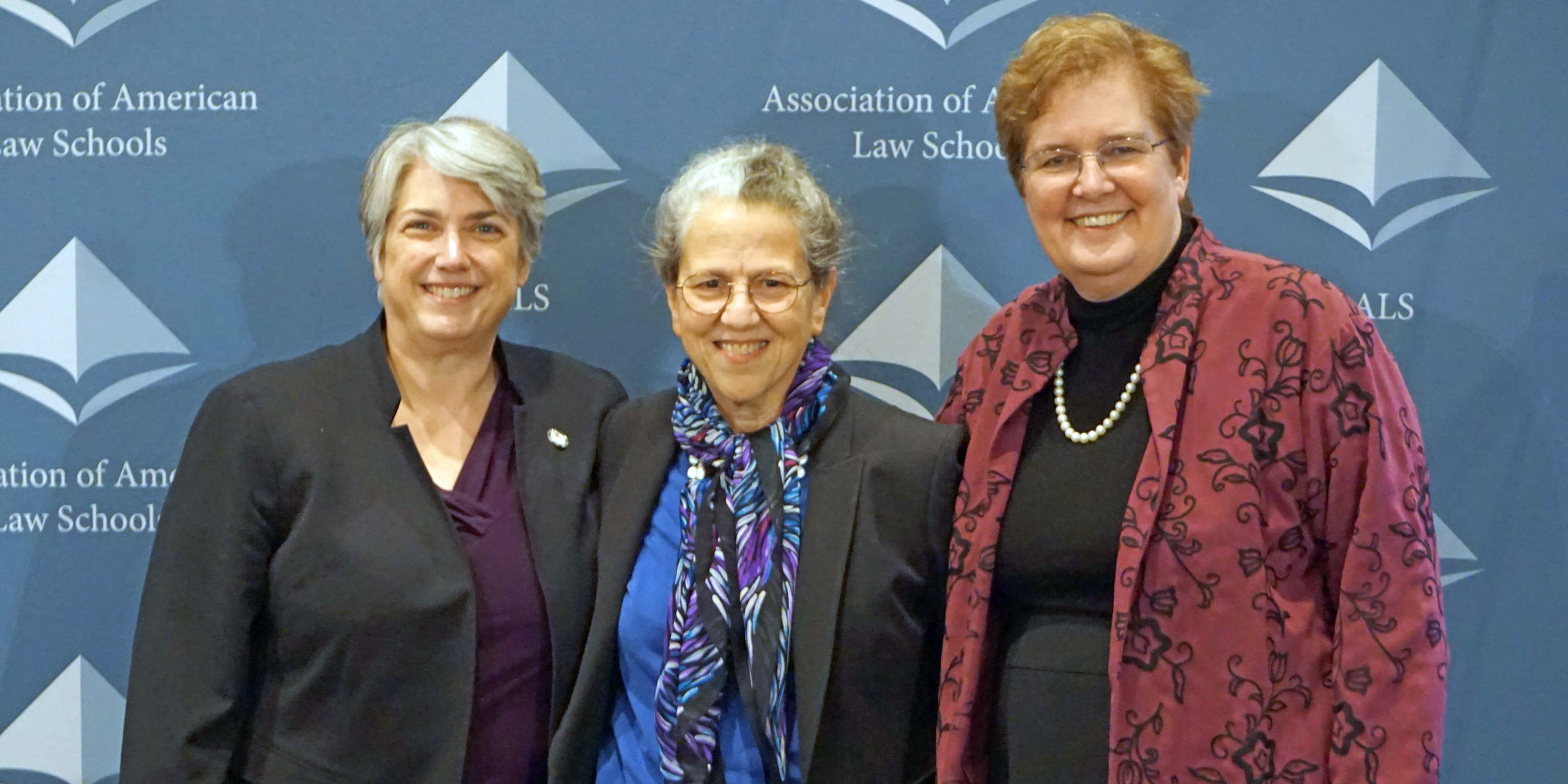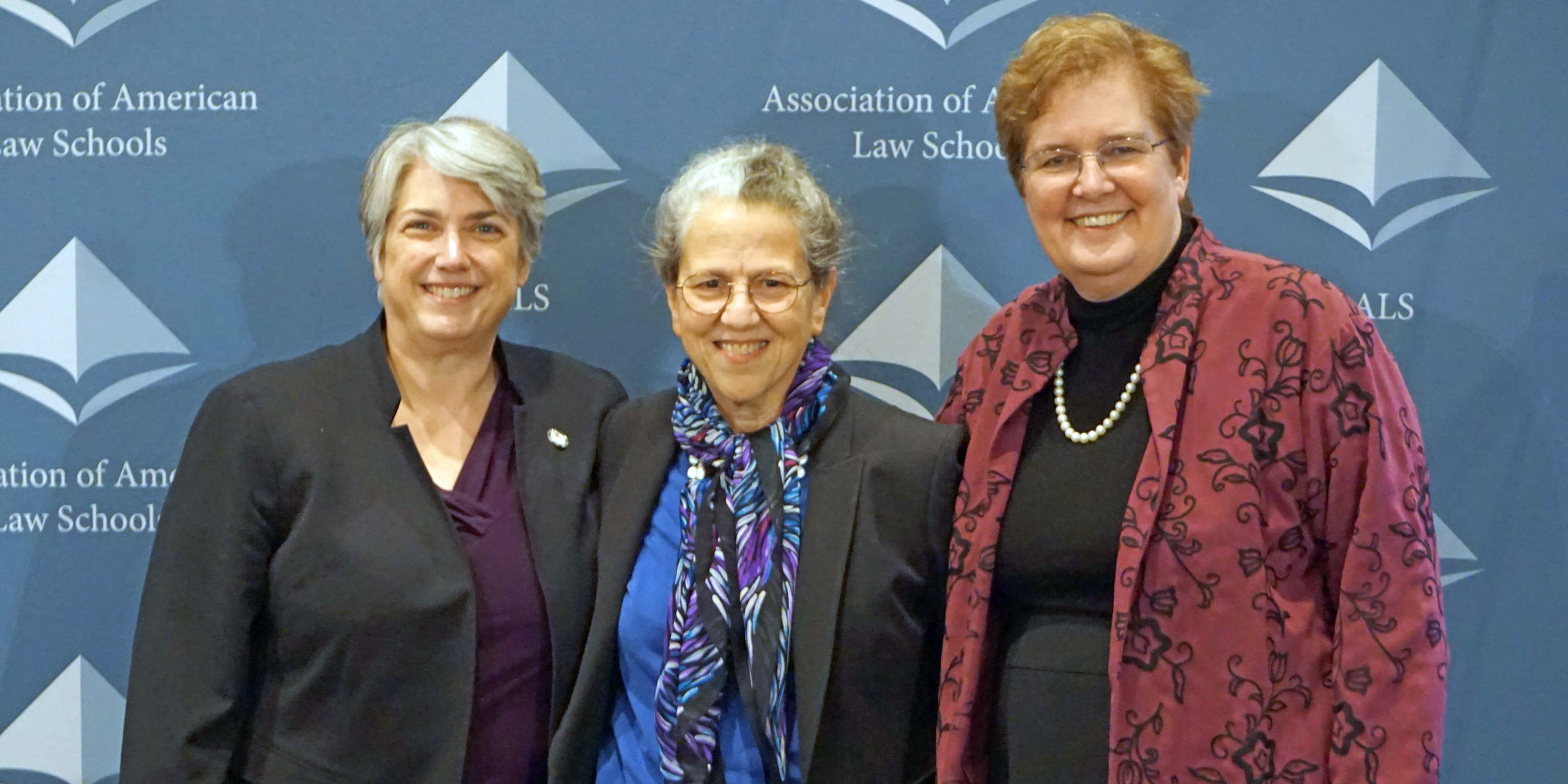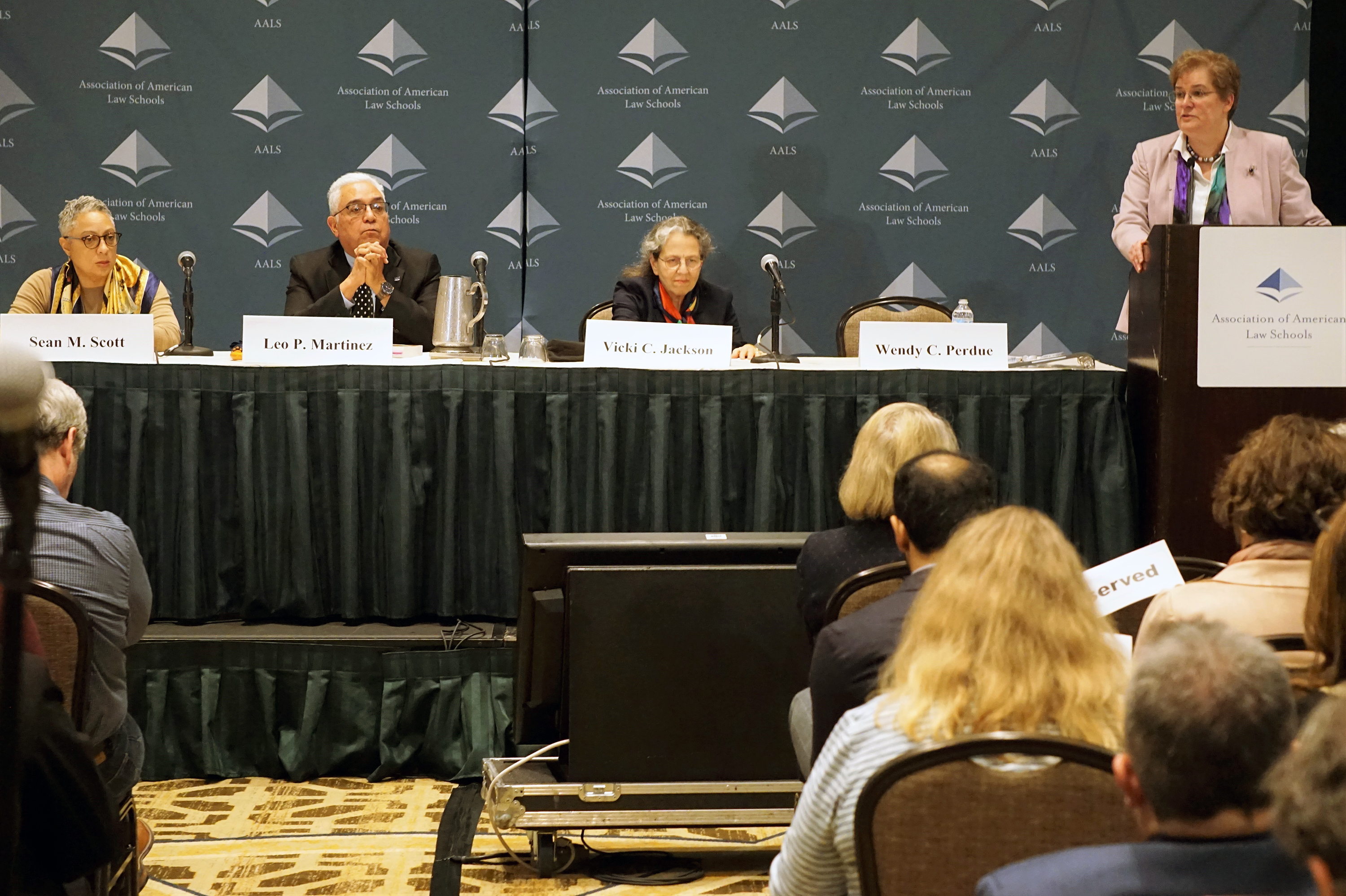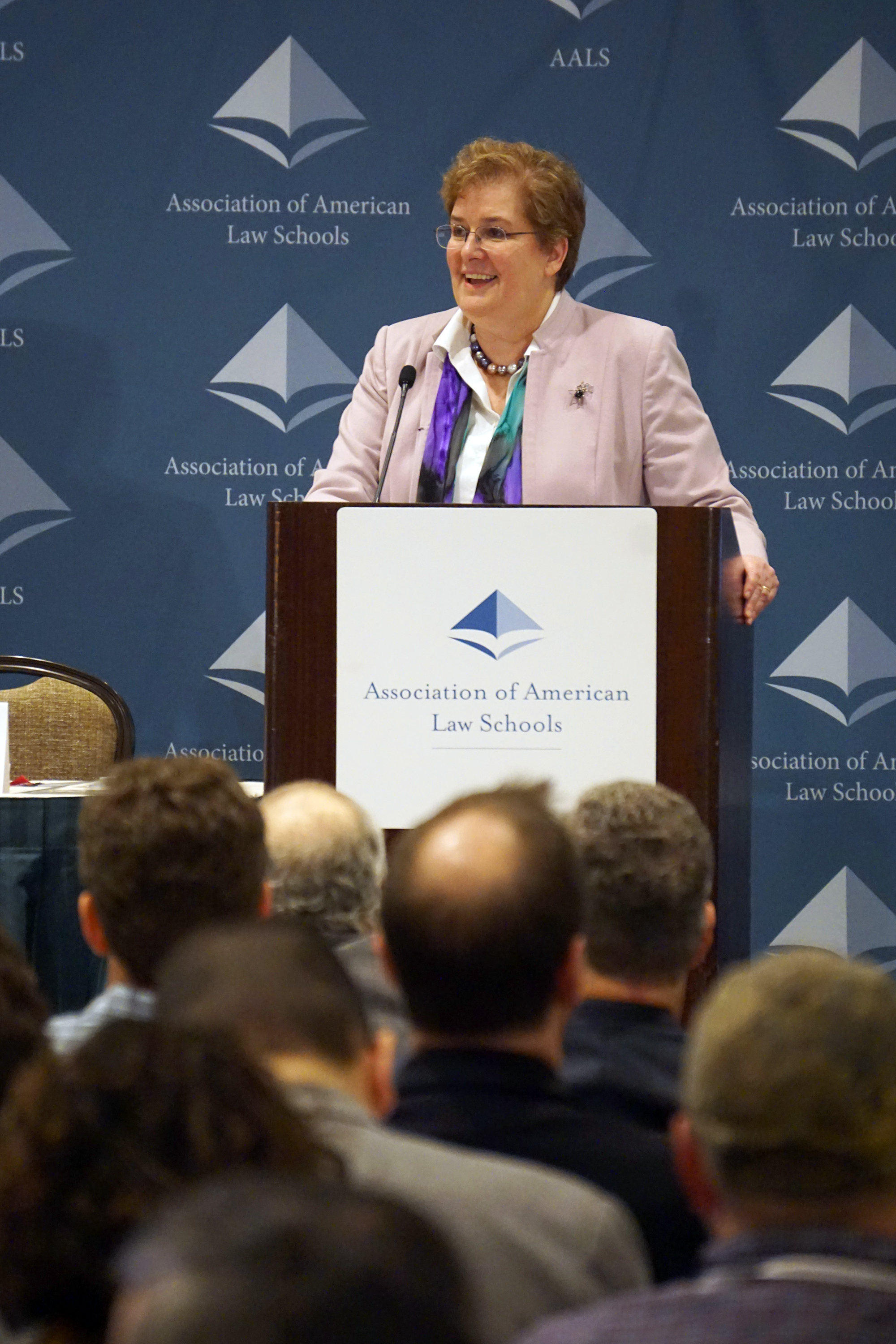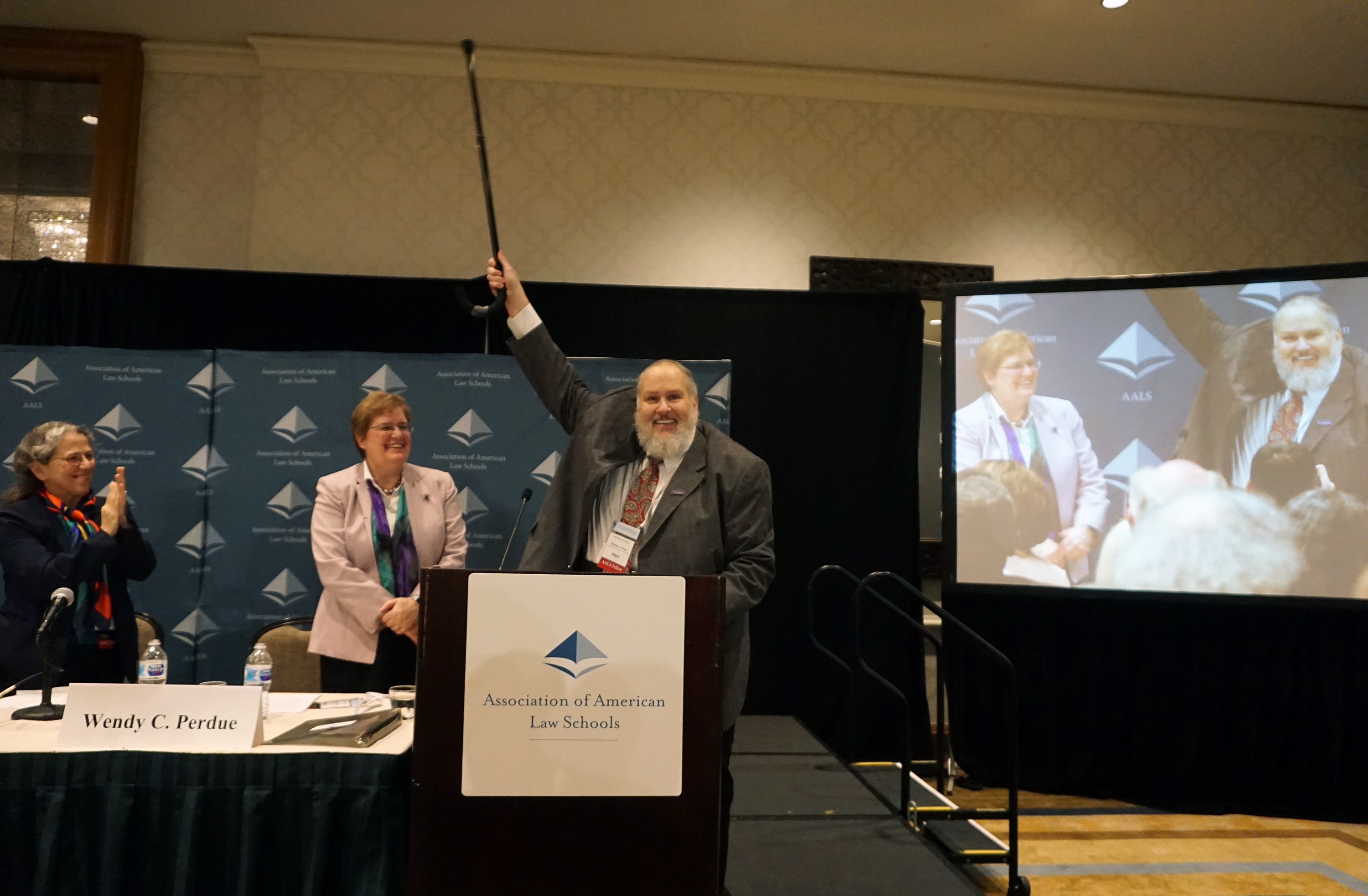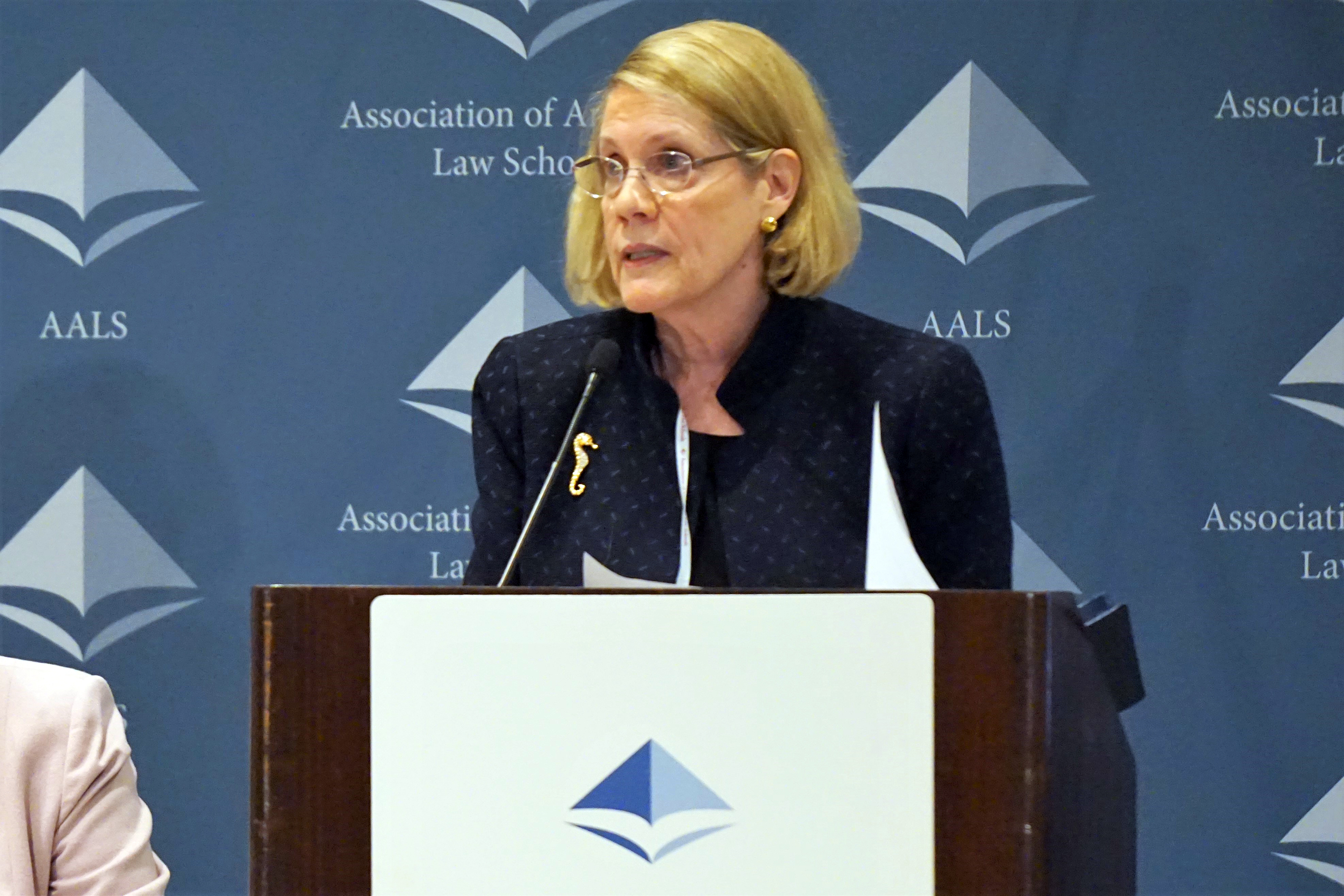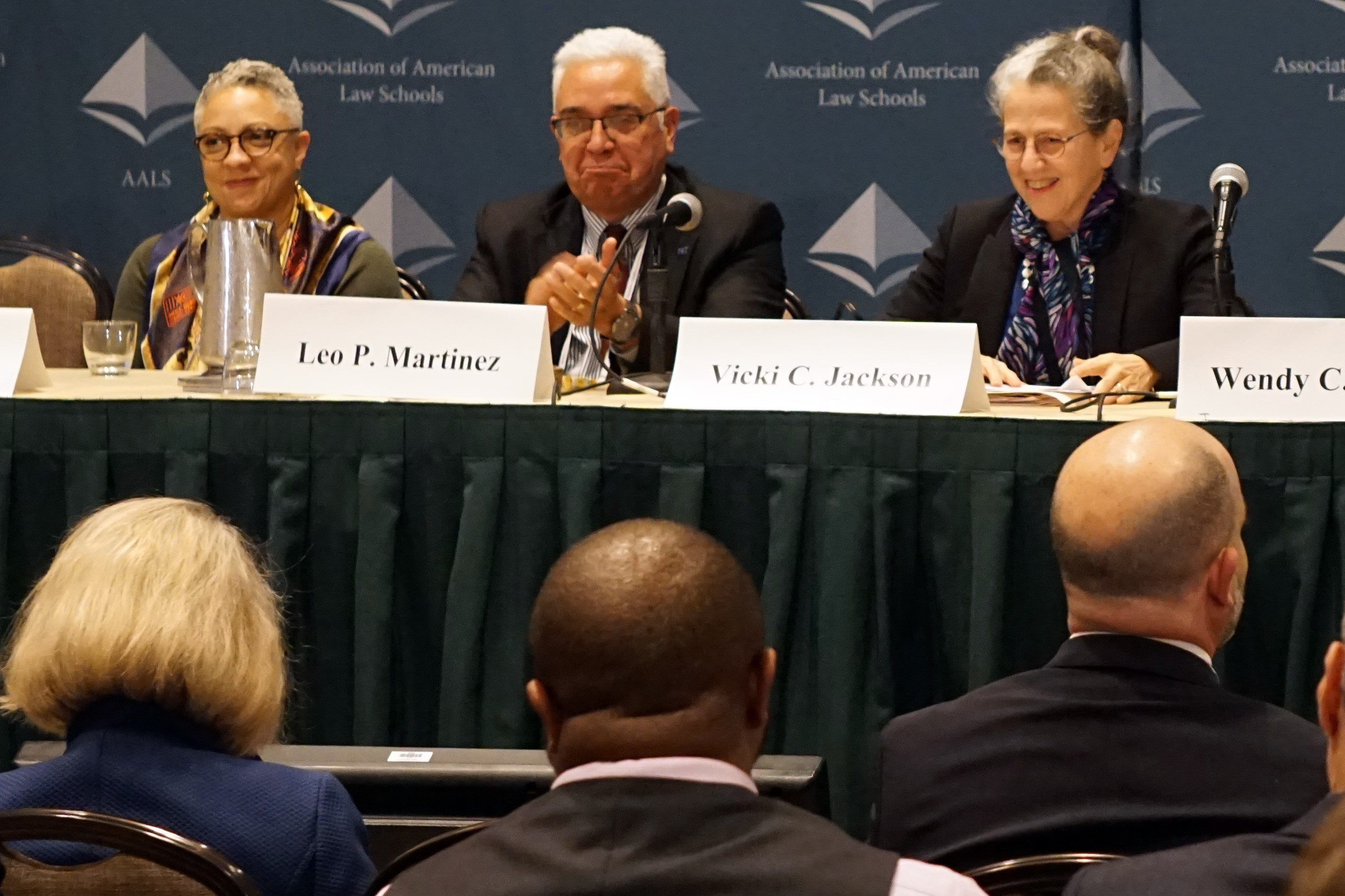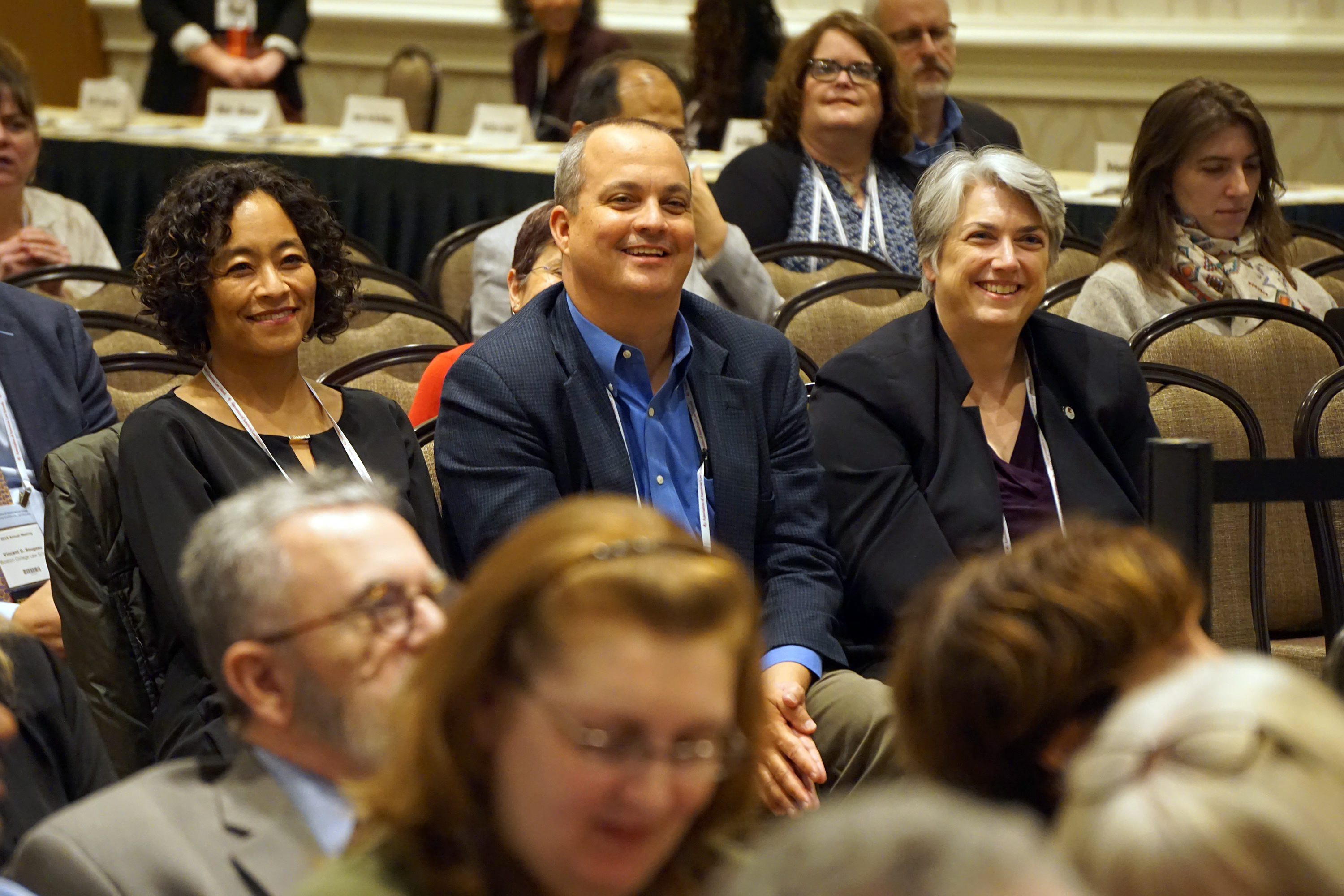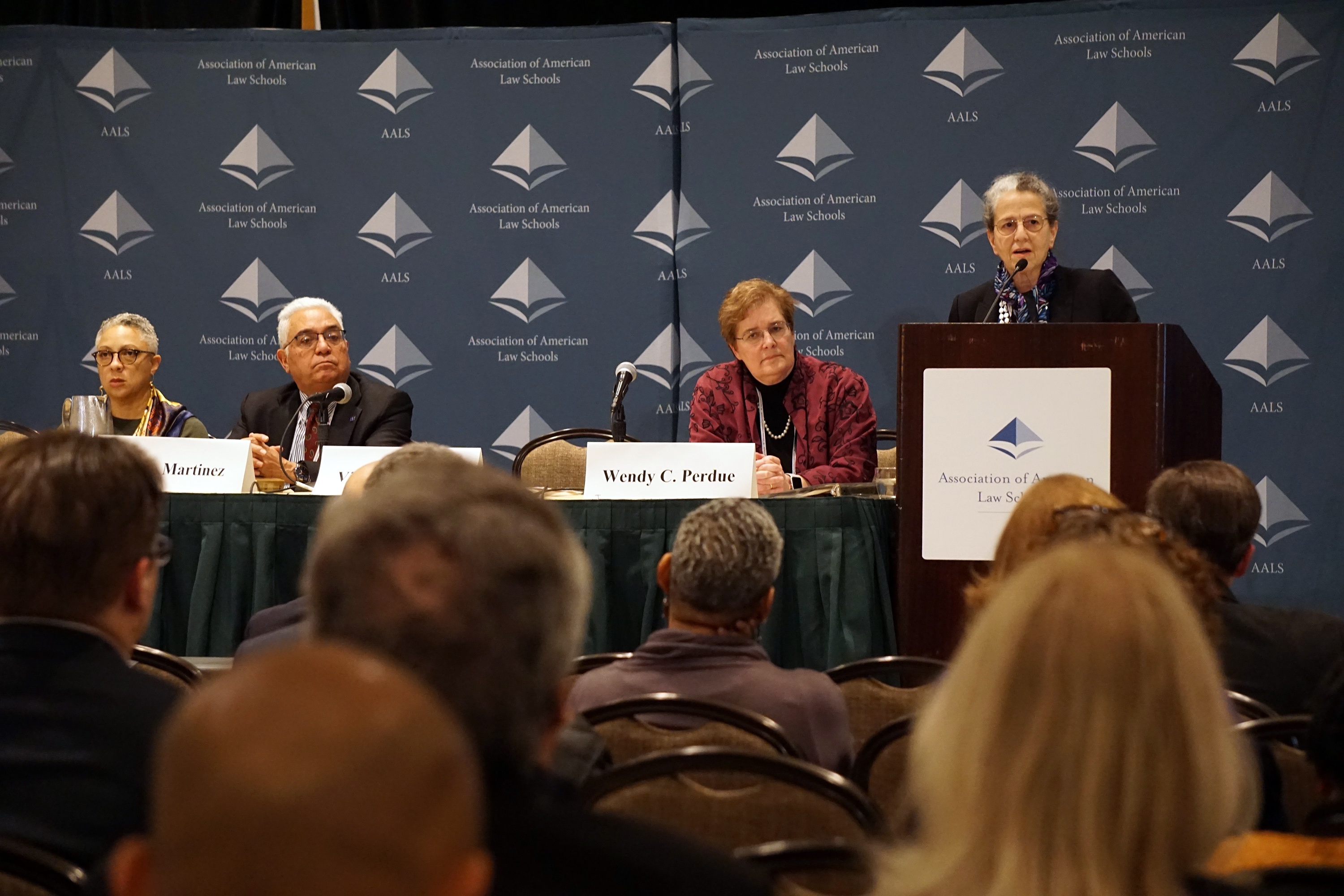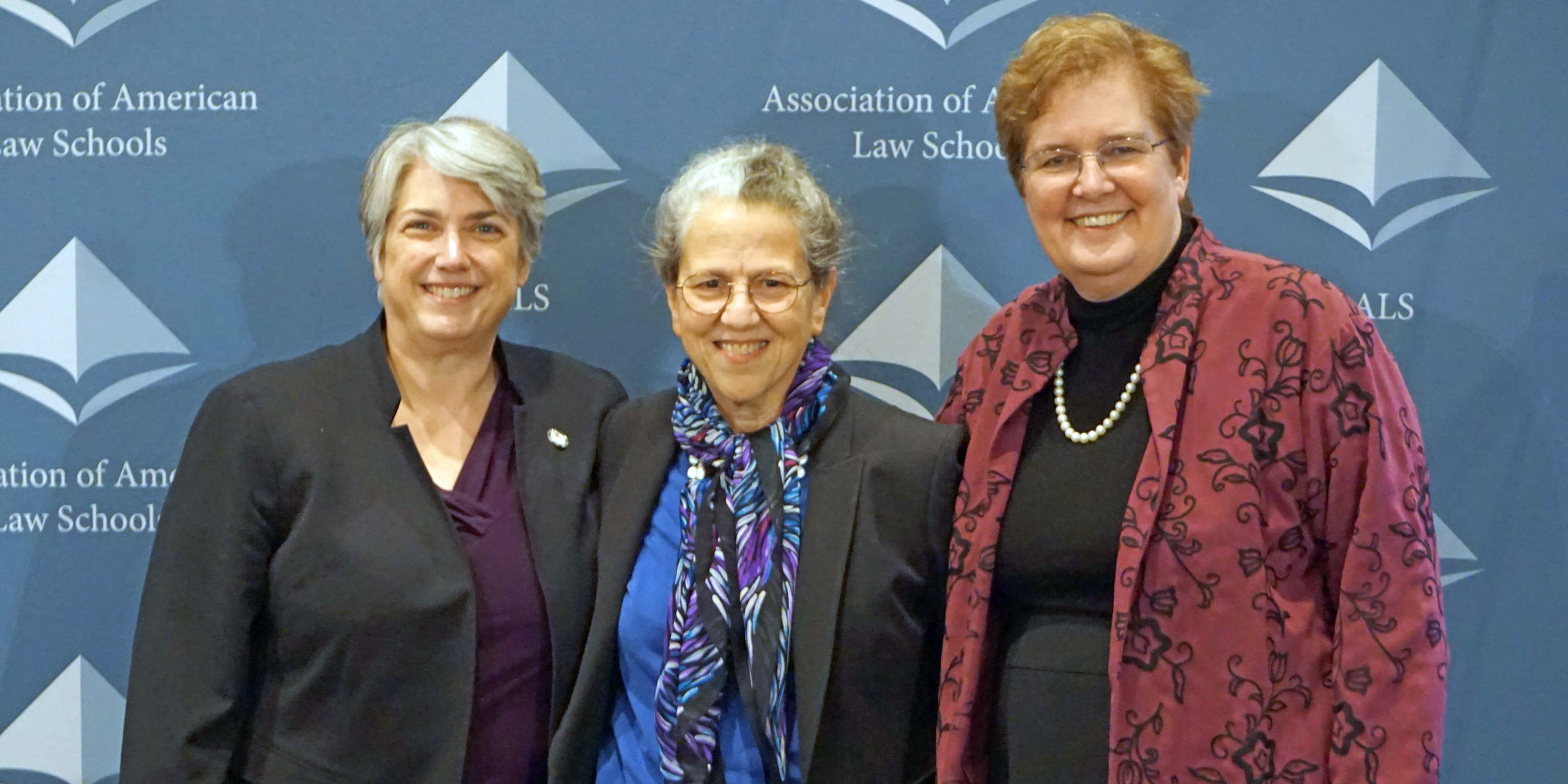 Several other groups met alongside or during the AALS Annual Meeting, including:
The Section on Institutional Advancement each year runs an extended program over a day and a half concurrent to the Annual Meeting. This year, our IA colleagues welcomed the inspirational plenary speaker Anthony Graves, a Board member of the Houston Forensic Science Center, who was wrongfully convicted and served 18 ½ years in prison.
The Workshop for Pretenured Law School Teachers of Color provided specialized guidance, networking, and support all day on Saturday.
The Deans Forum, a one-day event designed to allow peer-led support and guidance between and among law school deans, welcomed former New Orleans Mayor Mitch Landrieu to their program on Friday.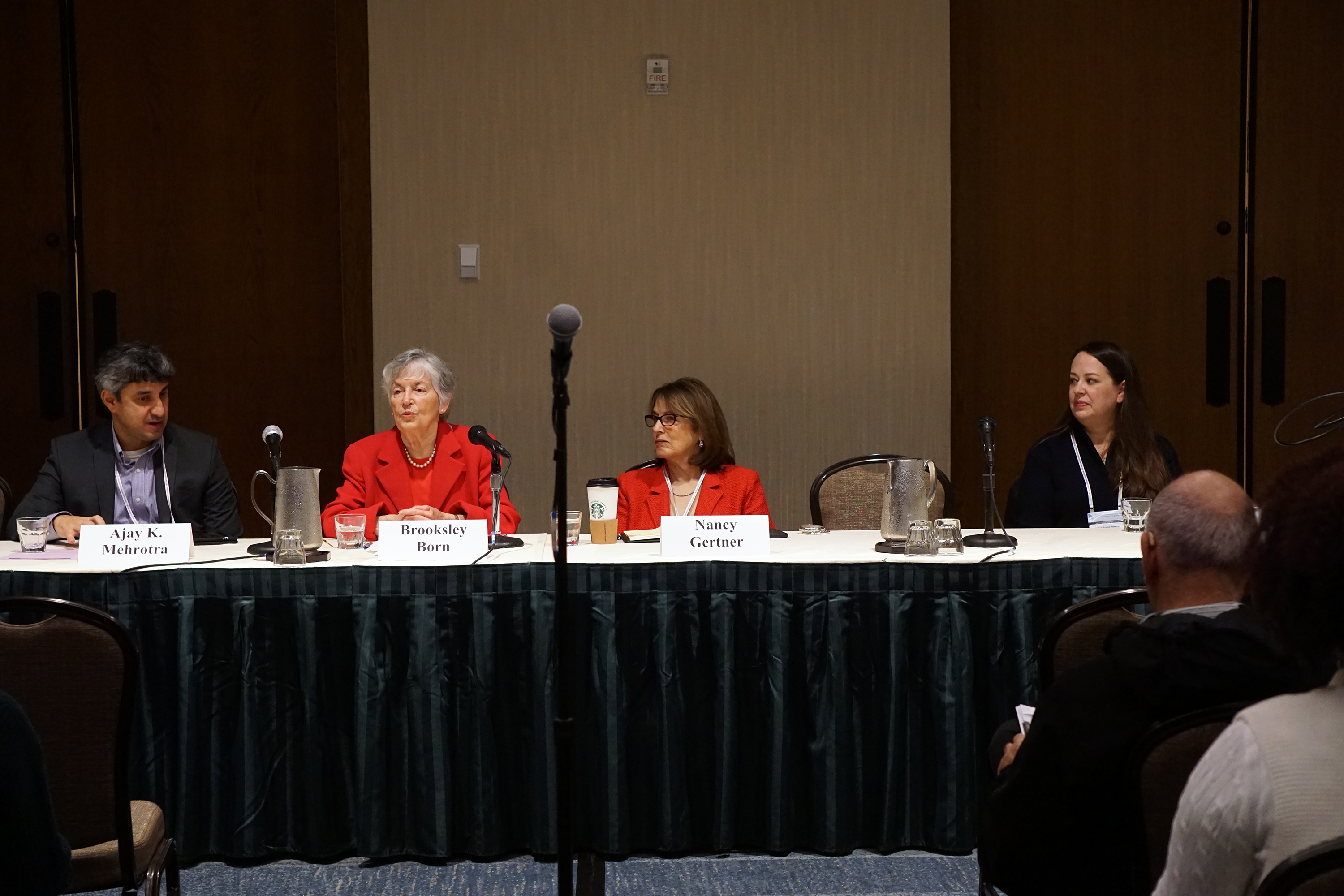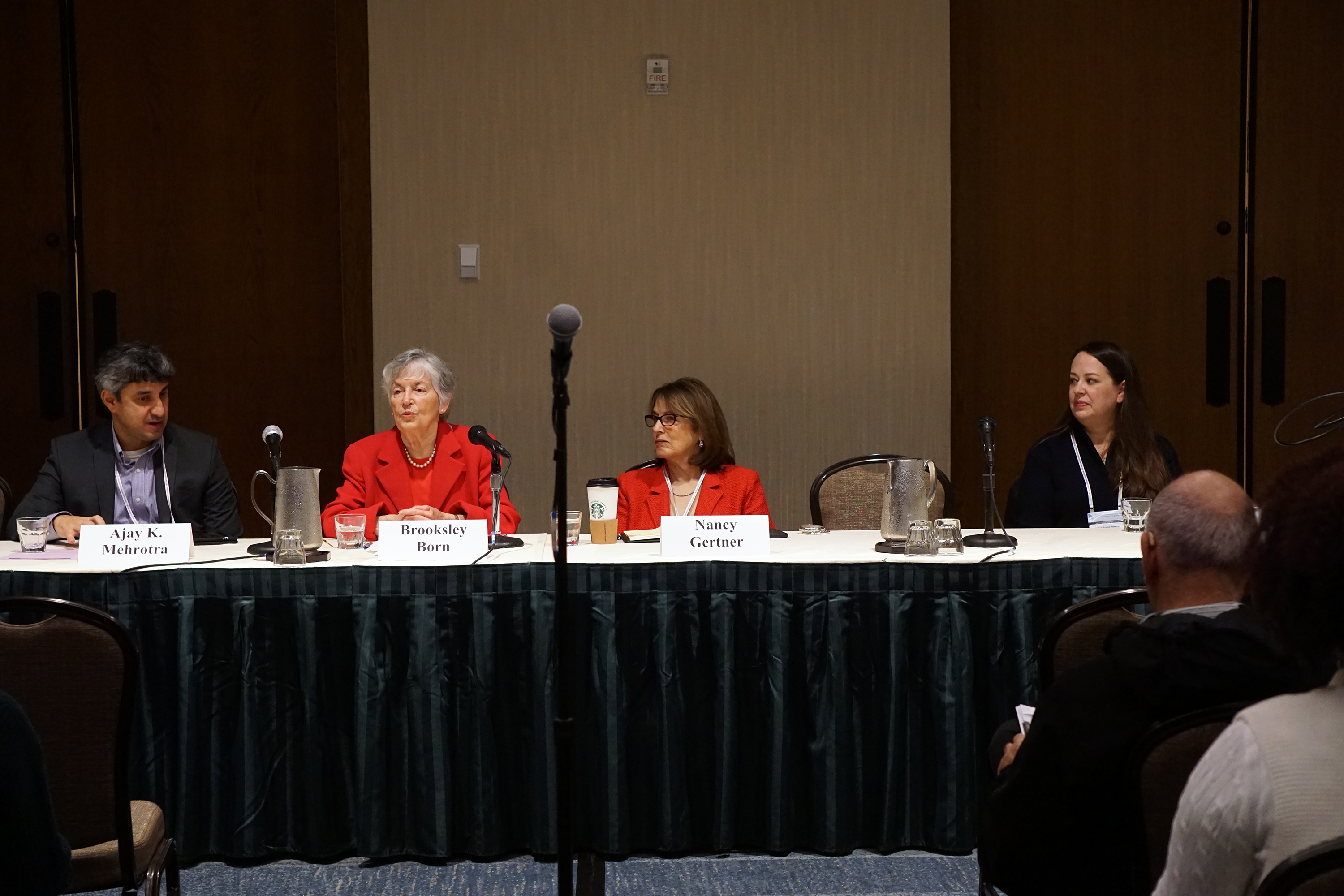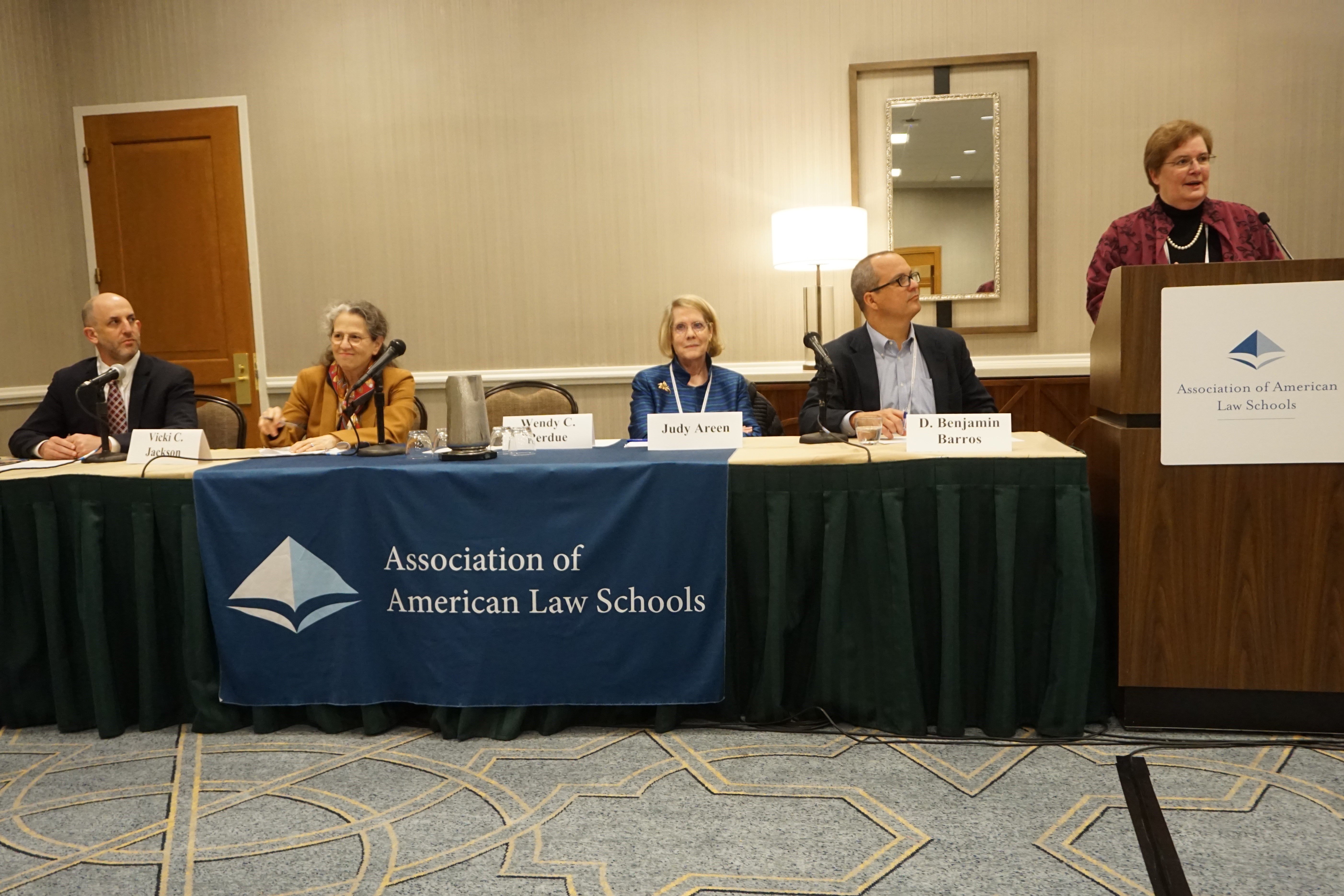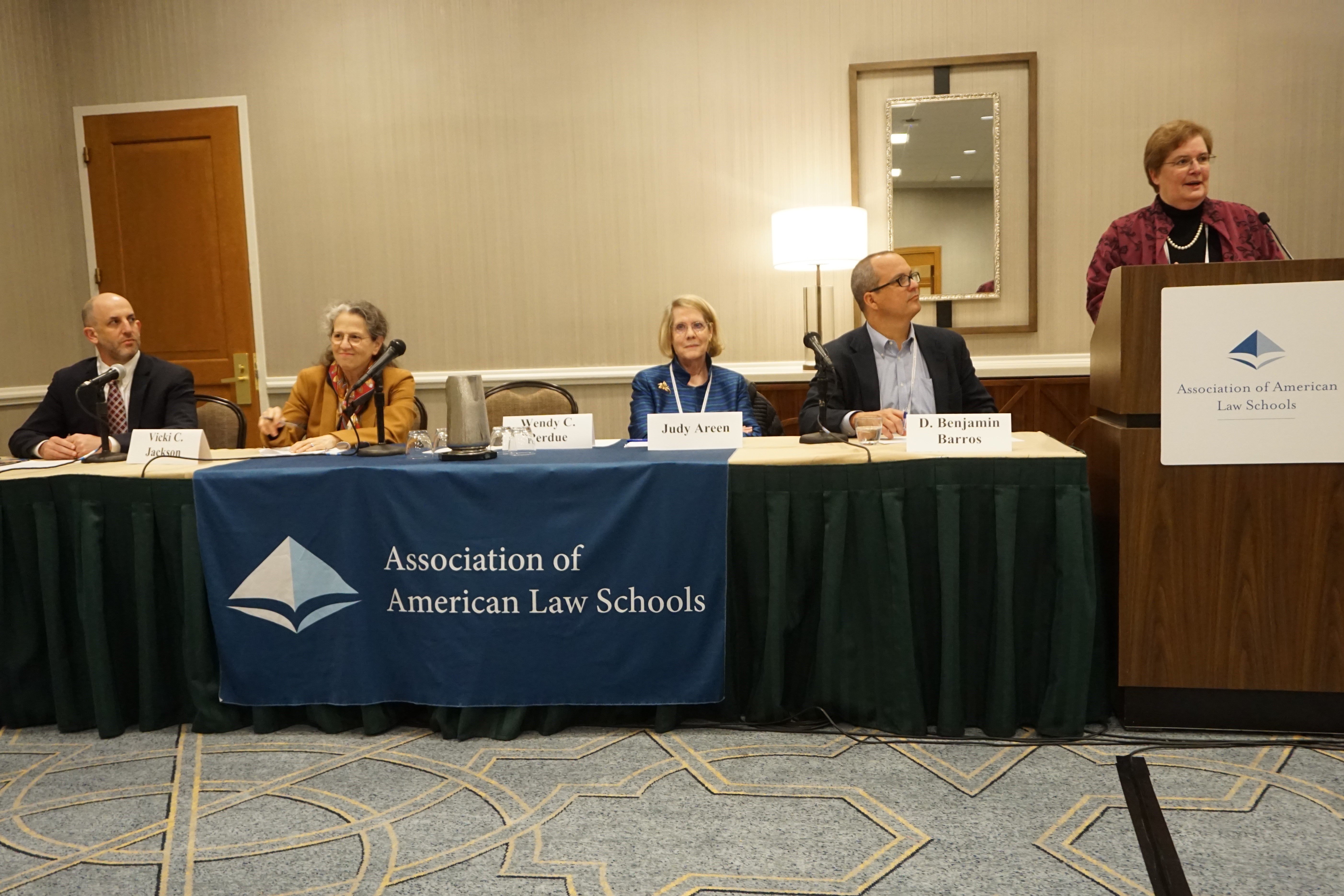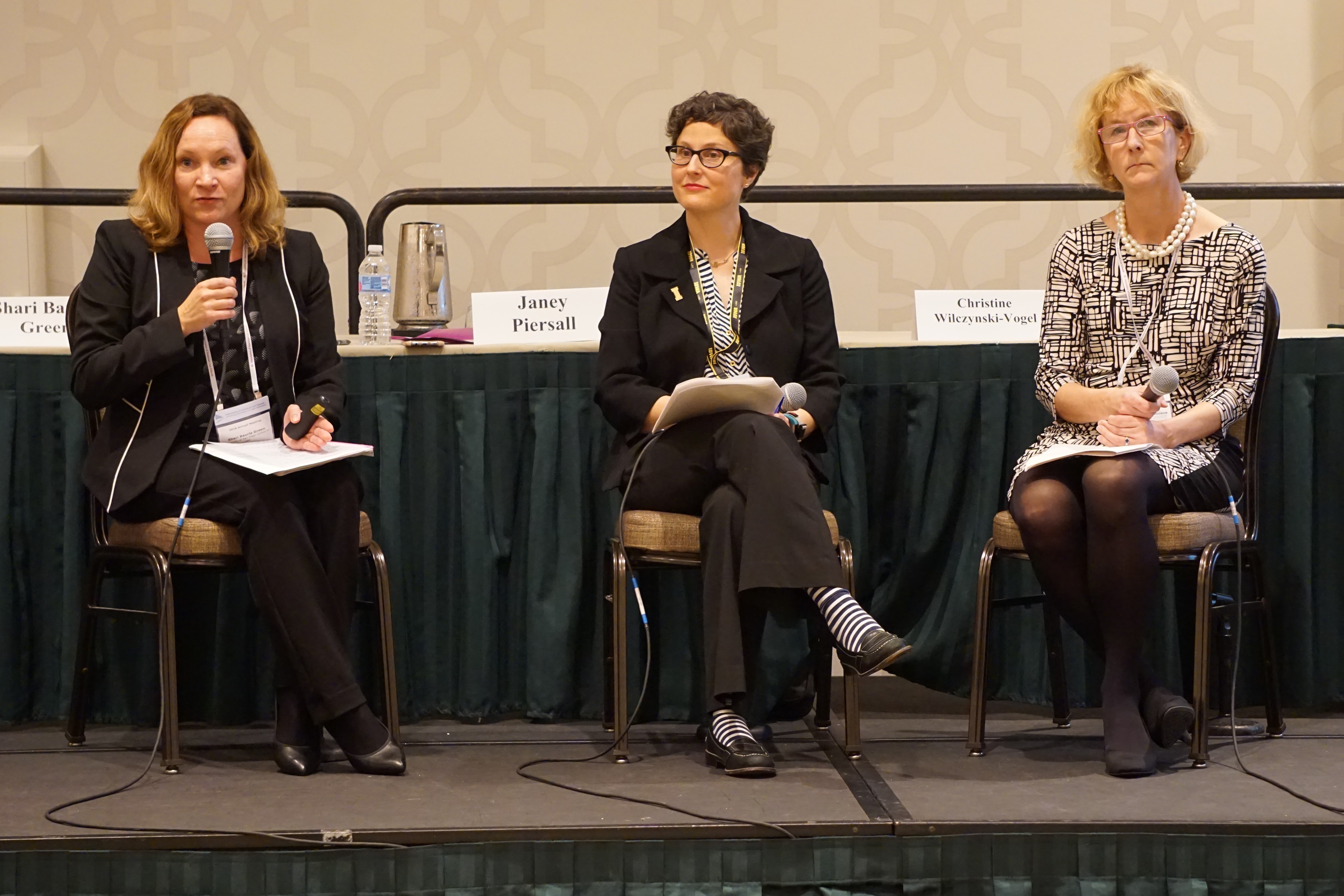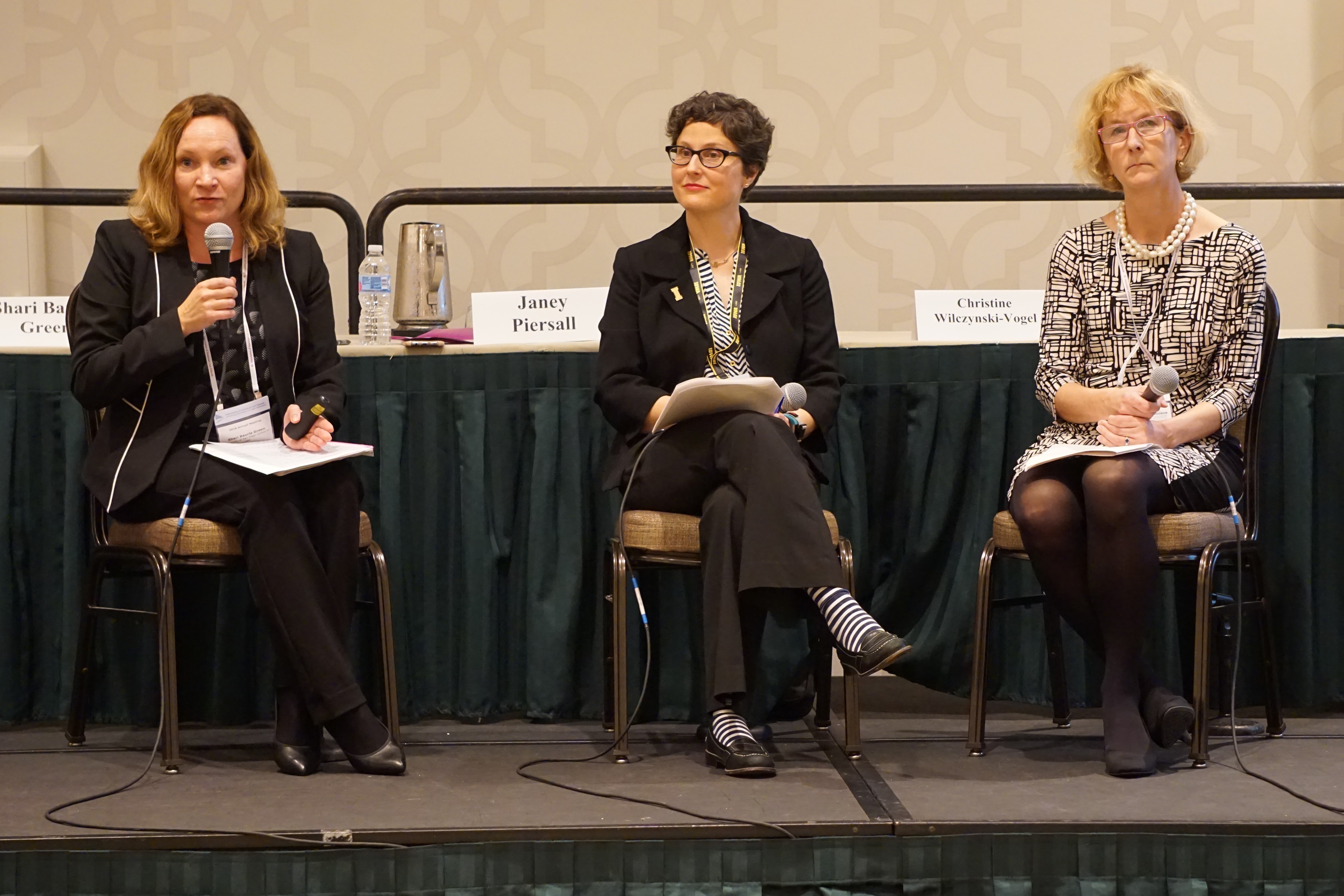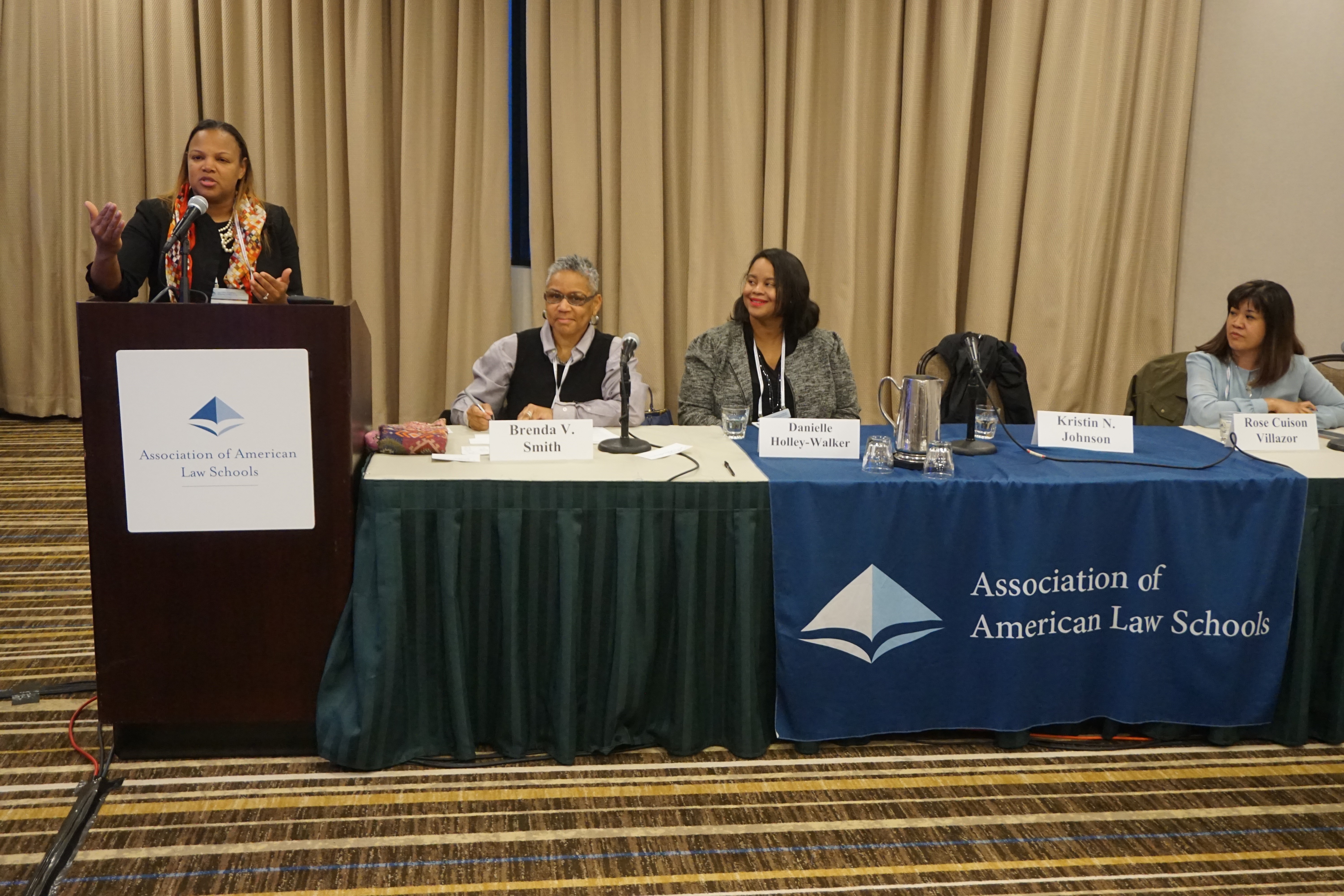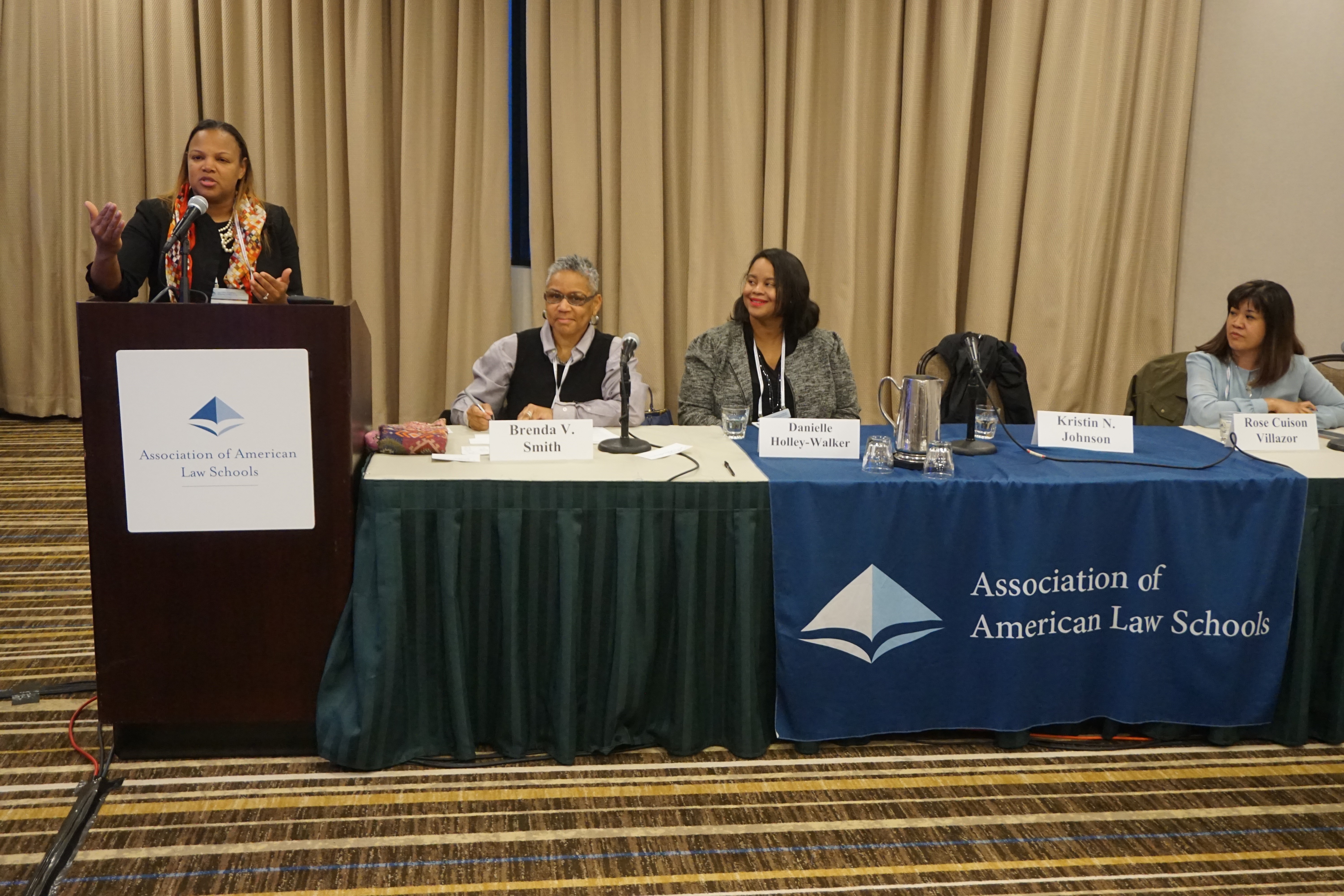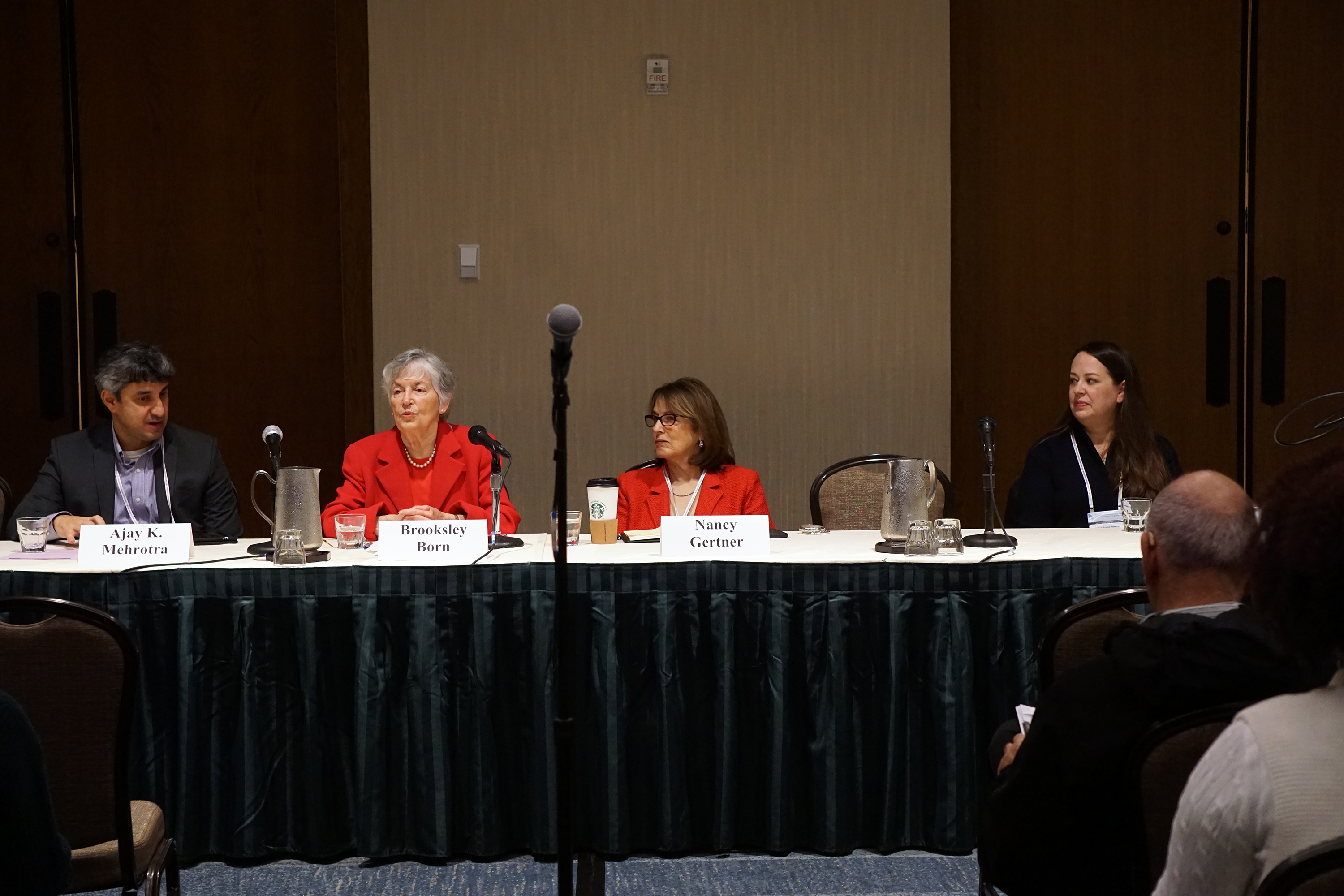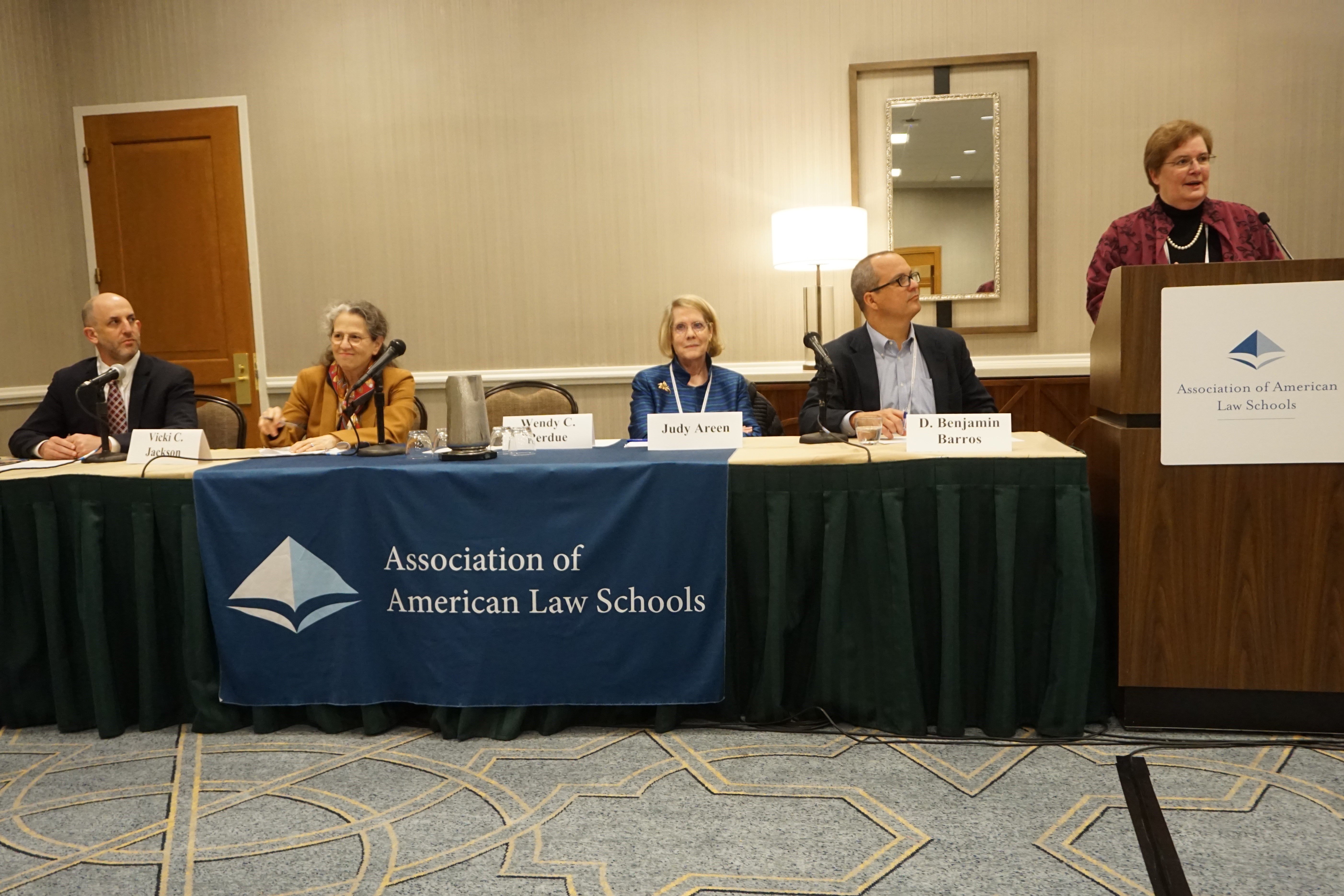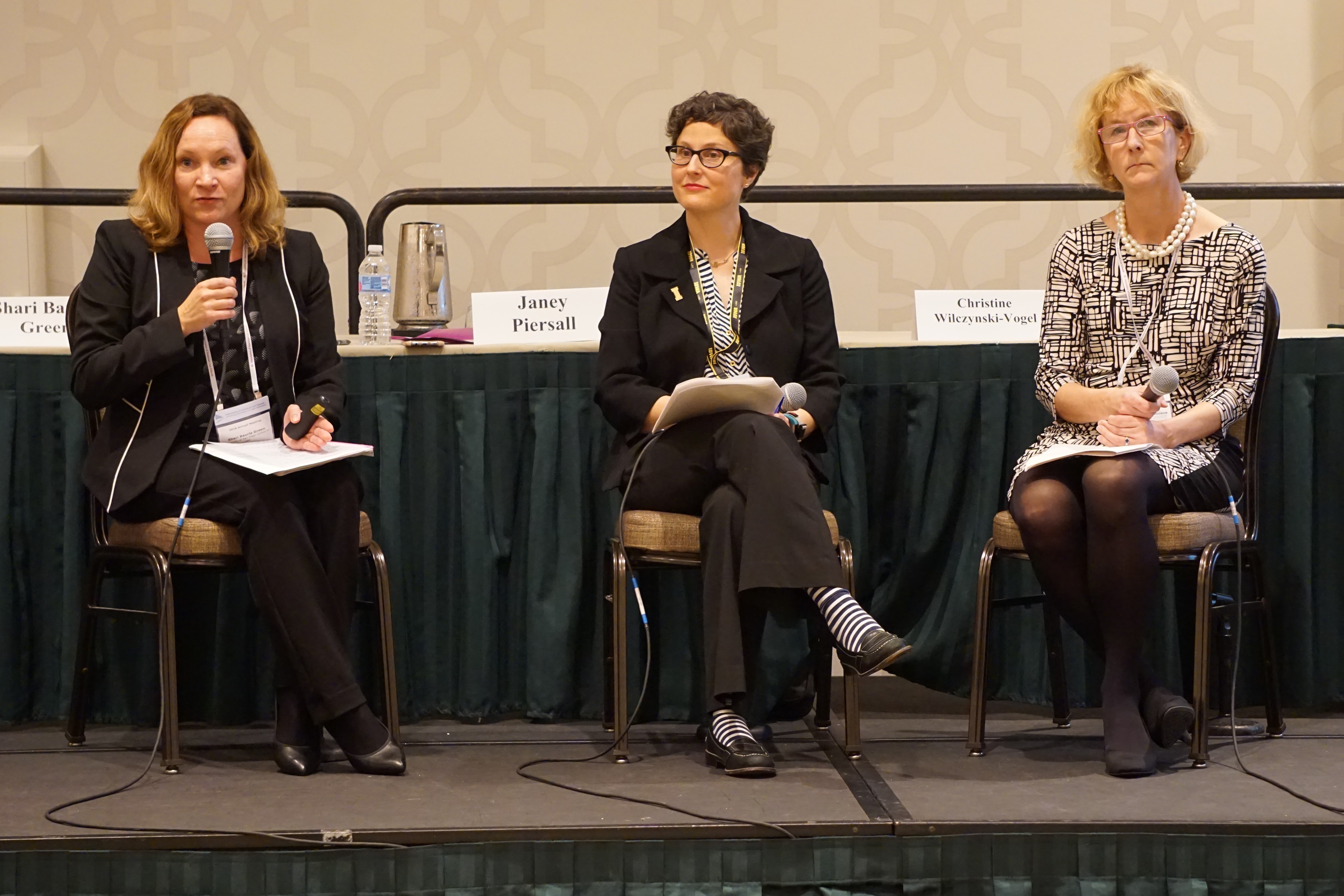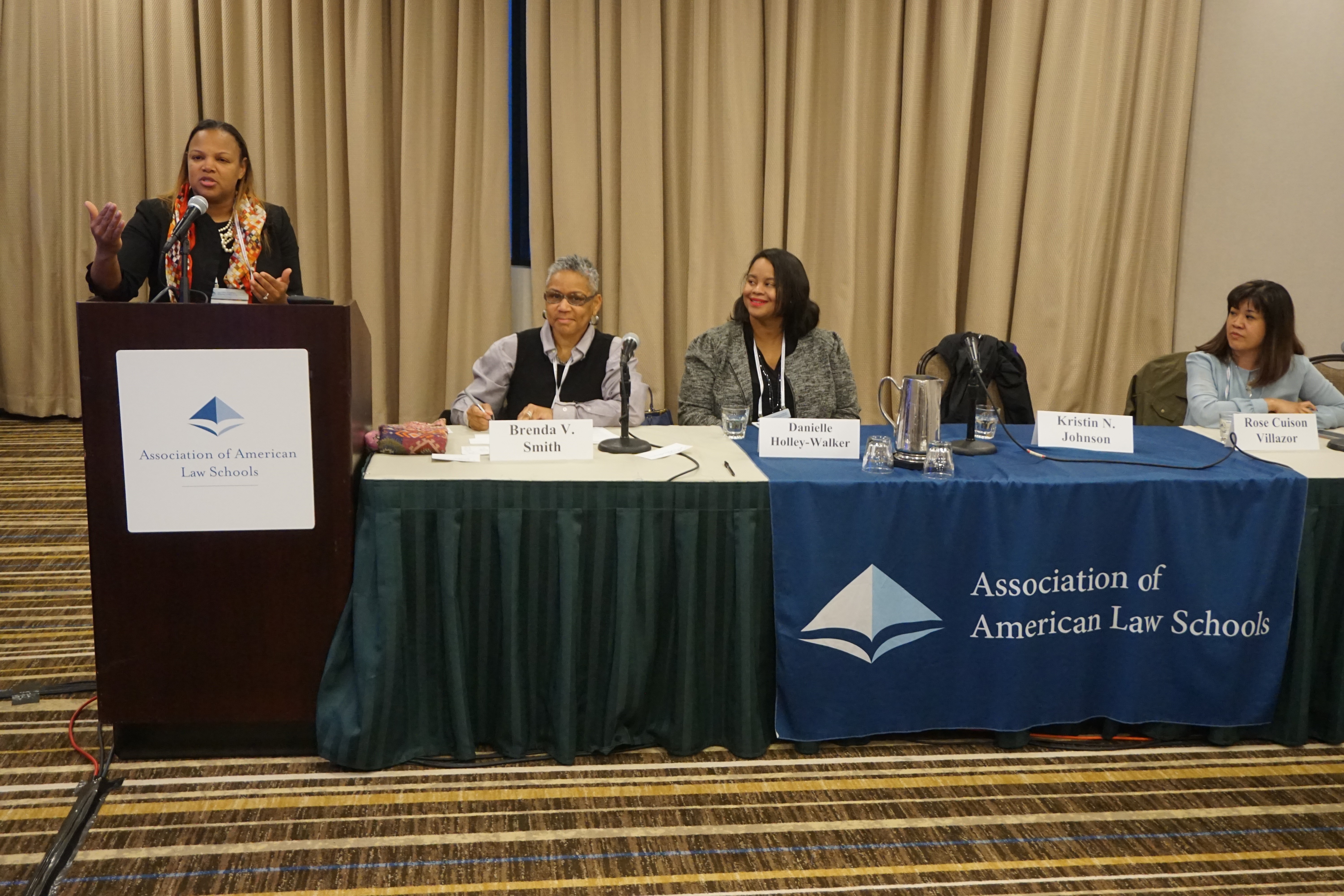 There were many opportunities for connection and networking throughout the meeting. The Exhibit Hall was open each day through Saturday, where attendees did a brisk business mingling with vendors and publishers. Thursday closed with the opening reception in the Exhibit Hall featuring live music from a jazz band.
There were more than 40 law school and related organization receptions and events outside the regular meeting programming, plus 18 official Section meal events spread over four days.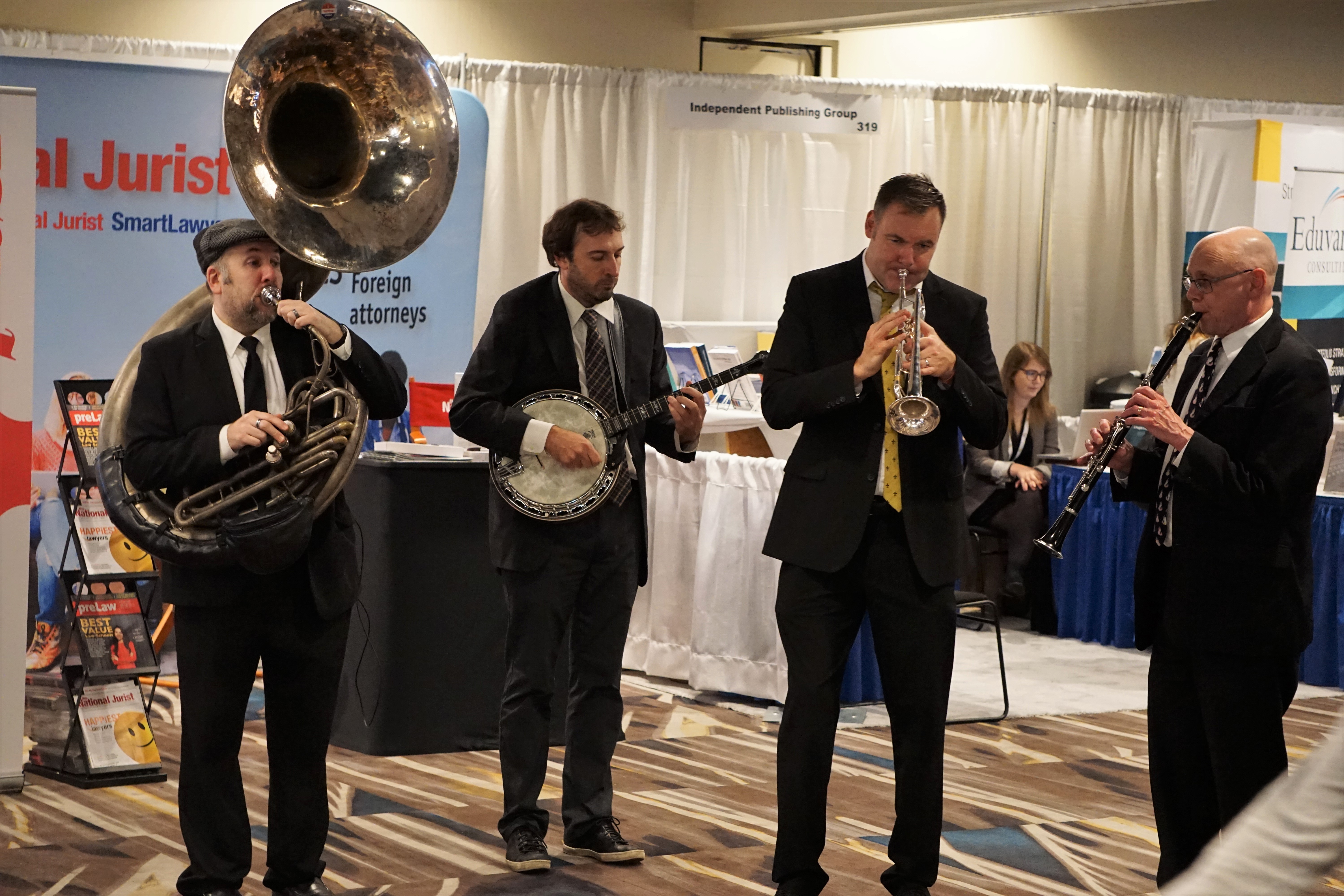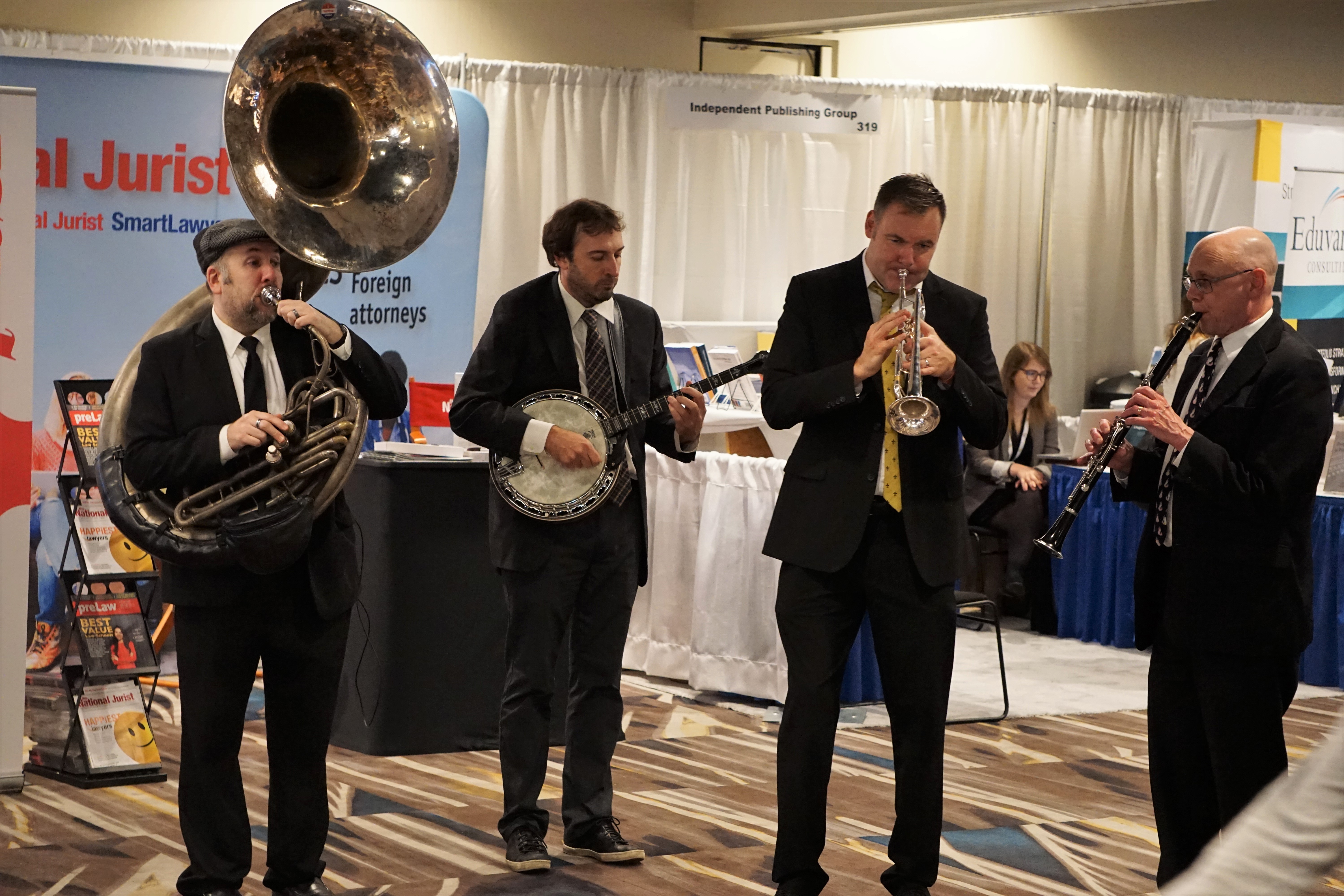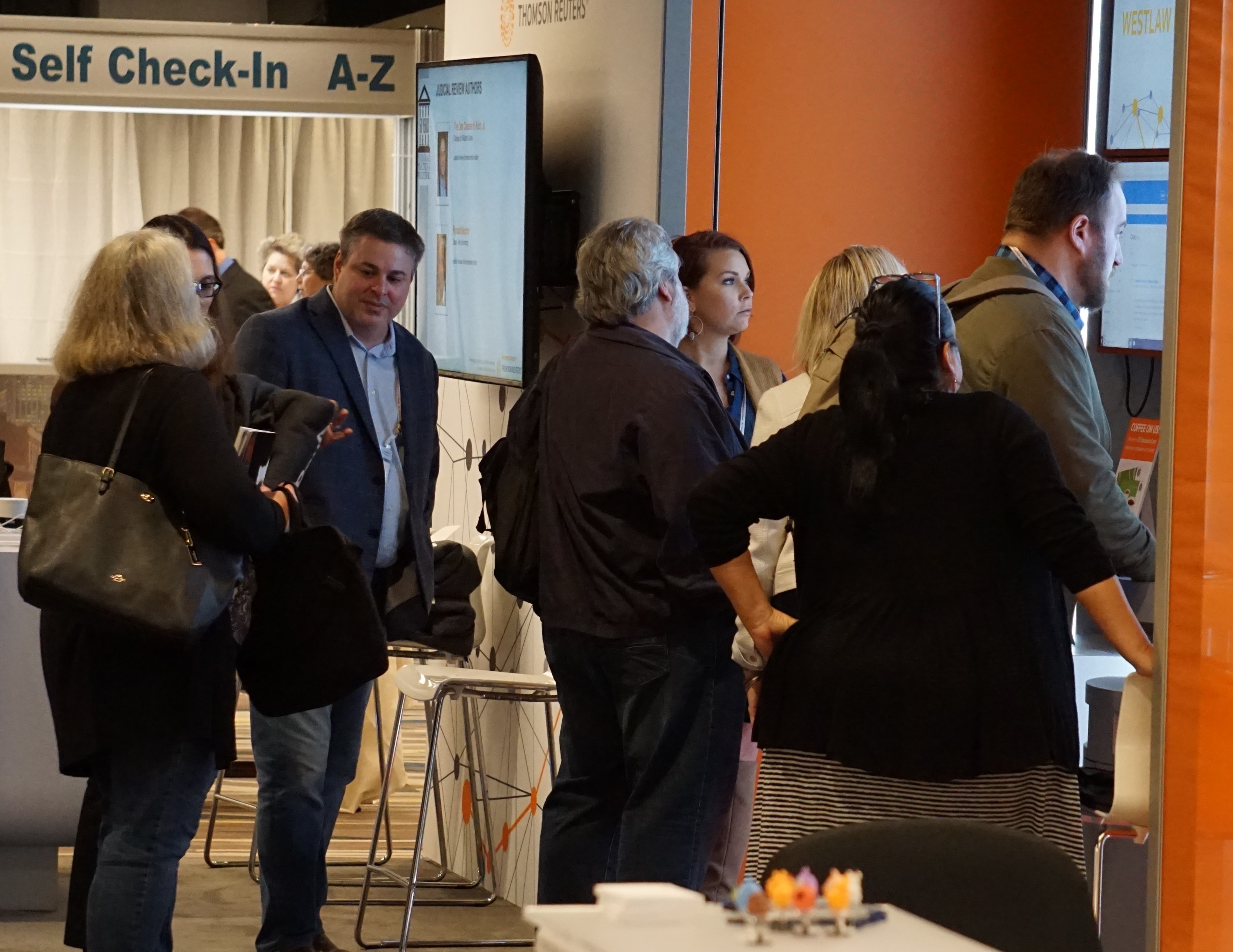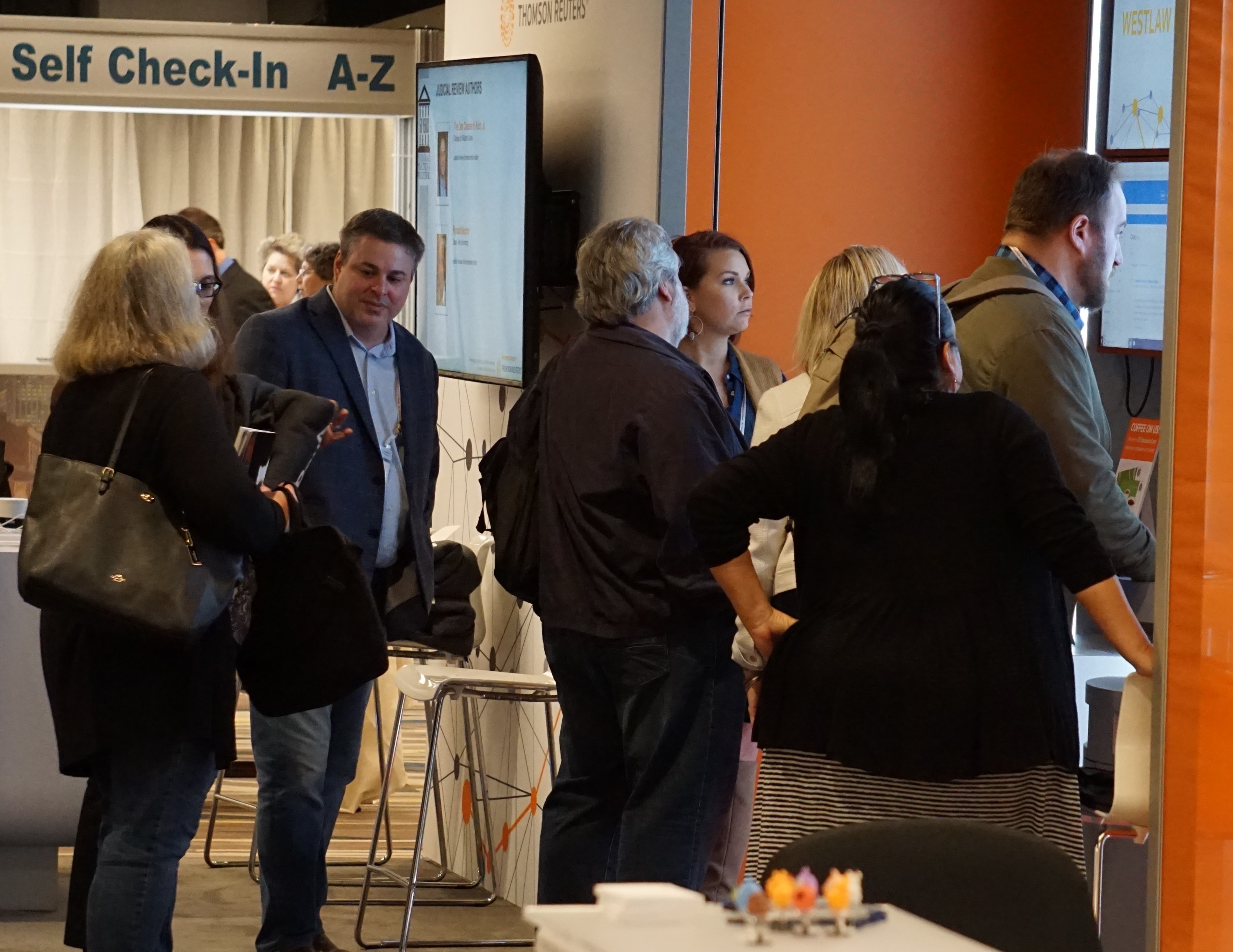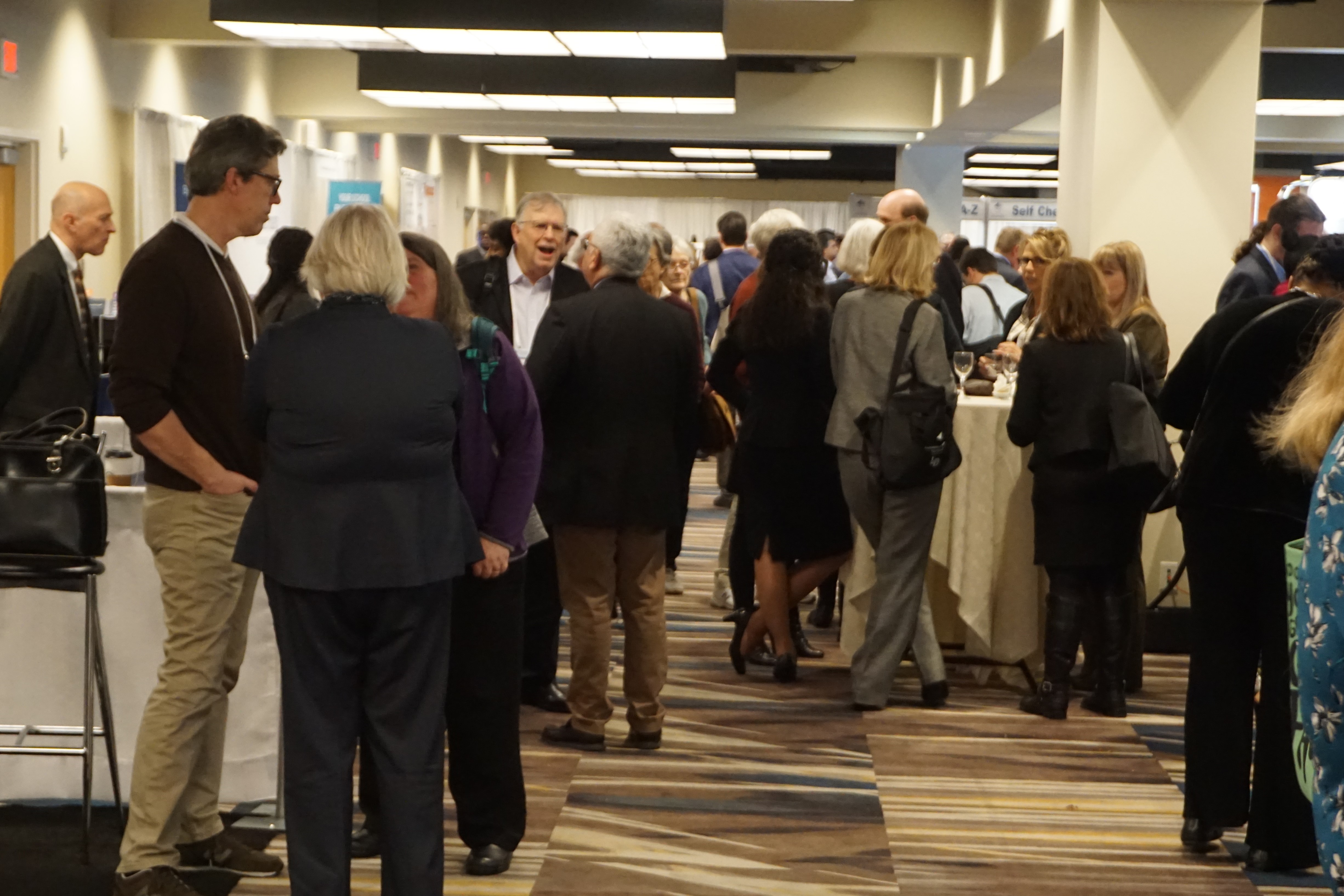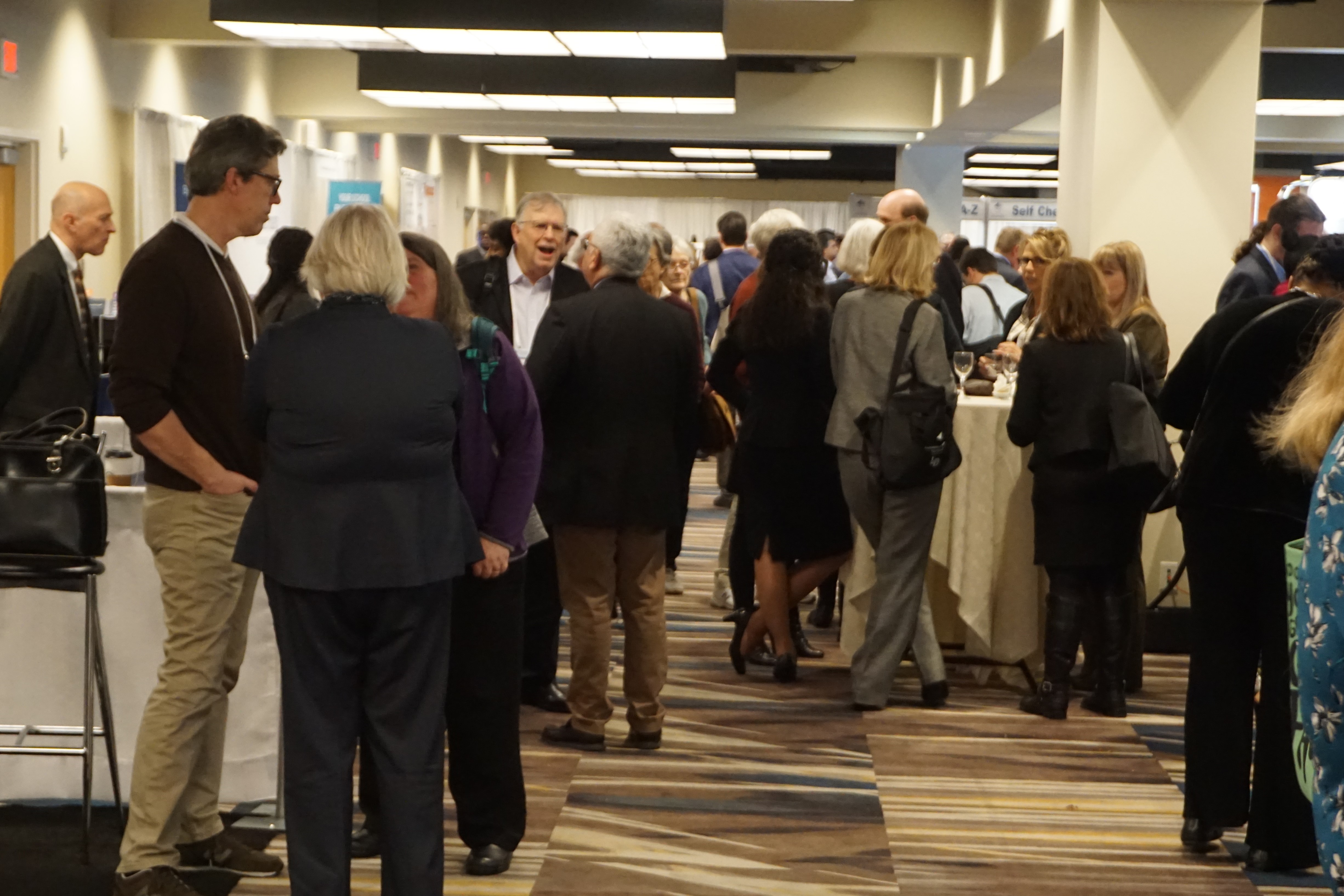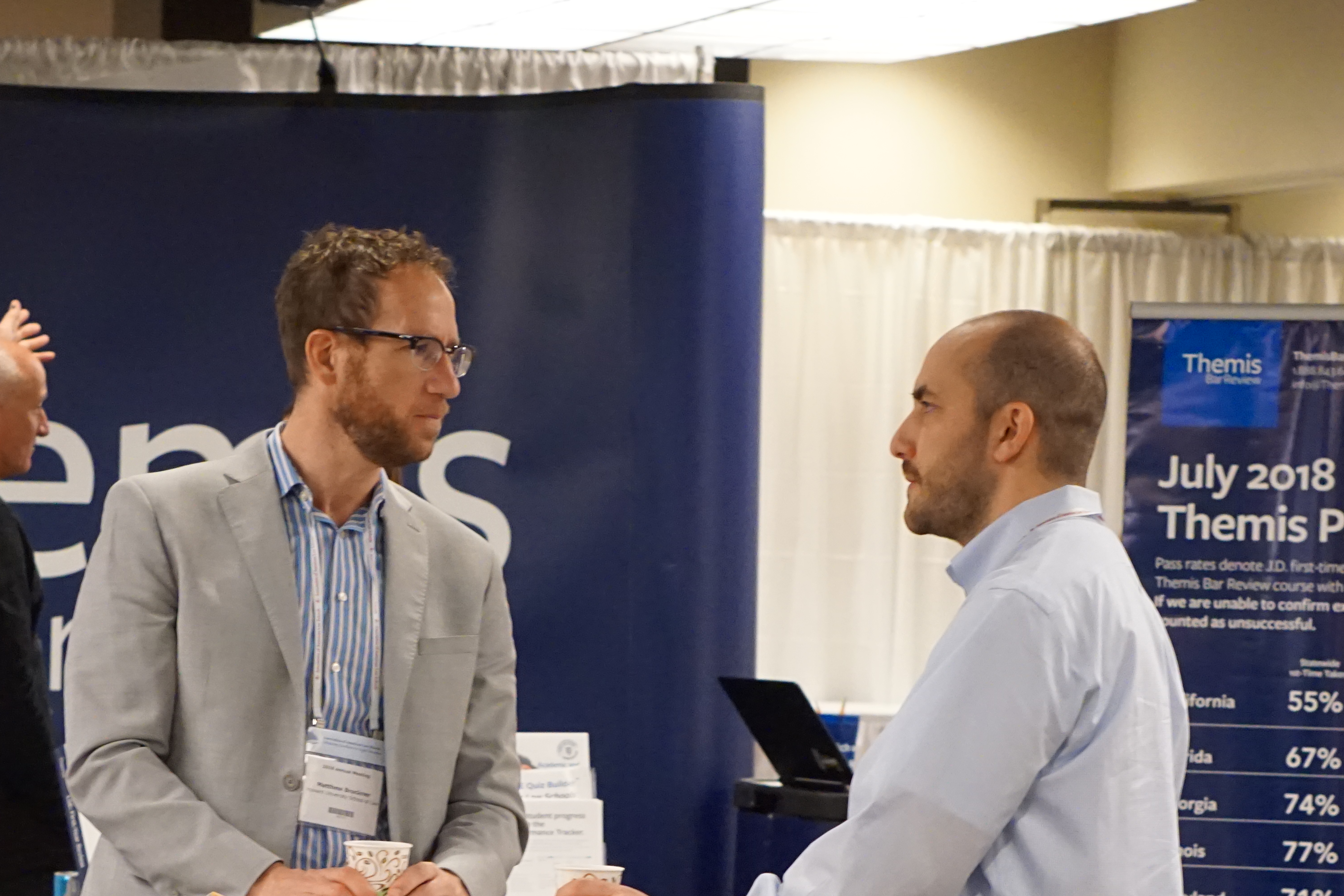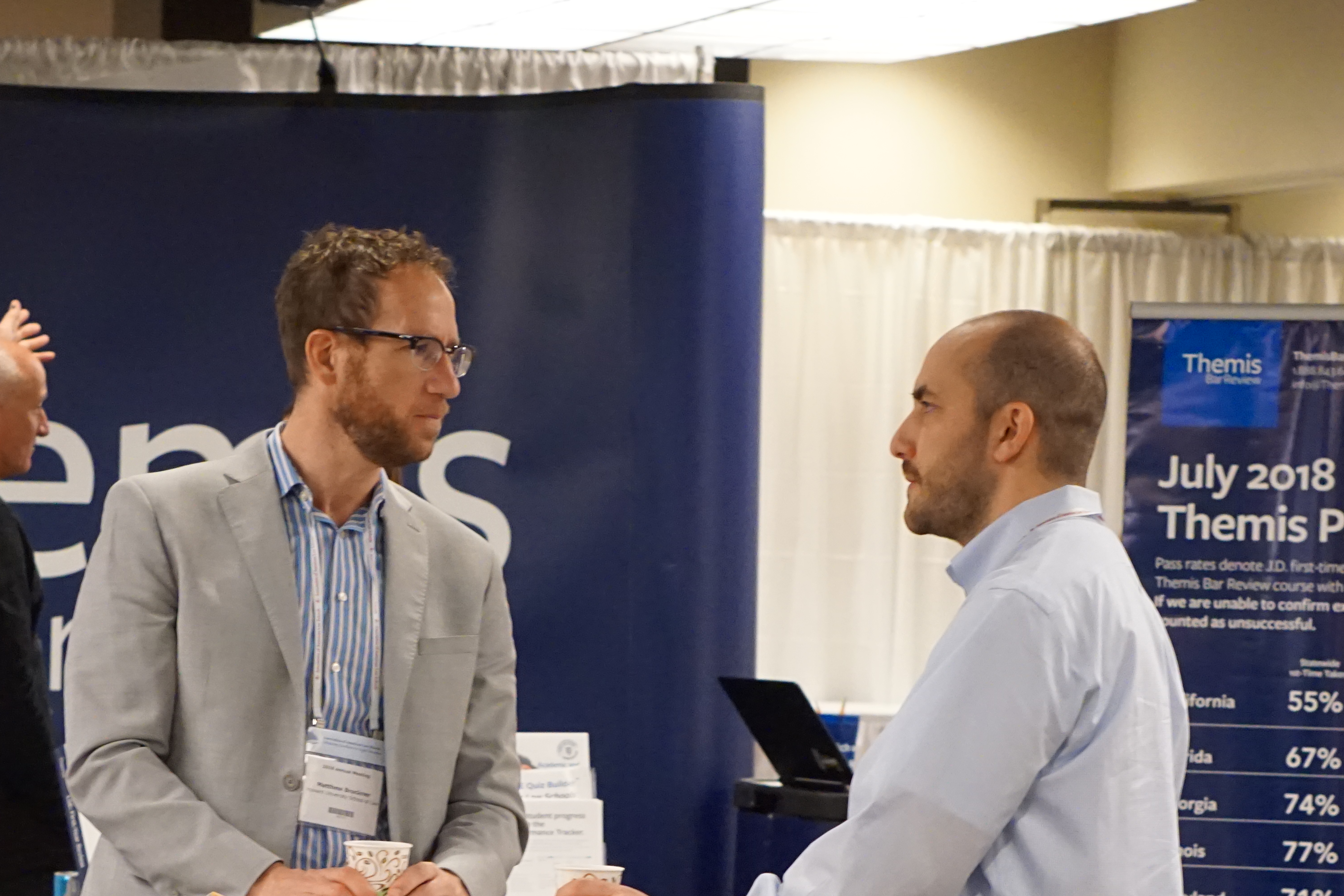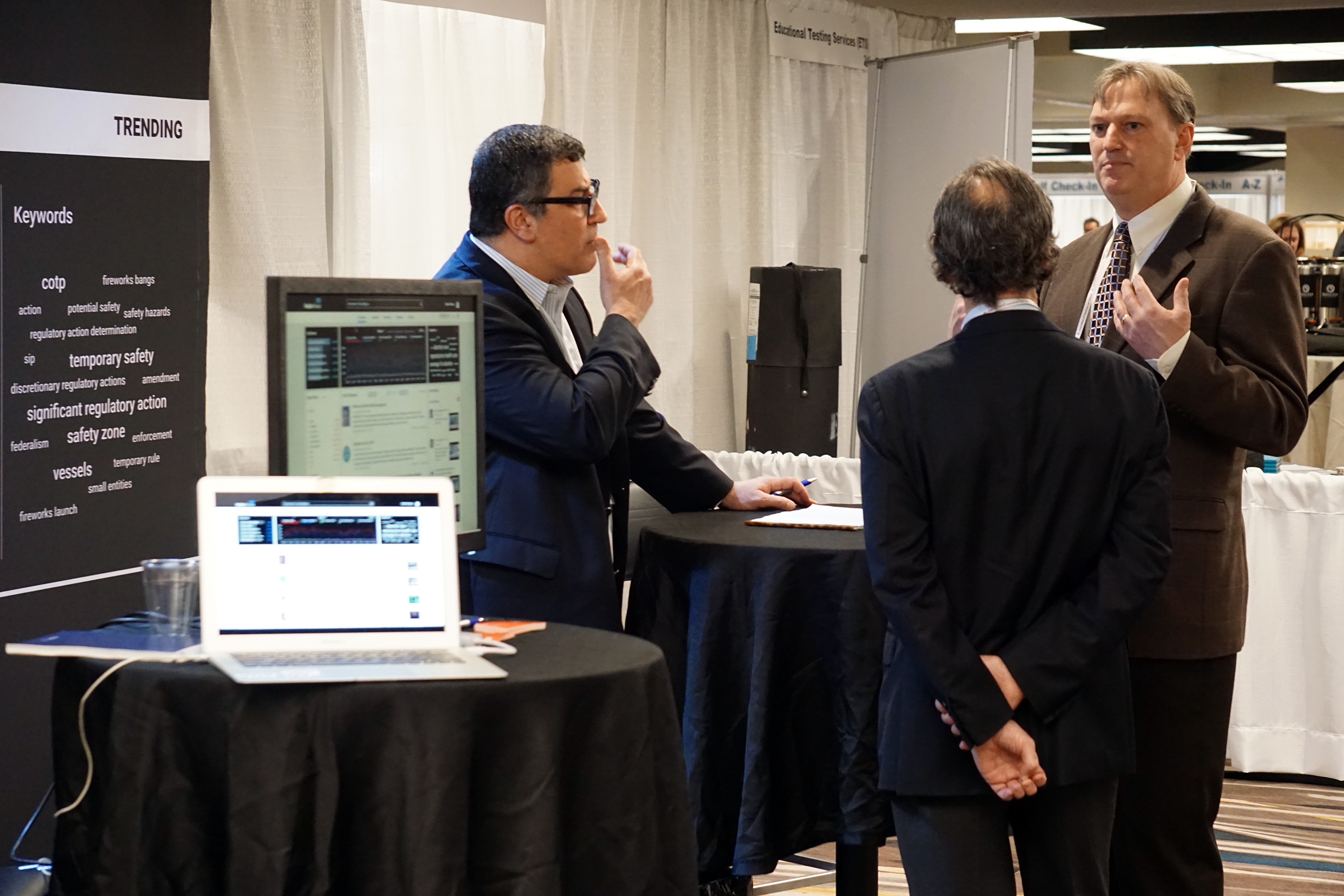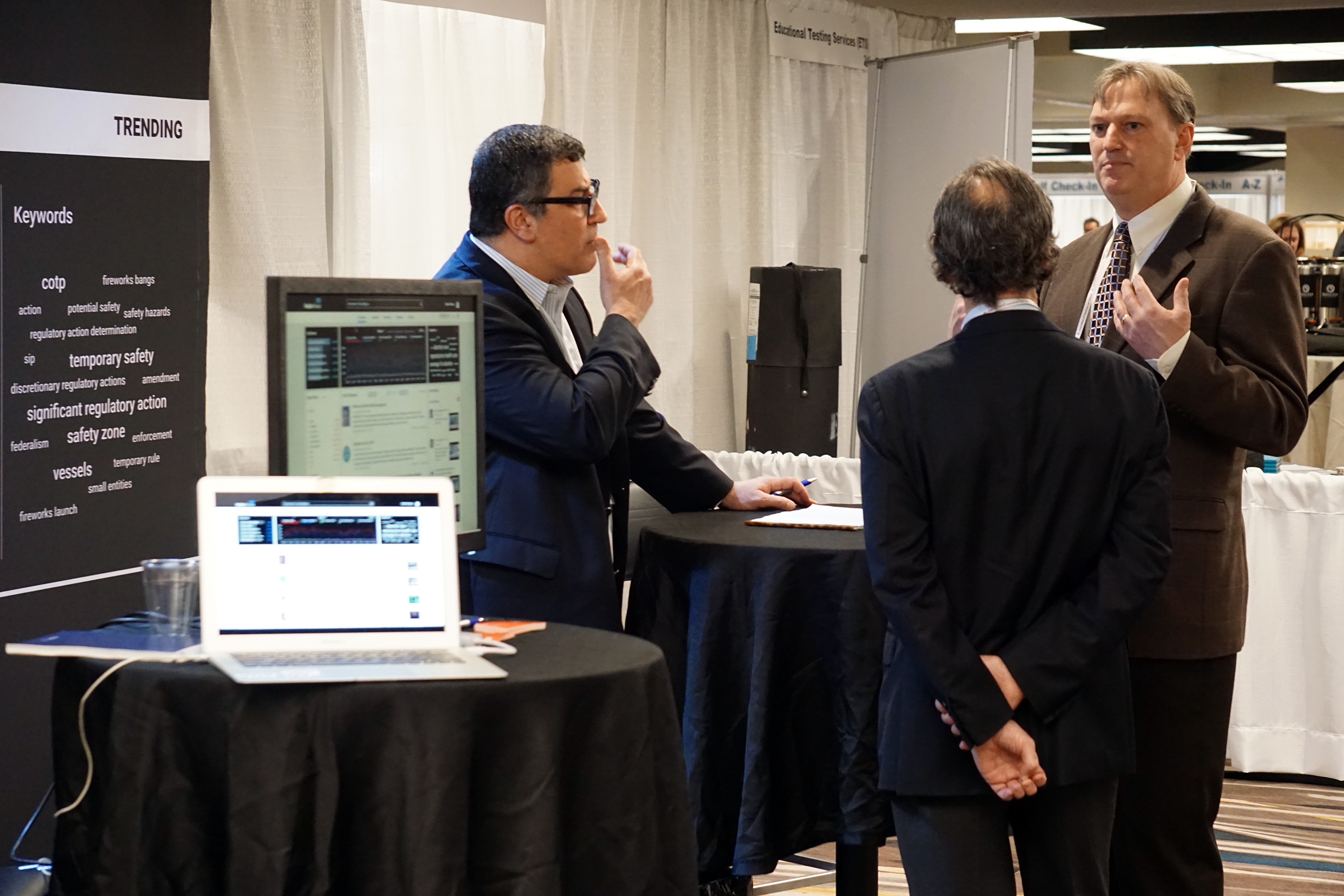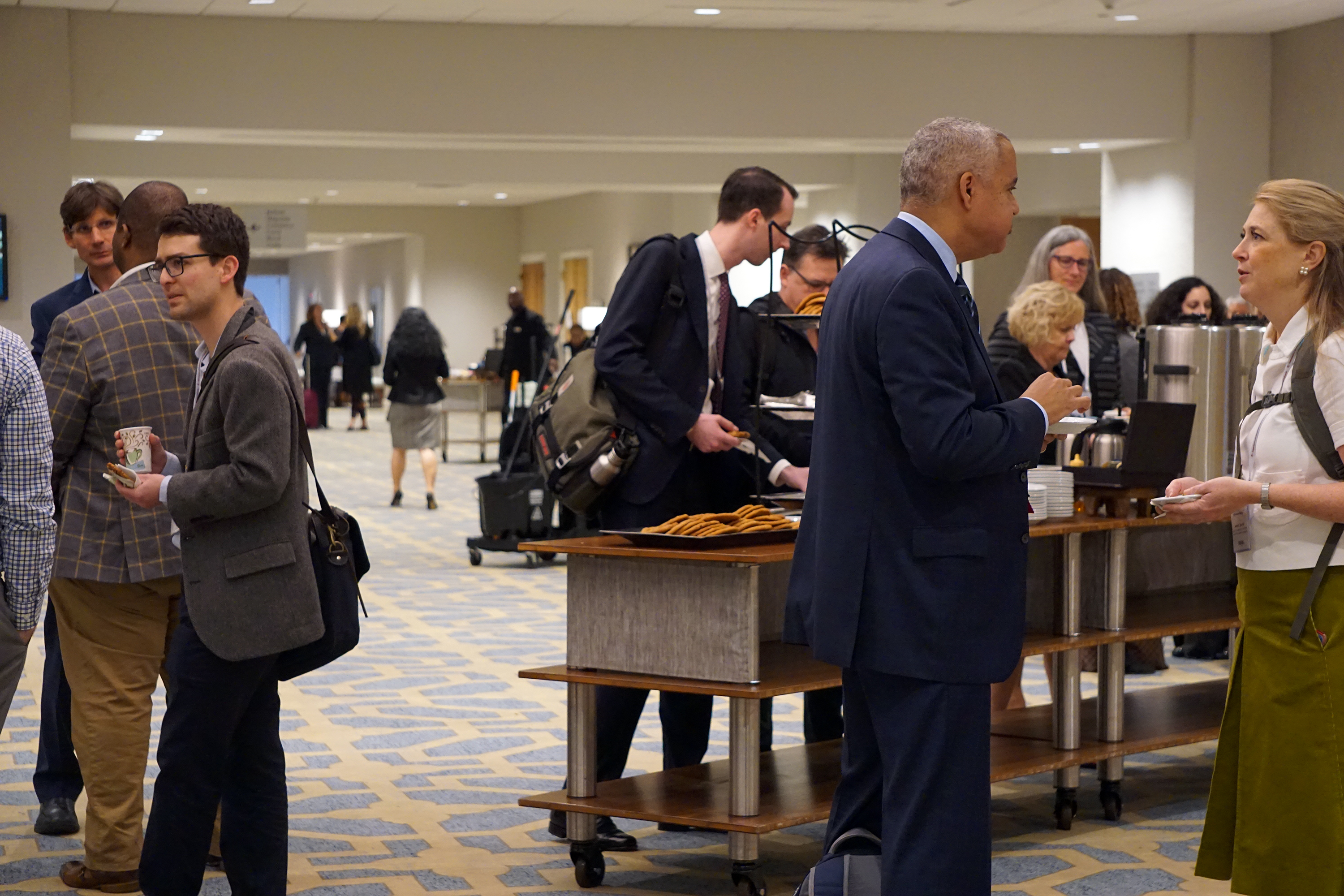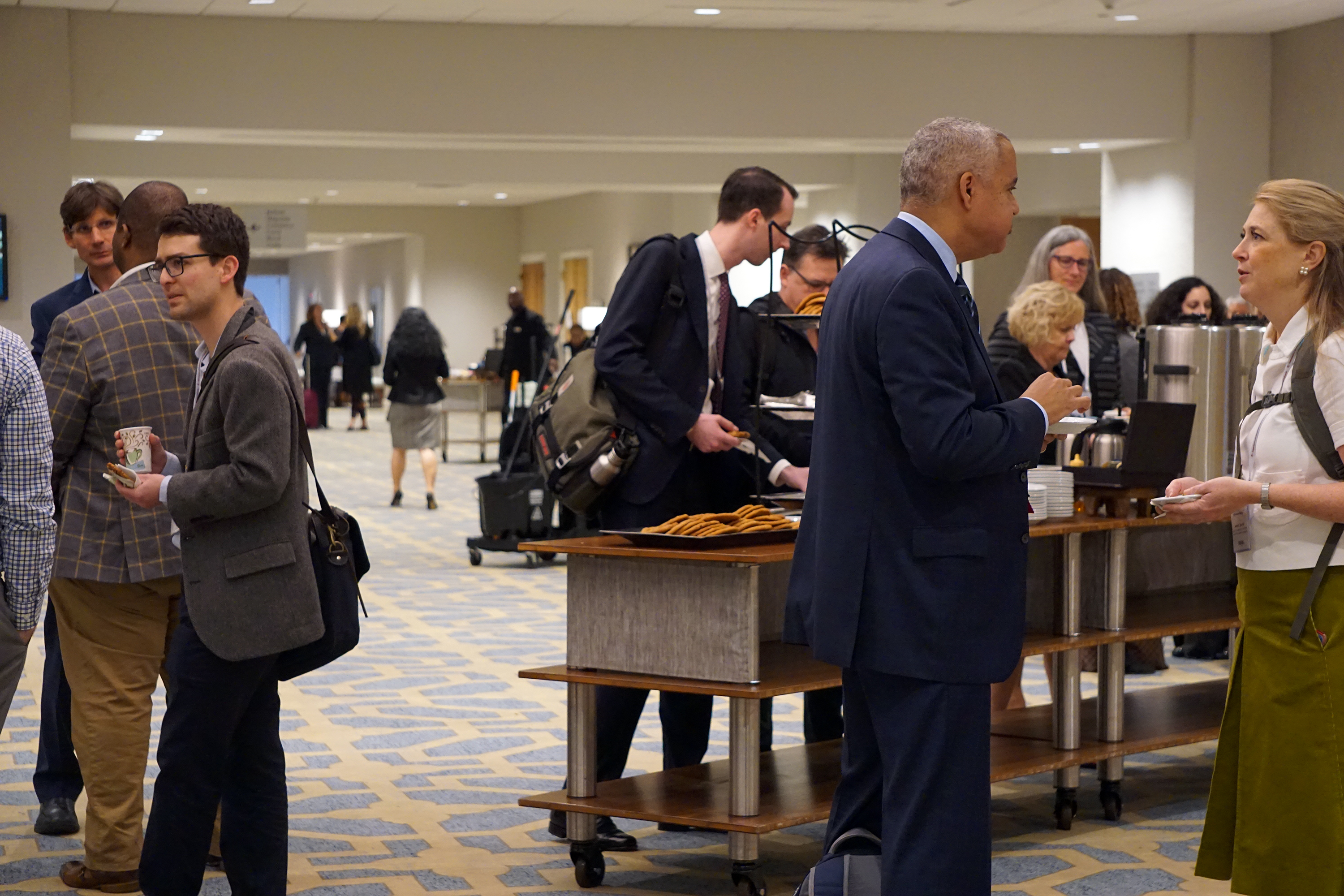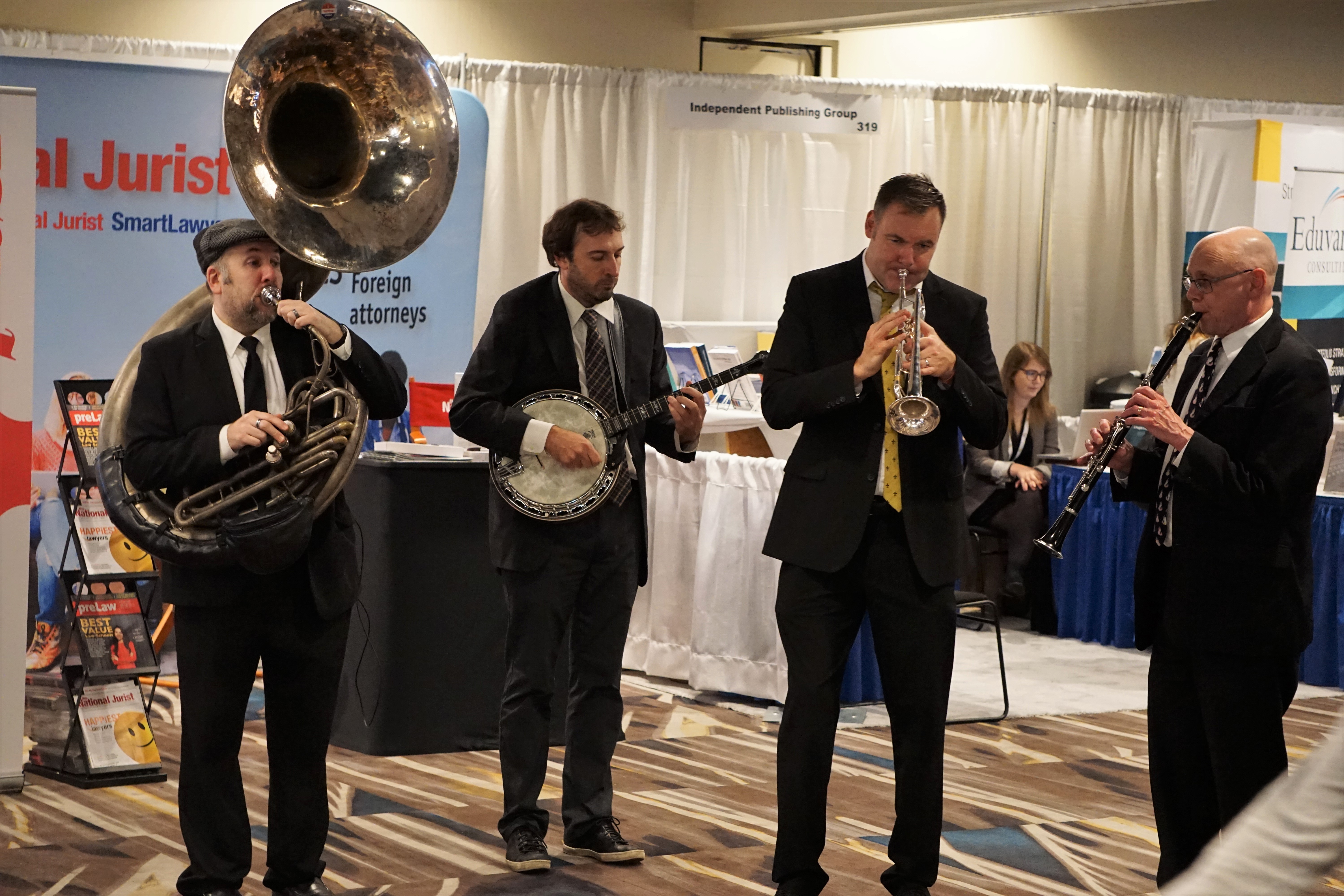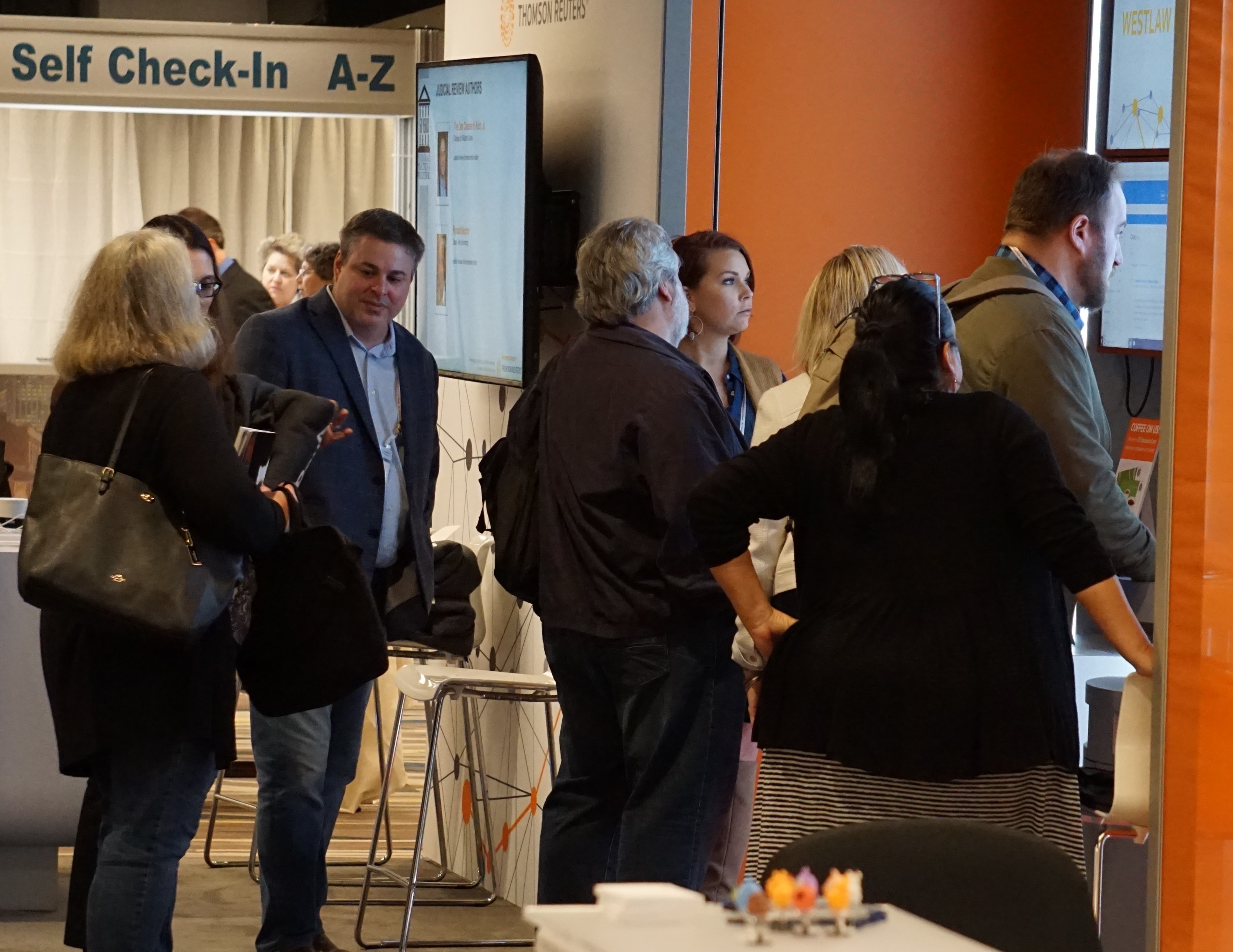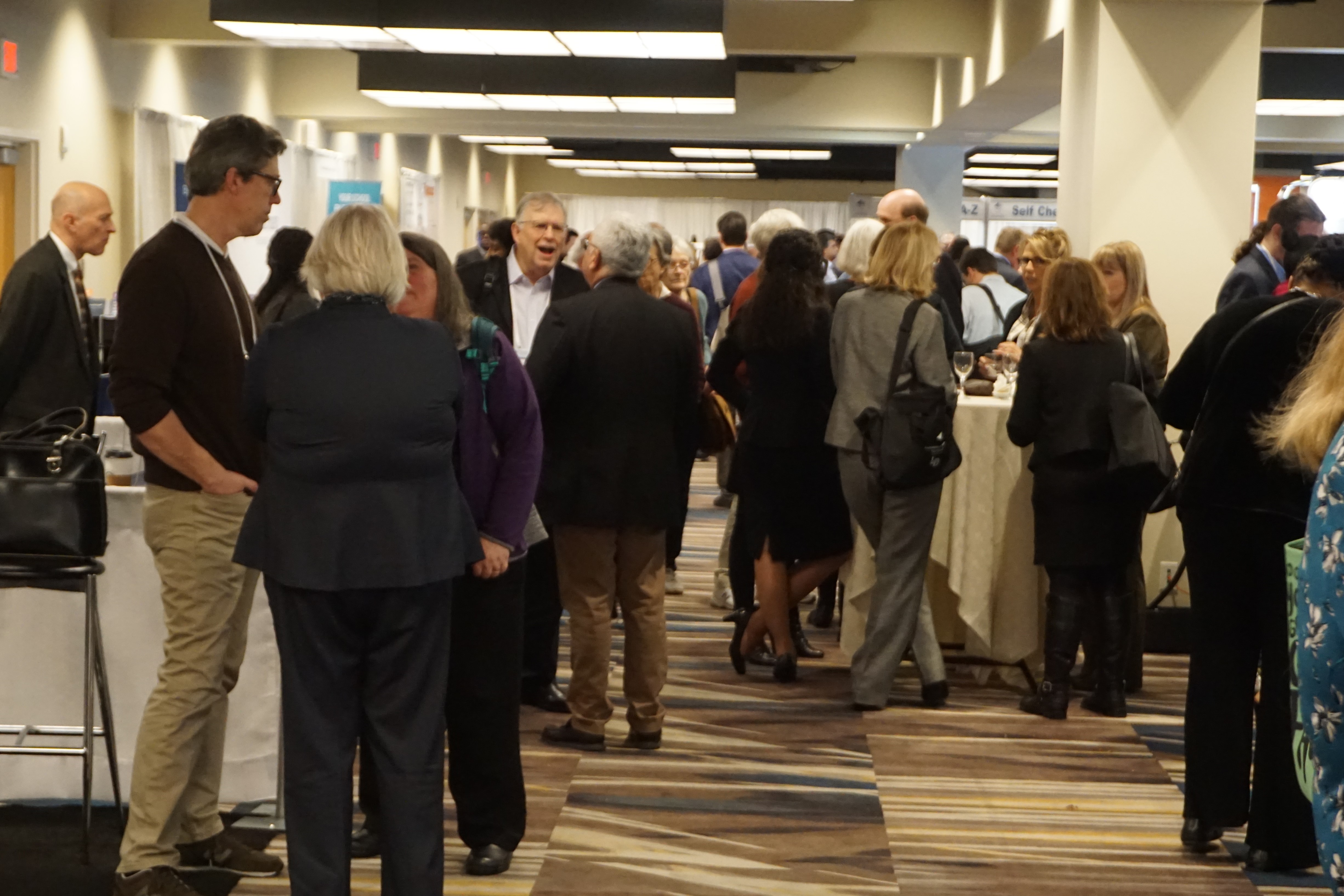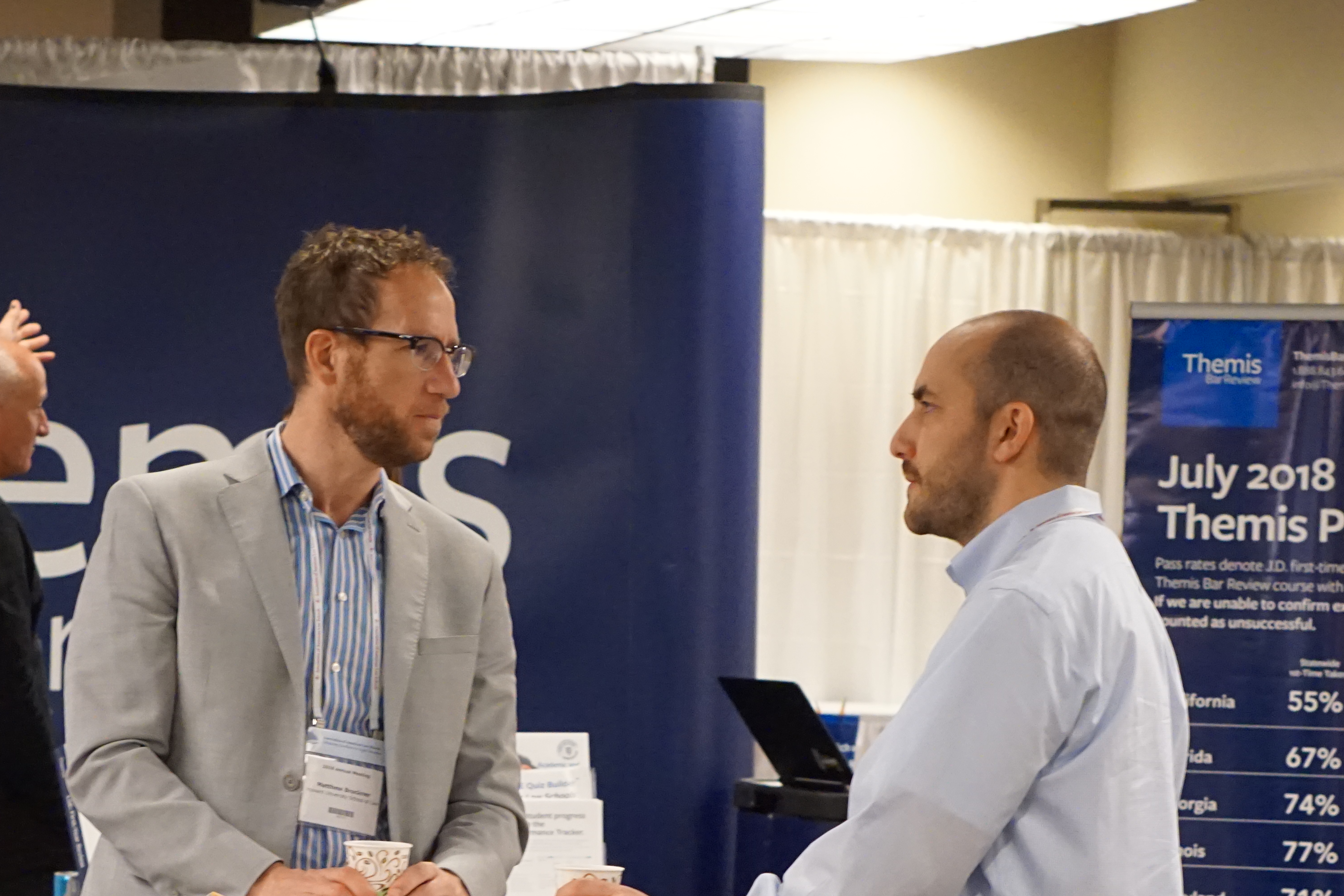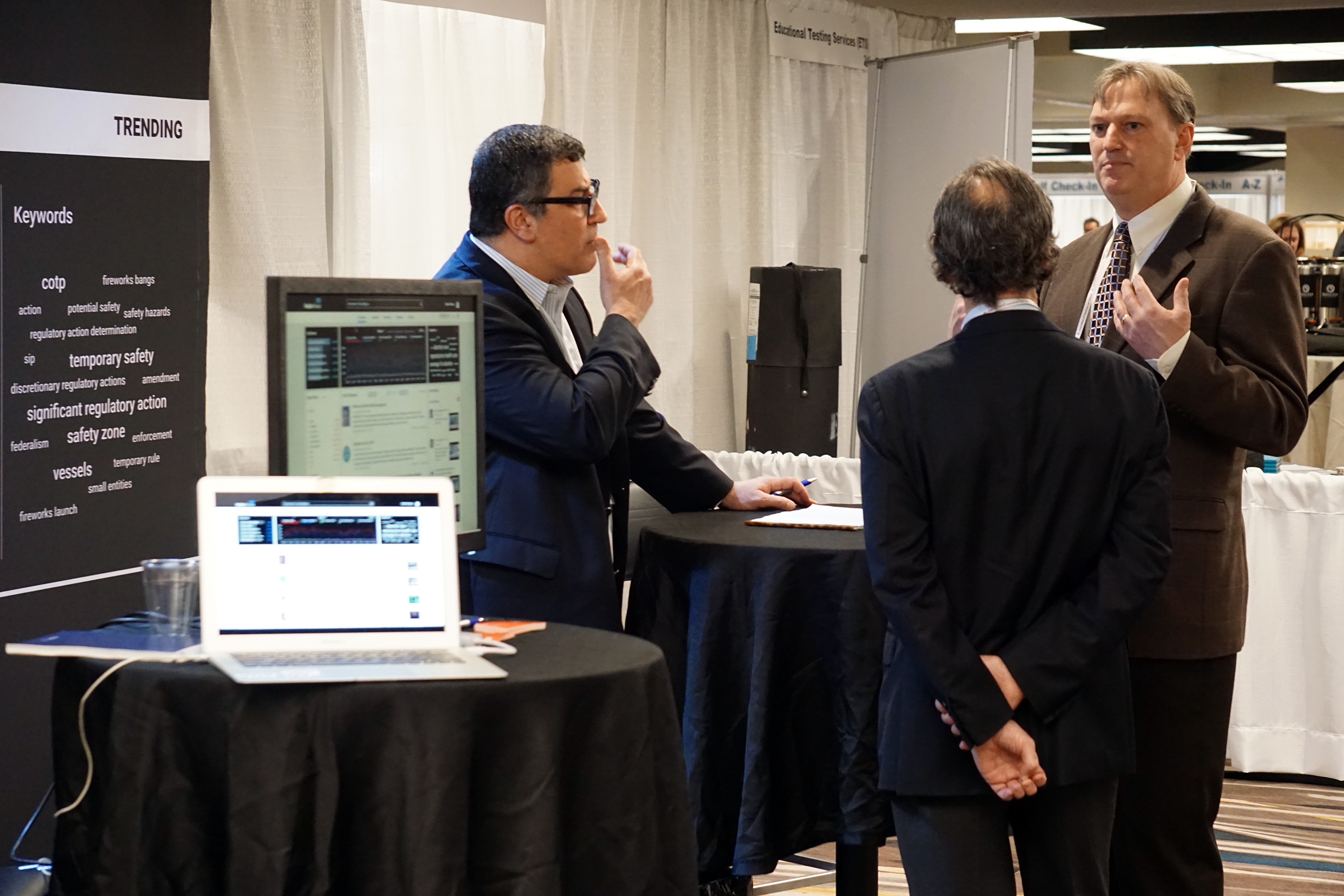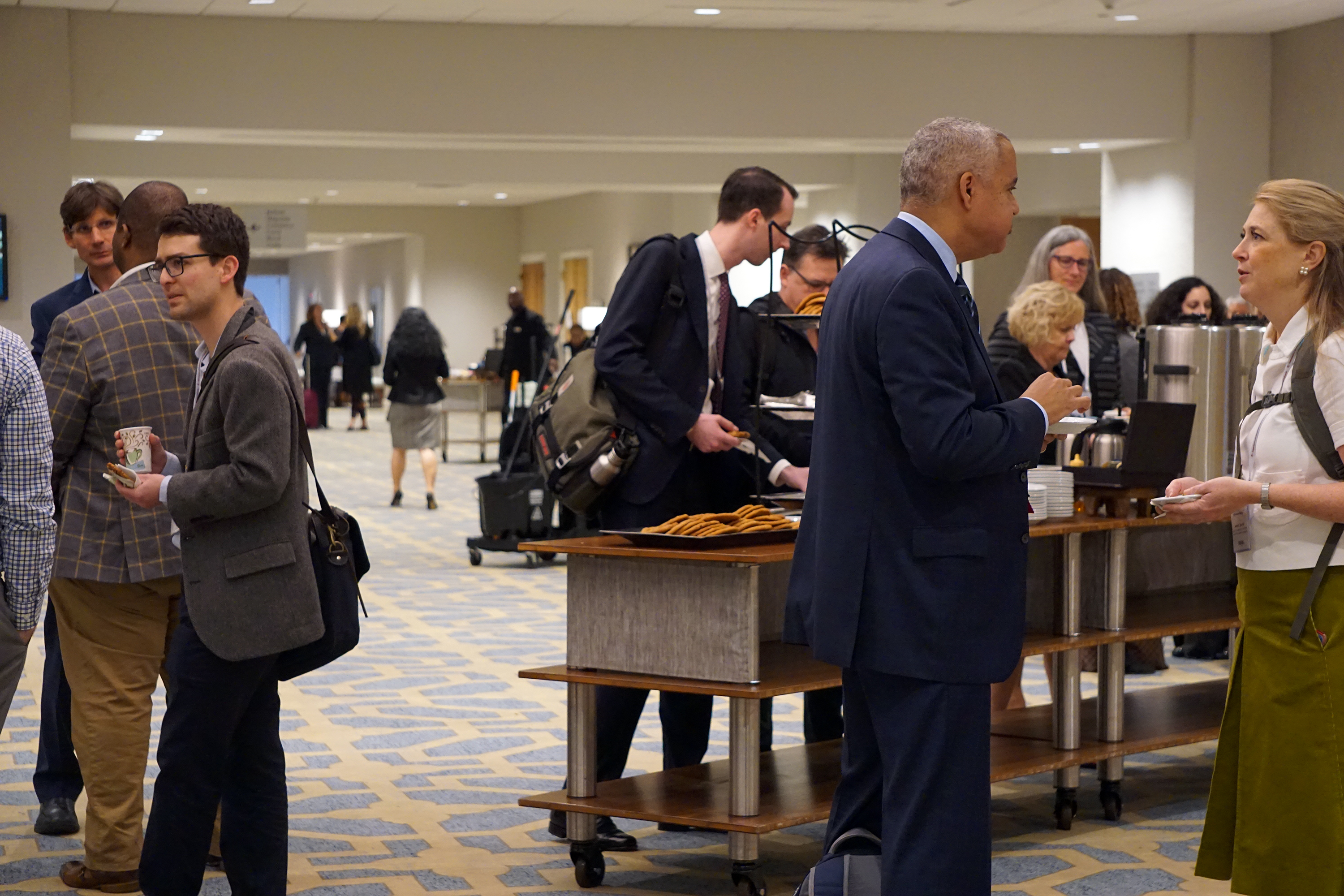 Planning is already in progress for the 2020 AALS Annual Meeting in Washington, DC.
Thank you to all AALS sections, chairs, panel moderators and speakers, and planning committees for your contributions to the planning, programming, and support of the Annual Meeting that led to its success.
Program Committee for the 2019 Annual Meeting
Kathleen M. Boozang, Seton Hall University School of Law, Chair
Steven Calabresi, Northwestern University Pritzker School of Law
Jessica Erickson, The University of Richmond School of Law
Steve Mulroy, The University of Memphis, Cecil C. Humphreys School of Law
Dara E. Purvis, The Pennsylvania State University – Penn State Law
Committee on Arc of Career Programs
Vivian I. Neptune Rivera, University of Puerto Rico School of Law
Michael E. Waterstone, Loyola Law School, Los Angeles, Chair
Kay P. Kindred, University of Nevada, Las Vegas, William S. Boyd School of Law
Bradley A. Smith, Capital University Law School
Kristi L. Bowman, Michigan State University College of Law
S. David Mitchell, University of Missouri School of Law
2019 Deans Forum Program
Jennifer J. Johnson, Lewis & Clark Law School, Chair
Andrew R. (Andy) Klein, Indiana University Robert H. McKinney School of Law
David D. Meyer, Tulane University Law School
Michael Hunter Schwartz, University of the Pacific McGeorge School of Law
Nancy C. Staudt, Washington University School of Law
Committee to Review Scholarly Papers for the 2019 Annual Meeting
Tabatha Abu El-Haj, Drexel University, Thomas R. Kline School of Law
Bradley A. Areheart, University of Tennessee College of Law
Eric C. Chaffee, University of Toledo College of Law, Chair
Martha E. Chamallas, The Ohio State University, Michael E. Moritz College of Law
Jessica Silbey, Northeastern University School of Law
David L. Sloss, Santa Clara University School of Law
Aaron Tang, University of California, Davis, School of Law
2019 Workshop for Pretenured Law School Teachers of Color
Kaiponanea Matsumura, Arizona State University, Sandra Day O'Connor College of Law
Cynthia E. Nance, University of Arkansas, Fayetteville, Robert A. Leflar School of
Law, Chair
Brenda V. Smith, American University, Washington College of Law
2019 Section on Institutional Advancement Program
Trent Anderson, St. John's University School of Law, Co-Chair
Shari Baurle Green, University of San Diego School of Law
Darnell Hines, Northwestern University Pritzker School of Law
Jini Jasti, University of Wisconsin Law School, Co-Chair
David Jensen, University of Minnesota Law School
Christopher Roberts, The University of Texas School of Law